Want to swim faster? Here is how listening to pump up songs before you swim can help you swim a whole lot awesomer. Unleash the playlist!
One of the best moments of your swimming career will be walking out on deck, with the rest of the finalists, with a nasty, motivating beat thudding through the aquatic center. Moments like this will make your hair stand on end (what hair you have left, anyway), and fills you with a swirling surge of adrenaline. In other words, it's pretty unreal.
Listening to music while you are swimming is also a heaping ton of fun. When you have the right song in your head, either getting blasted into your brain through a set of waterproof headphones for swimming or a waterproof MP3 player, you get into a good rhythm and feel like you can conquer the water.
Pump-up songs have become an integral part of our sport. Who hasn't envisioned themselves in their own Rocky montage, or latched onto a song's lyrics as a theme for their swimming? And as it turns out, pump up songs have a bigger impact on your swimming than you know.
Here is everything you ever wanted to know about pump up songs for swimmers.
The Science Behind How Music Helps Us Swim Faster
I will never forget a cold winter championship meet in the frozen prairies when I was a young age grouper, and Guns n' Roses "Welcome to the Jungle" faded in and started blasting over the pool's PA system.
As I stood there behind the blocks, any doubts that I had about how I was going to swim was overwhelmed by the pounding bass reverberating across the pool. It was a moment seared deeply into my swimming memories that is conjured up immediately any time my ears stumble across some G'n'R.
Study after study has shown the benefits that music has when we are working out, from helping us ease anxiety and stress to affecting mood and even resilience.
Most of us appreciate music for the ability it has to distract us—I can't count how many times I have been struggling through a tough set only to lean on the lyrics and beat of a song to keep my arms turning over. There is science backing this up as well, with research showing that the agony you are enduring can be literally drowned out with a good song.
Another study done by scientists in Britain found that athletic performance could be increased by up to 10% depending on the kind of music you are listening to. In particular, songs by the real Slim Shady himself, Eminem, were found to significantly impact both endurance and overall power during exercise.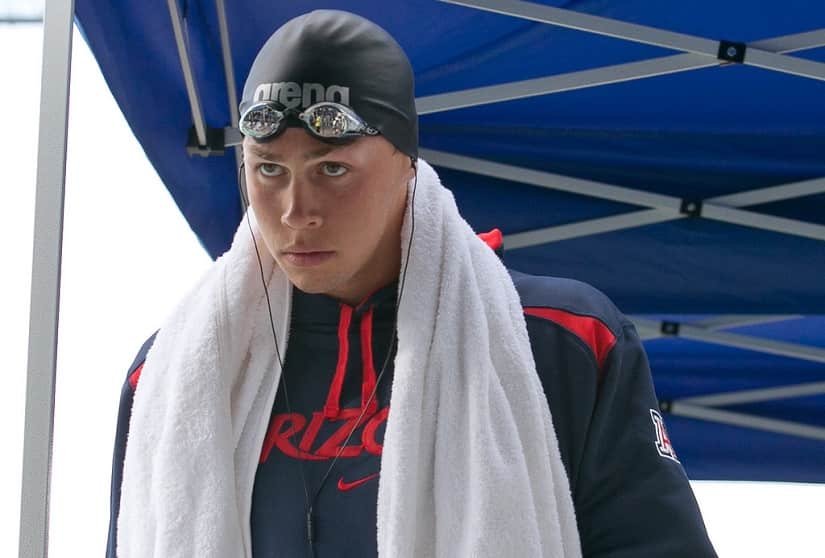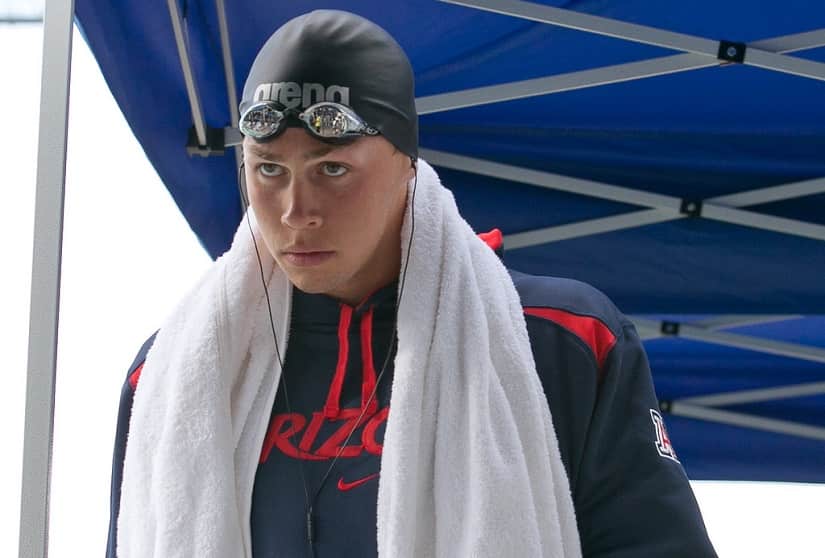 The researchers chalked it up to the "tempo, rhythm and confrontational lyrics" that helped to provide a motivational boost to the athlete and test subject, open water swimmer Ben Hooper. They measured his performance for 3 months while having him listen to various kinds of music.
The music types that performed worst? Classical and reggae.
But this could be more due to a lack of "emotional resonance"—if the song's lyrics don't speak to you and your situation it's easy to dismiss it. And also why other traditional motivational songs like "Eye of the Tiger" didn't have a performance benefit for Hooper.
"Lyrics must strike a chord," noted lead researcher Richard Collins, a sports psychologist and professor at Hartpury University Centre.
What Top Swimmers Use for Pump Up Songs
It will come as no surprise that Michael Phelps' cites Eminem's "Till I Collapse" as one of his favorite psych-up songs. He used it during the 2016 Olympic Trials prior to one of his races. He also leaned on it to get him fired up during the 2004 Athens Olympics where he won a sizable haul of 8 medals, with six of them gold. In 2008, during his Beijing haul of 8 golds, it was all about Lil Wayne and "I'm Me".
Missy Franklin, on the other hand, leans towards the country end of the music spectrum, preferring some Zac Brown Band or Brothers Osbourne to get her relaxed and focused before her big races.
Ryan Lochte is a well known Young Jeezy and Lil Wayne fan (particularly "I'm Me" as well), while Katie Ledecky told USA Swimming's Splash Magazine back in 2013 that her top songs were "Hello" by Martin Solveig & Dragonette, "Walk" by the Foo Fighters, and a classic, "I Won't Back Down" by Tom Petty and the Heartbreakers. (She also cites "Call Me Maybe" in her top 10.)
How to Use Music to Swim Faster and Get Pumped Up
When it comes to picking a playlist the options are endless. Here are some suggestions for putting together a pump-song playlist that you can use to either get psyched up or chill out a bit:
1. Pick a song that is uptempo and has awesome lyrics.
As the research above mentioned, it's not all about the beat and tempo. The lyrics matter too. Eminem's lyrics undoubtedly proved powerful because they are, well, confrontational, and allude to not giving in or giving up, which is exactly the theme most athletes are going after when facing a test set or a big race.
2. Match beat tempo with your stroke rate.
Music can not only help soothe or motivate the savage beast within you, but it can also help you train and race smarter.
A great tactic that Mark Warkentin, head coach of the Santa Barbara Swim Club, uses to help increase stroke tempo with his swimmers is to have them pick a song that matches their target stroke RPM.
3. Have an "in case of emergency" playlist.
I have a small playlist of songs that I really only try to rely on when I am in the deep pits of a bad workout. They are my "break glass in case of emergency" songs. In a way, they are my last line of defense when things are going crappy in practice.
4. Have fun with it!
One of my favorite things to do—and part of my pre-workout ritual—is picking out the songs that I am going to listen to while I get ready to hop into the water. Your playlist is a reflection of who you are and what you want to accomplish that day at practice, so have some fun with it and put together a rocking playlist.
My Personal Pump-Up Playlist for Swim Practices
Next Up:
6 Best Waterproof Bluetooth Speakers for the Pool. Hit the pool and shower with this hand-picked collection of the best waterproof Bluetooth and floating pool speakers.
5 Best Waterproof Tablets. Looking for a water-resistant tablet? Here is a breakdown of our favorite tablets for conquering the elements.