Michael Phelps is the greatest swimmer of all time, and the most decorated Olympian in history. Here is Michael Phelps by the numbers.
There is no doubt that Michael Phelps was a gifted athlete in many ways.
He benefited from having a coach who recognized his talent early on, and Phelps was also instilled with an exceptionally strong work ethic from a young age, having watched his older sister Whitney Phelps excel on the national swimming stage.
On a physiological basis, there is no question that Phelps was built for the water. With an above average wing-span, double-jointed at the ankles and knees, the prototypical swimmer's body, and a lactate clearing capacity that surpassed a great percentage of the population, one can say that he was born for the sport of competitive swimming.
Add a tough and demanding coach in Bob Bowman, a positive support system and you have the recipe for the greatest swimmer on the planet.
Here is everything you ever wanted to know about Michael Phelps.
The Physiology of the Greatest Swimmer of All Time
Much is made about how Phelps was destined to swim. With double-jointed knees and elbows Phelps exhibited a higher range of motion than the competition, while his lean frame provided little resistance for his monster dolphin kicks.
Here is how Phelps physiology helped him crush the competition:
Phelps' Wingspan: The wingspan of most people is supposed to be the same width as the overall height of their body. Phelps wingspan of 6'7" surpasses his height of 6'4" by a full three inches. Longer arms means he has a longer distance per stroke, which is profoundly helpful for crossing the pool faster than other swimmers.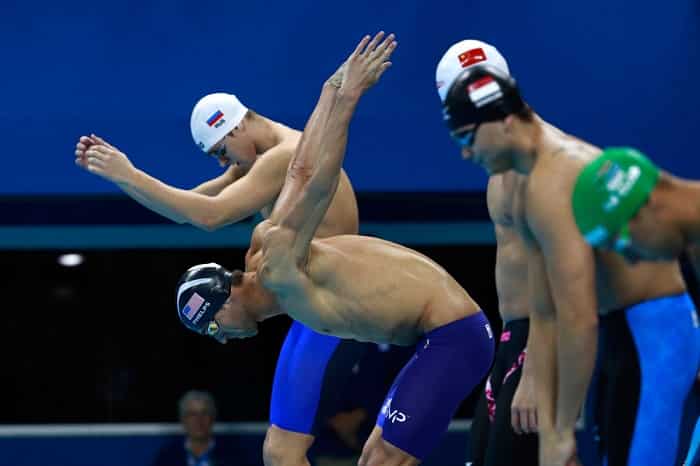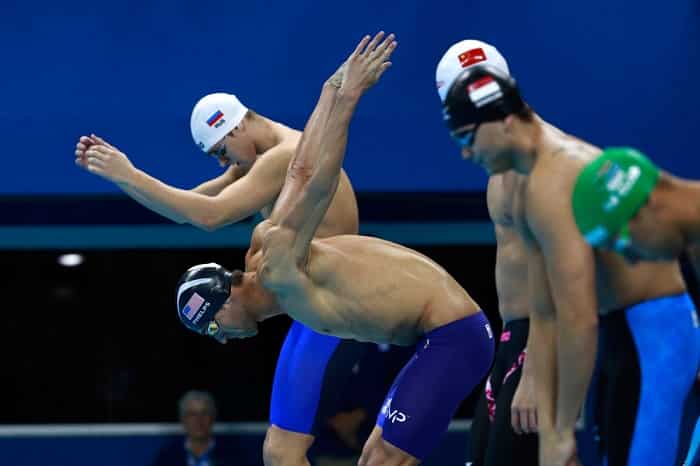 Flippers and Paddles: While Phelps foot size doesn't match Ian Thorpe's ridiculous 17 inch soles, they do come in at a bigger-than-average size 14, giving him a pair of decent sized swimming fins for feet. Along with hands that are bigger than average, basically giving him hand paddles in the water, Phelps' limbs are made to propel him through the water efficiently.
Enhanced range of motion: Phelps has a double-jointed knees, ankles, and upper body, which means that he can extend his range of motion. Hyperextension and flexion in his ankles and knees in particular allow him a greater whip with his dolphin kick, securing more propulsion. This is particularly beneficial with Phelps' over-powering underwater dolphin kick.
Michael Phelps' resting heart rate: The average human being has a resting heart rate of approximately 70 beats per minute. Miguel Indurain has one of the most legendary heart rates of all time, with a reported 28 bpm, with most endurance athletes clocking in around 40bpm. When Phelps pulled his swim goggles off and relaxed on dryland, his resting heart rate was a steady 38bpm, meaning that his heart was more efficient at pumping blood to his muscles than his competitors.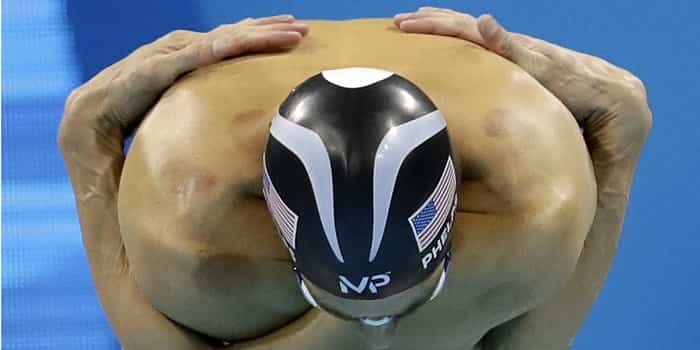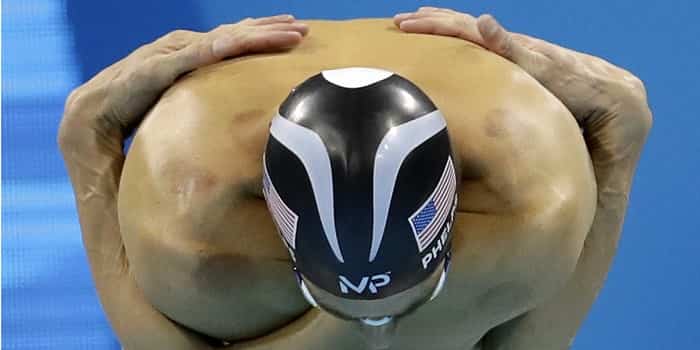 Lactate capacity: Perhaps most impressive about Phelps is his body's ability to recycle lactic acid. In 2003 stats were leaked that showed after his world record swim in the 100m fly the lactate levels in his blood were at a paltry 5.6 millimoles, a figure that was just over half of other elite swimmers, never mind the rest of the general population.
Other Phelps Stats:
Phelps could bang out 34 pull-ups consecutively, one of the top weight lifting exercises swimmers engage in.
He had the same warm-up routine before each race. This was invaluable to keeping his mind on an even keel, helping him sort with the pressure of not only his own expectations, but a swimming public hanging on to his every swim.
Phelps' squat was elite as well. According to one of his Facebook Live videos before the Rio Olympics his max squat was 385 pounds. Pretty impressive given his lean frame. And according to his auto-biography "No Limits" he could box squat 300 pounds for 20 reps.
Phelps' inseam was a short 30". This was typical of someone who is over half a foot shorter, giving him less body to pull through the water.
He broke his first world record at the age of 15, less than a year after his first Olympic performance.
He became the oldest swimmer to win an individual gold medal in swimming at the Rio Games, until his American teammate Anthony Ervin out-did him a few days later by winning the 50m freestyle over French sprint star Florent Manaudou.
The Rio Games were his fifth Olympic appearance. His performance made him widely considered the top male swimmer on the planet yet again.
For the first time in his Olympic career Phelps was nominated by his teammates in Rio as a team captain for the US swim team.
Phelps' height and weight when competing were 6'4" and 195 pounds. When he initially retired after the 2012 London Games he added 30 pounds.
His "legendary" diet of 12,000 calories per day was overblown. Initially, several major newspapers (including the Wall Street Journal) reported that Phelps was regularly crushing a five-figure calorie count each day. In an interview with Ryan Seacrest Phelps debunked the diet claims, saying that it was a "myth."
Michael Phelps' World Records
Being the most decorated Olympian of all time also means that Phelps' has smashed his fair share of world records along the way.
But how many did he set? How many does he still have? Here is a breakdown of Phelps' history of smashing world records over the years–
2001 – Phelps' First World Record
Phelps was coming up in the age of the Thorpedo. The pair of them were taking the swimming world by absolute storm as they were so young to be swimming so fast. In 2001 at the ripe old age of 15 Phelps became the youngest male swimmer to break a world record in the pool (the record was previously held by Thorpe at over a full year older when he broke the 400m free world record).
Phelps beat the WR in the 200 fly at the Americans' World Championship Trials, and then would break it again en route to becoming world champion later that year in Fukuoka, Japan, which would only be a tease of what was to come two years later.
2003 –The First Avalanche of Records
The next time Worlds came around in 2003, Phelps' range and depth became apparent, and this was when the swimming community and world at large began to fully comprehend that there was something intrinsically special about him.
He started the year off at Nationals winning the 200 free, 200 back and 100 fly, becoming the first swimmer in US history to win three races in three different strokes at a single National meet. Later that year he would break the 400IM world record at the Duel in the Pool meet between the US and Aussies (4:10.73), and set his first mark in the 200 IM shortly afterwards at a meet in Santa Clara in 1:57.94.
(During 2003 he also spent a week training with fellow world record holder Grant Hackett on the Gold Coast in Australia; the results of those swim workouts are detailed in this post.)
Worlds would be where he would truly make his mark, with a 4-gold, 5-WR performance. He lowered both IM marks – dropping nearly two seconds off of his own 200 record, and taking the 400 below 4:10 for the first time in history. He broke his own 200 fly record in the semi's (1:53.93), swam an American record of 1:46.60 on his lead-off leg of the 4×200 free relay, and would also break the WR in the 100 fly (even though Ian Crocker would beat him in the final and take the record).
2008 – The Golden 8
Phelps' accomplishment in Beijing is all the more impressive when his times from 5 years previous are held up against his performance at the Games. In all, Phelps would set an Olympic record 8 gold medals, with 7 of those swims coming in world record time, with only his 100m butterfly swum "only" in Olympic record time.
The 400IM mark he set still stands as a world record to this day. He would break his own record by another two seconds, finishing in 4:03.84. The biggest obstacle Phelps had to win 8 golds was the 4×100 free relay, with the favored French boasting a line-up that included world record holder in the 100m freestyle Alain Bernard. Ultimately, Jason Lezak would have the swim of his life anchoring the relay in a ridiculous 46.0, out-touching the French in world-record time and keeping the streak alive for Phelps.
Here are Phelps list of swims in Beijing—
200m fly — 1:52.03 WR
200m free — 1:42.96 WR
200m IM — 1:54.23 WR
400m IM — 4:03.84 WR
100m fly – 50.58 OR
4x100m free relay — 3:08.24 WR (+AR on lead-off)
4x200m free relay — 6:58.56 WR
4x100m medley relay — 3: 29.34 WR
World Records That Phelps Still Holds
Currently (01/14/14) Phelps still holds 7 world records – three individual events and 4 as part of US relay teams. The individual races were done either in Beijing in 2008 or at the FINA World Championships in Rome during the super-suit record frenzy of 2009.
100m butterfly – 49.82
200m butterfly – 1:51.51
400m IM – 4:03.84
4 x 100m free relay – 3:08.24
4 x 200m free relay – 6:58.55
4 x 100m medley relay – 3:27.28
4 x 100m free relay – 3:03.20 (short course)
The Comeback
When Phelps re-entered the WADA drug-testing pool in May of 2013 the whispers of his retirement being short-lived become much louder.
Phelps' first meet after retirement was the Mesa Grand Prix, annually put on by the Mesa Aquatic Club. Within two days of announcing that it would be his first meet the organizers sold out of tickets for the duration of the competition.
At the Rio Olympics Phelps would again be dominant, winning a total of 6 medals; 5 of them gold, and one silver (in a bizarre three way tie with Lazlo Cseh and Chad le Clos).
It is Rio where Phelps finally took a leadership role on the US squad (while also living in internet meme fame with the #PhelpsFace thing); serving as mentor and superstar for the first time in his career. That particular part of the experience is likely what Phelps will cherish most. At last he can fully hand off the baton of the sport to the next generation of swimmers.
The Legacy
Beyond Phelps' accomplishments in the pool are his lasting legacy in the pool. USA Swimming membership numbers increased significantly with each successive Olympiad, and he has become the first swimmer to truly become a household name worldwide. His
See Also:
How to Set Goals Like Michael Phelps. The GOAT was an avid goal setter from an early age. We break down some of the same tips and techniques Phelps used to set his goals, as well as how we can apply those lessons and knowledge.