In 2003, while both were dominating their respective events on the international level, the two swimmers got together for a 5-day freestyle training battle royale. Here's what happened.
Most swimmers who grew up in Canada remember the lucky day that the SwimNews magazine showed up to their doorstep.
This was in the days before the wi-fi, the interweb, and the Insta-Face-Googa-Twit-Chat, and the only way us young swimmers got our news, rankings and gossip was courtesy of Nick Theirry and his magazine.
Every two months swimmers across the country would sit with baited breath waiting for it to show up.
This is probably why so many years after it ceased publication that I cannot part ways with my tattered, sometimes cover-less collection. Names of faster swimmers were underlined and targeted, and my own name was highlighted whenever it popped up (top ranked NAG'er both as a 12 and 14 year old–woopwoop!).
Flipping through some of them recently I stumbled upon an issue from 2003.
What stopped me immediately was the youthfulness of Phelps.
Like many, I would suspect, I have grown accustomed to seeing an older, tanned and slightly bearded Phelps, particularly if you've seen his recent Under Armour commercial.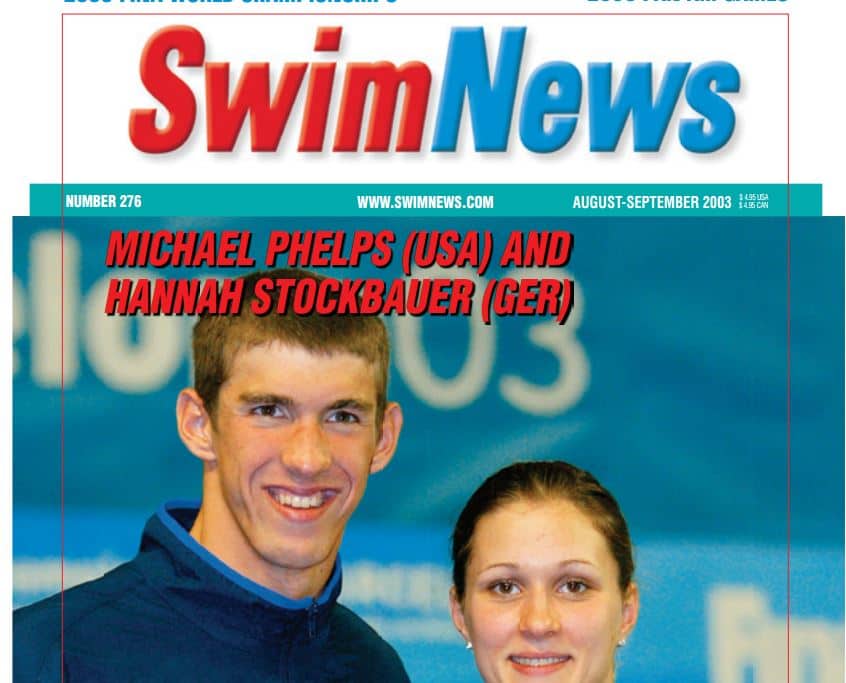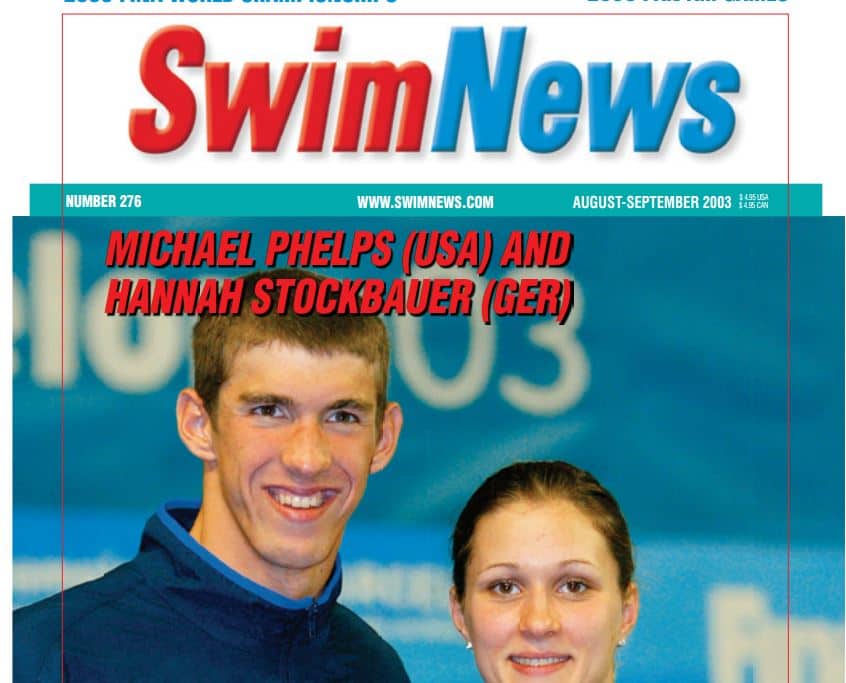 Inside the mag was a feature put together by coach Justin Finney, who in May of 2003 was invited to give a talk at the Australian Swimming Coaches and Teachers Association meeting held in the Gold Coast.
Bob Bowman, Phelps' coach, was also invited to speak, and brought his young charge along.
As a result, two titans of the sport, Grant Hackett and Michael Phelps, were able to spend 5 days going head to head at the Miami Swim Club (where Hackett was training under coach Dennis Cotterell).
At the time both were absolutely killing it internationally.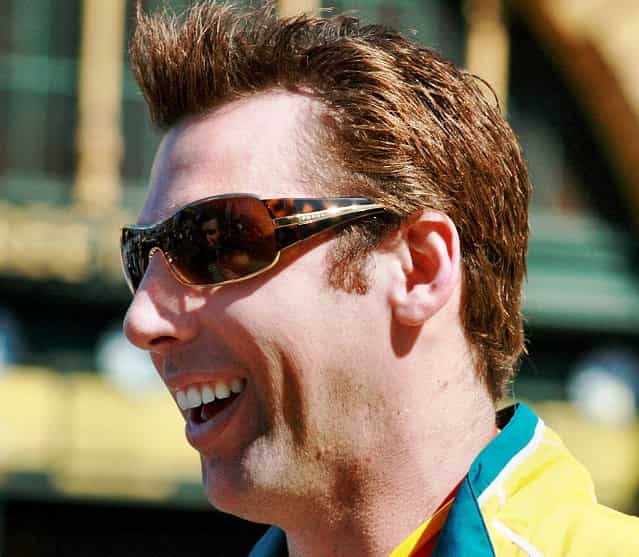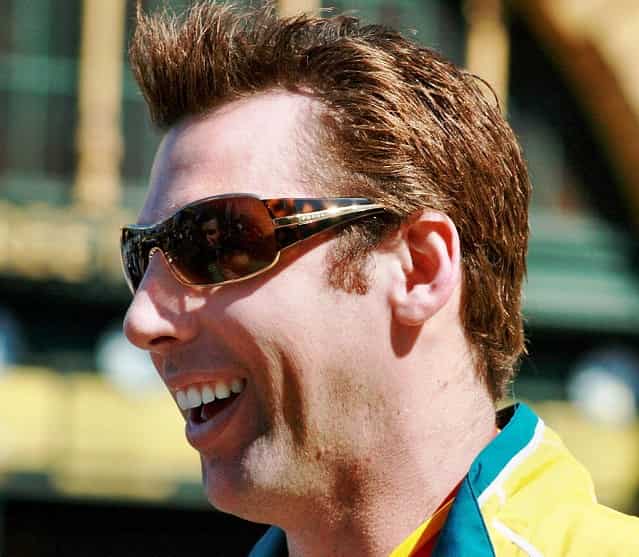 Hackett had taken over the reigns of distance king from Kieren Perkins at the 2000 Sydney Olympics, and Phelps was gearing up for his first attempt at winning 8 gold medals at the Athens Games the following year.
For 5 days the two swimmers, who both held the world record in the 200m freestyle at different points, went head-to-head in a freestyle-centric battle royale.
Here are three of the workouts, as well as the results that the respective swimmers each put down in the process:
Round #1 – Friday, May 2
[6000m total, long course meters, main focus on walls and breakouts]
Warm Up:
1500m as–
500 Swim
400 Pull
300 Kick
200 Drill
100 Swim (fast off the walls)
Pre-set:
6 x 200 freestyle pull with paddles
2 @ 2:30
2 @ 2:25
2 @ 2:20
Main Set
200 easy
8×50 @ 1:10
2 – Under water sprints
2 – 20 m Explosions
200 easy
8×50 @ 1:10
200 easy
8×50 @ 1:10
2 – Power Drill/Head up Fly
2 – 20 m Explosions
200 easy w/fins
2 x (50 underwater kick with fins)
100 swim easy
3×50 Power drill w/sponge belt – 20 m Explosions
150 easy
50 all-out freestyle with fins
Phelps = 21.1
Hackett = 21.2
300 easy swim
Round #2 – Saturday May 3 (AM)
[6000m total, long course meters]
Warm-up:
800 swim choice with every 4th 50 kick
600 pull Free/Free/Free/Back/Free/Breast by 50
400 IM – 50 Drill/50 stroke count
4×50 Explosions
Main Set:
5 rounds of–
6×50 m Free pace work @:50 (push)
3x100m easy choice @ 1:30
:30 seconds rest after 100's
Hackett & Phelps averaged 25.5's throughout.
Warm Down:
3 x 100m choice @ 1:30
300m Pull
400m choice w. fins
Round #3: Monday, May 5
[6,000m, long course meters]
Warm Up:
800 Swim as — 4 times through [150m free swim, 50m drill]
Pre-set:
4 x 150 as kick/drill/stroke count by 50
4 x 50 [20m explosions]
Main Set:
A. 800 Pull + 4 x 200 Descend 1-4 @ 2:45
B. 600 Swim tempo + 4 x 150 Descend 1-4 @ 2:00
C. 400 Swim tempo + 4 x 100 Descend 1-4 @ 1:30
D. 200 Swim tempo + 4 x 50 Descend 1-4 @ 0:50
Results:
A. 800 Pull
Hackett: 8:48
Phelps: 8:55
4 x 200 Descend 1-4 @ 2:45
Hackett: 2:16.2/2:12.0/2:06.3/1:56.6
Phelps: 2:16.2/2:12.0/2:06.5/1:56.8
B. 600 Swim Tempo
Hackett: 6:41.0
Phelps: 6:59.6
4 x 150 Descend 1-4 @ 2:00
Hackett: 1:43.6/1:38.5/1:36.5/1:24.3
Phelps: 1:43.6/1:38.5/1:36.4/1:26.3
C. 400 Swim Tempo
Hackett: 4:28.1
Phelps: 4:41.9
4×100 Descend 1-4 @ 1:30
Hackett: 1:08.0/1:04.8/1:01.2/55.2
Phelps: 1:08.0/1:04.4/1:01.9/55.9
D. 200 Swim Tempo
Hackett: 2:10.8
Phelps: 2:15.4
4×50 Descend 1-4 @ 0:50 (both swimmers did butterfly for the 50's)
Hackett: 31.5/30.2/28.4/26.9
Phelps: 31.5/30.2/28.4/25.7
Warm-down:
400m swim choice
In Summary
It's pretty insane to see how fast these type of caliber athletes can go in practice.
When asked about similarities between the two athletes at the time, Phelps' coach Bob Bowman had this to say…
They both enjoy training, it's not an ordeal for them. They are both really aware of what's going on in practice in relation to their times, speed, where everyone is, and, most importantly, where they are in training compared to their goals.
While most of us will never swim close to as fast as these superstars of the sport, the lessons are still there: train with focus, take pride in the process, and enjoy yo'self.
Up Next: