Looking for the best swim cap for training and competition? Here's your ultimate guide to picking out the best swimming cap for you.
In this comprehensive buyer's guide to the best swim caps we are going to outline our top picks for training caps, competition caps, the best cap for long hair, and also break down what kind of caps are best for your particular kind of swimming.
But first, a quick public service announcement about why you should always wear a swim cap when in the pool.
Why You Need to Wear a Swim Cap:
Here's a fun fact that might not make much sense to you: Swim caps are not meant for keeping your hair dry.
I know, I know—so what the chlorinated heck is the point of wearing one if not to keep our hair dry?
Well, there are a few reasons why you should wear a swim cap when you go swimming:
Keeps your hair out of your face. Having your hair slop down in front of your goggles, blinding you mid-length during the middle of your swim workout, is no one's idea of a good time. Think of your swim cap as a hair management tool.
Keeps hair out of the pool. A little talked about benefit of swim caps is that it keeps your hair from proliferating into the common water of the pool. More times than I can count I've seen a hairball come slowly flying at me through the water like an asteroid in space while swimming. Caps keep your hair from littering the pool.
Protects your hair from chlorine. Although your cap doesn't keep your hair perfectly dry (unless you're the head-up breaststroker type of swimmer), it does keep a majority of the chlorine-soaked water from coming into contact with your hair. Chlorine, being a solvent, is not overly awesome for hair (which is why you should also be using a good swimmer's shampoo to fully rinse the chlorine out of your hairdo).
Makes you a little more hydrodynamic in the water. This is most relevant to the competition swimmer—swim caps can help you decrease a little bit of drag and resistance in the water. Domed caps, as covered in the competition caps section, provide a wrinkle-free cap experience that minimizes your drag profile in the water.
In the case of neoprene swim caps, which we review more fully here, they help keep your head nice and warm in cold, open water.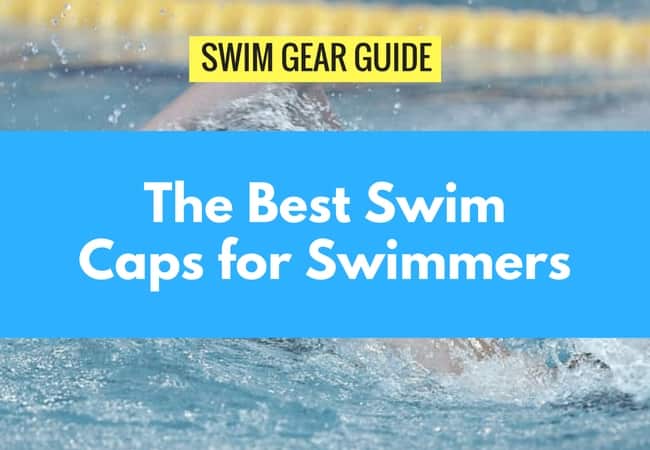 Okay, with that behind us, let's get into our list of best swimming caps!
---
Best Training Swim Caps
These swim caps are ideal for your day-to-day use in the pool.
From your weekend warrior swimmer to the this-sport-is-my-complete-life swimmer, these swim caps will survive the long bouts of training in the water with you.
Arena Classic Silicone Cap
The Arena Classic silicone swim cap is my go-to training cap.
I have purchased just three of these in the past four years and they have survived twice-daily use with ease. This cap isn't as thick as the Speedo silicone cap that ranks as our top competition swim cap, making it breathable while also retaining the durability aspects of silicone.
(Silicone is the most durable of materials used in the construction of swim gear, most notably with caps and swim goggles.)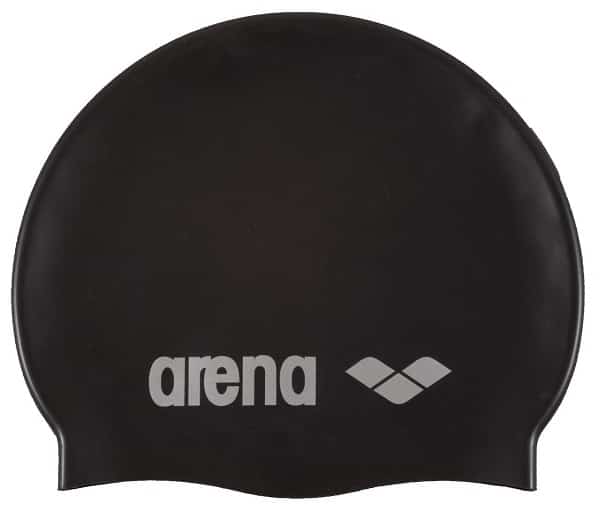 Speedo Silicone Solid Swim Cap
These swim caps are cheap, and they are made by Speedo, so you know they are going to be designed for actual swimming.
Additionally, they come in about a dozen colors, giving your plenty of options for how you want to stick out in the pool.
Here are just two of them: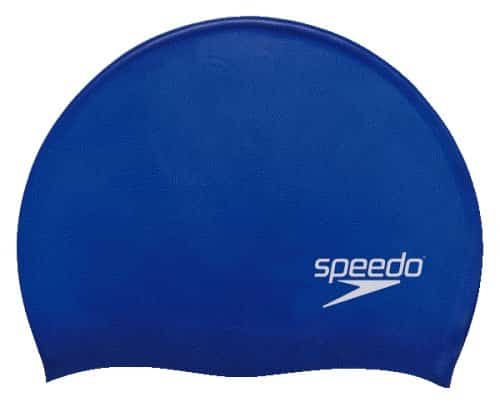 ---
Speedo Silicone Long Hair Swim Cap (**Best Training Swim Cap for Long Hair**)
For you swimmers with long hair Speedo makes a version of their Silicone Solid cap that is made just for you. Being someone that doesn't suffer from this particular problem I sourced out some of my long-haired swimmer friends for their go-to cap and this one was consistently at the top of their list.
[Looking for more long hair swim caps? See our detailed reviews of the best swimming caps for long hair here.]
They praised the fact that the cap didn't snag their hair when pulling it on or off, and that their was enough space in the cap to accommodate their hair while also providing a secure fit that kept drag to a minimum.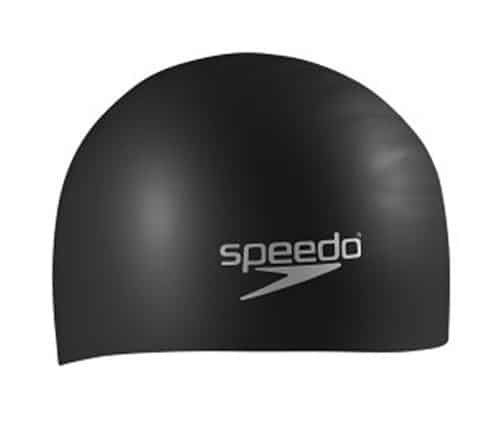 ---
Speedo Solid Latex Swim Cap
Most of the swim caps that are on this list are silicone. While silicone caps are more resilient and even more hydrodynamic because of their wrinkle-free fit, they are also more expensive than your traditional latex swim cap.
The big difference I have always noticed between a latex and silicone cap is that the former is more breathable, making them ideal for training, especially you poor swimmers who train in a warm pool.
Speedo's basic latex swim cap retails for around $3-6, making it dirt cheap and a good option for swimmers who get tend to overheat when they train.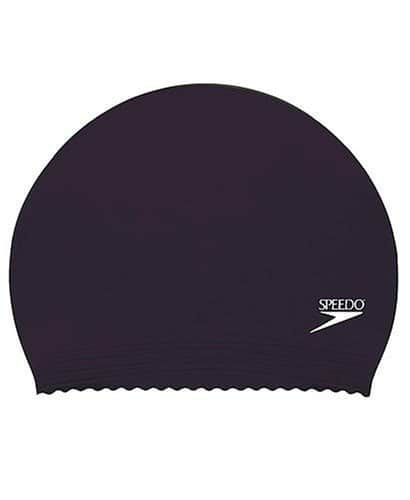 Latex vs. Silicone Swim Caps
Latex swim caps are cheaper, more breathable, but less durable. Latex caps usually don't fit with a perfect stretch over your head, leaving wrinkles in the material around the edges of the cap.
Silicone caps are more expensive, more durable, but less breathable. Silicone caps are also more hydrodynamic because they have less wrinkles.
---
Best Competition Swim Caps
The workouts have been completed, and it's time to get up on the starting block and throw down on your personal best times. Now you just need something to cover your dome with.
Here's our selection of the best racing caps for swimmers.
Speedo Silicone Aqua V Swim Cap
This is my go-to racing cap. I've purchased two since 2013 (I lost the first one when moving) and they have been excellent all the way through. After having used them at multiple meets, countless meet warm-ups and even some bouts of training they have still completely retained their shape and form.
The one thing I would note is that wearing a cap like this that is made of thicker silicone than your typical training silicone cap is that your head will get warmer much faster. I learned this first-hand when wearing the cap at a local YMCA where the pool temperature runs a little warmer.
The cap sits comfortably on your head, and because it is domed-shaped it is designed to not have any wrinkles on your head, reducing drag in the water.
Like the Speedo Silicone Solid it comes in a variety of colors (not quite as many—"just" five different shades).
Another note, similar to how you need to size down with competition suits this cap runs a little smaller than the sizing you would traditionally find in silicone and latex caps. Speedo themselves recommends sizing up if in doubt.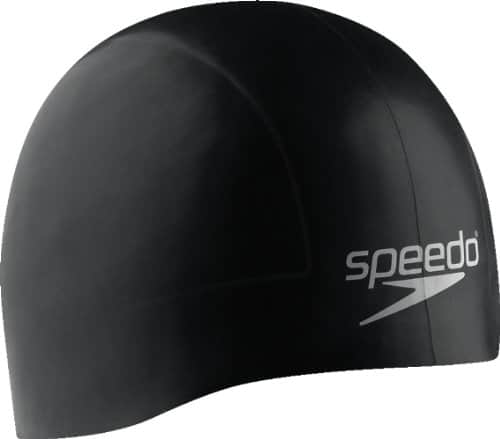 ---
MP Michael Phelps X-O Competition Cap
Along with his MP Michael Phelps Xceed goggles, the X-O cap is part of the kit that Phelps wore during his last two years of competition, most notably in Rio at the Olympics during his swan song in 2016.
Like the Speedo Aqua V cap, it's a domed cap, meaning that there won't be any wrinkles or extra material when you stretch it over your head.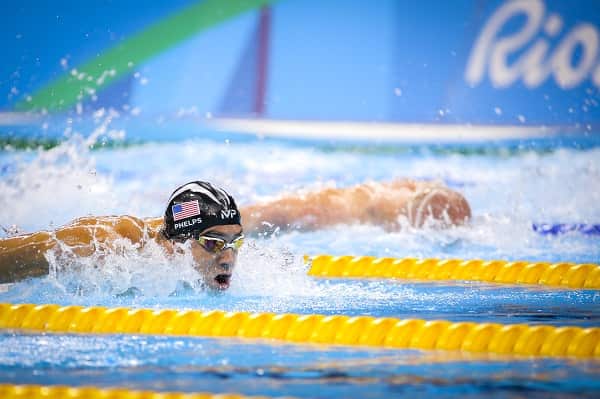 The cap provides a comfortable fit while also minimizing drag. The cap is made of 100% silicone and is FINA-approved. It's also Phelps approved, for what that's worth.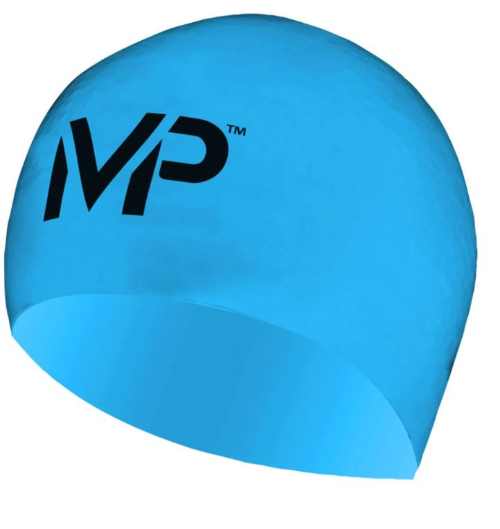 ---
Speedo FS3 Competition Swim Cap
The Speedo Fastskin3 cap is designed as part of the Fastskin "system" that Speedo put together after the drunken tech suit storm of the late 2000s. Although it is advertised as part of a "system" it doesn't actually work in concert with the Fastskin goggles and Fastskin tech suits. (It's not like a Fastskin3 cap doesn't somehow "work" with an Arena racing suit, for instance.)
With Speedo sponsoring a wide amount of elite swimmers, this cap was everywhere in Tokyo at the Olympics in 2016. From Florent Manaudou, Cam McEvoy to Pernille Blume, this cap was on the heads of a lot of swimmers that made it to the medal podium.
There are some interesting features to this cap that are kind of neat-o:
It features a marker on the cap that allows you to align them up with the goggles that you are wearing. In other words, it helps you guide the cap onto your head so that the cap is straight and not left-of-center (like my swim caps always seem to end up).
For swimmers with longer hair, Speedo recommends adding an "under" cap—they've called it their "Fastskin3 Hair Management System", which is just a fancy way of saying wear a spandex or elastane based cap underneath it to help manage all your hair.
The Speedo Fastskin3 competition cap is available in a variety of colors over at SwimOutlet.com.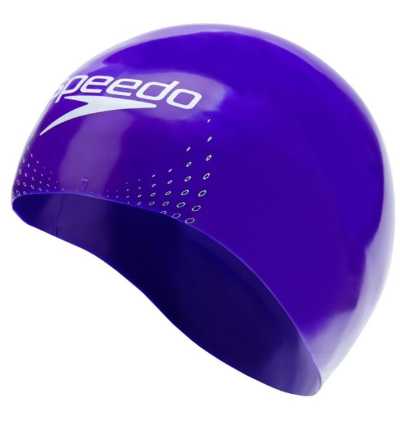 ---
Arena Domed 3D Ultra Competition Swim Cap
Arena has put together a heavyweight list of athletes on their sponsored squad that includes Chad le Clos, Tom Shields, and world breaststroke super-champion Adam Peaty.
Their racing cap, the Arena Domed 3D Ultra, has a similar look and feel to the competition caps listed previously.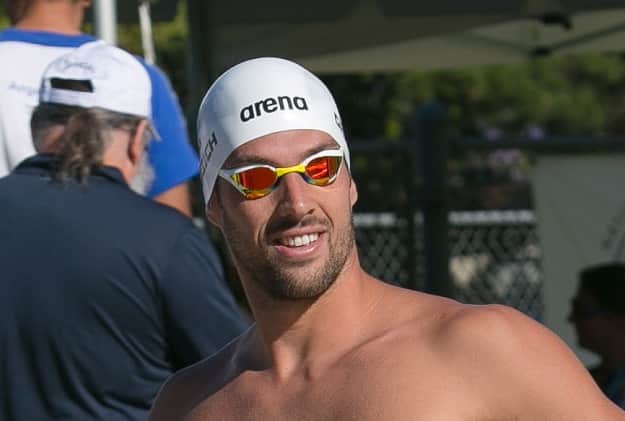 The cap is made of 100% silicone, and features a slick interior so that the cap doesn't snag and rip at your hair when you pull it off after you destroy your personal best times on race day.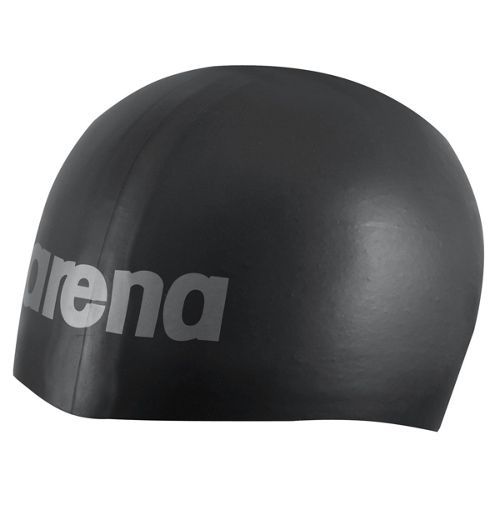 ---
More Swim Gear Guides:
7 Best Goggles for Swimming. Confused about what kind of goggles to get? Here's a breakdown on the best swimming goggles for fast swimming.
7 Best Swim Caps for Toddlers and Children. Swim caps protect your toddler or child's hair from harsh pool chemicals, helps them stay safe in the pool, and keeps their hair out of the pool. Here are our top picks for best swimming caps for toddlers and children.
5 Best Earplugs for Swimming. Want to keep your ear-holes nice and dry when you are at the pool? You are in luck–use my 30+ years of experience wearing earplugs to find the best pair of earplugs for swimming laps.