Protect your ears while in the water with our selection of the best ear covers and bands for swimming.
When it comes to keeping water out of your ears when you are in the water, there are a few options available to the recreational swimmer.
As a life-long wearer of swimmers' earplugs, I have always relied on silicone putty earplugs for keeping my ears dry. You could also try wrapping a swimming cap all the way around your head, but to be honest, this is far from fool-proof.
Another option for protecting your ears is the swimmer's ear band swimming headband.
Ear bands, when used with swimmers earplugs, are a doctor-recommended way to protect the ears. (This is an important thing to remember: a swimming ear band on its own won't keep the ears dry. They need to be used in conjunction with earplugs.)
Whether you are prone to infections of the ear (aka swimmer's ear), you have a perforated eardrum, are sick of having to use ear drops for swimming every time you get out of the water, or wear ear tubes, the ear band helps keep the ears dry so that you can focus on having fun in the water.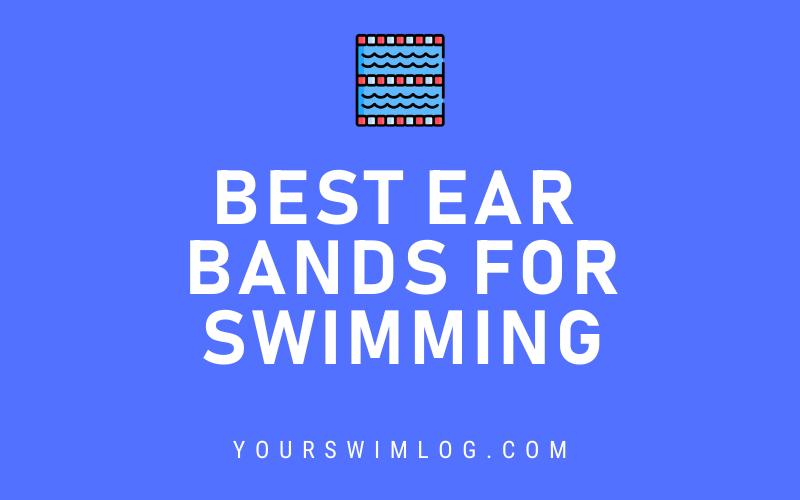 Mack's Ear Band Swimming Headband
Mack's have long been a fixture on pool decks. They have been a sponsor of USA Swimming for as long as I can remember. Which, coincidentally, is right about the time I started wearing their Mack's Silicone Putty Earplugs. (By far and away the best swimmers earplugs out there.)
The Mack's Ear Band Headband is meant to be used with their waterproof earplugs to create a double-layer of ear protection. It is made of neoprene, the same material that wet-suits are made of. The headband is stretchy, durable, and floats, which is perfect for the occasions it slips off your head doing a majestic cannon-ball.
Combined with a pair of silicone earplugs, this headband is our top pick for the best swimming ear band.
Reversible with blue and purple colors
Has a Velcro clasp that can be adjusted to fit children to medium-sized adults
Made with chlorine-resistant neoprene that keeps your head warm
Handy for keeping waterproof headphones in place while swimming
Great for the pool and the beach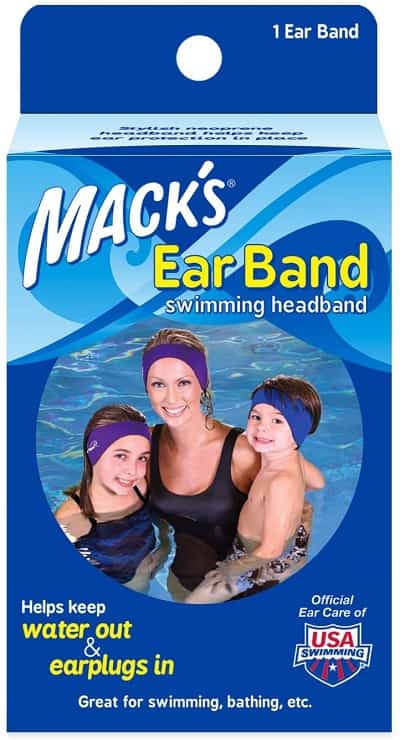 ---
Ear Band-It Swimming Headband
The Ear Band-It Headband is very similar to the Macks Headband, but has a couple different additional options for swimmers looking to protect their ears in the water.
For starters, the Ear Band-It comes in three different sizes, with small being for babies (1-3 years of age), medium for toddlers and older children (4-9 years of age), and large (10 years of age to adults). If you are looking for more color combination, they also come in ten different colors.
Made with long-lasting neoprene
Keeps water out by keeping earplugs securely in place
Gripped inner lining to prevent the band from sliding off
Thicker than most ear band headbands for extra warmth
Only headband that has a size for infants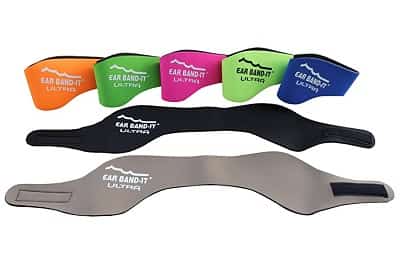 NOVOs Swimming Ear band
The NOVOs Swimming Earband Headband comes in a variety of colors and patterns, giving you options for what kind of style and look you want to be wrapped around your head. They come in two different sizes. Medium is ideal for children aged 4-9, while the large fits kids 10 years of age to adults.
Available in ten sizes
Made of soft neoprene that is comfortable on the head
Doesn't come in infant sizing
Adjustable Velcro clasp to keep the headband securely in place
Comes with a storage bag
3mm thick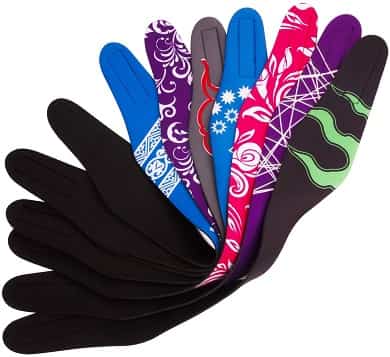 ---
More Gear Guides for Protecting Ears in the Water
Best Earplugs for Swimmers and Swimming. Confused about what kind of ear plugs are best for swimming? Here's what you need to know about choosing the best pair to keep your ears dry.
Best Swimmer's Ear Drops for Earaches and Drying Your Ears. Get water in your ear while at the pool? Ear drops provide a fast-drying solution for helping to prevent swimmer's ear.
How to Keep Water Out of Ears When Swimming. Ready to take the plunge at the pool, but want to avoid swimmer's ear? Here's a proven plan for keeping water out of your ears while swimming.