Swimming fast on race day means being equipped properly. Here's a look at the best racing swim goggles.
Swim goggles are one of the most critical pieces of gear you bring with you behind the blocks.
The right pair of goggles help you see clearly while in the water, which is critical for nailing your turns, judging the finish, seeing your competitors, and even swimming with proper technique.
Racing goggles have a lower lens profile that helps to reduce drag in the water. With less resistance, you swim faster. Pretty much that simple!
When it comes to choosing the right swim goggles for you, there are lots of things to think about.
Gasket composition, customizing the width of the nose bridge (or nose string/strap), tint, anti-fog, UV protection, lens depth, strap material, and of course, price.
Over the years I've tried just about every racing goggle there is.
Below is a detailed breakdown of the best goggles for competition, including key features, price points, and where to buy.
Let's dive right in.
Speedo Fastskin Hyper Elite Goggle
Speedo's line of Fastskin products is the fastest gear they offer. From ultra-fast tech suits to swim caps to goggles, if it says Fastskin, it's go time.
The Fastksin Hyper Elite Goggles have a slim profile, markings on the goggles to properly place your cap on race day, and a patented strap goggle seal that cuts down on pesky raccoon eyes and leaks when swimming.
These goggles have straps that are made of silicone which are long-lasting and won't snap on you mid-race or after consistent use (unlike thinner and more fragile latex straps).
Upgrades on the previous version of this goggle, the Fastskin3 Elite, include better peripheral vision, a thinner customizable nose bridge, and a clearer goggle lens.
Being a premium racing goggle, the Speedo Fastskin Hyper Elites are not cheap, retailing for around $70 depending on the color scheme you choose (check SwimOutlet for current pricing and deals).
But if you are looking for a pair of racing goggles that are fast, comfortable, and won't leak on race day, the Fastskin Hyper Elites are a great choice.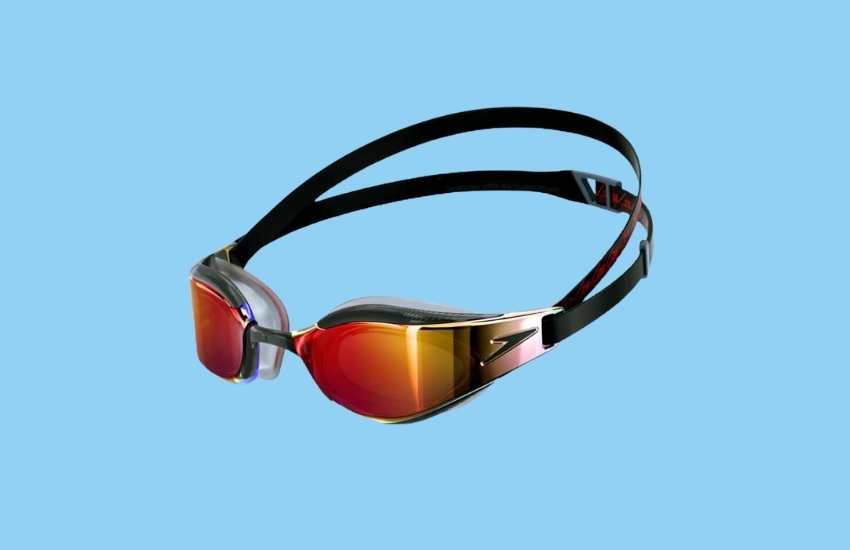 ---
Speedo Speed Socket 2.0 Goggles
You might not be able to swim as fast as 7-time Olympic gold medalist Caeleb Dressel, but you can wear the same racing goggles that he does!
The Speedo Speed Socket 2.0 goggles have long been Dressel's goggle of choice (plus now that he's sponsored by Speedo, he likely gets them by the bag for free!) and are an excellent multi-purpose goggle that are durable, comfortable, and can be used for both training and competition.
The goggles have a low profile, which helps cut down on drag, making them ideal for racing. The straps are made of long-lasting silicone and are easy to adjust to the circumference of your head. And the vision through the goggles is excellent with superior peripheral vision.
Speedo offers these in a wide variety of colors and tints, including mirrored, clear, smoke, and more.
And the best part of these racing goggles?
The price—at around $35 (check SwimOutlet for current pricing and deals), makes them one of the most affordable of competition-grade swim goggles on the pool deck.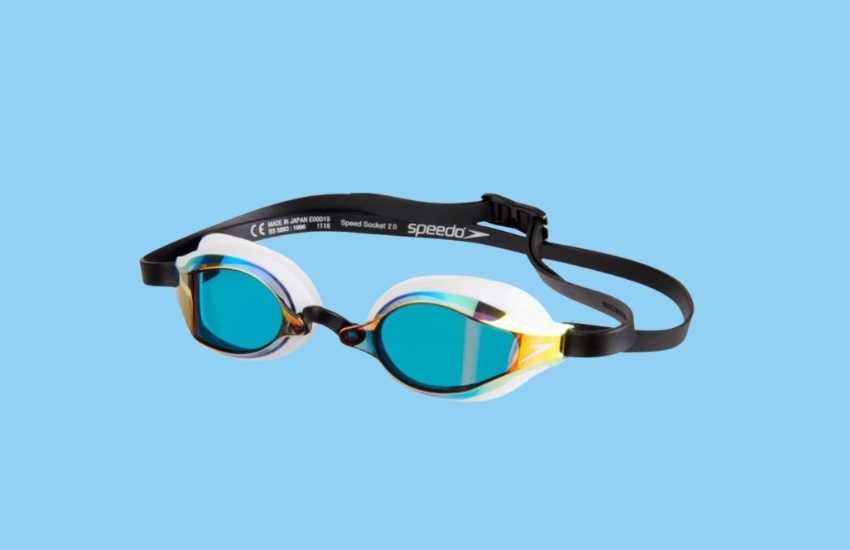 ---
Arena Cobra Ultra Swipe Mirror Goggle
I am a huge fan of Arena gear in general, from their tech suits to the Arena Cobra Ultra swim goggles.
The most recent edition of the Cobra Ultra takes things to a new level with enhanced anti-fog, a slimmer profile for minimal resistance in the water, and nearly a dozen color combos and tints.
The Arena Cobra Ultra Swipe Swim Goggles ship with five different nose bridges, ensuring that you will get a custom and leak-free fit. Dual silicone straps keep the goggles firmly in place when you dive into the water on race day. And the polycarbonate brackets wrapping around the side of your head help to cut down friction in the water even further.
The main selling point on the Swipes has to be the extended anti-fog properties.
Unlike most other goggles, whose lenses lose their anti-fog coating when you rub them, the Cobra Ultra Swipes are specifically designed to be gently swiped on the inside.
The Arena Cobra Ultra Swipes is an excellent racing goggle that is low-profile and will help you see clearly even on the last race event on the last day of the Big Meet.
Being Arena's premium racing goggles, it's priced as such, with retailers offering them for around $60-70, putting them at the top end of the pricing range when it comes to racing goggles (check SwimOutlet for current pricing and deals).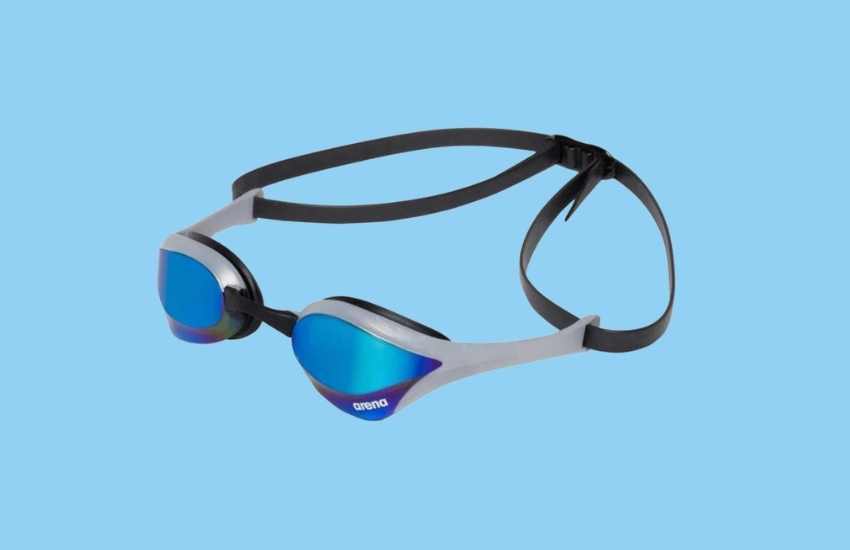 ---
MP Michael Phelps Xceed Titanium Racing Goggles
The MP Michael Phelps Xceed's are the same racing goggles that Michael Phelps, the greatest swimmer of all time, wore at his last Olympics appearance during the 2016 Olympic Games.
Phelps had input in the design and testing process of the goggles (along with his longtime coach Bob Bowman). The result is a pair of racing swim goggles fast and comfortable enough for the GOAT.
The Xceed's have a low-profile lens that looks a little similar to the Speedo Fastkskins. The strap buckle is designed as thinly as possible. And the nose bridge is fully adjustable to the shape of your face for a custom and leak-free fit.
These goggles, which are ideal for racing but can be just as easily used for daily use, have long-lasting silicone straps, a semi-rigid exoskeleton and anti-fog and anti-scratch lenses.
Available in a range of tints and colors, the Xceeds are priced in the neighborhood of $50-60 (check SwimOutlet for current pricing and special offers).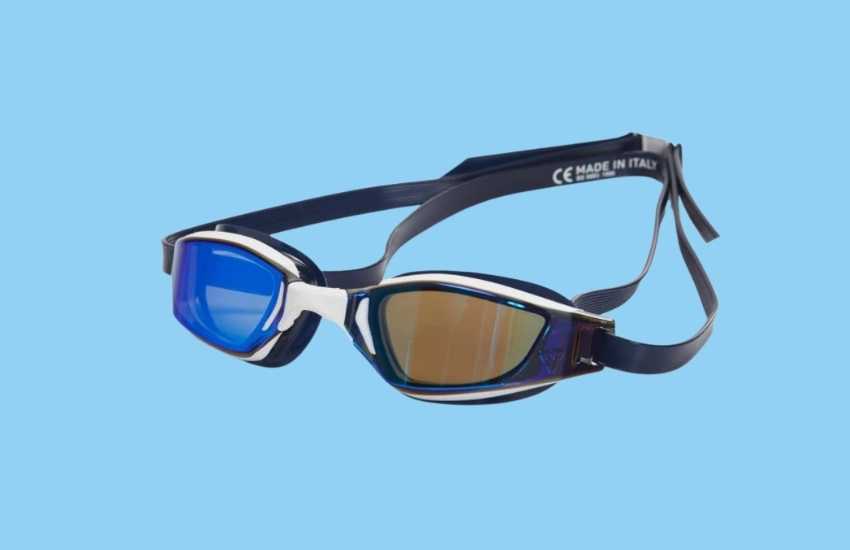 ---
TYR Socket Rocket Goggle
The TYR Socket Rockets have been one of my favorite goggles over the past few years.
Even though I don't compete anymore, they were a pair of goggles that I felt comfortable wearing on race day as well as during my day-to-day training.
Why do I like these swim goggles so much?
The Socket Rockets are an excellent blend of the old school Swedish goggles combined with the recent advancements in goggle technology, including silicone straps, soft gaskets and both string or strap nose bridges for a custom fit.
Other key features include a wide variety of colors and tints, 180-degree peripheral vision, and a low-profile lens for reduced drag when churning towards a new personal best time in competition.
The Socket Rockets are also exceptionally cheap, the cheapest racing goggles on this list, at less than $20 per set (check SwimOutlet for current pricing and deals).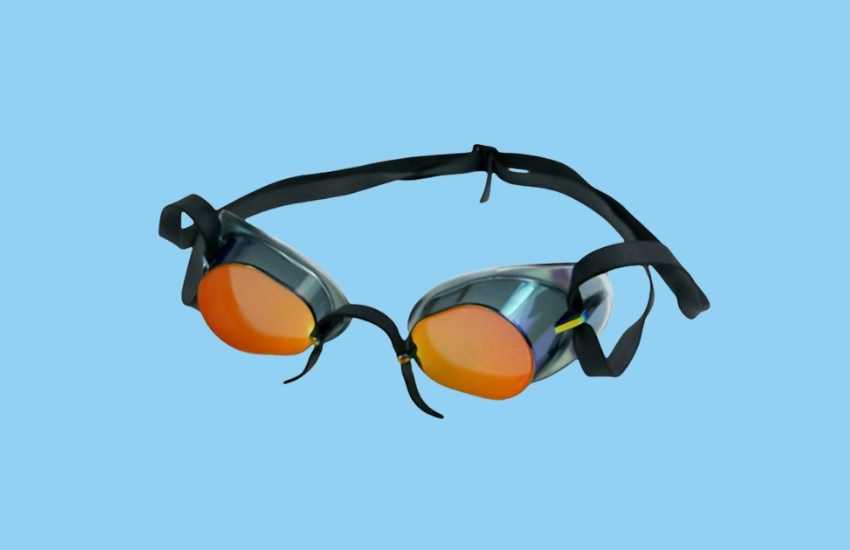 ---
Mizuno GX Sonic Eye Swim Goggles
Mizuno is better known for their racing suits, but they also make a solid pair of racing goggles with the GX Sonic Mirrored Swim Goggles.
The lenses are made of strong polycarbonate that has an anti-fog layer for clear vision in the pool. The profile of the swim goggles is very low, on par with the Cobra Ultras, and the straps have a low-profile adjustment buckle for a custom fit.
While not as popular as the other goggles on this list, they are a solid pair of racing goggles if you want something that is unique.
Mizuno offers these goggles in a couple of different color options, and they retail for $45 (check SwimOutlet for current pricing and deals).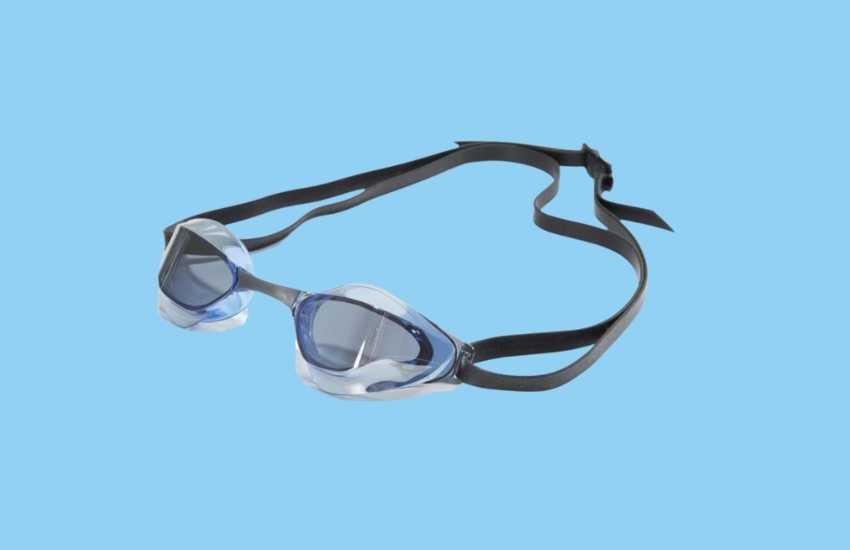 ---
More Swim Goggle Resources
Looking for more google resources and guides?
I've put together a few other reviews and round-ups for swimmers looking for the right pair of goggles for their swimming.
7 Best Swim Goggles for Every Kind of Swimming. Not sure about what kind of goggles to get for your swimming? Here's a detailed look at the best for lap swimming, open water, juniors, and more.
6 Best Prescription Goggles for Swimming. Ready to take on the pool, but want to be able to take your prescription with you? Here are the best prescription goggles for swimming.
8 Best Swimming Goggles for Kids. Looking for the best pair of swim goggles for kids? From backyard splashing to competition, we break down the top goggles for kids to splash around in the pool
5 Best Goggles for Open Water Swimming and Triathlons. Ready to dominate your open water race? Here's a breakdown of the best swim goggles for open water swimmers and triathletes.