Swedish goggles, or swedes, have long been the favored goggle of elite swimmers. Here's a full breakdown of this popular goggle, including the best Swedish goggles on the market.
If you've ever watched swimming on television you might have noticed how often swimmers wear Swedish goggles. Contemporary swimmers might be forgiven for being confused as to the popularity of these goggles.
After all, Swedish goggles:
Hurt your face. Sure, they look cool, but for every swimmer that wears a pair of Swedish goggles for the first time there is the inevitable, "Ouch!" The hard plastic socket rests "comfortably" against your face, which will be sore if you wear it for an extended period of time on your first occasion of wearing them. For newbie swimmers, or for swimmers who haven't worn Swedes in a while, there is going to be a handful of swim practices where you leave the pool with your eye sockets feeling a little sore.
Double the pain when ya get kicked in the face. Running into the errant hands, elbows, feet and torsos of other swimmers is part of the deal when swimming in a pool with other people. There are fewer things that hurt more than taking a foot to the face while wearing a pair of these—it will add at least 25% agony and bruising to any injuries sustained in the pool.
Latex straps degrade quickly. Most goggles now come with silicone head straps. Silicone is far more durable in the water compared to latex (this goes for choosing a latex or silicone swim cap as well). Swedish goggles come with latex straps which degrade faster over time with repeated exposure to chlorine.
Can be a pain in the butt to assemble. With only a couple inches of cotton string, you must slide it through the hole on one lens, through the silicone tube, through another lens, back through the tube (the really fun part, I assure you), and then somehow with your little elf fingers tie it into a knot that won't disintegrate the moment you slide the goggles over your head. And once you get them tied properly there is no guarantee that it will fit snugly across your nose and not leak…
But, on the other hand…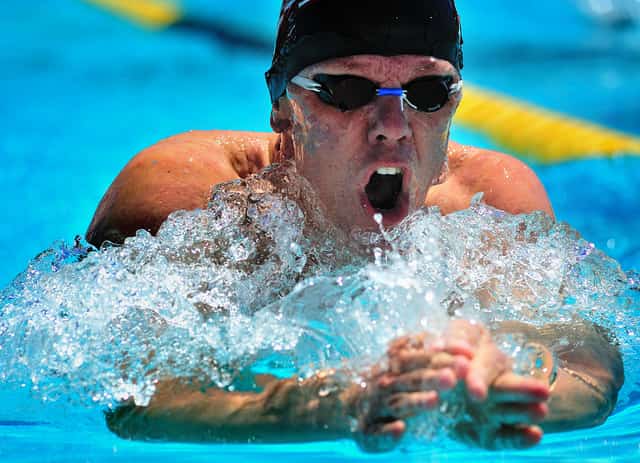 They look really cool. They have great peripheral vision. And they are actually pretty cheap as far as swimming goggles go. And once you get into a good assembly routine, they can be set up rather fast.
Why Swedish Goggles Are So Popular and Awesome
Swedish goggles, or Swedes, are not only the cheapest swim goggles on the market, but they are also the hardest to put together.
There are a few reasons why Swedish goggles are so popular:
Most Swedish goggles are UV-treated, making them ideal for swimming outdoors.
The fit is always going to be ideal. Unlike swimming goggles that have a fixed nosepiece, Swedish goggles have to be assembled. Customizing the nosepiece means that with a little bit of testing and some patience you will always have a leak-proof fit.
The nosepiece can be a chunk of the head strap. Because I am lazy and don't have the patience to tie tiny little knots I will cut off a couple inches of the head strap and use it as a nose piece. Much quicker to set up and adjust.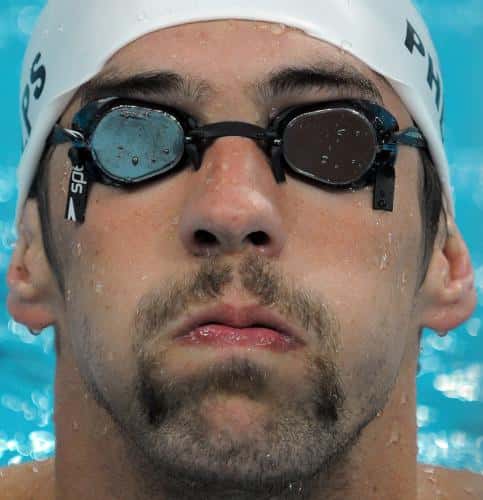 They are cheap. In a world where swimming gear is getting more and more expensive, with tech suits costing as much as $600 and even "tech" goggles costing $60, Swedish goggles are still among the cheapest of the bunch, usually costing less than $20 per set depending on the brand.
About as simple as it gets. The goggles come with two hard plastic eye sockets. No silicon or rubber gasket.
The Best Swedish Goggles
Purists will say that true Swedish goggles are only the Malmsten AB brand, and that other comparable goggles, such as the TYR Socket Rocket (full review here), are just an imitator.
Here are four of the most popular tints that Malmsten produces (and at $5-7 per pair might as well get them all):
Swedish Goggles – Mirrored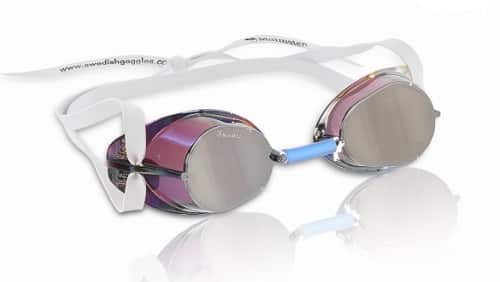 Swedish Goggles – Smoke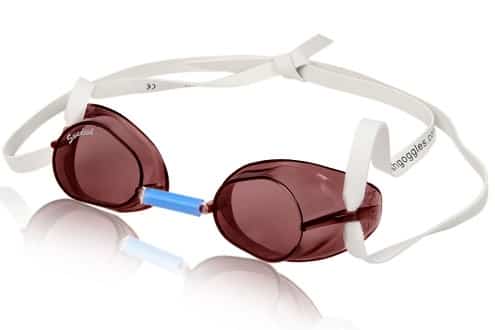 Swedish Goggles – Blue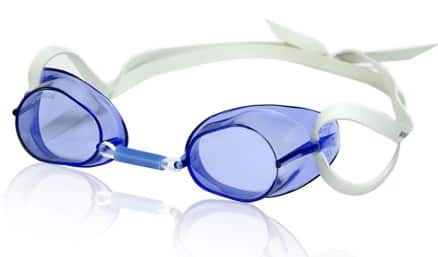 Swedish Goggles – Clear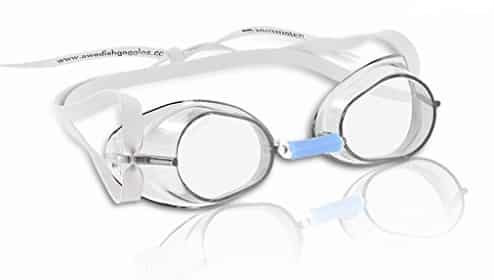 Speedo Swedish Goggles (2-pack)
Speedo, one of the most popular swim gear outfitters on the planet, makes Swedish goggles as well.
Their offering comes in a 2-pack. For about $15 you get a pair of light tinted goggles and a pair of mirrored goggles; the idea being that you have a pair for darker indoor pools, and a pair for brighter outdoor swimming.
All in all, these Speedo goggles have you covered wherever you are training. (These exact goggles also have a prominent role in my goggle lineup.)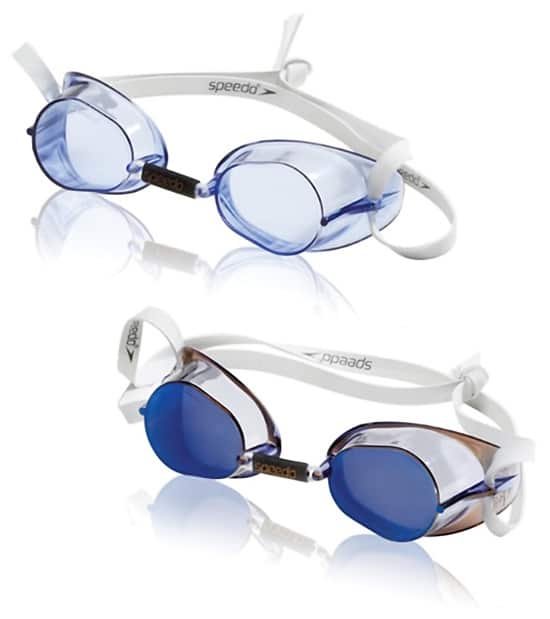 ---
More Swim Gear Guides:
7 Pieces of Swim Gear Every Serious Swimmer Should Have. Looking to take your swimming to the next level? Here are the essentials.
The Best Underwater and Waterproof MP3 Players for Swimming. Ready to level up your swim workouts with music? Here's a breakdown of the most popular underwater and waterproof iPod/mp3 players on the market today.