Speedo has long been the dominant swim goggle brand for competitive swimmers. The Speedo Vanquisher 2.0, one of the most popular goggles ever, reminds us why.
When it comes to swimming gear, there are fewer things more critical to a swimmer than his or her swimming goggles.
They allow us to see (sounds important), reduce glare and brightness when swimming outdoors, and it also keeps our eyes from getting red and irritated from the chloramines in the water.
Beyond that, our goggles need not leak, be comfortable, and be able to suffer the daily punishment we give them by spending hours of the day in pools full of chlorine.
The Speedo Vanquisher 2.0 Swim Goggle delivers on all of these.
In this review of the Vanquisher goggles, we will look at the things we love about them in the pool, a couple of things to be aware of, and how the Vanquishers compares to some of Speedo's other swim goggles.
Let's dive right in.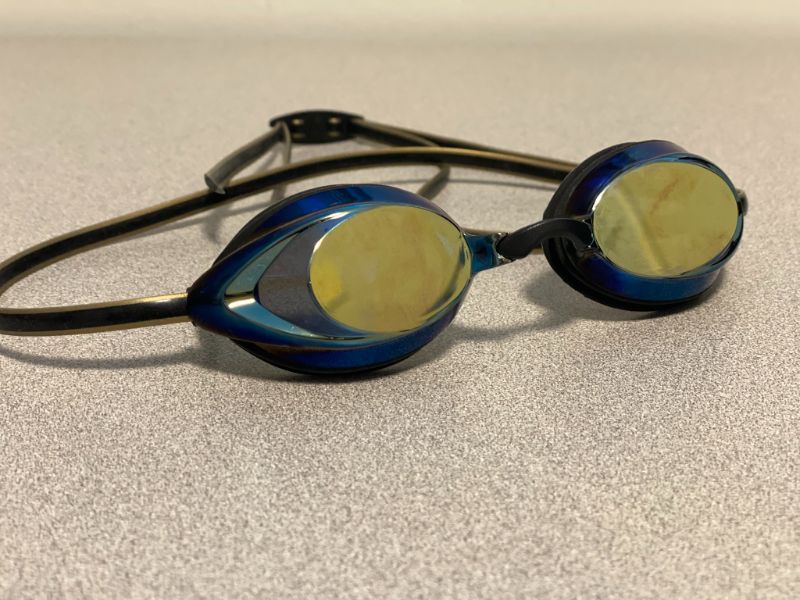 Speedo Vanquishers 2.0 Swim Goggles — The Pros
✅

The Vanquishers last forever.
Unlike the straps on other goggles like the TYR Socket Rocket (one of my favorites) or the regular old Swede goggles, the Vanquisher straps are thick and long-lasting.
I have a couple of pairs of Vanquishers that have lasted 3 years of heavy use without any kind of strap degradation.
Giddyup!
✅

 Perfect for swimming outdoors.
While on the road last year I spent a week training in Tucson, Arizona. They have some fantastic outdoor pools, and plenty of sunshine.
The mirrored and dark-tinted Vanquishers are quite dark, which makes them ideal for swimming under the blazing sun and very bright indoor swim pools.
I did find that how dark they are made seeing a little more difficult in darker, indoor pools, like my local YMCA. This becomes particularly problematic (if you swim in darker pools indoors) once the anti-fog begins to wear off. And it always does.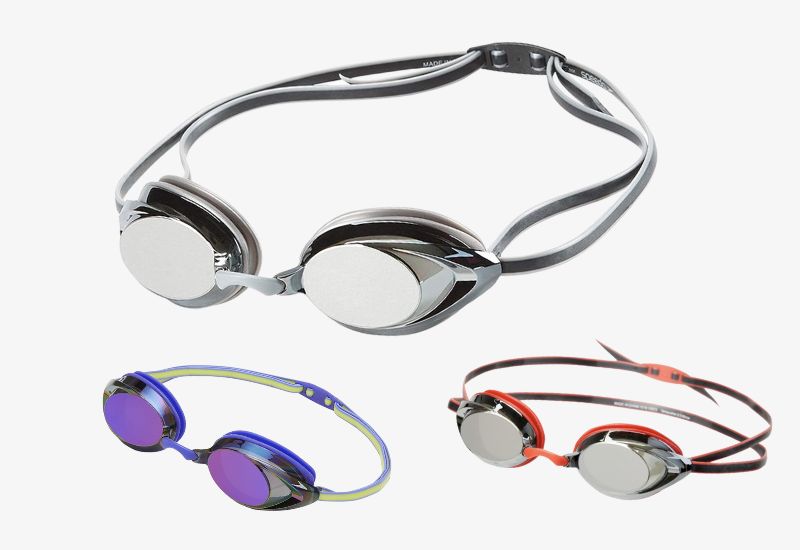 ✅

 They are comfortable.
Perhaps the most important thing about these swim goggles, and why they are so popular, is that they are insanely comfortable.
The eye sockets are rubberized, so you don't have a hard plastic lens digging into your face, and the shape of the lens sits comfortably into the face.
For swimmers who train for 90-120 minutes this is key—you want goggles that will be comfortable on your face for extended periods of time and not leaving your face feeling as though you took a breaststroke kick to the face.
✅

 Leak-free swim experience
The Vanquishers come with a hard plastic nose piece (with several different sizes to adjust to your particular nose width—I've been good to use the one it comes packaged with).
This means that as long the goggle straps are even moderately fitting you won't have any leakage.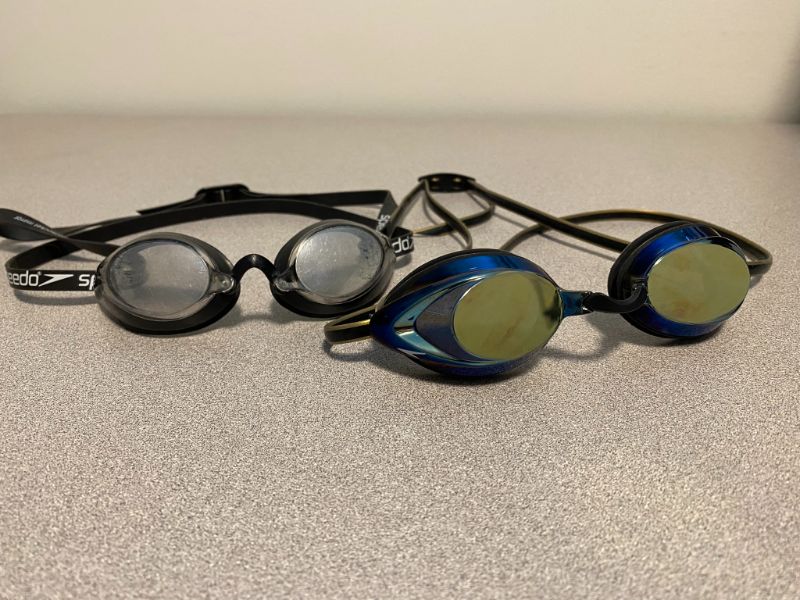 I'm fond of using Swedes with a chunk of strap as the nose piece—while convenient and quick to do, the strap wears out after a few weeks of constant water and falls apart.
No such issues with the Vanquishers.
✅

 They come in an optical version
For swimmers who require (or want) a prescription-lens in their goggles, Speedo makes these bad boys in prescription-strength as well.
In fact, the Speedo Vanquisher 2.0 Optical Goggle is our top pick for the best prescription swimming goggles for laps.
Speedo Vanquisher 2.0 Swim Goggles – The Cons
While the Vanquisher 2.0 goggles are epic in a number of regards, there are a couple of things you should be aware of before hitting "add to cart" at your favorite online retailer:
❌ The peripheral vision could be better
One complaint with these goggles is that it is a little harder to see out the sides and the top of them. Compared to Swede goggles, which have fantastic all-around vision, the Vanquisher 2.0 is a little harder to see out of if you aren't looking straight ahead.
This might not matter for most swimmers, but when swimming face-down with a swim snorkel I would like to be able to see peripherally what is ahead of me without having to pick my head up.
Other goggles that have really good peripheral vision include the Magic5 Swim Goggles and the Arena Cobra Ultra Swipe Goggles.
❌ Mirrored lens gets really dark when the anti-fog wears off
Earlier I sang the praises of the Vanquisher for being a champ when swimming outdoors, reducing the bright glare of the sun.
But wearing these swim goggles, particularly the mirrored and dark lens, in a pool that is not brightly lit will leave you squinting and straining to see through the lenses, especially once the goggles start to get fogged up.
Of course, you can mitigate some of this by using a decent anti-fog spray for swim goggles regularly and doing your best not to wipe away the factory anti-fog by rubbing the inside of the goggles.
---
Speedo Vanquisher 2.0 Goggles — FAQ
What's the difference between the Vanquisher 2.0 vs. Speed Sockets 2.0?
The Vanquisher 2.0 and the Speedo Speed Sockets 2.0 are Speedo's best two "daily driver" swimming goggles.
The main differences are that the Speed Socket is slightly thinner and has a bit more peripheral vision.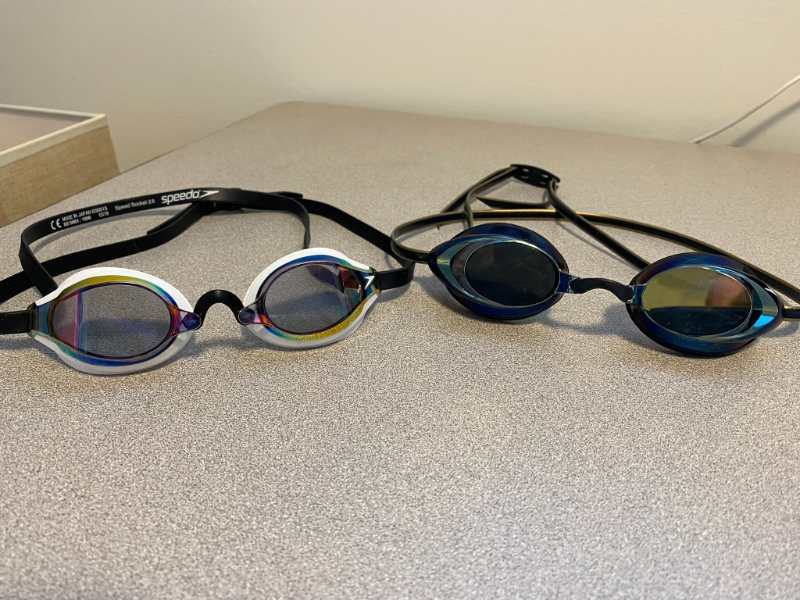 These two characteristics make it an excellent training and racing swim goggle (hence why Olympic gold medalist Caeleb Dressel uses the Speed Sockets in practice and at swim meets).
The Speed Sockets are a true hybrid racing and competition swim goggle, while the Speedo Vanquisher 2.0 goggle is best-suited for training and laps.
Is there a women's version of the Speedo Vanquisher 2.0 goggles?
Yes! Although the "regular" Vanquishers come in unisex sizing, there is also a women's version of the Speedo Vanquisher 2.0 goggles. The actual goggles are the same size, but the nose pieces included with the goggles have smaller sizes that are designed to better fit smaller faces.
These goggles topped our list of the best women's swim goggles thanks to a blend of excellent fit, tons of color options, and the legendary comfort and performance features standard with Vanquisher goggles.
Are the Speedo Vanquisher 2.0 Swim Goggles good for racing?
The Vanquisher 2.0 goggle is an excellent choice for competition, although I would classify it as more of a training swim goggle.
Speedo makes other racing goggles that have thinner profiles and wider peripherals—such as the Speedo LZR Pure Focus Goggles—that give you a wide and drag-free goggle for when you step up on the blocks.
How do you adjust the Speedo Vanquisher goggles?
There are two primary ways that you can customize the fit on the Vanquisher goggle.
First is with the nose-piece. Each goggles comes with three different nose-pieces so that you can set the lenses squarely into your eye socket. Doing this will solve a lot of the leaks that happen when goggles aren't fitted properly over the eyes.
Secondly, the head straps can be adjusted for length and tightness with a plastic buckle at the back of your head. Shorten or lengthen the straps as necessary so that the goggles sit comfortable and securely on your face.
The Bottom Line
The Speedo Vanquisher 2.0 has long reigned atop our list of the best goggles for lap swimmers. (Hasn't gotten knocked off the #1 spot since 2018!)
The goggles are exceptionally durable, comfortable, and swimmers have a wide range of colors and tints to choose from (including women's and optical editions).
The Speedo Vanquisher 2.0 swim goggles are perfect for swimmers who want:
Comfortable swim goggles that won't leak
Lots of color and tint options
A goggle that will work as hard as they do in the pool
And don't want to spend a ton of money on a quality swim goggle
Grab yourself the set of Vanquisher goggles that match your goals and aesthetic and hit the water in style and comfort.
Best All-Purpose Swim Goggles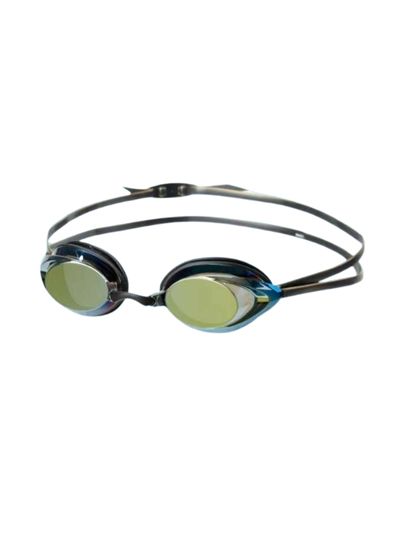 ---
More Stuff Like This:
Swim Gear Review: TYR Socket Rockets. One of my go-to goggles is the Socket Rocket. Here's a breakdown of what I love (and don't love) about this goggle.
6 Best Swimming Goggles for Competition. Swimming fast on race day means being equipped properly. Here's a look at the best racing swim goggles.