Speedo's fastest swim goggles to date, the LZR Pure Focus Goggle, is a hydrodynamic and comfortable goggle for competition. Here's a full review of the pros, cons, and who the Pure Focus swim goggles are for.
The Speedo LZR Pure Focus Swim Goggles are a premium set of swim goggles for swimmers who want the best of the best on race day.
The main features of these goggles include excellent peripheral vision, a hydrodynamic goggle lens, and stabilizers on the side of the goggles for a leak-free fit.
In this full review of the Speedo Pure Focus goggles, we take them to the pool for a full test and swim, outline the pros of the swim goggles, and where they can be improved so that you can see if they are the goggles for you to conquer race day.
Let's jump right in.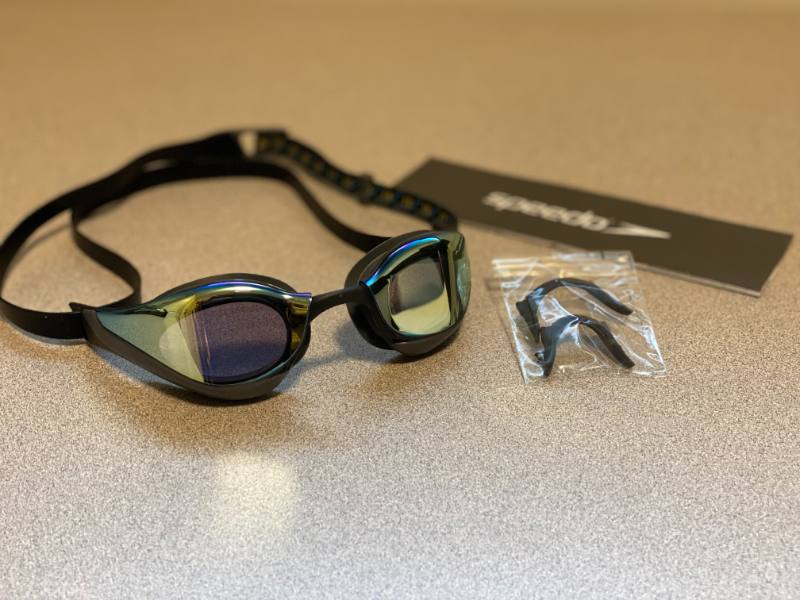 Who is the Speedo LZR Pure Focus Swim Goggle For?
The Speedo Pure Focus goggles are swim goggles designed for competition.
With a thin lens profile, side stabilizers to keep the goggles firmly in place, and exceptionally wide peripheral vision, these swim goggles allow you see everything and see it clearly when competing.
Speedo Pure Focus Swim Goggles – The Pros
Alrighty, here are the things that I really liked about the Speedo Pure Focus Goggle.
Best peripheral vision of any google I've tried
Peripheral vision matters a lot in swimming.
First, you want a full field of vision in the water for safety's sake. Being able to see approaching walls, fellow swimmers in the lane, and where lane ropes and backstroke flags are.
And secondly, in competition, you want to be able to gauge where you are compared to other swimmers.
Excellent peripheral vision with your swim goggles allows you to adjust speed and effort as it relates to where your competitors are.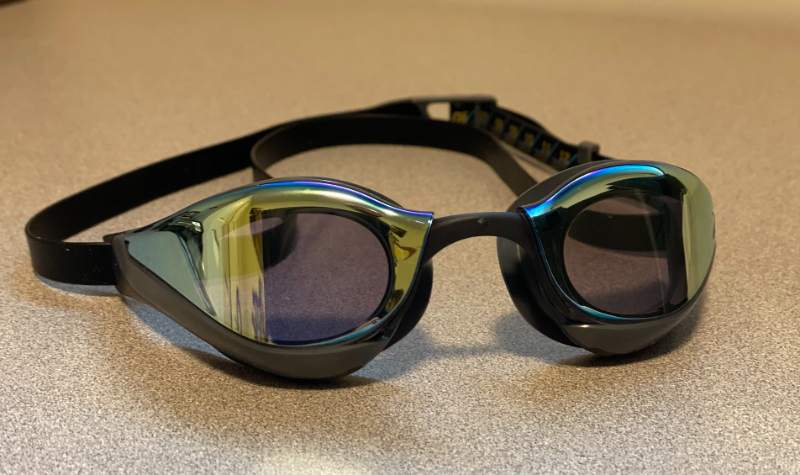 (Obviously, there is also a benefit to having "horse blinders" on when swimming so that you focus on yourself and not the competition. Every swimmer's needs are unique in this respect.)
The Speedo Pure Focus offers the best peripheral vision—to the sides—that I've ever seen in a swim goggle. These goggles simply provide the widest range of vision among the best swim goggles on the market right now.
The vision when looking "up" is excellent as well, and I'd compare it favorably to the Arena Cobra Ultra Swipes in this regard.
If a full field of vision is crucial to you on race day, the Speedo Pure Focus Googles lead the pack when it comes to racing swim goggles.
Exceptionally comfortable!
Comfort and fit are everything with swim goggles, and the Pure Focus swim goggles are comfortable enough to be a daily driver at swim practice.
I wore these swim goggles day in, day out, for weeks on end and never got those pesky goggle marks under the eyes or any residual face soreness.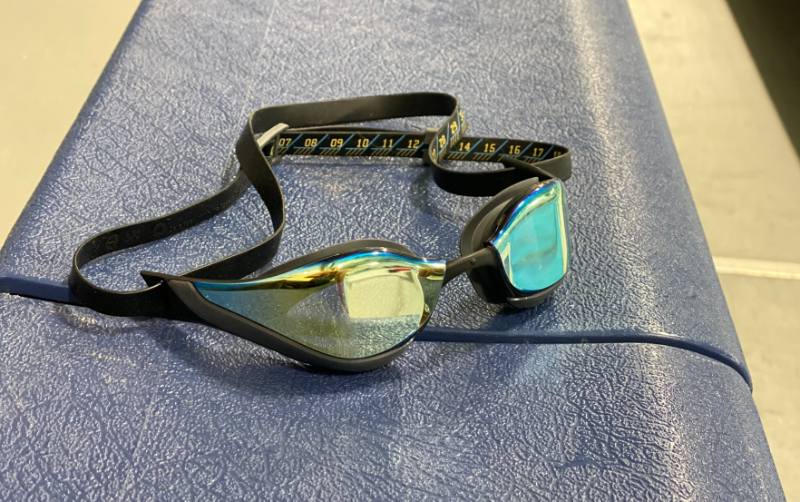 These goggles, while priced and built for competition, is an exceptionally comfortable swim goggle that is great for daily use.
The gasket isn't as thick as the Vanquishers or the Speed Sockets, but this doesn't sacrifice on comfort.
Side stabilizers for added stability and reduced drag
The Pure Focus swim goggles have lenses that extend into side arms, wrapping around two inches around the side of the head.
There are two reasons that this is good news for you as a swimmer:
First, it reduces any added drag from water hitting your goggle straps at the side of your head. This won't help you drop ten seconds on your 200m freestyle PB by any stretch of the imagination, but every little bit counts.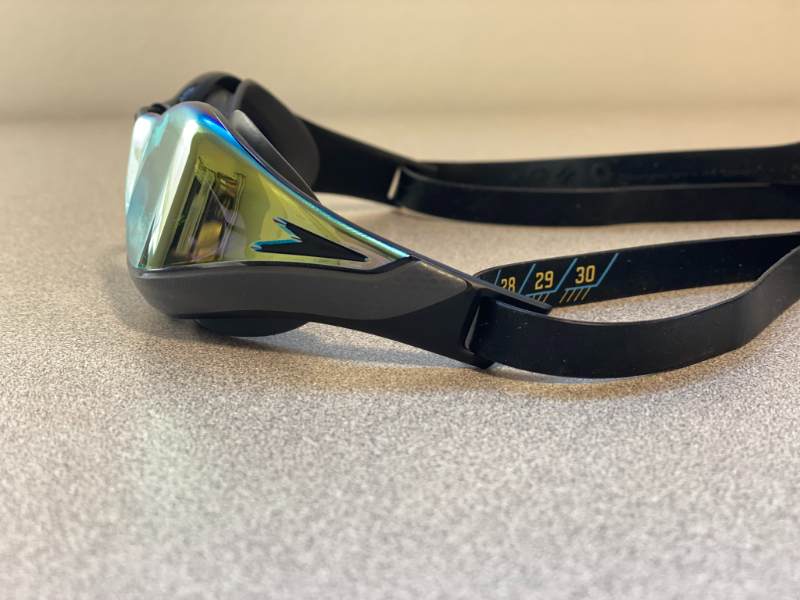 Second, the side arms or side stabilizers make the goggles significantly more stable.
They make the frame of the goggles larger, reducing the likelihood of leaks or the goggles coming loose when diving into the water.
Side stabilizers are becoming more and more popular with elite swim goggles.
Swimmers want the confidence to know their goggles will remain in place off the start, and the side stabilizers help accomplish this.
Low profile gaskets
The Pure Focus goggles are an exceptionally low profile goggle. The primary benefit of a lower profile is that they create less drag in the water.
But perhaps more importantly, because they are so low profile, they "sink" into the profile of your face, making them WAY less likely to fall off when diving into the water.
Fun fact: According to Speedo, this is their fastest swim goggle ever, with a 5% reduction in drag compared to their other premium racing goggle, the Fastskin Elites1.
Every swimmer has nightmares about diving into the water for an important race and goggles filling up with water or coming off altogether. The extra low profile keeps the lenses firmly in place, eliminating any worry of the goggles coming loose.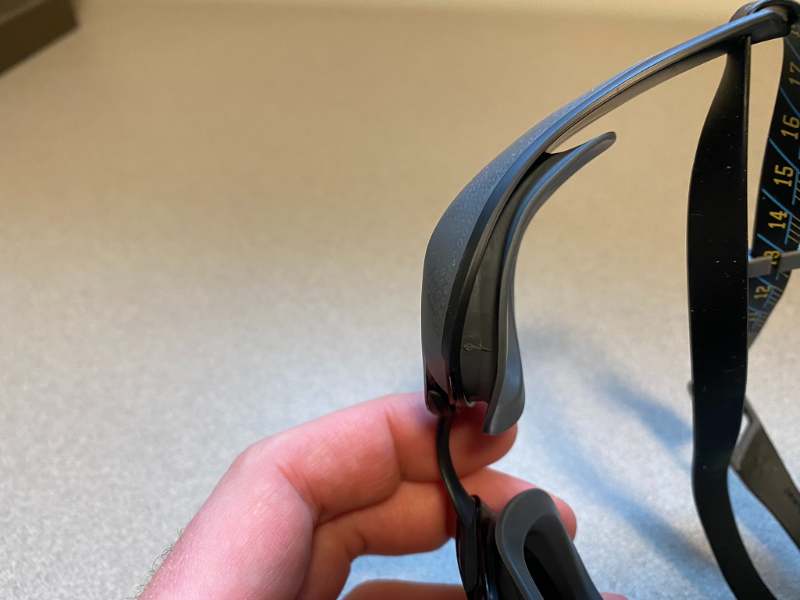 While they are low profile, they also aren't the skinniest goggles I've tested.
The LZR Pure Focus goggle lens has a thickness of 0.7".
Here's where that ranks compared to other swim goggles:
Fit points for proper swim goggles and cap placement
Every swimmer, at some point, has unintentionally put on a swim cap sideways. Sometimes a little crooked, sometimes a lot crooked.
Maybe it's because we put it on with too much gusto, or without a mirror, but a crooked swim cap can be an annoyance.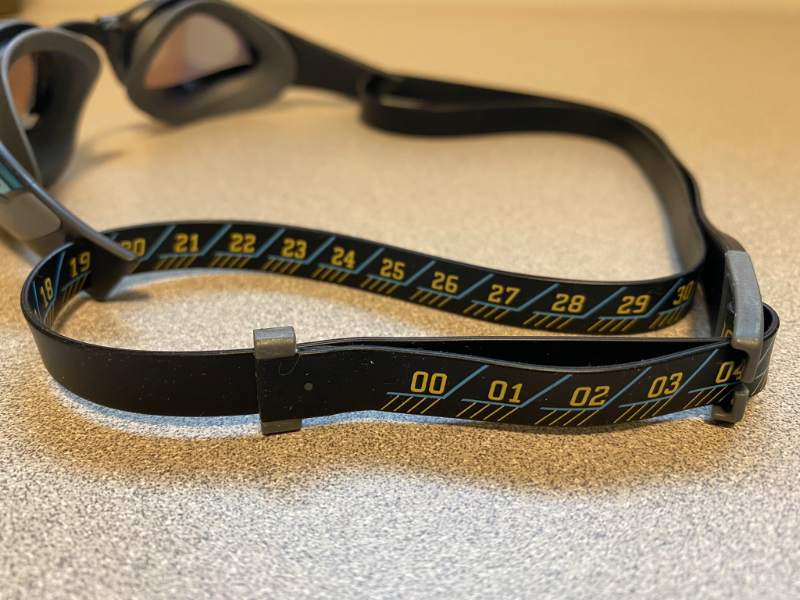 The Pure Focus goggles have fit-point markers that are designed to help you line up your swim cap when putting it on so that it's perfectly straight.
This is one of those "nice to have" features that you don't see very often with swim goggles, and it solves a simple problem that swimmers often encounter.
Speedo Pure Focus Swim Goggles – The Cons
Pricey!
Holy moly these swim goggles are not cheap!
These are the most expensive swim goggles (that are not smart swim goggles) I've ever owned.
The Pure Focus Goggles cost $85, which is $10 more expensive than Speedo's other high-performance swim goggles, the Fastskin Hyper Elite, which was previously the most expensive swim goggle on the market.
To compare against other premium swim goggles, here's how the Pure Focus Goggles stack up:
I know Speedo goes hard in the paint when it comes to designing and testing their swim goggles, but that $85 price tag is a kick to the chlorinated butt.
Speedo Pure Focus vs Hyper Elite: What's the Difference?
The Speedo Pure Focus and the Hyper Elite goggles are Speedo's two premium, competition swim goggles.
The main difference between the Speedo Pure Focus and the Hyper Elite is that the goggle lens is thinner with the Pure Focus goggles. According to Speedo, the profile is 5% thinner.
The Pure Focus goggles are also $10 more expensive compared to the Hyper Elites.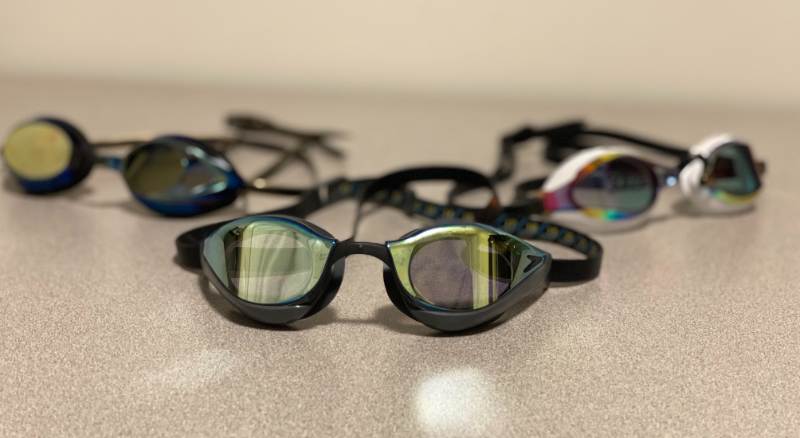 Can you use the Speedo Pure Focus Swim Goggles as a daily goggle?
If the pricing isn't an issue for you, the Speedo Pure Focus can certainly be used as a "daily driver" swim goggle.
The anti-fog is excellent (twice as good as previous elite swim goggles from Speed), and the silicone straps stand up well when exposed to chlorine and UV rays over the course of a swim season.
The excellent peripheral vision makes the Pure Focus goggle an excellent training goggle as you can really keep your head on a swivel in the water and see everything around you in practice.
The Bottom Line
The Speedo Pure Focus goggles are an excellent goggle incorporating all of Speedo's tech and design experience.
Tested with Olympic swimmers, age group swimmers, and in Speedo's testing facility, Aqualab, these goggles are legit.
For the swimmer who wants the best on race day, and wants to be able to see the swimmers three lanes over, and wants the confidence of knowing their swim goggles won't fall off on the dive, it's an awesome set of goggles.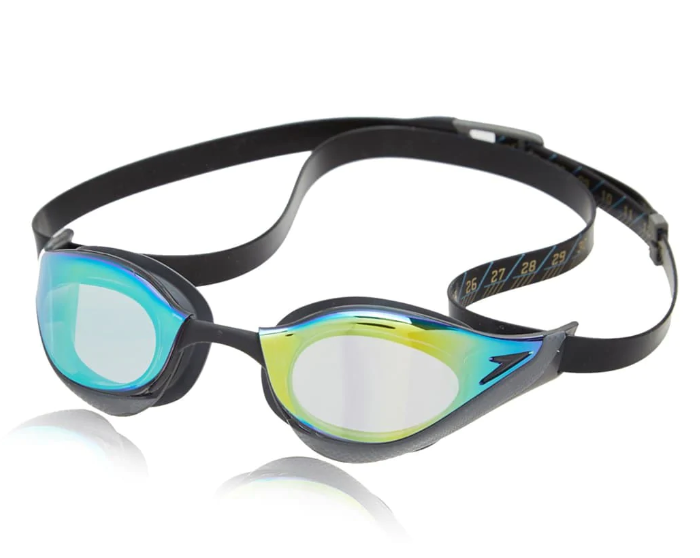 ---
More Swim Goggle Guides
How to Keep Swim Goggles from Fogging Up (and Why They Get Foggy). Fed up with foggy swim goggles? Here's why it happens, how to defog your swim goggles and the best ways to stop fogging from happening in the first place.
5 Best Anti-Fog Sprays for Swim Goggles (and Why Your Goggles Fog Up). Wondering why your swim goggles get fogged up and what to do about it? Here's everything you need to know about the best anti-fog sprays to keep your goggle lens crystal-clear.
6 Best Prescription Goggles for Swimmers. Ready to take on the pool, but want to be able to take your prescription with you? Here are the best prescription goggles for swimming.