Say goodbye to dirty and scratched swim goggle lenses. From hard cases to pouches, here's a look at the best swim goggle cases for swimmers.
Swim goggles are your BFF while in the water.
They help you see clearly, which helps in safety (not swimming into the wall) and performance (nail that flip turn like a pro).
They do work for you, so why not give them a little love and protect them while they are out of the water?
The right swim goggle case reduces scratches, extends the life of your swim goggles, keeps them clean, and allows them to dry properly between sessions in the water.
In this guide to the best swim goggle cases, we'll look at the top options on the pool deck right now.
Later, we'll also list some of the best swim goggles that come with cases, as well.
Let's dive right in.
Top Picks for Best Swim Goggle Cases
Speedo Hard Swim Goggle Case
⭐ Best overall swim goggle case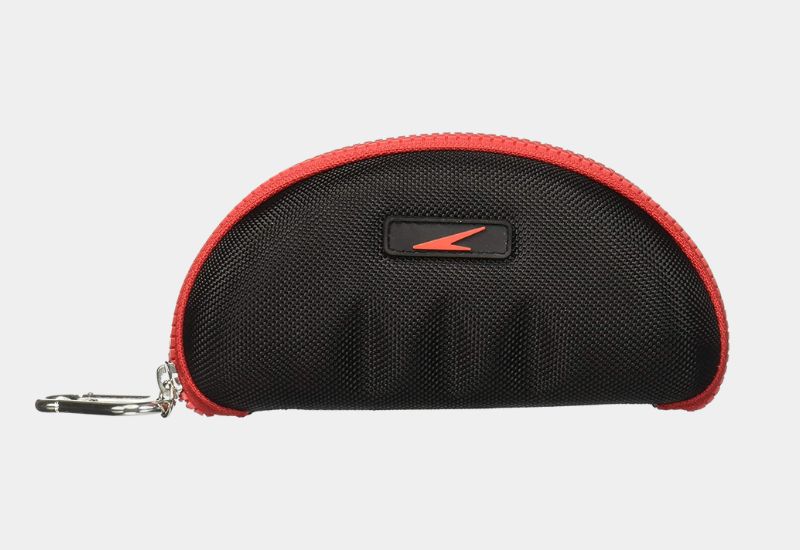 The leading name in the swimming game has been Speedo, and it has been the case (Pun!) for a long time.
The Speedo Hard Swim Goggle Case has a zippered closure, nylon lining that won't absorb water, and two vents to help speed up the process of your swim goggles drying out.
It also has a carabiner, which means you can attach the case to the outside of your swim bag to increase air flow through the case without risking scratching or damaging the lenses on the goggles from impact.
The Speedo Hard Swim Goggle Case has all of the protective and convenience features a quality case should have, making it (again) my top pick for best swim goggle case.
---
Arena Swim Goggle Case
⭐ Best swim goggle case for color options
Arena is another longtime player in the competitive swimming space. I love the look of their hard swim goggle case, which is made of EVA (hard foam) and polyester.
It's got all of the essentials, including a zippered enclosure, carabiner hook for latching the case onto your swim bag, and a lined interior that won't scratch up your swim goggles between swim practices.
The Arena case gives you some color options, with five different color combinations, and the bold Arena logo on the top of the case really pops (and makes it easy to find when in the depths of your swim bag).
The main drawback with this case is that it doesn't have drainage holes to rid the case of moisture.
---
TYR Protective Swim Goggle Case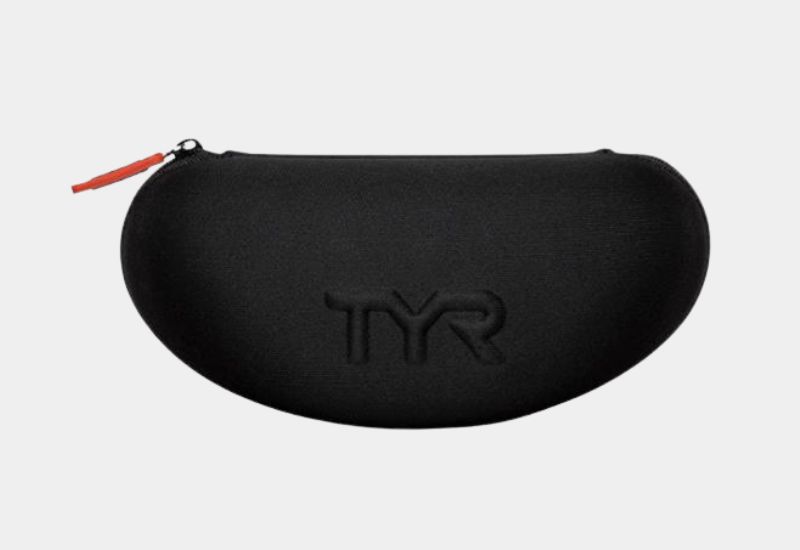 The TYR Protective Swim Goggle Case gets high points for the black on black design and sturdy casing, made of stiff EVA foam that won't bend or crater when getting tossed around in your swim bag.
The red tab on the zipper makes it easy to open and close, and it's got those all-too-important drainage holes to get water and moisture out.
While I love the black-on-black design, and the tank-like frame, the case lacks a carabiner or hook to hang.
---
Nike Swim Goggle Case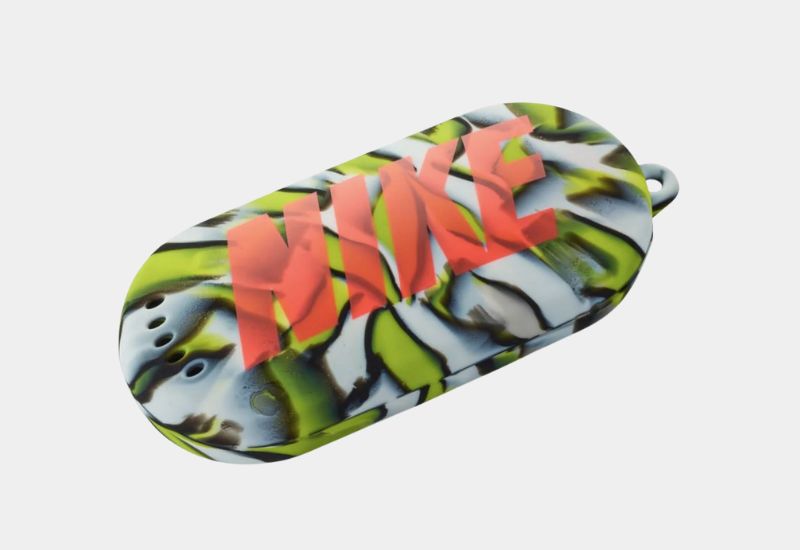 Nike—yup, that Nike—makes some quality gear for swimmers.
And while not as popular in the pool as the usual suspects like Speedo and Arena, when they put their minds to it, they make good kit!
The Nike Goggle Case is a simple case (that can also be used to store glasses while in the water) that has drainage holes and a small fixed loop at the top of the case with which you can thread a hook or lanyard.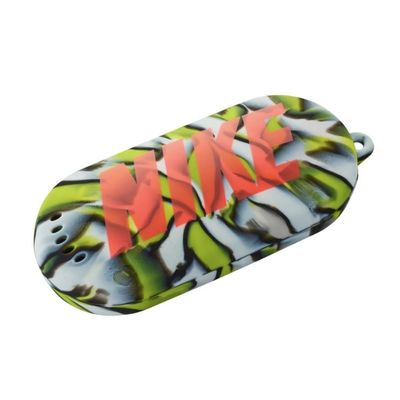 ---
Flow Swim Goggle Case
⭐ Best soft pouch for swim goggles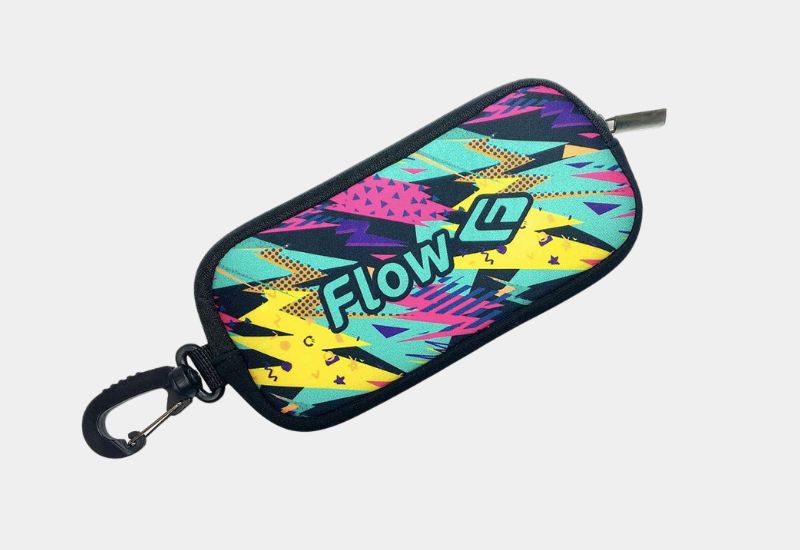 Looking for a case that has even more color options and spritzy designs? The Flow Swim Goggle Case is gonna be just the ticket.
Flow offers them in 8 different colors and designs, most of them quite bright and hard-to-miss.
They are a soft pouch, made of neoprene (like the Frogglez below) and have a YKK zipper and a carabiner clip to quickly latch the case onto your swim bag.
The pouch is plenty large for a set of swim goggles at 6.5" long and thin enough that goggles won't bounce around when stored.
The soft neoprene is awesome as it won't scratch up your swim goggles, but the lack of drainage means you will want to dry your goggles before putting them away.
Note: Flow also makes hard cases for swim goggles that have the exact same list of features as the Arena cases reviewed earlier.
---
Frogglez Swim Goggles Case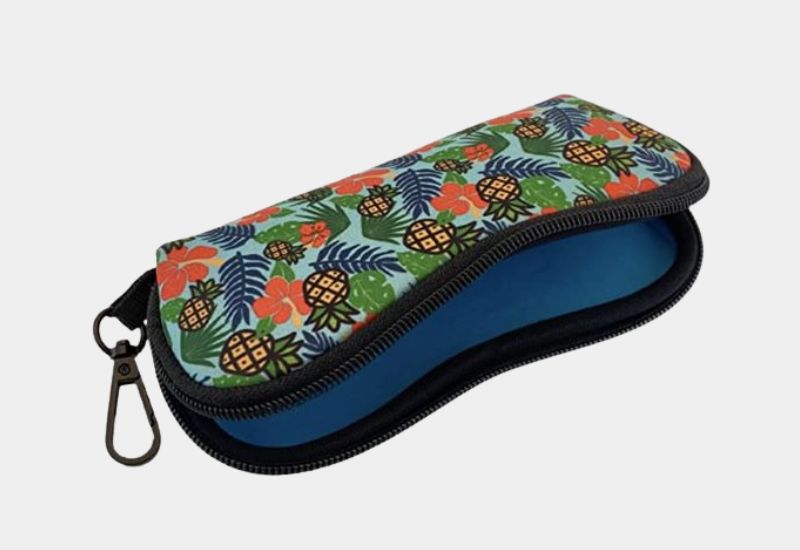 The Frogglez Swim Goggle Case is a delightfully bright case that is made of neoprene, making it a "soft" pouch.
Neoprene is an excellent material for repelling water—it's the same material used in cold water swimming wetsuits and buoyancy swim shorts—and is gentle on the lenses of the goggles, eliminating scratches when stored.
The Frogglez Swim Goggles Case, like the others on this list, retails for about $10 and is an excellent way to store and protect your swim goggles (or glasses while you are in the water).
---
What are some swim goggles that come with a case?
If you are looking for a swim goggle and swim goggle case combo, you are in luck!
There are plenty of excellent swim goggles that ship with a sturdy case.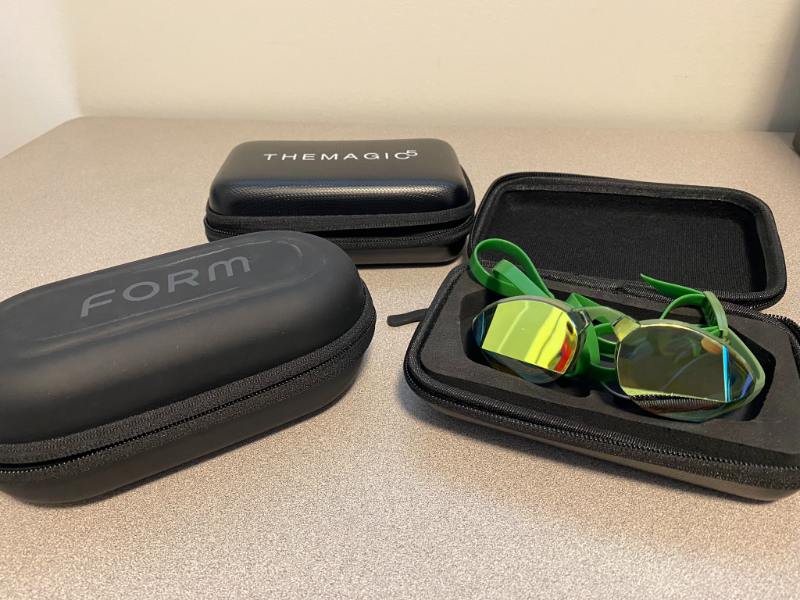 Here are some of my favorites:
Magic5 Swim Goggles. The Magic5 Swim Goggles are the first custom swim goggles on the planet, custom-tailored to the unique shape of your face. The goggles also come with a sturdy hard case.
FORM Swim Goggles. The FORM Swim Goggles represent another big first in the goggle market—swim goggles that have a heads-up-display that shows your workout stats (splits, heart rate, etc). They are also expensive; fortunately, they ship with a hard case to protect them between workouts.
How to Choose a Swim Goggle Case
When considering which swim goggle case is for you, here are the main things to focus on:
Construction: Goggle cases come in either a hard case, soft case, or as a small pouch. Hard cases are better for swimmers who, ahem, aren't as careful with their swim gear as they could be. Swim goggles sometimes ship with a hard plastic case that can be used as a storage case.
Vents: Look for a case that has drainage vents to allow moisture to evaporate and drain while the goggles are stored. Excess moisture in an enclosed space creates an excellent environment for mold and mildew. Hard cases mostly have vents while soft pouches exclusively do not.
Storage: Cases often have a side pocket for storage, which is perfect for holding onto spare nose bridges, anti-fog spray for swim goggles or even extra head straps for your swim goggles.
Carabiner: A way to more quickly air out your swim goggles is by storing them (in the case, obviously) on the outside of the swim bag. A carabiner can be latched to the outside of your bag to get more air flow through the goggles without getting them dirty or risk scratches.
The Bottom Line
Swim goggles can be a pricey investment in your swimming.
Fortunately, you can get a lot more from your swim goggles by using a goggle case between sessions at the pool.
To recap:
✅ The Speedo Hard Swim Goggle Case checks all of the boxes—stiff construction, drainage holes, carabiner for hanging, and inexpensive, making it our top pick for the best case for swim goggles.
✅ For swimmers looking for a soft pouch, the Flow Swim Goggle Case is made of water-repellant neoprene, has a carabiner, and comes in a variety of fun and bright designs.
Choose the right case for your swim goggles, use them to protect and dry your swim goggles after swimming, and get more from your swimming goggles.
---
More Swim Goggle Articles and Reviews
How to Keep Swim Goggles from Fogging Up (and Why They Get Foggy). Fed up with foggy swim goggles? Here's why it happens, how to defog your swim goggles and the best ways to stop fogging from happening in the first place.
How to Choose the Perfect Set of Swim Goggles. Hit the water with confidence with this breakdown of everything you need to know about how to choose the right swim goggles.