Looking to get some new swim gear on a budget? Shop the best Black Friday deals for swimmers in this exclusive guide.
As the Christmas season approaches, and along with it, holiday training camps, swimmers have more than just visions of sugarplums dancing in the chlorinated lenses of their swim goggles.
Black Friday, the annual shopping extravaganza that ushers in the holiday season, is the perfect time for swimmers to score incredible deals on the gear and equipment they need to swim faster in the pool.
Whether you are an elite, Olympic-level swimmer or a parent seeking the perfect gifts for your young swimmer, this guide to the best Black Friday deals for swimmers has you covered.
Let's dive in and make a splash in the savings pool.
The Top Black Friday Deals for Swimmers
Alrighty, let's get after some savings and some faster times in the pool.
Here are the top deals for swimmers on Black Friday and Cyber Monday:
Magic5 Swim Goggles – up to 50% off
TheMagic5 Swim Goggles are a game changer in terms of swim goggle fit and comfort. They are the first (and only) swim goggles that are customized for the specific shape of your face, reducing leaks, headaches, and even eliminating those pesky red circles around the eyes.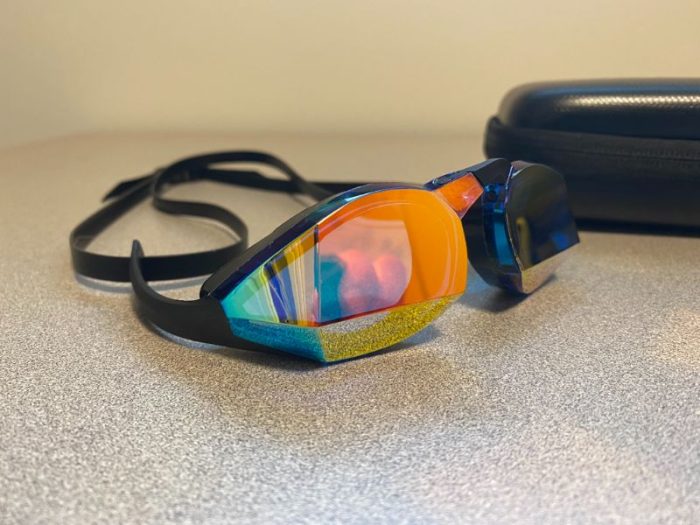 TheMagic5 Swim Goggles use an app to perform a 3D scan of your face, which is then sent to their headquarters where a goggle gasket is manufactured specifically for you. Super neat, to be honest!
The Magic5 Swim Goggles are 20% off, but you can really save money on the bundles they offer, including up to 50% off the Magic5 Discovery Bundle, which includes a kickboard, swim snorkel, mesh bag, fingertips swim paddles, and much more.
Swim Outlet – up to 50% off
Swim Outlet is the leading online swim store for competitive and recreational swimmers. If you follow the sport, you've seen the SwimOutlet logo on the most popular swim sites on the web (SwimSwam.com, for example) and they provide a ton of customized swim gear for teams.
During Black Friday week they are offering a huge range of deals on swim goggles, mesh swim bags, swim goggles (the Arena Cobra Ultra Swipes, for example, are almost $20 off), swim parkas, swim caps, and some of their tech suits.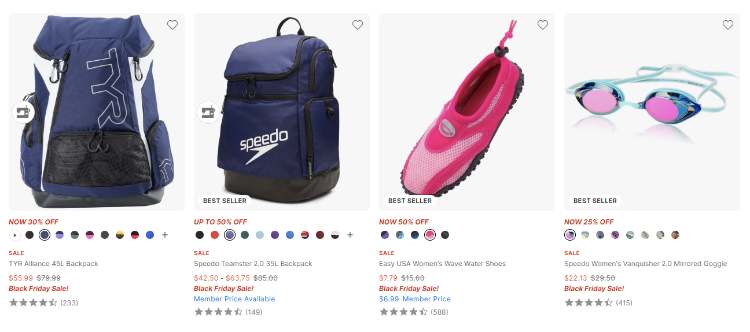 The Arena Powerskin ST 2.0, the best budget-friendly tech suit in the water, is also up to 40% off. Boom!
No promo code required—swim over to SwimOutlet's website and see the current deals that run all week long.
Amazon – 20-48% off
Amazon is the world's leading online retailer. They sell a TON of stuff for swimmers, including many tech suits (although not as many or in as many sizes as Swim Outlet), swimmer's earplugs, swim training fins, and more.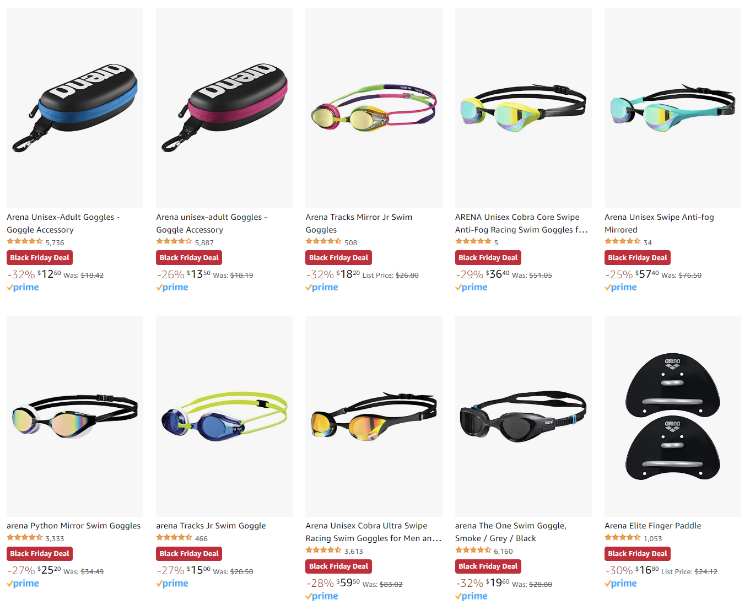 Naturally, Amazon has lots of different Black Friday deals for swimmers. Some of the better ones I found include from the most popular swim brands on the pool deck, including Arena, Speedo, and TYR.
Arena swim gear and equipment – up to 48% off
Speedo swim apparel and equipment – up to 24% off
TYR – shop the full line of TYR apparel and equipment
Speedo – up to 50% off
Speedo, a renowned name in the world of swimming, is synonymous with performance, innovation, and style. Nearly every major Olympic star has repped Speedo stuff, from Michael Phelps to Caeleb Dressel.
For decades, they've been the go-to brand for competitive swimmers and recreational enthusiasts alike, offering a huge range of swimwear, accessories, and equipment designed to optimize performance in the water.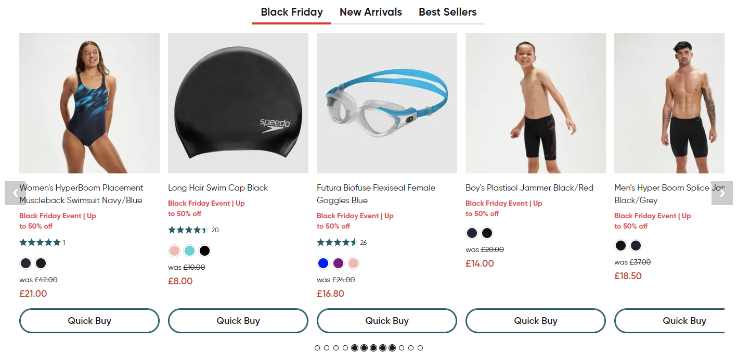 Speedo's main website has a ton of deals on swim goggles, caps, and other swimming equipment, with deals up to 50% off. Whether you are in the market for a new training suit, racing swim goggles, or jammers, Speedo has you covered.
The Black Friday deals run all week long and you can check to see what current deals they have rolling at the link below.
Shop Black Friday deals at Speedo.com
A3 Performance – Up to 50% off
A3 Performance is one of the more innovative companies serving the needs of competitive swimmers, open water swimmers, and recreational lap swimmers.
A3 Performance has a full line of equipment and suits, nucluding their industry-leading tech suit, the Phenom, BodiMax compression sleeves for your arms, and a full line of goggles, caps, snorkels, and more.
During the Black Friday Week they are offering a sitewide 50% discount when you use the code BLACK50 when checking out. The discount kicks off on November 20 and runs for the duration of Black Friday week.
Shop all of A3 Performance's Black Friday deals by clicking here.
More Black Friday Deals for Swimmers
More Gifts and Deals for Swimmers:
8 Best Gifts for Competitive Swimmers. Holidays, birthdays, swimming a new PB–do you really need a reason to pick up some new swim gear? Here is a collection of our favorite gifts for swimmers.
The 6 Best Gifts for Swim Coaches. Looking for a way to thank your coach for all of their hard work? Here is our list of awesome gift ideas for swimming coaches.