Looking to pick up a gift for your swim coach? Here are some of the best things to pick up for your swimming coach that says, "You rock."
We learn a lot from our swim coaches over our time in the water.
From the very basics of learning how to balance and swim in the water to launching ourselves off the starting blocks like a streamlined missile, our swim coach plays a massive role in our development as a swimmer.
They are more than just coaches—they are also a sounding board for our goals, a source of self-belief in the face of doubt, and even a dose of tough love when we need come chlorinated reality.
Here are some of our best gift ideas for the swimming coaches in our life:
1. Stopwatch.
The stopwatch is as essential to the swim coach's job as a pool. Or water. Or a kickboard to throw when that same swimmer has been pulling on the lane rope for the whole set.
Whether it is being used to determine stroke rates, splits, or belt out results during a set of sprint 25's, the swim coach's stopwatch is his or her trusty sidekick.
The ability to take a beating on the regular, while also brave the constant travel, jostling and use that comes with being used in practice and in competition is key, and for this reason the Ultrak 495 stopwatch ranks as our best stopwatch for swim coaches.
Not only is the Ultrak 495 reasonably priced, but it's also the go-to stopwatch by nearly every swim coach when I asked them for a recommendation.
It features a three row display, stroke rate function, a calendar, a five year warranty, and most importantly—it's water resistant.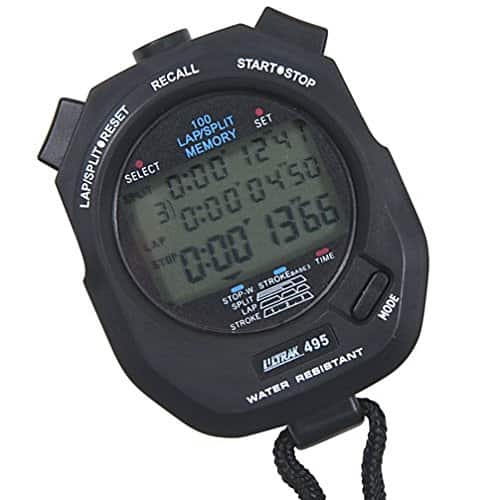 ---
2. Khaki shorts.
If you look at a swim coach on deck at a local meet you will always see three things: A rolled up heat sheet in one hand, a stopwatch dangling from the other, and a pair of khaki shorts.
I have no idea who started the trend, but khaki shorts at some point become the official–unofficial uniform of the local swim coach.
It makes sense: khaki can be worn year-round, it's a breathable material for those hot-boxed aquatic centers, and the cargo version can help coach stock up on all the essentials: extra stopwatches, pens, heat sheets, snacks, and other assorted items that help the deck-strolling coach conquer the day.
SwimOutlet carries a wide variety of khaki shorts, including plenty of cargo shorts 😉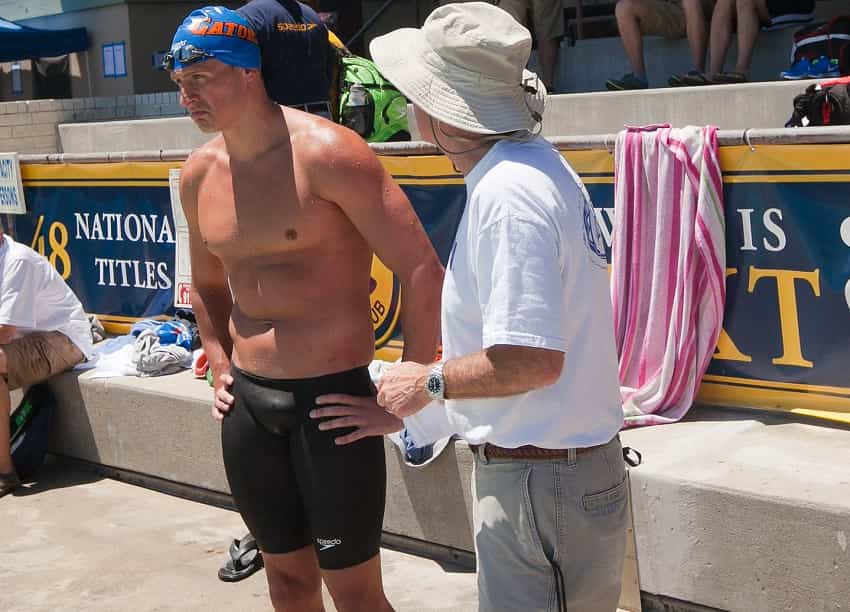 3. Mental training book.
When it comes to technique and training zones, coaching can feel pretty straight-forward about how things will go: Swimmer does XYZ work, they can expect XYZ results.
What throws a monkey wrench into this process is the mental aspect of the sport…
You've got the swimmer who trains their butt off but overthinks like crazy in competition. Or the wildly talented swimmer who can race like their hair is on fire, but is so inconsistent in practice that you never know what to expect.
Fortunately, (unabashed self-promotion coming in hot!) I've accumulated five years of research and writing into an actionable workbook that competitive swimmers can use to dominate their mindset…and their PB's.
Combining sport psych research with anecdotes of Olympians past and present, as well as feedback from over 200 head coaches, Olympians and NCAA champions, Conquer the Pool is the ultimate mental training handbook for swimmers and coaches.
Within the pages of the 300-page workbook you will learn how to choke-proof your racing, discover powerful ways to make your daily practices more effective, and learn tons of different ways to unleash some level ten mental toughness in the water.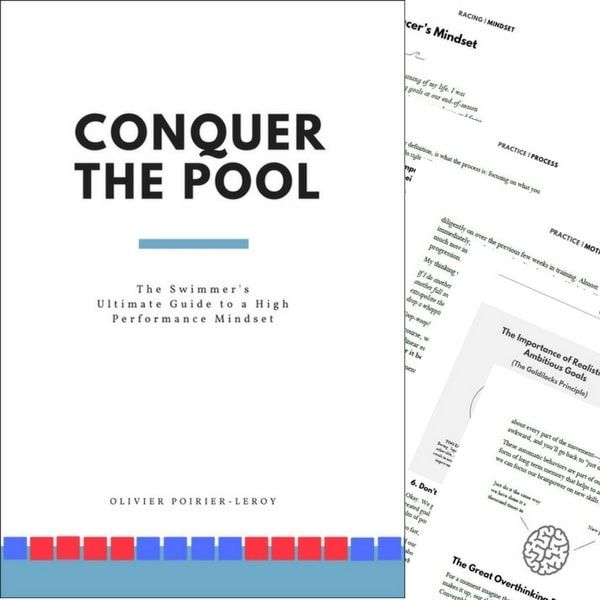 4. Coaches briefcase.
The other part of a coach's uniform—after you've gotten the stopwatch and khaki bottoms covered, is the briefcase. It not only has to have room to carry all the essentials (heat sheets, log books, tablet, personal valuables, snacks), but it also has to be able to withstand the wet, cold pool deck.
The Kiefer Coach's Briefcase was designed specifically for swim coaches in this regard. It has a black and water-resistant exterior.
This is obviously key, especially at swim meets when soaked swimmers are leaning in for splits and results after their races. The bottom of the bag is also water-proofed, which is helpful for those wet pool decks and surroundings that swim coaches find themselves in.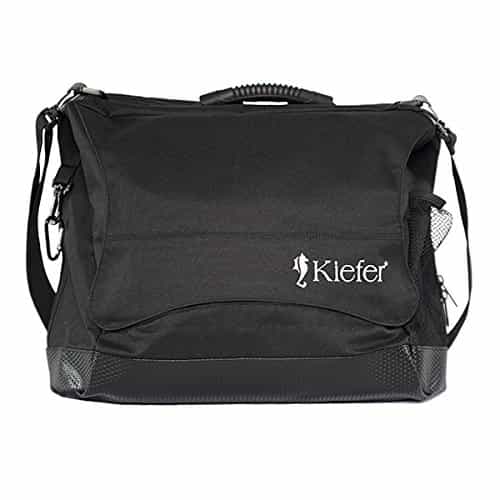 5. The gift of motivation.
High-grade motivation isn't just for swimmers—believe it or not, getting up at 4:45am to drive to morning practice is also difficult for swim coaches. (Even though they will likely never admit it to you.)
Now, there are countless books out there on leadership and motivation for swim coaches. Below are my favorite three books as they relate to not only coaching athletes to being the best they can be, but also in terms of developing world class organizations.
Legacy: 15 Lessons in Leadership. The New Zealand All-Blacks national rugby team have utterly dominated the sport, winning 80% of their games since records started being kept. One of the most profound lessons of the books it eh first—"cleaning the sheds"—something I talked about as it relates to swimmers in this post. The All-Blacks are champions, yes, but they are humble, they pay attention to detail, and they thrive on the world's biggest stage because of it.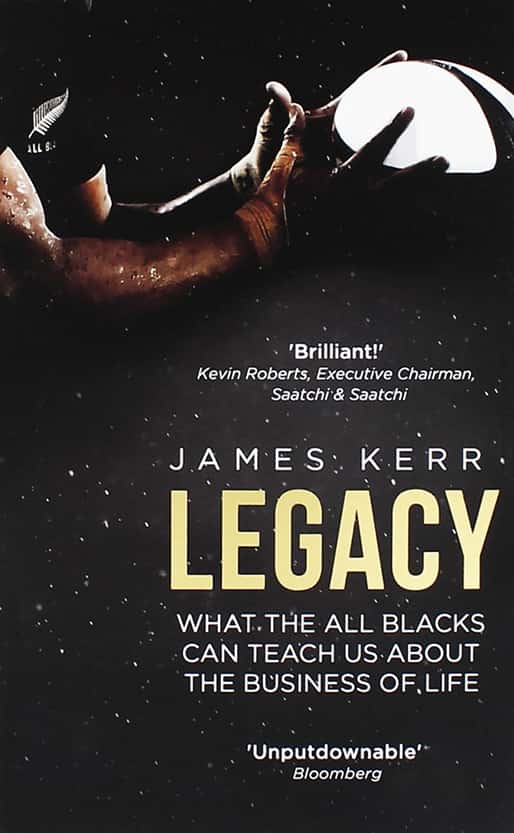 How Good Do You Want to Be? A Champion's Tips on How to Lead and Succeed. Nick Saban has won six national championships since 2003, tying him for the most college national titles in history. Although his sport is football, his philosophy of trusting and mastering the process has tremendous relevance to swimmers. His foundation of doing your best every single day is an excellent and applicable outlook swimmers can adopt to perform with less anxiety and higher consistency.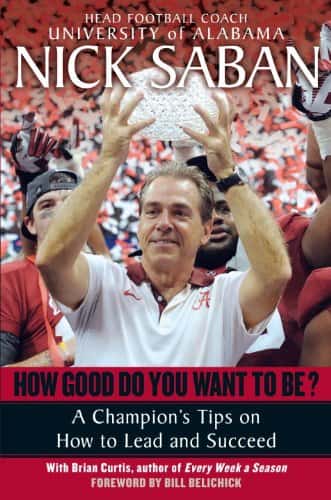 The Golden Rules: Finding World-Class Excellence in Your Life and Work. You know that Michael Phelps guy, right? Kind of a fast swimmer? His longtime coach, Bob Bowman, published a book in 2016 that outlined his principles to developing champions (most notably Phelps). From goal setting to visualization, Bowman provides a blueprint any swimmer or coach can use to achieve success inside and outside of the pool.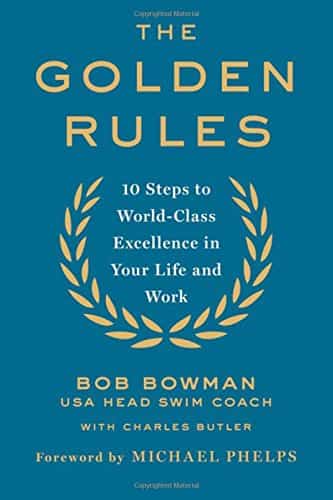 6. The gift of a personal best time.
Yeah, I know. This isn't something you can pick up at Amazon or SwimOutlet. But it's probably the most meaningful gift you can give this year.
When you swim into that wall, faster than you've ever done, and feel that wave of relief and confidence from seeing that the belief your coach had in you wasn't misplaced and that she was right when she said you could do it, well, it feels pretty good, doesn't it?
Believe it or not, it feels pretty darn good for your coach to be a part of that experience as well!
---
More Stuff Like This:
7 Gift Ideas for Competitive Swimmers. Looking for a gift for a chlorinated loved one? Or even want to pick something up for yourself? Here's our gift guide for swimmers.
7 Pieces of Gear Every Serious Swimmers Needs. Here is the swimming gear every serious swimmer should be rocking in their swim bag.
The Best Black Friday Deals for Swimmers. Looking to get some new swim gear on a budget? Shop the best Black Friday deals for swimmers in this exclusive guide.