You can tell a lot about swimmers by watching the last ten minutes of practice.
You've got the athletes who sneak out a few minutes early, clipping part of the warm-down on account that they really have to go ("My mom is waiting!").
There are the swimmers who take the last gasps of the workout to work through a specific part of their technique they are struggling with.
And you have the swimmer who is asking coach what they could have done better so that they can be more successful at the next swim practice.
Lastly, and there are almost always swimmers like this—you have the athletes who bolt for the hot tub or locker room as fast as they can (where was that effort during practice?) so they don't have to help take down the flags, roll up the lane ropes, or put away the yard sale of kick-boards, pull buoys and assorted gear scattered across the pool deck.
I get it: taking down the equipment after a brutal workout is no one's idea of a good time.
You've got homework, you've got to check your phone, and so on and so forth.
But the reality of le situation is this…
You're never so good that you can't help with the lane ropes.
In fact, it is to your benefit that you swallow your sense of entitlement and pride and take the lead in doing the little things that some swimmers will deem below them once they get to a certain level.
Here's a case of how one of the best teams on earth embrace this particular philosophy of never being above doing the dirty work.
Putting Away the Lane Ropes: A Lesson in Humility
New Zealand's national rugby team, better known as the All Blacks, are one of the most dominant sport teams on the planet.
Since 2003, when world rugby rankings were introduced, the All Blacks have been ranked number one longer than everyone else combined. They have a winning percentage of nearly 80% in test match rugby, and have been named World Rugby Team of the Year ten times since the award came into being just over fifteen years ago.
They also perform a Maori challenge or haka prior to each match that is moderately to severely terrifying: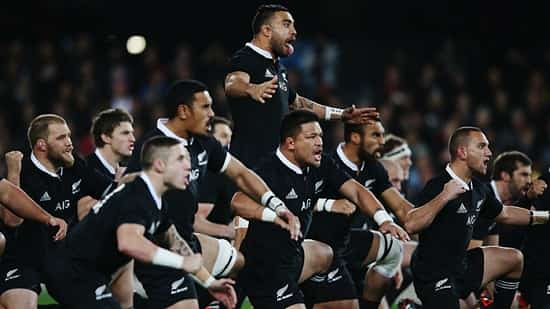 They are, for lack of a better word, awesome.
With the consistent greatness this program has thrown down year after year you would think that little things, like cleaning up the locker room after a game, would be better left to someone else to deal with.
But this isn't the case.
In fact, cleaning the locker room, or "sweeping the sheds", is one of the hallmarks of the team.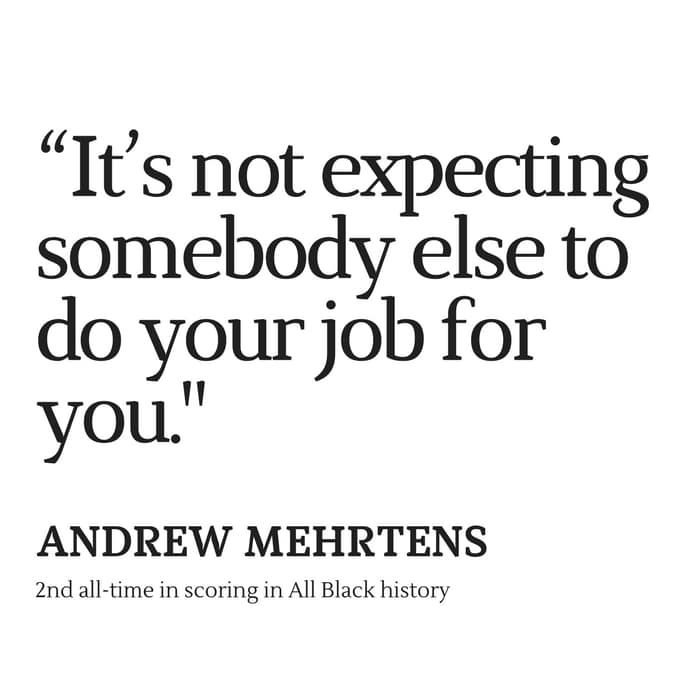 After each match, win or loss, a couple of the players will grab brooms and sweep away the dirt, the grass, and the bloodied bandages from the floor. These big, hulking superstars will hunch over and summarily sweep away the garbage and mud.
"It's not expecting somebody else to do your job for you," said retired All Black Andrew Mehrtens in the book Legacy: What the All Blacks Can Teach Us About the Business of Life (Amazon). During Mehrtens' career, he scored enough points to put him second all-time among All Blacks. "It teaches you not to expect things to be handed to you."
This kind of humility is a bit of rare commodity these days. There's a misconception that once we become decent, good, or great that cleaning up after ourselves has somehow become below us.
But there is great value in humility, and the All Blacks view it as essential to their success.
Being humble doesn't make them weak or "less than"—the opposite, actually: it allows them to connect to true character and leadership and gives them a much better chance at being successful both individually and as a team.
Protect the Team
One of my favorite sayings is by NFL coach Pete Carroll, who during his time as head coach of the USC Trojans (winning three national championships along the way), instructed all his players and coaches to his three part philosophy.
The first part was simply: Protect the team.
This line says so much when you embrace it, from not complaining, to showing up on time, to sorting out your bad body language, to yes, helping with the equipment.
When you help put in the backstroke flags and pull out the lane ropes you are saying that you protect the team.
After all, you don't pass the responsibility onto others.
You don't expect others to do the details for you.
You are looking after yourself and the team.