Itching to get your kick on? Here's a full breakdown of the best kickboards for swimming, including how to choose the perfect kickboard for you.
Looking for the perfect kickboard for swimming and conquering the pool?
In this guide to the best kickboards for swimmers, we highlight the best tombstone, arrowhead, combo and technical kickboards. (And yes, we explain the differences between each type, too.)
By the end, you will have the confidence to buy the right kickboard for you and your goals in the water.
Let's dive right in!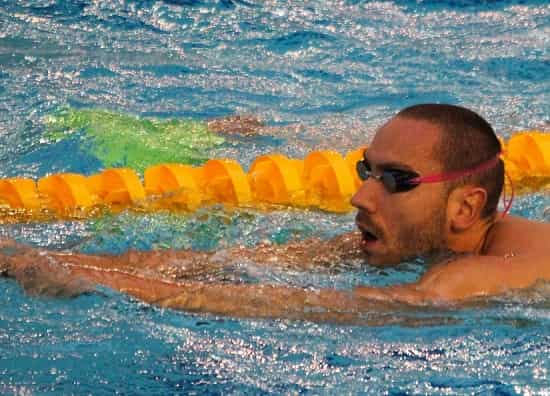 The Best Kickboards for Swimmers
We are gonna breakdown all the best types of kickboards for swimming and kickin':
Tombstone kickboards. The traditional, the classic, the one you likely see filling the equipment bins at your local pool.
Arrowhead kickboards. Hydrodynamic in design, these boards do have some limitations.
Kick-pull boards. While the premise is sound, in practice they don't work very well at all.
Numero uno. Our top pick for best overall kickboard and why it will rock your world.
1. The Traditional Kick Board (the Tombstone)
This is the swim kickboard we all know and love (and hate), and it's the type of board that fills the equipment bins at our local pools.
While they vary in exact size (Dolfin used to make a massive one that would reach from my fingertips to my sternum, sending me hydroplaning across the water), they all look like, well, tombstones.
The tombstone kickboard is buoyant, and its large surface area gives you a high position in the water.
Thickness and sturdiness are the two biggies with this kind of swim board—a flimsy and thin kickboard means you have little buoyancy, with the board dipping below the surface of the water.
Speedo Team Kickboard

(Top Pick)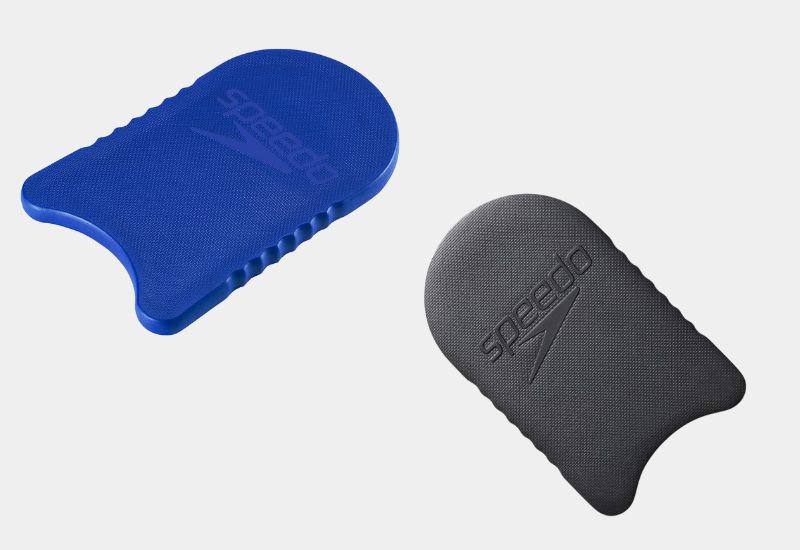 Speedo is the big name in the swimming game, outfitting the fastest swimmers in the pool for over a hundred years. They know swimmers and swim gear, whether we are talking about tech suits or swim goggles.
The Speedo Team Kickboard is the perfect tombstone kickboard for swimmers. It's rigid enough to help you keep good posture in the water (softer, more flexible kickboards tend to result in bad back posture) and the EVA foam floats well and won't soak up water.
The kickboard also has finger ridges on the side for better grip, and a crescent shaped bottom to park your chest on.
Speedo offers them in one size, two different colors, and retails for around $25.
---
Sporti Kickboard – Best Budget-Friendly Kickboard

Sporti is one of the sneaky-sneaky brands for competitive and recreational swimmers.
They sell very budget-friendly gear and equipment, often at a price that is significantly less than comparably built equipment from the big names like Speedo, Arena, TYR, and so on.
The Sporti Kickboard is a perfect example of this—it's less than $14, making it the least expensive kickboard on our list.
It's made of high density EVA foam, has rounded edges for superior grip, and the board is available in nine different color options.
---
Kiefer Training Kickboard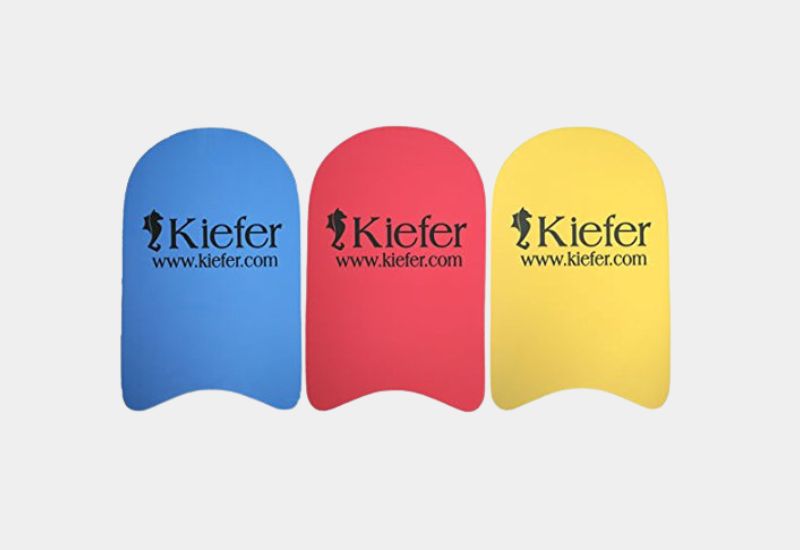 The Kiefer Training Kickboard is a good thickness—at a sturdy 1" it provides a good level of buoyancy, and is made from a molded EVA foam that makes it easy to hold onto.
One of my local pools has this particular board stocking the deck, and it provides a comfortable kicking ride.
The main difference between the Kiefer board and the Speedo kickboard (besides price—the Kiefer boards are about $4 less expensive) is that they don't have the ridged finger-handles on the sides.
Besides that, if you want a more vibrant color, Kiefer offers these bad boys in red, blue and yellow.
---
The TYR Sport Kickboard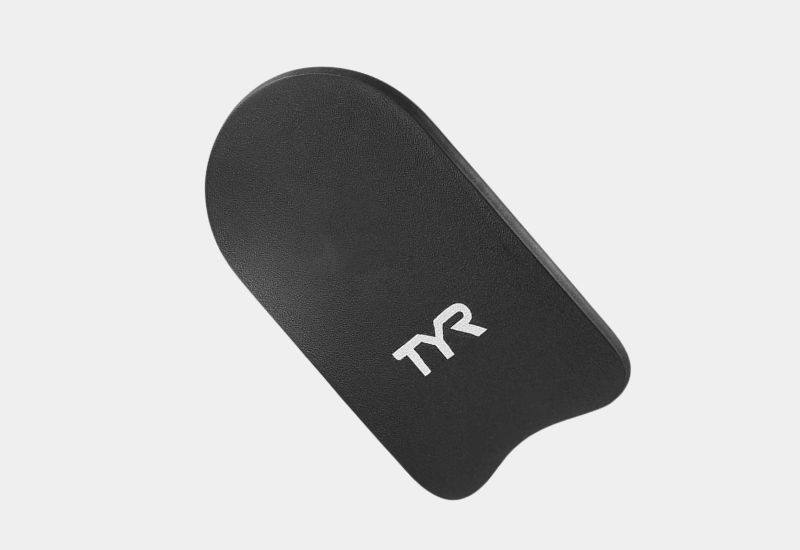 Thickest of the tombstone kickboards is the TYR Sport kickboard, coming in at a weighty 2 inches thick. It's also a little longer than the Speedo and Kiefer boards (two inches longer), making it ideal for us bigger and taller folk. For swimmers looking for maximum buoyancy, this kickboard is the ticket.
[TYR also makes a junior-sized version of this kickboard, as do most swim gear manufacturers. For kickboards for kids and toddlers, check out this guide.]
From a purely aesthetic point of view, I'd also rank it 20% more badass looking than the other boards on this little list.
TYR offers the board in a few different colors for around $20 at Amazon and Swim Outlet.
---
Arena Kickboard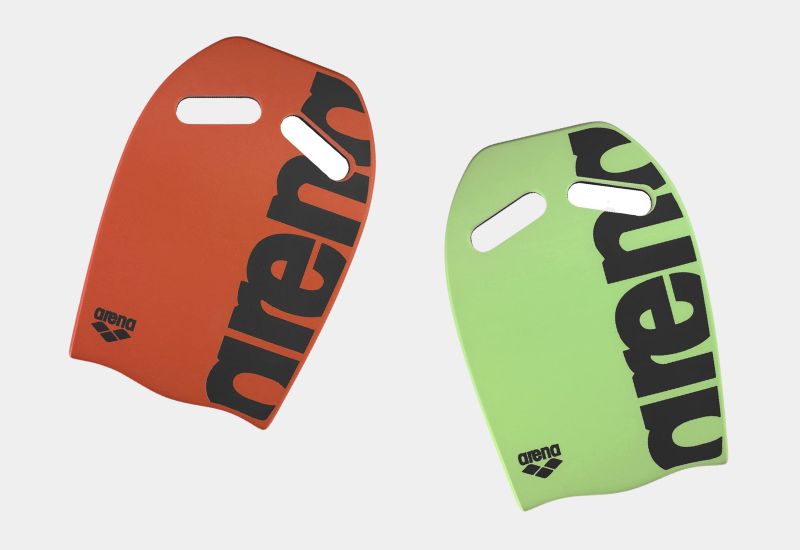 Arena is another big name when it comes to making swim gear, from Arena's line of tech suits to their revolutionary anti-fog swimming goggles, the Arena Cobra Ultra Swipe Goggle.
The Arena swimming kickboard is made with EVA foam, has handles cut out inside of the board, and is available in a ton of different bright colors and vibrant patterns.
While some swimmers will love the handles, if you aren't planning on using them, water will flow through them like a vent while kicking at speed, reducing the amount of flotation you get from the board.
---
2. Arrowhead Kickboards
These kickboards make you feel like you are on the tip of a fighter jet. Watching the water part at the top of an arrowhead board—especially when you are wearing fins—is a certified good time.
The Arrowhead boards are smaller, and as a result, provide less buoyancy in the water while you are kicking, and are better suited for more experienced swimmers.
The reduced buoyancy does have a nice side benefit for some swimmers: your body position is often flatter, producing a slimmer drag profile in the water. Giddyup.
Sporti Momentum Arrowhead Kickboard

(Top Pick)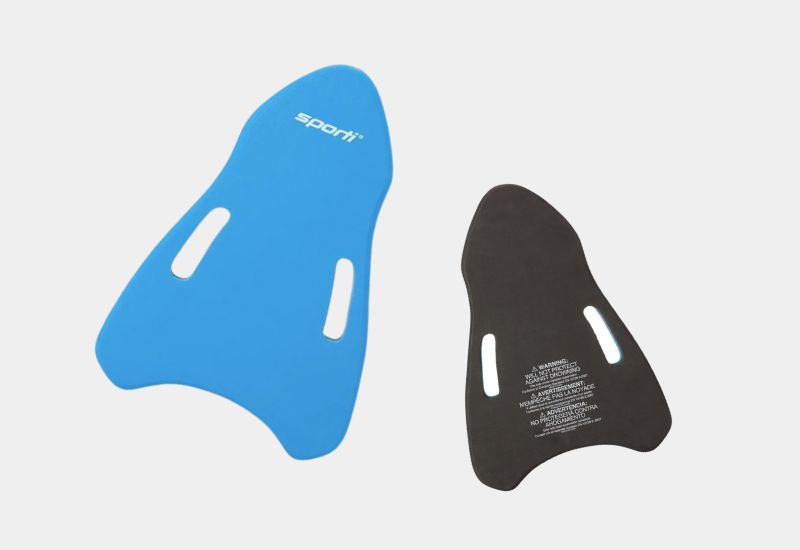 The best arrowhead swim kickboard on the market is the Sporti Momentum. It's got a dual-foam construction, dual colors, and a price that is half of our runner-up (which we will look at below).
The key things I love about this board are that there is a ton of ergonomic hand positions on the board.
Grip the top to get the full benefits of the buoyancy of the kickboard. Grip the sides to really engage your core and lower back. or grip the cut-out handles for a more streamlined profile in the water.
This kickboard is perfect for the swimmer who wants a streamlined board that offers a variety of hand placements and grips. It's also available exclusively Swim Outlet (Sporti is Swim Outlet's inhouse brand) and retails for around $15.
---
Water Gear Ergo Kickboard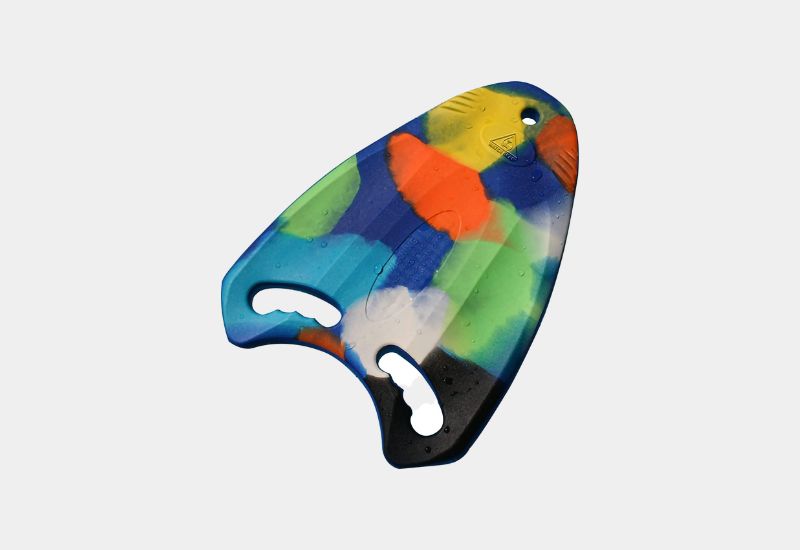 With the bright coloring on the Water Gear Ergo kickboard, it's likely you will never lose it amongst the equipment littered at the end of the lane the next time you hit the water.
The board has ridges at the top of the board to keep your fingers in place, hand grips at the base of the board that is perfect for teaching new swimmers how to extend and keep their face down in the water, and the 1.8″ EVA thickness provides plenty of buoyancy.
The Water Gear Ergo is a little shorter compared to "standard" kickboards at 17.5″. Tombstone kickboards range in length from 19″ to 21″.
---
3. Kick-pull Boards
I'm gonna be completely honest here: I don't go wild for hybrid kick/pull devices.
I got one as a gift when I was younger, used it for about half a length before throwing it up onto the pool deck and completing the remainder of the kick set without a board. Although they are packaged as being a 2-in-1 training tool, I find that the more often than not simply perform both jobs worse.
While the goal of a kick-pull-board-thingy is admirable—save space in your bag! Less stuff to lug around with you!—the effect is that they do both kicking and pulling rather poorly.
I've found that the kicking half of the hybrid model is most infuriating—they are not hydrodynamic whatsoever, leading you to snowplow the water.
That said, different strokes for different folks, which is why I included the best types of pull buoy-kickboard hybrid out there…
Speedo Elite Pull Buoy and Kickboard Combo —

Best pull buoy and kickboard Combo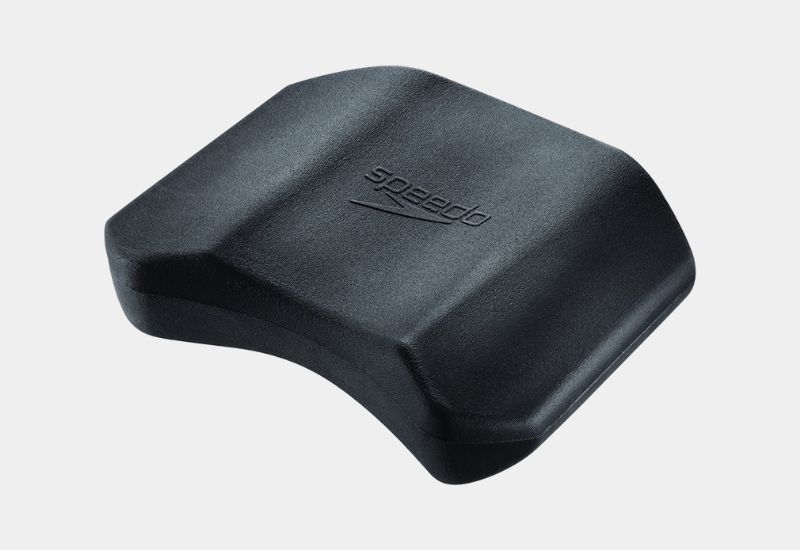 Is it a kickboard? Is it a pull buoy? It's both!
The Speedo Elite Pullkick adds the twin buoyancy cylinders of a pull buoy with the (somewhat) flat edge of a kickboard. This hybrid design is perfect for swimmers who love doing long sets alternating kick and pull, or swimmers on a space crunch when it comes to stuffing their swim bag with equipment.
The Speedo Elite Pullkick is not for swimmers looking for more buoyancy out of a kickboard. It's only 10" long, which is about half the length of a regular kickboard and 9" wide, which is about 30% skinner than your standard KB.
Similarly, it functions comparably to the FINIS Alignment Kickboard, which is my go-to, #1 pick kickboard for experienced and competitive swimmers serious about improving their body position and technique in the pool.
---
4. The FINIS Alignment Kickboard —

Best Kickboard for Competitive Swimmers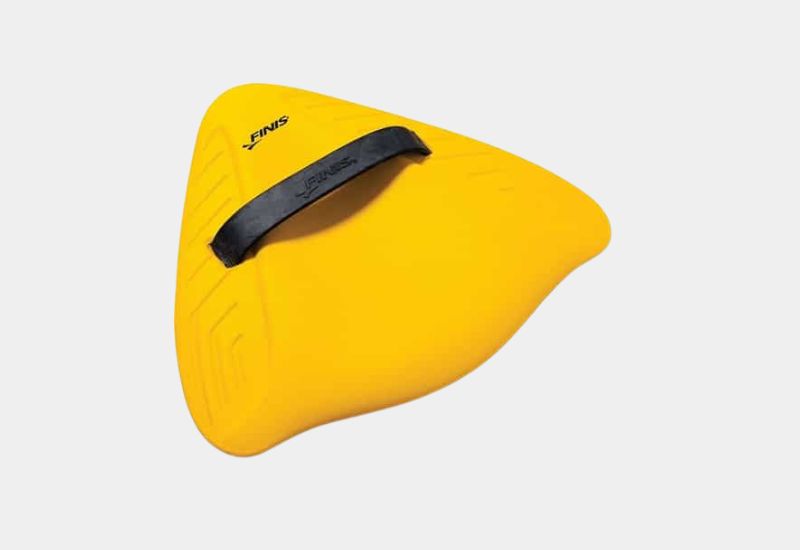 The first time you lay your eyes on a FINIS Alignment board you will likely be a little confused: "Where's the rest of it?"
It's small, but make no mistake, this bad boy is simply awesome. If you are serious about wanting to improve your kick and master a deadly body position in the water, this is your go-to board.
You can kick with one hand on the board quite easily, which means that you can do large amounts of kicking on your side.
Kicking on your side is a deadly way to improve both phases of your kick (and not just the down kick), forces you to work on having a straighter line in the water, and also mimics your natural swimming position, something that is very difficult to do with a kickboard.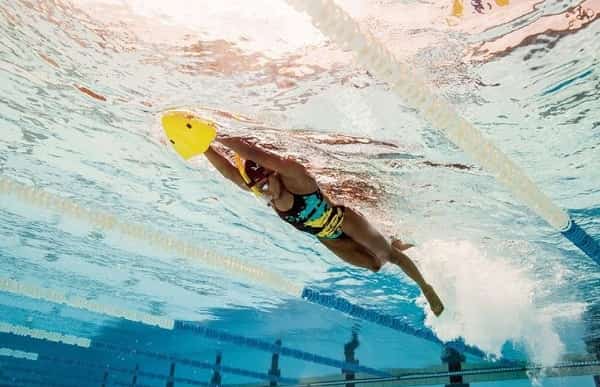 The FINIS Alignment board's diminutive size means that it can be slightly submerged (again mimicking a more natural swimming movement that is also easier on your shoulders) when kicking while still providing buoyancy.
Using both hands you can kick in a more natural streamline (throw on a swimmer's snorkel for even better body positioning) than you could with a regular kickboard.
And the hand strap helps keep it on your hand, meaning you can do flip turns! So yeah, it's kinda the best!
---
Swimming Kickboards — FAQs
How do I choose a swimming kickboard?
Swimming kickboards are simple enough tools—chunks of EVA foam designed to move smoothly through the water and provide buoyancy. It's the details of the design that help them perform this function.
Here are the key things to look for when choosing a kickboard:
✅ Buoyancy.
If you are looking for maximum buoyancy in the water (i.e. you are a heavier human like me), you want a kickboard that is thick and wide.
The tombstone kickboards, like the Speedo Team Kickboard, have a wide surface area and thick profile that give them plenty of buoyancy.
✅ Ergonomics.
Kickboards come with a variety of hand grips and placement options to give you a comfortable, ergonomic grip on the board.
Look for ridges on the side, at the top, or handles cut-out in the bar if flexibility in hand placement is crucial.
✅ Board shape.
The tombstone swim kickboard is the O.G. kickboard and is more than sufficient for a majority of lap swimmers.
The arrowhead and more technical kickboards like the FINIS Alignment board are excellent choices for the more technically minded swimmer who is obsessed with finding that perfect body position in the water.
Additionally, swimmers who have broad shoulders will want a kickboard that is wide enough that they can grip the top of the board comfortably.
✅ Flex of the kickboard.
Kickboards come in two classes of rigidity: a hard EVA foam or a softer, more flexible foam. EVA is best for swimmers who do a lot of kick and more experienced swimmers.
The harder boards promote better posture through the spine when used and won't sag under the water.
Soft boards are best used during learn-to-swim situations and for kids whose chest will be on the board. The added flex allows them to get better positioned on the kickboard.
✅ Budget.
Finally, the budget of the kickboard is something to consider. Kickboards retails for less than $30, with ultra budget-friendly options like the Sporti Kickboard costing under $14.
Which means you can power up that kick of yours without breaking the bank.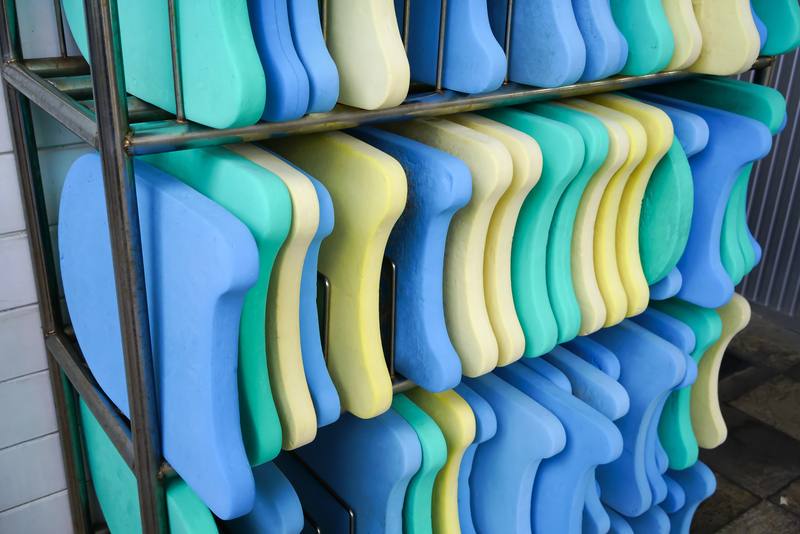 What are the benefits of using a kickboard?
The benefits of using a kickboard are primarily to develop a stronger and faster kick motion, which will in turn improve overall swimming fitness and speed.
Improving your kick speeds up your overall swimming speed in ways that aren't as obvious:
A stronger kick means your technique stays together for longer;
You are able to drive your hips (and pull) with more power, you maintain better body position in the water;
And of course, you crush it on your underwater breakouts.
Kickboards have a variety of other uses, including as a floatation aid for helping swimmers learn body positioning in the water and develop water confidence.
Kickboards also find their way into aquatic therapy sessions as a resistance tool (turn the board so that it is facing the side of the pool; push back and forth for low impact press and push exercises.
What are the disadvantages of using a kickboard?
For swimmers who have neck or shoulder issues (aka swimmer's shoulder), kicking around with a board can place additional stress and strain in those areas.
Using a kickboard also doesn't reflect the natural rotational element that happens with regular freestyle.
And of course, a lot of swimmers will pull from the flags into the walls when doing kick, negating large chunks of their kick work.
The kickboard, like any other piece of swimming equipment, should be used for a purpose and used strategically in your swim training.
The Bottom Line
Ultimately, the time you spend on the kickboard should help you in the pursuit of your goals in the water… namely, to become a better swimmer.
To recap:
⭐ The Speedo Team Kickboard is the best "standard" kickboard for most swimmers looking for a comfortable board for kick sets.
⭐ The Sporti Kickboard is an excellent budget-friendly kickboard for swmimers who don't need all the ergonomics and ridged side.
⭐ And the FINIS Alignment Kickboard is the best board for swimmers who want to improve their technique and kick in a manner that more closely resembles the body position they have when they swim.
Choose your weapon (kickboard) of choice, feed those legs some kick sets, and power up your swimming!
---
More Stuff Like This:
The Best 8 Caps for Swimmers. Looking for the best swim cap for training and competition? Here's your ultimate guide to picking out the best swimming cap for you.
The Best 6 Fins for Swimming. Looking to get a new set of fins? Here are reviews of the best swim fins available for competitive swimmers.