Itching to get your kick on? Here's a full breakdown on the best kickboards for swimming.
The kickboard.
Loathsome to some, a savior to others. While the kickboard has lost a bit of its luster with the emergence of the swimmer's snorkel over the past few years, it is still a predominant training and teaching aid at your local swim pool.
The benefit of using one is simple: to help develop a stronger and more fit kicking motion.
Improving your kick speeds up your overall swimming speed in ways that aren't as obvious:
A stronger kick means your technique stays together for longer;
you are able to drive your hips (and pull) with more power, you maintain better body position in the water;
And of course, you crush it on your underwater breakouts.
That being said…
For swimmers who have neck or shoulder issues (aka swimmer's shoulder), kicking around with a board can place additional stress and strain in those areas.
Using a kickboard also doesn't reflect the natural rotational element that happens with regular freestyle. And of course, a lot of swimmers will pull from the flags into the walls when doing kick, negating large chunks of their kick work.
The kickboard, like any other piece of swimming equipment, should be used for a purpose and used strategically in your swim training.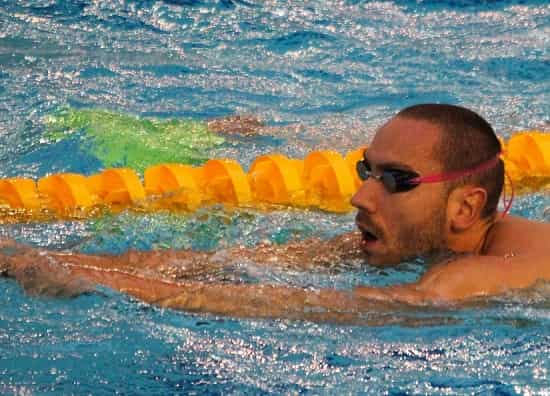 The Best Kickboards for Swimmers
We are gonna breakdown all the best types of kickboards for swimming and kickin':
Tombstone kickboards. The traditional, the classic, the one you likely see filling the equipment bins at your local pool.
Arrowhead kickboards. Hydrodynamic in design, these boards do have some limitations.
Kick-pull boards. While the premise is sound, in practice they don't work very well at all.
Numero uno. Our top pick for best overall kickboard and why it will rock your world.
1. The Traditional Kick Board (the Tombstone)
This is the kickboard we all know and love (and hate), and it's the type of board that fills the equipment bins at our local pools.
While they vary in exact size (Dolfin used to make a massive one that would reach from my fingertips to my sternum, sending me hydroplaning across the water), they all look like, well, tombstones.
The tombstone kickboard is buoyant, and its large surface area gives you a high position in the water.
Thickness and sturdiness are the two biggies with this kind of kickboard—a flimsy and thin kickboard means you have little buoyancy, with the board dipping below the surface of the water.
Speedo Team Kickboard (Top Pick)
The Speedo tombstone board is more rigid than most of the kickboards on this list, and hence why it's number one (among tombstones, at least) in my books. This rigidity—in strictly personal experience—results in a kickboard that lasts longer and is easier to float.
The board features grips along the side of the kickboard (which I don't and likely will never use) but I suppose it's handy if that's your preferred method of holding the board.
The Speedo Team Kickboard is simple, and it works.

---
Kiefer Training Kickboard
The Kiefer Training Kickboard is a good thickness—at a sturdy 1" it provides a good level of buoyancy, and is made from a molded EVA foam that makes it easy to hold onto.
One of my local pools has this particular board stocking the deck, and it provides a comfortable kicking ride.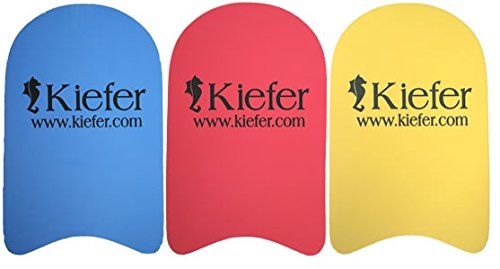 ---
The TYR Sport Kickboard
Thickest of the tombstone kickboards is the TYR Sport kickboard, coming in at a weighty 2 inches thick. It's also a little longer than the Speedo and Kiefer boards (two inches longer), making it ideal for us bigger and taller folk.
[TYR also makes a junior-sized version of this kickboard, as do most swim gear manufacturers. For kickboards for kids and toddlers, check out this guide.]
From a purely aesthetic point of view, I'd also rank it 20% more badass looking than the other boards on this little list.
It's available in black: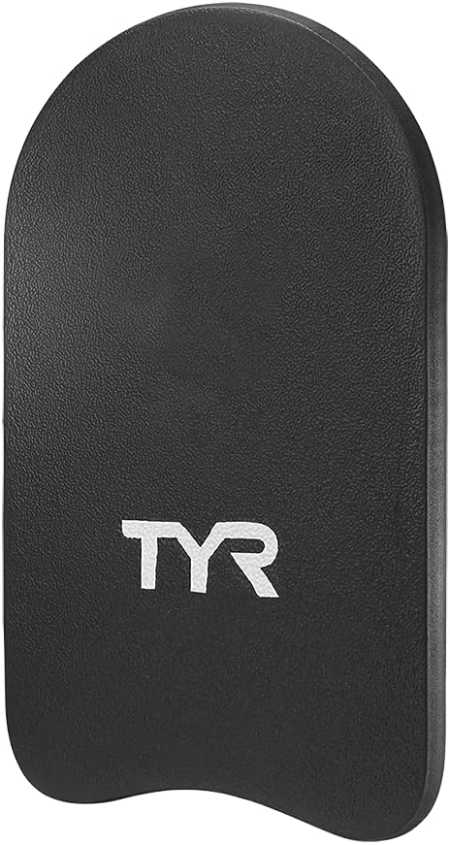 And pink: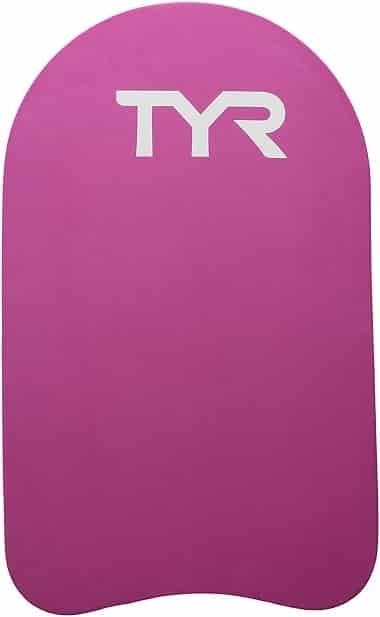 ---
Arena Kickboard
Aren's board, instead of EVA foam is constructed of ethylene-vinyl acetate. Sounds yummy.
It features added hand positions and comes in a variety of different colors to ensure that you are kicking along the lane in style.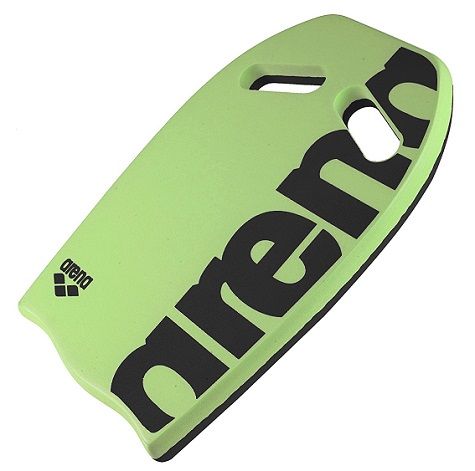 ---
2. Arrowhead Kickboards
These kickboards make you feel like you are on the tip of a fighter jet. Watching the water part at the top of an arrowhead board—especially when you are wearing fins—is a certified good time.
The Arrowhead boards are smaller, and as a result, provide less buoyancy in the water while you are kicking. There is a side benefit to this, however, your body position is often flatter, producing a slimmer drag profile in the water. Giddyup.
Side note: Good luck trying to use the handgrips at the bottom of the boards—you'll quickly discover that the board will simply pop up.
Arena Kickboard Pro
While I like the overall shape of this Arena offering, I don't like the hand grips at the bottom of the board. Once I get going water ends up pilfering out through the hand grips (which are basically unusable anyway).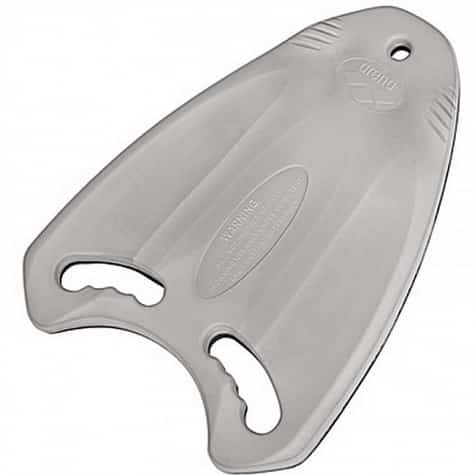 ---
Water Gear Ergo Kickboard
Same goes for the Water Gear arrowhead kickboard. This board and its bright color patterns at least gets some style points.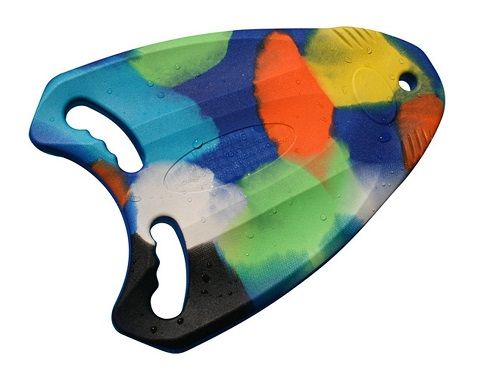 ---
Speedo Elite Kickboard (Top Pick)
My best pick for arrowhead kickboard goes to the Speedo Elite.
It's made of a buoyant and thick foam, and it's a good compromise between the tombstone and the arrowhead designs.
The tip of the board is comfortable to wrap my fingers around, and the top of my chest slides nicely into the bottom of the board.
There's also no excess hand grips causing extra resistance along the sides and surface of the board.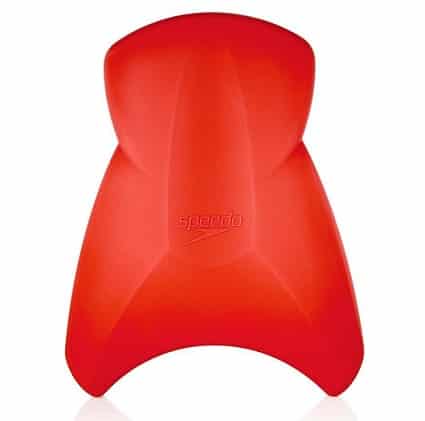 ---
3. Kick-pull Boards
I'm gonna be completely honest here: I don't like these types of hybrid kick/pull devices.
I got one as a gift when I was younger, used it for about half a length before throwing it up onto the pool deck and completing the remainder of the kick set without a board.
While the goal of a kick-pull-board-thingy is admirable—save space in your bag! Less stuff to lug around with you!—the effect is that they do both kicking and pulling rather poorly.
I've found that the kicking half of the hybrid model is most infuriating—they are not hydrodynamic whatsoever, leading you to snowplow the water.
Speedo Elite Pullkick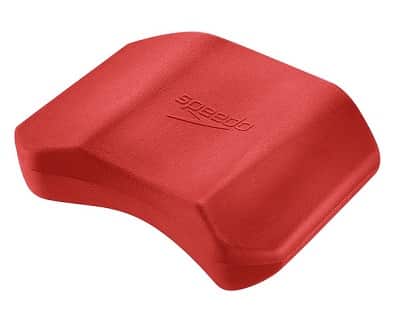 And now, for the big winner…
---
4. Best Overall Kickboard:

The FINIS Alignment Kickboard
The first time you lay your eyes on a FINIS Alignment board you will likely be a little confused: "Where's the rest of it?"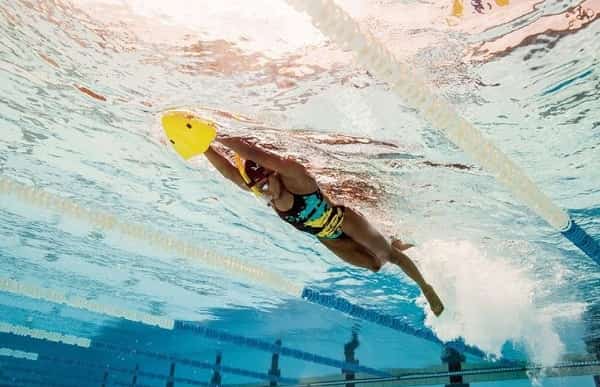 It's small, but make no mistake, this bad boy is simply awesome. If you are serious about wanting to improve your kick and master a deadly body position in the water, this is your go-to board.
You can kick with one hand on the board quite easily, which means that you can do large amounts of kicking on your side.
Kicking on your side is a deadly way to improve both phases of your kick (and not just the down kick), forces you to work on having a straighter line in the water, and also mimics your natural swimming position, something that is very difficult to do with a kickboard.
The FINIS Alignment board's diminutive size means that it can be slightly submerged (again mimicking a more natural swimming movement that is also easier on your shoulders) when kicking while still providing buoyancy.
Using both hands you can kick in a more natural streamline (throw on a swimmer's snorkel for even better body positioning) than you could with a regular kickboard.
And the hand strap helps keep it on your hand, meaning you can do flip turns. So yeah, it's kinda the best!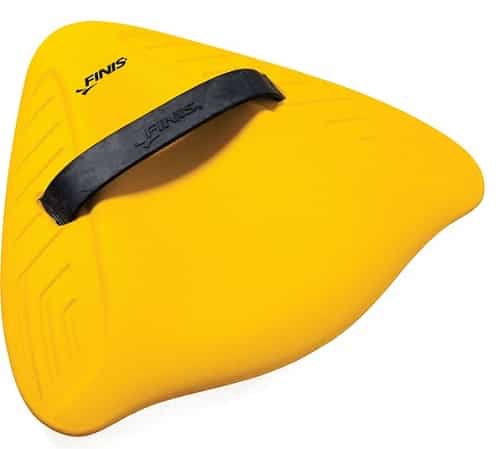 ---
More Stuff Like This:
The Best 8 Caps for Swimmers. Looking for the best swim cap for training and competition? Here's your ultimate guide to picking out the best swimming cap for you.
The Best 6 Fins for Swimming. Looking to get a new set of fins? Here are reviews of the best swim fins available for competitive swimmers.