One of the most important pieces of swimming equipment for the chlorinated athlete is something we don't actually use in the water—the almighty swim parka! Here's a look at the best swimming parkas on the pool deck.
Swimming parkas have a very simple purpose: to keep you warm in day-to-day life, between races at swim meets, and after you get all warmed up at competition.
How many times have you gotten properly primed to race, only to watch your core temperature plummet as you wait for your event? Or spent so much time sitting on your soggy bottom-butt on those chilly metal bleachers that you need to re-warm up again?
One of the best ways to make sure that your performance doesn't tank because your body temperature falls too low is to bundle up between events. In a study when swimmers wore a heated jacket performance significantly improved [1] in 100m time trials compared to their chilly teammates.
That's where a good swim parka comes in.
Whether it's bundling up on the way to morning practice or staying warm at competitions, the swim parka has got your back.
The swim parka comes with hoods, a longer fit (usually down to around your knees), feature a fleece-lined interior, and naturally, a water-resistant outer shell. While swim parkas are generally the same across all brands, each one does feature some different qualities.
The swim parka is hilariously versatile as well: it can be used as a blanket, can store your essential swim gear, can act as a uniform when there is team branding, and of course, as a big old swim jacket.
Here are the best swim parkas for swimmers to stay warm while on deck and on their way to the pool.
1. Speedo Team Swim Parka
⭐ Best overall swim parka for swimmers
The Speedo Team Swim Parka is the standard-bearer of swim parkas. It's the one I have most consistently seen on pool decks and the one I've rocked personally with a couple of different swim teams over the years.
The inside of the parka is lined with fleece, which will keep you nice and toasty. The outside is nylon, a water-resistant outer layer that will come in handy on soggy pool decks.
The hood has an adjustable drawcord so that you can tie it up nice and tight on your head while pockets on the front are ideal for storing the essentials: swimming goggles, cap, and a gangster playlist to get you fired up before your next race.
It's got a simple, clean look. As far as swim parkas go, it's got everything ya need. The Speedo Team Swim Parka comes in unisex sizing and a whole bunch of different colors, as well.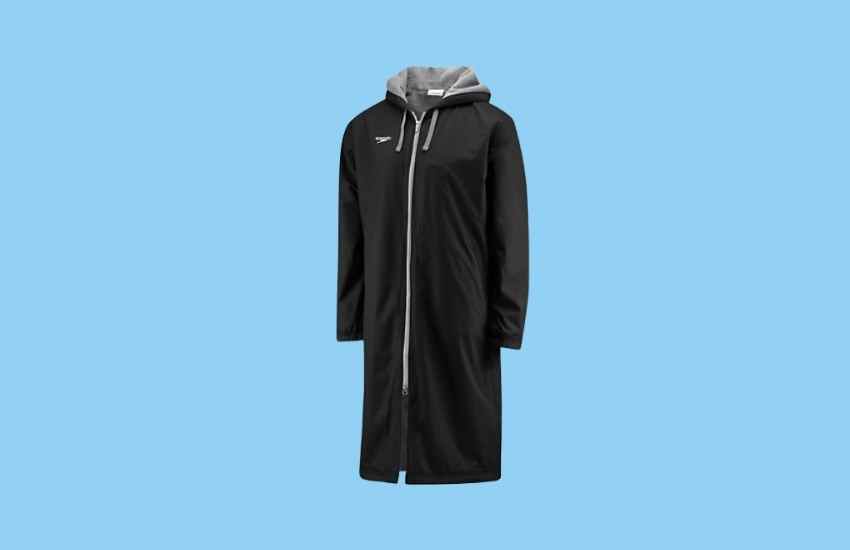 ---
2. Arena Team Line Swimmer's Parka
⭐ Best swim parka for swimmers who get cold easily
Arena is one of my favorite makers of swim gear and apparel. I love their Powerfins, their swim training fins, as well as many of their goggles, including the Cobra Swipes, the ultimate anti-fog swim goggle on the market.
The Arena Team Line Swimmer's Parka is unique from the others on this list as it features an insulated shell that boosts heat and warmth retention while you are on the chilly pool deck.
Two large pockets keep your essentials (swim goggles, smartphone) at hand, a hoodie protects wet hair, and zipper closure keeps cold air from giving you the chills.
Swim coaches love this swim parka for walking the pool deck on cold mornings, and swimmers love how hot they can keep their muscles between races.
The Arena Team Line Swimmer's Parka is available in a variety of youth and adult sizes, fits true to size (the XL perfectly fits my frame at 6'5), and simply looks great.
In sum: An excellent swim parka for the chlorinated athlete and coach.



---
3. TYR Youth Alliance Podium Swim Parka
⭐ Best swim park for kids
For youth swimmers, the parka is one of the absolute essentials for those long swim meets. The youth swimming parka helps you retain the warmth after warming up and they keep you from getting the chilly shakes while sitting on cold metal bleachers between races.
The TYR Youth Alliance Podium Parkas is a comfortable and warm parka that will help you keep warm. With a soft outer shell that doesn't retain water and a fleece inner that keeps you toasty, this is one of the warmest swimming parkas on the market.
Available in three different block color combinations and in three sizes, the TYR Youth Alliance Youth Swim Parka is an excellent parka for younger swimmers.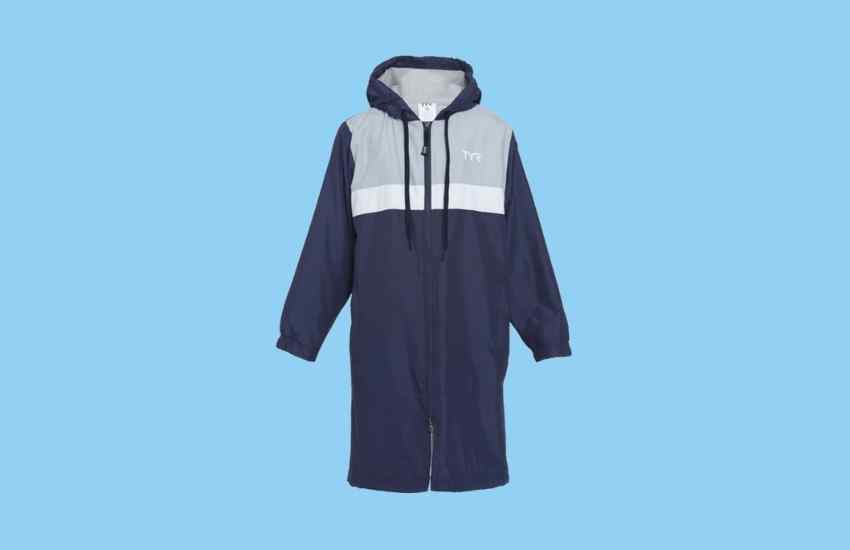 ---
4. Speedo Color Block Swim Parka
The Speedo Block Parka is another parka design from Speedo, this one with good-looking two-tone colors and features the same water-resistant outer shell with a fleece-lined interior.
You get the usual goodies: a two-way zipper, pockets in and out, a sturdy YKK zipper, and a hoodie to keep your head warm. Drawstrings around the neck help you tuck your wet head under your hood during the colder months, and the unzippered gives your legs maximum range of motion (helpful for running behind the blocks when your heat is up).
The fleece comes in various shades from blue to green and everything in between, giving you an added choice in color design. I should also note that the jacket is surprisingly light, making it an ideal swimming parka for swimmers whose bodies run on the warmer side of things.
(Although they are listed as "male" parkas on the Amazon product listing page they are sized unisex.)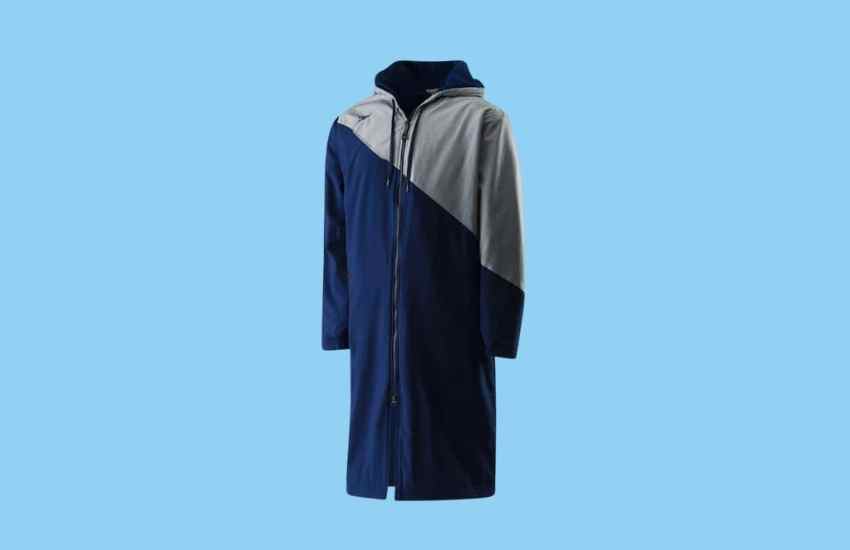 ---
5. TYR Alliance Team Parka
Another one of the major players in the swimwear industry, TYR is a popular maker of goggles (the TYR Socket Rockets are some of my favorite goggles), swim bags, and tech suits. Naturally, they also make their own little line of parkas for swimmers.
The TYR Alliance parka takes comfort and heat-retention to the max with nylon on the outside and a polyester microfleece inside. The parka is loaded with pockets so that you can chill behind the blocks waiting for your heat with your jacket stocked up on your racing equipment.
It also features a pocket for your smartphone with Velcro closure to keep your phone from bouncing out of your pocket when you are running behind the blocks to make your heat.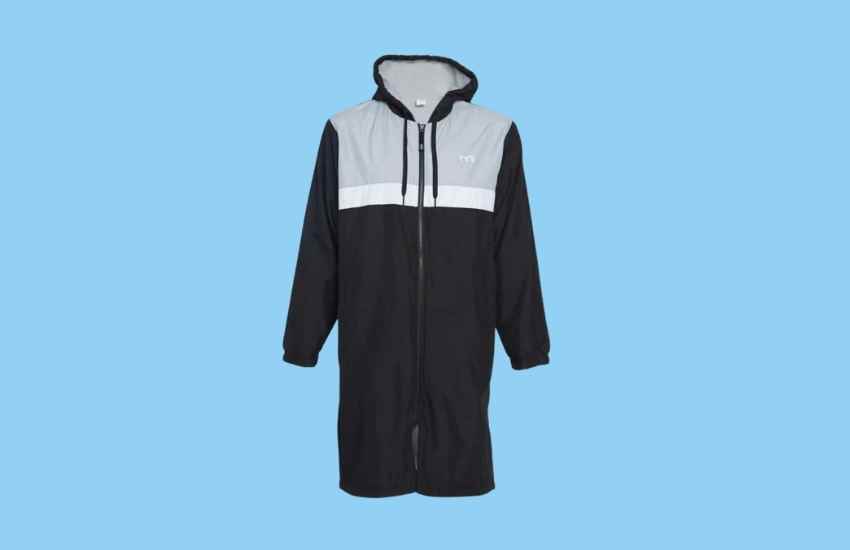 ---
6. Adoretex Swimmer's Parka
Adoretex is a smaller brand in the swimwear industry, but the parka they make is rather comfortable (and well-priced).
It's got the usual bells and whistles that swimmers and coaches would want from their swim parka: it's got an artic fleece interior, the water-resistant nylon outer layer, and a drawstring hood. It comes in sizes of XS to XXL and in a huge array of colors. (Adoretex themselves recommend ordering a size up so that the swimmer can continue to grow into it.)
It comes with two front pockets and a handy pocket on your shoulder with a Velcro closing to put your heat card/smartphone/earplugs in. It's got a very clean look, as well: with no logos on it you are getting a swim parka without the branding that is typical of most swim clothing manufacturers.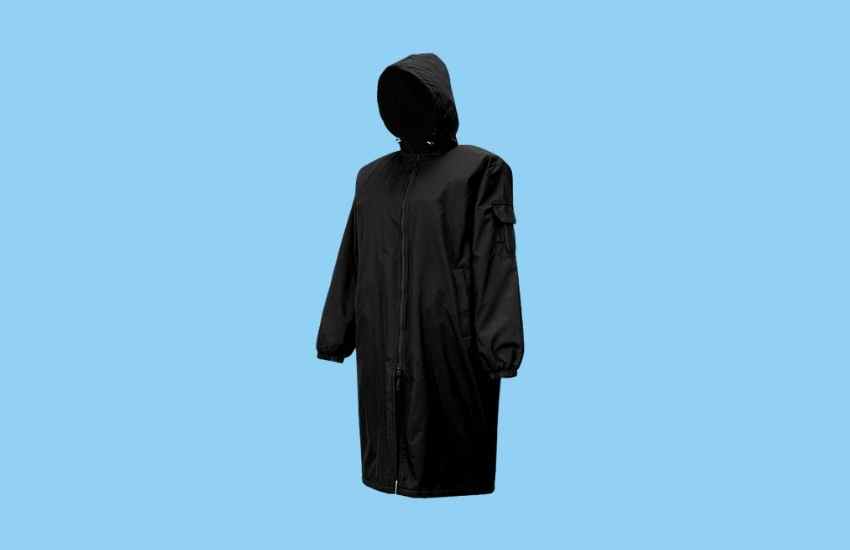 ---
7. AquaDash Swimming Parkas for Youth and Adults
With both youth and adult sizes, the AquaDash Swim Parkas are a unisex coat that will keep you warm at the pool.
The inner lining is quick-drying cotton, making it ideal for days at swim meets where you are in and out of the water a lot and want to keep nice and toasty. Two large pockets and a customizable name tag ensure that your kiddo doesn't lose the parka at the pool.
The outer shell is specially treated to keep surfaces dry (the car seat on the way home after practice, for example) and the zipper is a sturdy two-way YKK zipper.
The AquaDash swimming parkas are available in a pair of color combinations, and AquaDash offers these swim parkas in kid and adult sizes.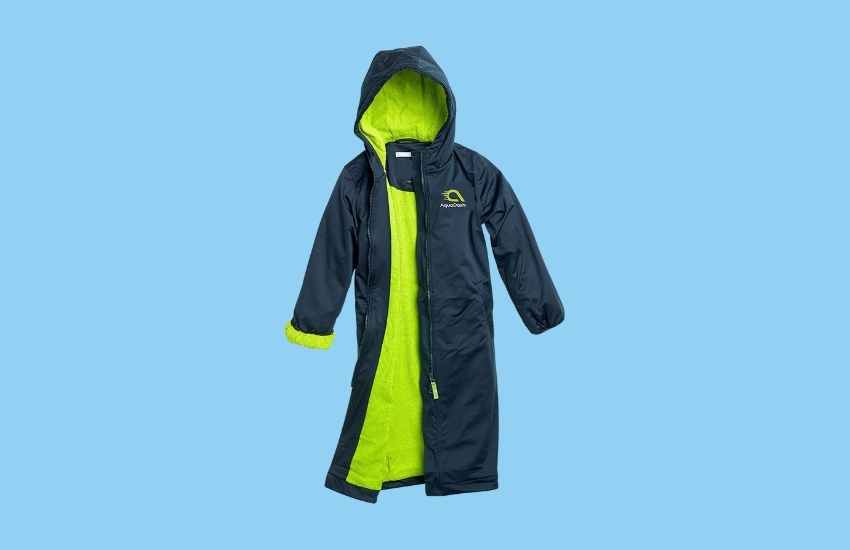 ---
How to Choose a Swim Parka
Swim parkas are unique to competitive swimmers in the sense that they are a piece of swimming equipment that never gets in the water.
Here are the main things to look for when choosing the right swim parka for you:
⭐ Parka shell. Because you are going to be around the pool with your parka, look for an exterior shell that is made with water-repelling fabric. Nylon or polyester are the two most common parka shell materials, as both repel water. Nylon or polyester also help make a swim parka be a great choice for walking outside in inclement weather without worrying about getting soaked.
⭐ Storage. One of the sneaky benefits of a swim parka is that you can use it to store the essentials for race day, including your swim goggles, swim cap, even your smartphone. My swim parka was where I also stored things while I was racing, helping keep all of my stuff—water bottle, snacks, and so on—organized and in one place while I was diving off the blocks and racing towards a new personal best time.
⭐ Inner lining. The main feature of a parka is that it keeps you warm. This is primarily done by the parka lining, which is usually a form of wool or fleece. These materials are also fast-drying, making them perfect for swimmers who are in and out of the pool all day.
⭐ Customization. Most swim teams go the branded route with swim parkas, including adding their logo and team colors to parkas. This customization is available with some brands and online retailers (Swim Outlet offers this, for example). Choose the colors that represent your squad.
What is a swim parka?
A swim parka is designed to help swimmers keep warm on the pool deck.
They are large, typically with a nylon or polyester exterior that doesn't soak water, and an inner wool or fleece layer to keep you nice and toasty between races and on the drive to early morning swim practice.
What can a swim parka be used for?
Swim parkas are primarily used for warmth, but they can also be used as a blanket, a place to store your swimming equipment (goggles, swim cap, and so on), and can also be used as your own private changing stall.
Competitive swimmers use them to make the most of their swimming warm-ups so that their muscles are warm and loose when it comes time to stand up on the starting blocks and race.
(See also: Why Do Olympic Swimmers Wear Coats Before Racing?)
How to get your name on a swim parka?
Swim parkas are brandable and customizable, which means you can order a parka that features your team logo, team colors, and even your name stitched on it.
The front chest area is typically where your name is stitched in cursive or block lettering.
For the back of the parka, most swim retailers embroider using tackle twill to customize according to your design and brand colors.
Swim Outlet charges a flat $10 fee for customization of their popular Speedo Unisex Team Swim Parka or the Sporti Comfort Fleece-Lined Swim Parka.
---
More Stuff Like This:
The Beginner's Guide to Swimming Equipment. Here's a full rundown on the swimming equipment you will need to dominate the pool, as well as our top picks for types of swimming accessories that work best.
The 6 Best Gifts for Swim Coaches. Looking for a way to thank your coach for all of their hard work? Here is our list of awesome gift ideas for swimming coaches.
7 Gift Ideas for Competitive Swimmers. Looking to pick something up for the competitive swimmer in your life? Let our little gift guide show you the way.