One of the most important pieces of swimming equipment for the chlorinated athlete is something we don't actually use in the water—the almighty swim parka!
The purpose behind a swim parka is quite simple: to keep you warm in day-to-day life, between races and after you get all warmed up at competition.
How many times have you gotten properly primed to race, only to watch your core temperature plummet as you wait for your event? Or spent so much time sitting on your soggy bottom-butt on those chilly metal bleachers that you need to re-warm up again?
One of the best ways to make sure that your performance doesn't tank because your body temperature falls too low is to bundle up between events. In a study when swimmers wore a heated jacket performance significantly improved [1] in 100m time trials compared to their chilly teammates.
That's where a good swim parka comes in. Whether it's bundling up on the way to morning practice or staying warm at competitions, the swim parka has got your back.
Parkas come with hoods, a longer fit (usually down to around your knees), feature a fleece-lined interior, and naturally, a water-resistant outer shell. While swim parkas are generally the same across all brands, each one does feature some different qualities.
The swim parka is hilariously versatile as well: it can be used as a blanket, can store your essential swim gear, can act as a uniform when there is team branding, and of course, as a big old jacket.
Here are the best swim parkas for swimmers to stay warm while on deck.
1. Speedo Team Swim Parka
The Speedo Team Swim Parka is the standard bearer of swim parkas. It's the one I have most consistently seen on pool decks and the one I've rocked personally with a couple different swim teams over the years.
The inside of the parka is lined with fleece, which will keep you nice and toasty. The outside is nylon, a water-resistant outer layer which will come in handy on soggy pool decks.
The hood has an adjustable drawcord so that you can tie it up nice and tight on your head while pockets on the front are ideal for storing the essentials: goggles, cap, and a gangster playlist to get you fired up before your next race.
It's got a simple, clean look. As far as swim parkas go, it's got everything ya need. The Speedo Team Swim Parka comes in unisex sizing, as well.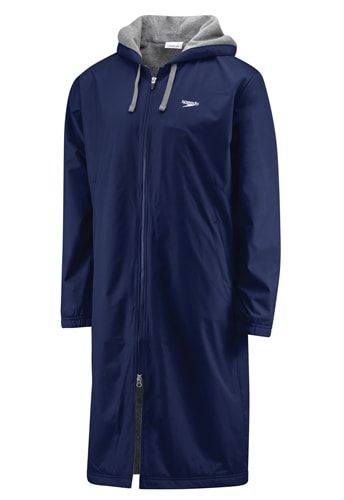 2. Speedo Color Block Swim Parka
The Speedo Block Parka is another parka design from Speedo, this one with a good-looking two tone features the same water resistant outer shell with a fleece lined interior.
You get the usual goodies: a two-way zipper, pockets in and out, and a hoodie to keep your head warm. The fleece comes in various shakes from blue to green and everything in between, giving you an added choice in color design. I should also note that the jacket is surprisingly light.
(Although they are listed as "male" parkas on the Amazon product listing page they are sized unisex.)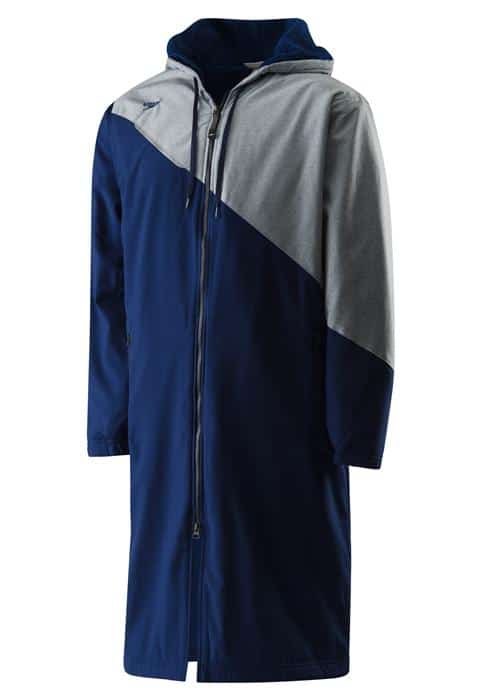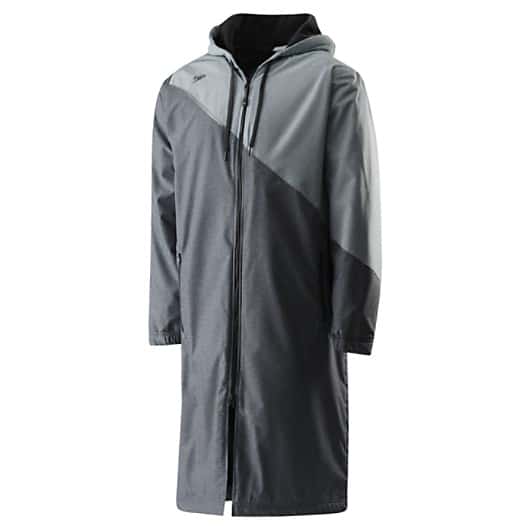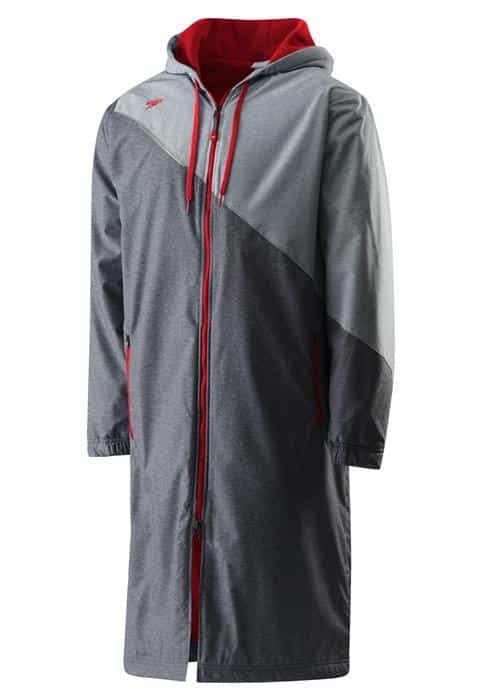 3. TYR Alliance Team Parka
Another one of the major players in the swimwear industry, TYR is a popular maker of goggles (the TYR Socket Rockets are some of my favorite goggles), swim bags, and tech suits. Naturally, they also make their own little line of parkas for swimmers.
The TYR Alliance parka takes comfort and heat-retention to the max with a nylon outside and a polyester microfleece inside. The parka is loaded with pockets so that you can chill behind the blocks waiting for your heat with your jacket stocked up on your racing equipment.
It also features a pocket for your smartphone with a Velcro closure to keep your phone from bouncing out of your pocket when you are running behind the blocks to make your heat.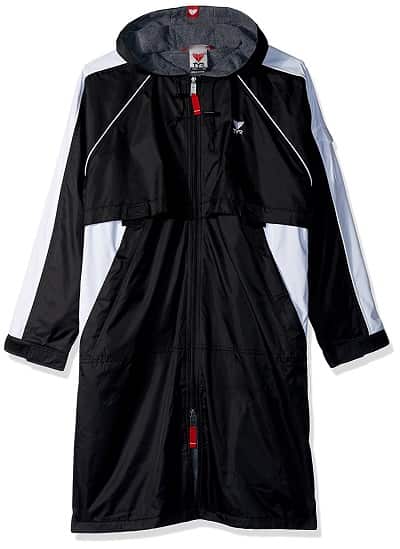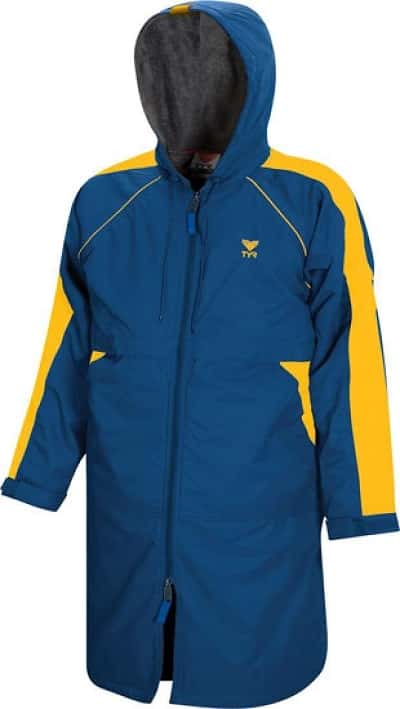 4. Adoretex Swimmer's Parka
Adoretex is a smaller brand in the swim wear industry, but the parka they make is rather comfortable (and well-priced).
It's got the usual bells and whistles that swimmers and coaches would want from their swim parka: it's got an artic fleece interior, the water-resistant nylon outer layer and a drawstring hood. It comes in sizes of XS to XXL and in a huge array of colors. (Adoretex themselves recommend ordering a size up so that the swimmer can continue to grow into it.)
It comes with two front pockets and a handy pocket on your shoulder with a Velcro closing to put your heat card/smartphone/ear plugs in. It's got a very clean look, as well: with no logos on it you are getting a swim parka without the branding that is typical of most swim clothing manufacturers.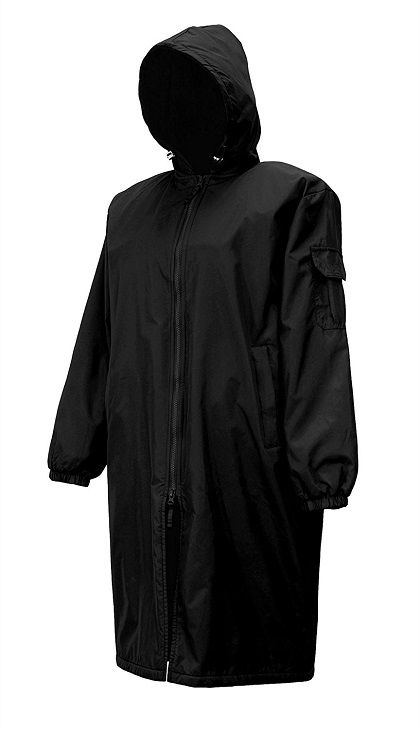 ---
More Stuff Like This:
The Beginner's Guide to Swimming Equipment. Here's a full rundown on the swimming equipment you will need to dominate the pool, as well as our top picks for types of swimming accessories that work best.
The 6 Best Gifts for Swim Coaches. Looking for a way to thank your coach for all of their hard work? Here is our list of awesome gift ideas for swimming coaches.
7 Gift Ideas for Competitive Swimmers. Looking to pick something up for the competitive swimmer in your life? Let our little gift guide show you the way.