Kneeskins and tech suits for women are expensive business. Here's a breakdown of the best tech suits for women and kneeskins, whether you are a breaststroker, aiming for the Olympics, or competing at your first swim meet.
---
---
Choosing the best kneeskin and tech suit for women
You've placed a lot of time, energy, sweat and tears into your training. Each day you havee gone to the pool and hustle and grinded your way through countless threshold sets, lactate sets, and more meters and yards than you can count. (Probably more than you drive, to be honest.)
Now, it's time to put all that hard work from practice and put it to the test in competition. With a successful taper behind you, and the bottled nerves causing your stomach to feel like its turning itself inside out, you prep yourself for race day.
Picking out the best racing suit for yourself is part of the process. There are a lot of things to consider when women pick out the kneeskin they take with them into battle.
Cost: Racing suits are not cheap. Premium kneeskins run upwards of $600. Entry level racing suits are in the $100-150 range.
Durability: Kneeskins are made up of mostly delicate fabrics that are extremely light, water-repellant, but also not particularly long-lasting.
Comfort: Some kneeskins are better suited for specific strokes and events.
Performance: Racing suits promise to boost performance through a combination of compression, hydrodynamic construction, and other drag-reducing features, including bonded seams.
Below is our selection of the best kneeskins and tech suits, broken down by category and stroke.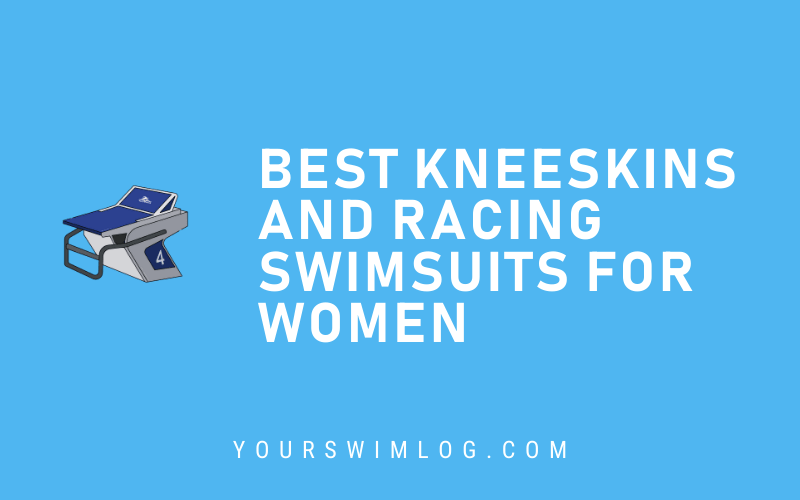 ---
Speedo Fastkin LZR Pure Intent Kneeskin
Top pick: Best elite tech suit for women
Speedo Fastskin suits have been at the forefront of the high-performance racing suit pack for decades. Since making a big splash at the Beijing Olympics—with Michael Phelps rocking out the legging version on his way to 8-gold medals—the Fastskin series of suits have continued to evolve.
The latest edition of the Fastskin suits is the "Pure" series (Pure Intent, Pure Valor, and Pure Focus). The Fastskin LZR Pure Intent is the one that provides the most compression, providing maximal blood flow to your core and legs, giving you that extra buoyancy and energy at the end of races, making it an excellent tech suit for sprinters.
"The compression is perfect, and I feel like the suit is really working with my kicks," says American backstroker Kathleen Baker, a 2-time Olympic gold medalist and world record holder. (She's also sponsored by Speedo, for what it is worth.)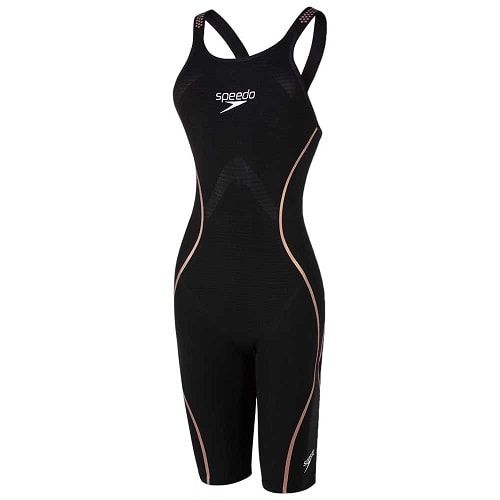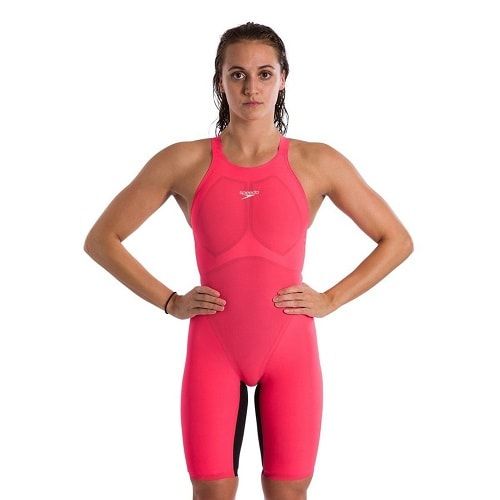 ---
Arena Powerskin Carbon Flex Kneeskin
Top pick: Best Mid-range tech suit for women
It's probably no secret that I am a big fan of Arena suits and swim gear. The Powerskin Carbon Flex is a killer mid-range racing suit for women. Compared to many kneeskins, which can leave you feeling stiff and stuffed into the suit, the Carbon Flex balances compression with a range of motion.
The Powerskin Carbon Flex Kneeskin is middle of the road when it comes to pricing, usually around $275-300 depending on the seller, but retains the high-performance attributes that you expect from a tech suit.
Available in over a dozen colors and color combinations (including the Adam Peaty-themed lion suit, pictured below), the Carbon Flex is my top pick for mid-range kneeskin.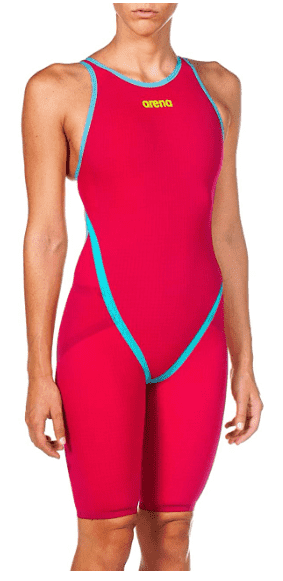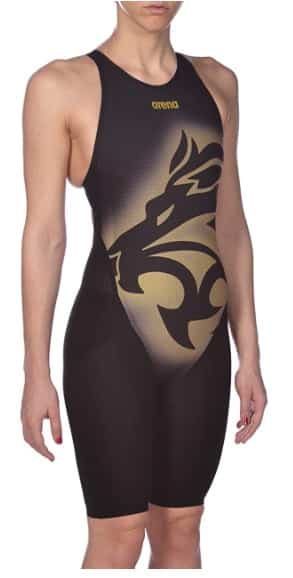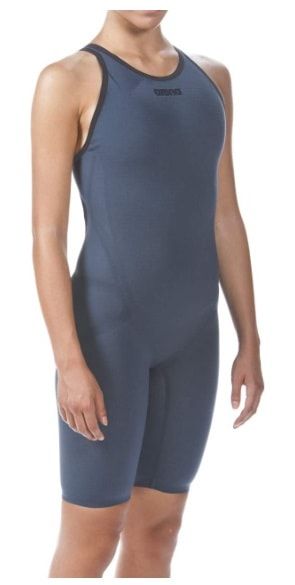 ---
FINIS Vapor Pro Kneeskin
Runner up: Best mid-range racing swimsuit
FINIS is one of the more innovative swim gear companies, with their swimmer's snorkel, Tempo Trainer, and waterproof headphones being extremely popular in the pool. Their racing suits, the Vapor, is a slick looking and highly compressive racing suit that delivers on high-performance comfort and feel.
Made of 27% spandex, 73% nylon, the Vapor is constructed with dual panels along the backside that promotes buoyancy and promises to maintain muscle efficiency. The seams of the suit are welded and bonded so that there is no stitching on the exterior of the suit, and the Vapor Pro Kneeskin comes in black and slate.
Comfortable, fast, and reasonably priced, you cannot ask for much more with the Vapor racing suits.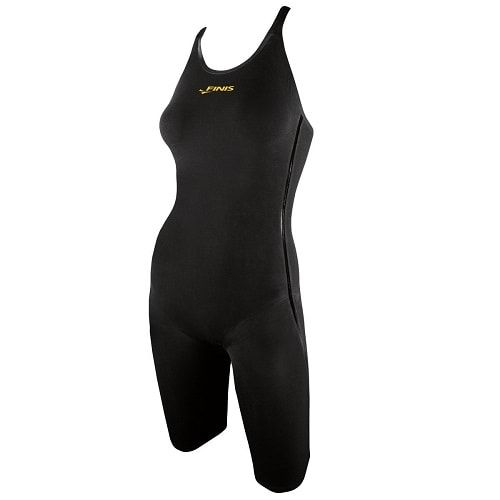 ---
Arena Powerskin ST 2.0 Kneeskin
Top pick: Entry-level kneeskin
The Powerskin ST series of swimsuits are my favorites when it comes to affordable, entry-level suits that also provide the benefits you expect from a high-performance suit, including compression and water-repellent fabric.
The Powerskin ST 2.0 Kneeskins cost around $100 (depending on where you live) and is made of 71% polyamide and 29% elastane. The suits are available in over a dozen colors, from your typical full black and aquamarine (pictured below) to a series of color combinations and patterns.
Comfortable, durable (with proper care, obviously), and fast, the Powerskin ST kneeskin delivers as a reasonably priced racing swimsuit for women.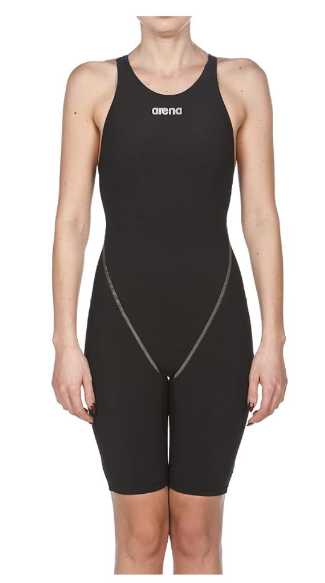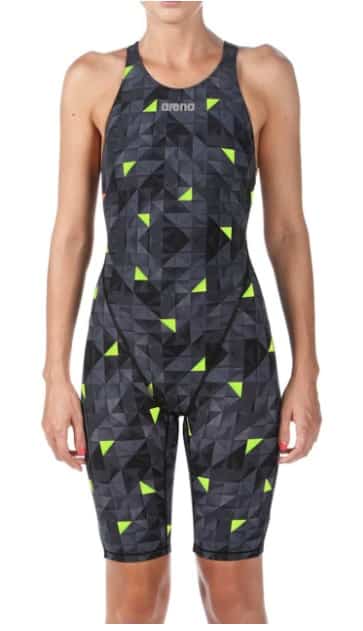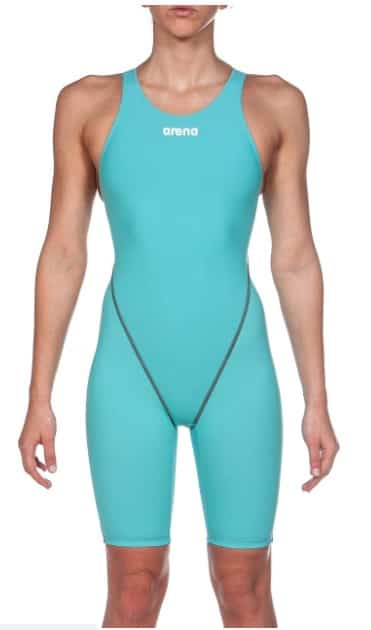 ---
BlueSeventy neroFIT Tech Suit
Runner up: Entry-level kneeskin
BlueSeventy is a manufacturer of gear for swimmers and open water swimmers. Their racing suits, the neroFITs, take a lot of the same high-performance features of high ticket suits and bundle them up in an affordable, cheaper kneeskin.
While most premium kneeskins run in the range of $400-600, the neroFIT comes in at under $200, making it an excellent budget-friendly tech suit.
Although it has slightly less elastane than elite racing suits (20% of the suit is made with this fast-drying, water-repellant fabric), the suit has fully bonded seams (no stitching, reducing drag), and has silicone grippers on the inside of the legs so that you can climb in and out of the suit more readily.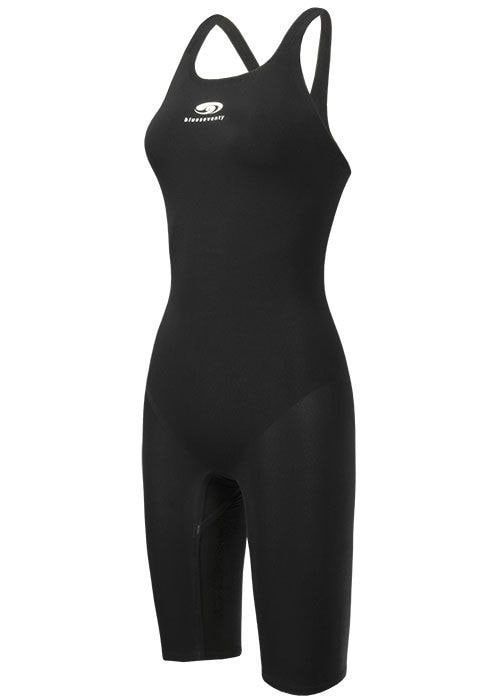 ---
TYR Venzo Genesis Women's Tech Suit
Top pick: Best racing swimsuit for Breaststrokers
Let's just come and say it: there is something unique about breaststrokers. They perform the only stroke in the water where the body comes to a nearly dead-stop in the middle of each stroke cycle. Add the external hip rotation required of breaststroke kicking, and you can see what sets them apart.
Because of the unique leg movement inherent in the breaststroke kick, swimsuit manufacturers need to be able to make a racing suit that provides all the compression and support benefits along with enough range of motion in the hip to allow a breaststroker to kick with full power and range of motion.
The TYR Venzo Genesis tech suits, the latest in the line of the Huntington, California-based swim company's line of racing suits, delivers on this.
With several of the fastest breaststrokers in the world rocking this tech suit, from American Cody Miller to world record holder Lilly King, the Venzo creates little friction with the construction of the suit and a compression cage that targets the core and quads.
Made of 70% nylon and 30% spandex, the Venzo Genesis Kneeskin crushes it when it comes high-performance breaststrokin'.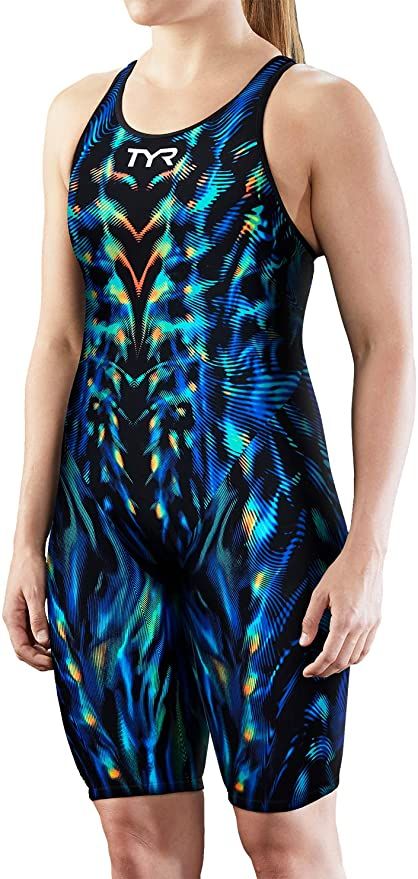 ---
Tech Suits for Women – FAQs
Do tech suits help you swim faster?
Tech suits come with a lot of hype and flashy lingo.
Whether it's the proprietary fabrics, the claims of performance benefits, or the hyperbole that comes with racing swimsuits, a question remains: will wearing a tech suit actually help you swim faster on race day?
The answer is: most likely.
Studies at the University of Iowa, with French international-level swimmers, and at Speedo's research lab (fittingly called AquaLab), have shown a range of performance benefits.
For example, while developing a new range of FastSkin suits following the rubber suits ban of 2009, Speedo found [1] that their Fastskin-3 reduced passive drag by 16.6% and reduced surface drag by 5.2% compared to a "standard suit."
Okay… But how do tech suits help women swim faster?
There is no doubt that you simply feel faster when wearing a tech suit in the water. Women, in particular, with the added suit coverage benefit from the compression, fabric, and design of these swimsuits.
Here are some of the ways that tech suits help women swim faster than ever on race day:
Improved body position. Racing swimsuits provide added buoyancy in the water. One of the main things swimmers notice with a tech suit is their hips rise to the surface, putting them in a biomechanically superior position to swim well.
Reduced drag. Traditional swimsuits that are used in training are made of polyester, which lasts a long time but also soaks up a lot of water and wrinkle up, causing additional friction and resistance in the water. Tech suits are built of water-repellant material that cuts down on drag when swimming.
Improved efficiency. Studies with racing swimsuits have found that swimmers get more distance per stroke when wearing a tech suit. Being able to get more distance with each stroke makes you more efficient in the water, boosting how far and how fast you can swim.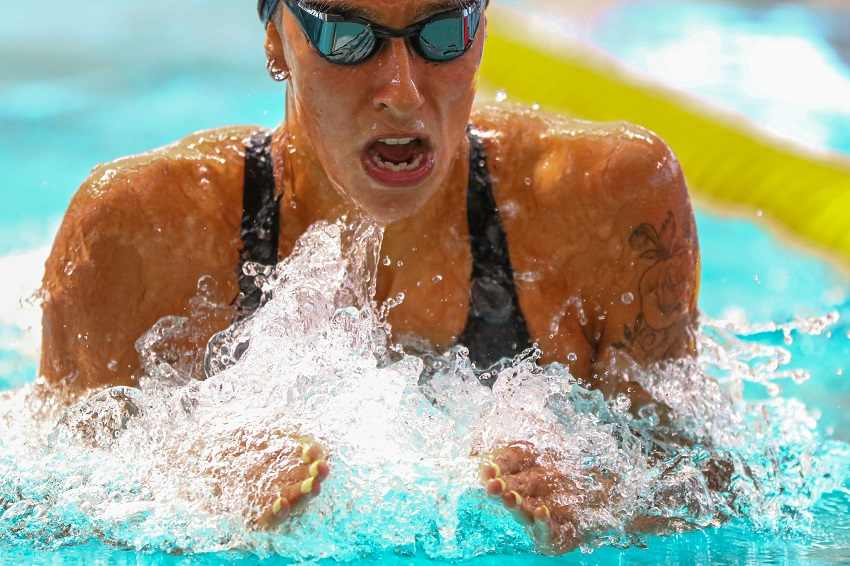 What are tech suits made of?
Although tech suits vary widely in design, cut, and colors, they are generally made of the same types of material.
Here are the biggies when it comes to tech suits for women:
Elastane
Elastane is one of the two main fabrics that compose a fast tech suit. Also known as Spandex or Lycra, elastane is a water-repellent fabric that is stretchy, giving you a 1-2 punch of drag reduction and comfort.
Also commonly found in yoga pants, elastane tends to pill and can stretch out and thin quickly over time. The reason that tech suits don't last very long after repeated exposure to chlorine and wear is because of elastane.
Elastane is blended with other more durable fabrics to provide a long-lasting swimsuit that is fast and comfortable.
Swimsuit makers commonly rotate through the different names for this fabric, but elastane, Lycra and Spandex are basically the same thing, so don't get too stressed about the way it's branded.
Polyester
Almost every swimsuit on the planet is made from polyester. It's the reigning champ when it comes to a durable, comfortable and water-appropriate materials for swimsuits.
Polyester resists chlorine, doesn't fade (or at least, takes almost forever to fade), is comfortable, and provides a breathable and quick-drying fit.
Polyester PBT
Polyester PBT is a tough fabric that is highly resistant to chlorine, saltwater, color fading. It has a little more stretch than regular polyester, making it an ideal material for swimwear, and particularly, racing suits for competitive swimmers.
Unlike regular polyester, the PBT version is slightly better at repelling water. It also has a smooth, matte finish that is soft on the skin and looks great, too.
Nylon
Another polyester alternative is nylon. Nylon isn't as durable when it comes to chlorine resistance, meaning that it will fade faster compared to polyester.
That said, it does have some benefits, in that it repels moisture, it's soft, and provides a decent level of elasticity for a comfortable fit.
Carbon fiber
Lastly, we have carbon fiber, which is a tech suit ingredient that is unique to Arena racing suits.
Carbon fiber is an extremely tough material that allows a tech suit to be stretched out without being stretched to the point that it becomes see-through or it loses compression and stability.
Combined with the more durable materials like nylon or polyester, carbon fiber stiffens the swimsuit, providing excellent compression and suit durability.
The amount of carbon needed to achieve their performance benefits is actually quite minimal. For example, the Powerskin Carbon Air2 tech suit for women has 1% of carbon fiber in the suit.