Swimming looks like a relatively low-cost sport—grab yourself a swimsuit and a pair of swim goggles and off you go.
But experienced swimmers know this isn't true.
Costs add up quickly, from meet fees to travel to racing suits. In reality, for the chlorinated athlete, competitive swimming can get pricey.
Nowhere is this more apparent than with tech suits, which can cost as much as $600.
Related: 9 Best Tech Suits for Fast Swimming on Race Day
Fortunately, there are some pricier and budget-friendly options for racing suits that combine many of the benefits of a high-performance swimsuit—compression, water repellent fabric, improved performance—with a price tag that is a little more reasonable.
Below is a breakdown of the best budget tech suits on the market.
We will take a look at each, including key features, fabric composition, price point, and more.
Read on, find the best cheap tech suit for you, and swim like a boss on race day.
Speedo Vanquisher
Speedo's tech suits are probably the most popular on the planet, with some of the fastest swimmers in the water rocking out with their latest Fastskin suits, including 7-time Olympic gold medalist Caeleb Dressel.
While fast, they are also expensive, with the Pure Valor kneeskin retailing for $600. Ouchie.
For swimmers who want the Speedo racing tech without the high price tag have other racing suit options, including the Speedo Vanquisher, which incorporates a lot of the premium features of higher-priced tech suits, including dual-layered compression, a water-repellant fabric, and 21% Lycra spandex in the suit.
(For swim parents looking for a fast 12-and-under tech suit, the Speedo Vanquisher ranks as our "most durable" option.)
The suit is available in a bunch of different colors and prints…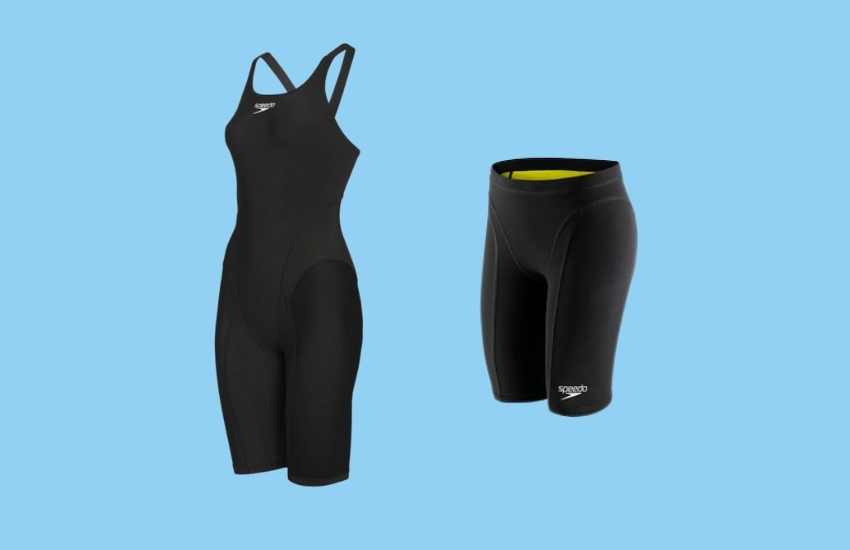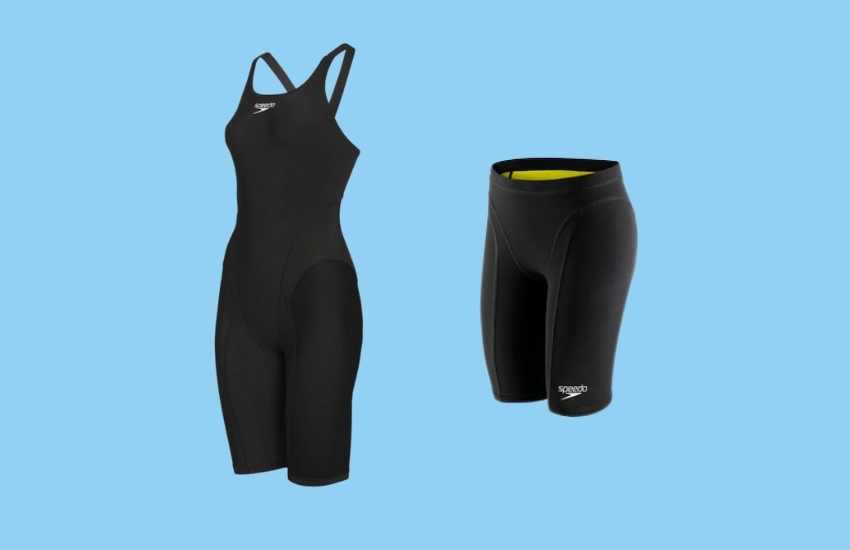 Arena Powerskin ST 2.0
I've long been a fan of this tech suit, using it for both competitions and even for practice sessions a few times while waiting for new training suits to show up in the mail.
Beyond the fact that I really like Arena's gear, from their swim training fins to swim caps, the Powerskin ST is an excellent tech suit that packs a lot of compressive and performance-boosting punch.
Available in a variety of colors, from flat black to vibrant patterns, the Powerskin ST 2.0 provides great compression and body lift in the water.
Related: Arena Powerskin ST 2.0: My Favorite Cheap Tech Suit
Although most tech suits have bonded seams, removing an additional source of drag and friction, the Powerskin ST has stitched seams.
The Powerskin ST 2.0 is a cost-effective way to get all the performance benefits of tech suits without the hefty price tag that often accompanies them.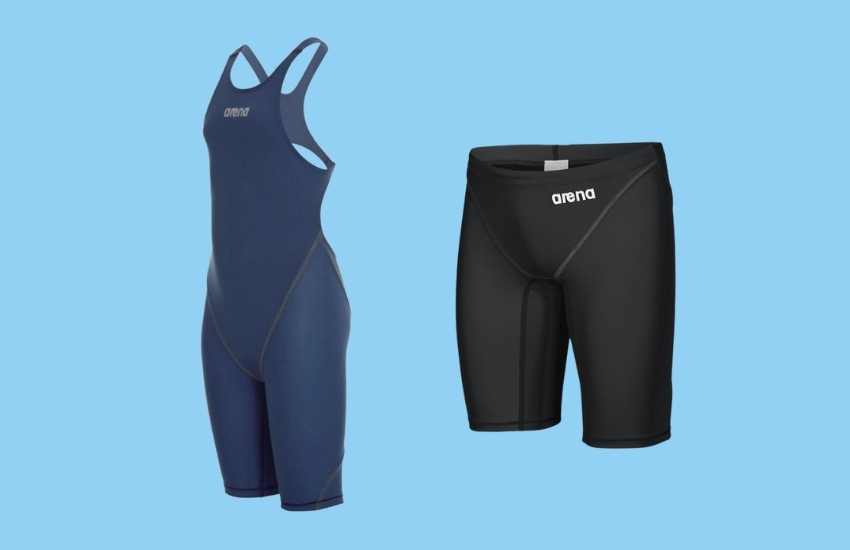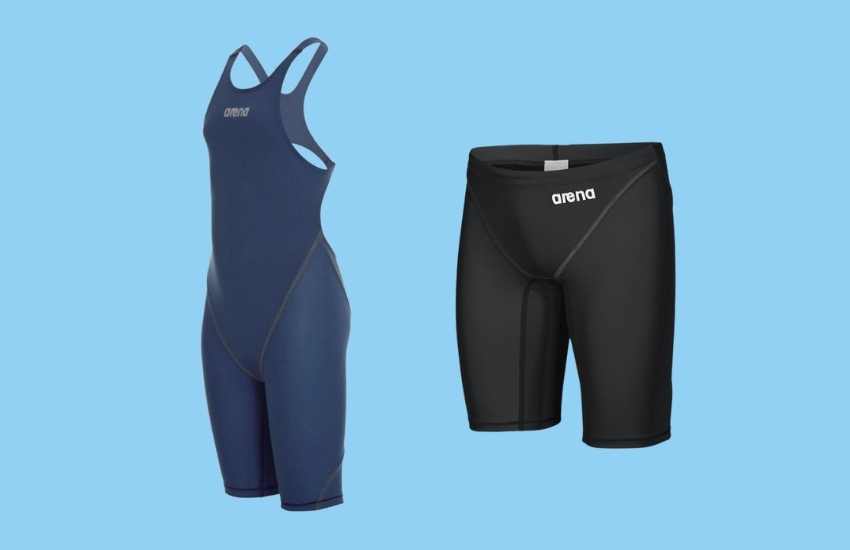 Jaked Jkeel
While not as popular with swimmers as the Speedo, Arena, and TYR, Jaked does make some really quality tech suits that rival the big names.
The fabric of the Jkeel is a mix of polyamide, polyester, and 32% elastane, which is on the high end for a "budget" tech suit. This fabric is constructed with a dual-layer of fluorocarbon resin which helps to repel water.
The women's version has a proprietary strap system through the back and hips that helps maintain compression while giving a high degree of flexibility and range of motion. The jammer version has a clever tunnel for the drawstrings that reduces the risk of snags and tears.
Jaked offers the Jkeel in three different solid colors and a variety of sizes for both men and women.
The only issue some swimmers will have with the suit is the size of the logo on the front. At 3" wide, this might be larger than is allowed for some swim organizations.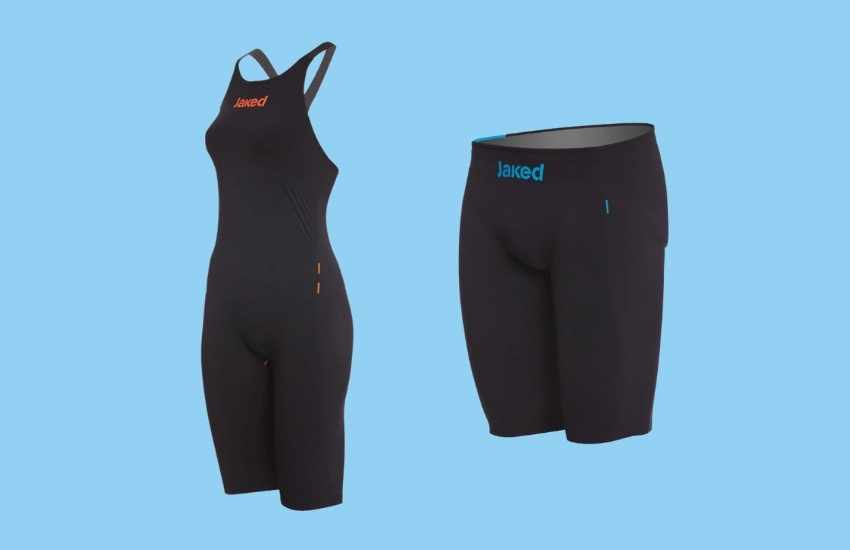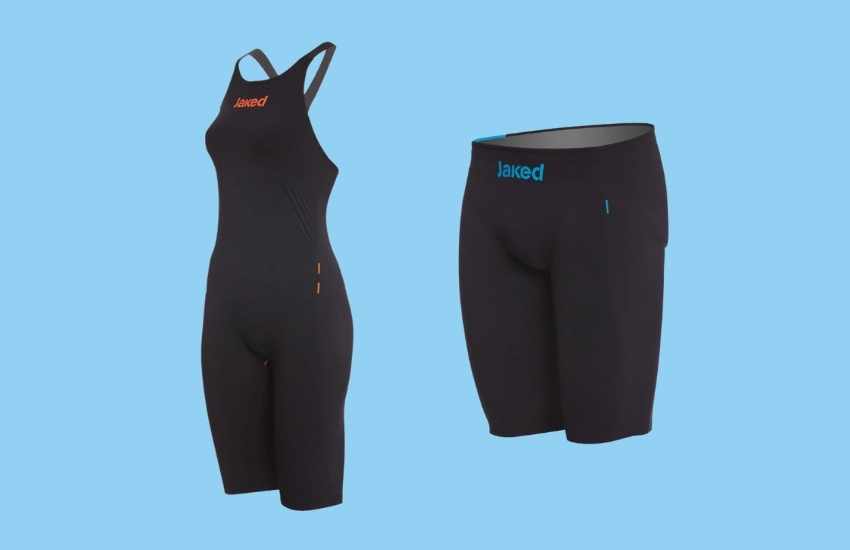 Arena Powerskin R-Evo One
The Arena Powerskin R-Evo is a very unique website in that it is made of a single piece of fabric. No seams. Not one. This helps produce a superior and more natural fit while also retaining all the speed-boosting effects that we expect from a fast racing suit.
The lightweight fabric, which features 22% elastane and 78% polyamide, is smooth enough that it feels like a second skin.
With a multi-stretch construction, the suit is easy to get into (well, about as easy as it gets when it comes to pulling one of these tight-fitting suits on!) and has compression panels distributed throughout the suit to help increase blood flow and support tired muscles.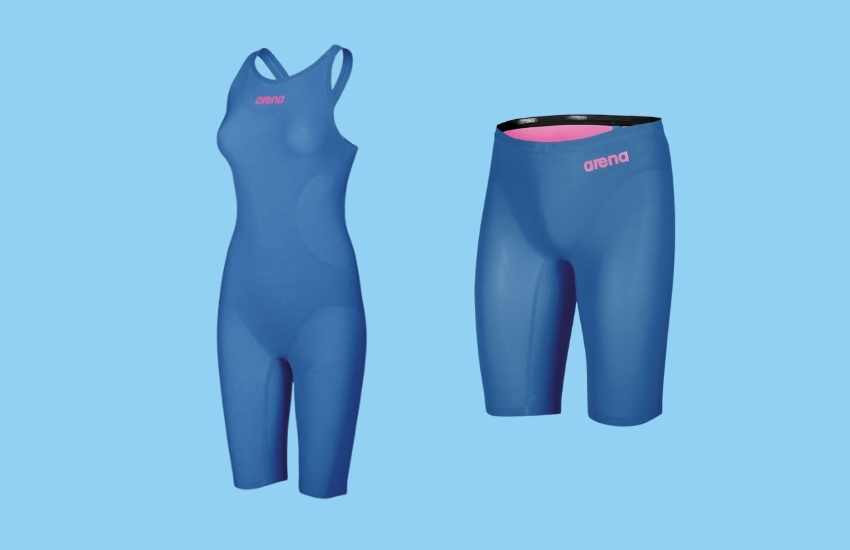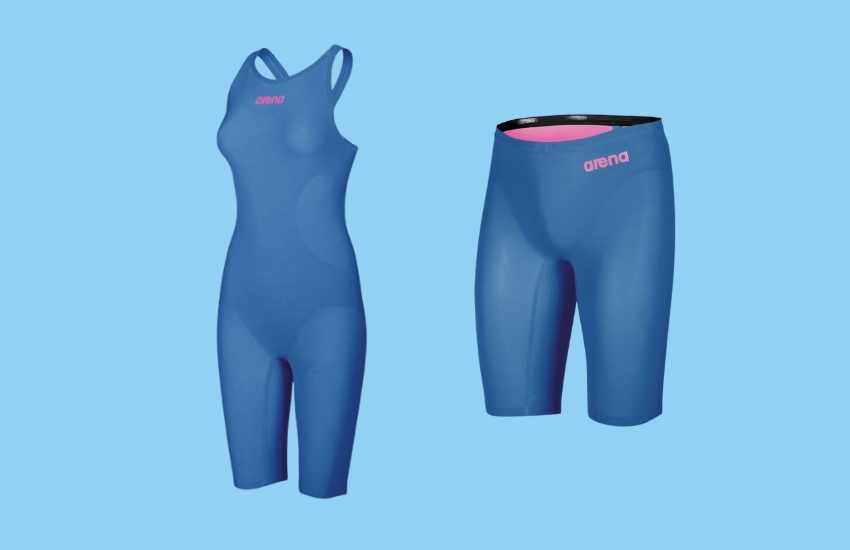 Dolfin FirstStrike Tech Suit
Even though Dolfin isn't maybe considered one of the top swim brands when it comes for competitive swimmers, that's simply because they don't have the marketing power of the big boys like Speedo, Arena, TYR, and so on.
Dolfin actually makes excellent gear for swimmers at very reasonable prices. When it comes to budget tech suits, the Dolfin FirstStrikes are a suit to give a proper look at.
The FirstStrikes have about the same amount of elastane/lycra (this is the stretch and water-repellant part of the fabric in your swimsuit) as the other big names, with a fabric composed of 29% Xtra Life Lycra and 71% nylon.
Available in a wide range of sizes, and in a couple of different colors combinations, these suits have flat-lock seams for minimal drag, compression panels targeting your major muscle groups, and a chlorine and piling resistant fabric.
Altogether, the Dolfin FirstStrikes might not be the first name that comes to mind when you think about elite-level racing suits, but they absolutely nail the lower-tier range with this affordable and fast tech suit.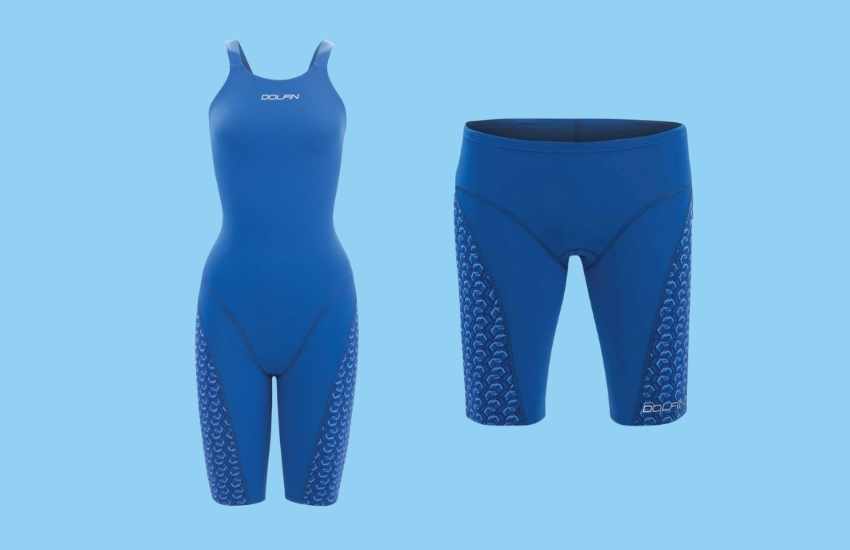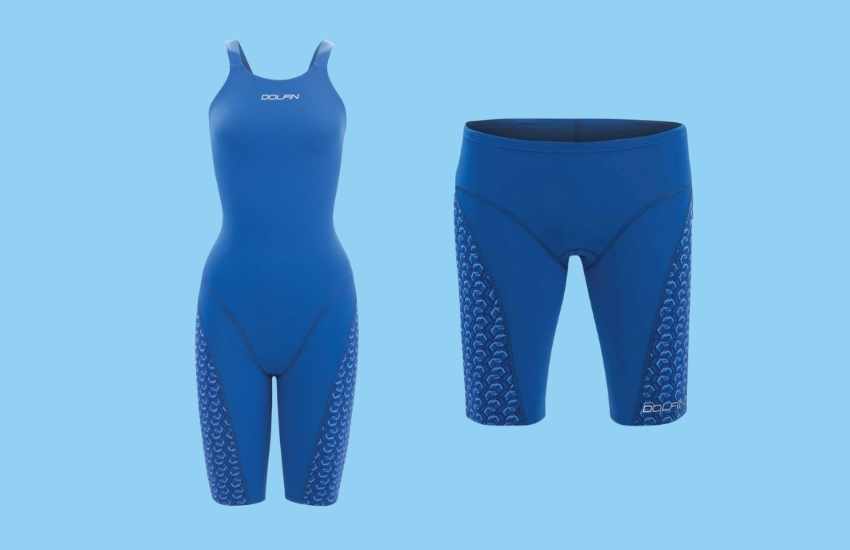 More Tech Suit Guides and Resources
6 Best Tech Suits for Breaststrokers. Whether you are a breaststroker, or an IM specialist looking for a tech suit that provides compression and lots of mobility, here is a breakdown of the best tech suits for breaststrokers.
7 Best Tech Suits for Men. Looking for a jammer to lay a beating on your personal best times on race day? Here's a detailed look at the best tech suits for men in the pool right now.
10 Tips for Making Your Tech Suit Last. The tech suit is one of the most expensive investments you will ever make during your time as a competitive swimmer. Here are some tips for making those expensive and best time-smashing suits last.
The Best Tech Suits for Sprinters. Looking for a tech suit that will unleash serious speed on race day? Here is a detailed look at the best tech suits for sprinters to dominate the competition.