Water socks are a great way to keep your feet comfortable while in and around the water. Here's our hand-picked selection of the best water socks for every kind of aquatic activity.
Water socks are a simple way to get more out of your time in the water, whether you are in the ocean, the local aquatic center, or in your own above ground swimming pool.
Great for the pool. Your swim socks give you grip and protect your feet on slippery and often dirty pool decks. They are helpful in keeping a grip on pool bottoms when doing water aerobics or exercises.
Sun protection. Swim socks protect your feet from the sun, including walking along sun-drenched sand and rocks which can be really hot.
Warm your feet in cold water. Whether you are swimming in cold open water or doing a water aerobics class in a chilly pool, water socks insulate your feet, keeping you warm and comfortable.
Give you stability. Aqua socks are essential when you are out on the boat, climbing wet boat ladders, or climbing along wet rocks. The grip on the soles of aqua socks help you navigate slippery surfaces with confidence.
Cuts down on chafing. Wearing swim training fins or snorkel fins is a great way to get more from your time in the water. Swim socks protect your feet from the hard plastic of fins, whether it's on the top of your feet or from the heel strap.
In this comprehensive guide, we are going to cover all the best swim socks, whether you are into open water swimming, snorkeling, splashing around at the beach, or just want to keep your feet protected in wet conditions.
Let's get after it!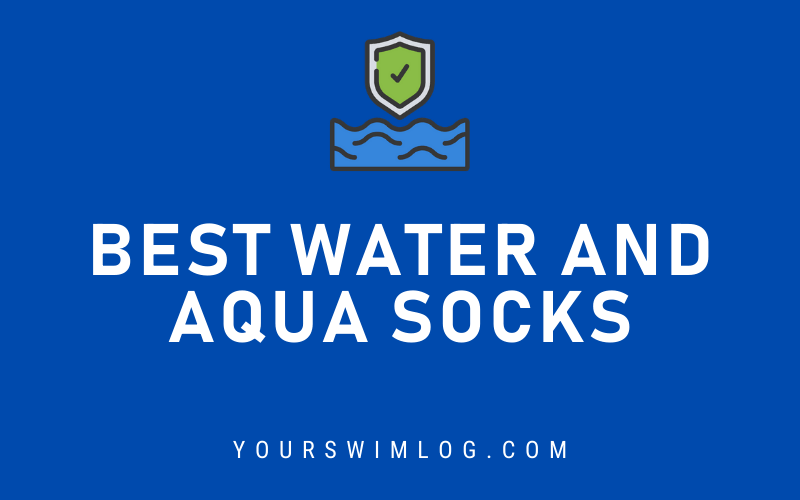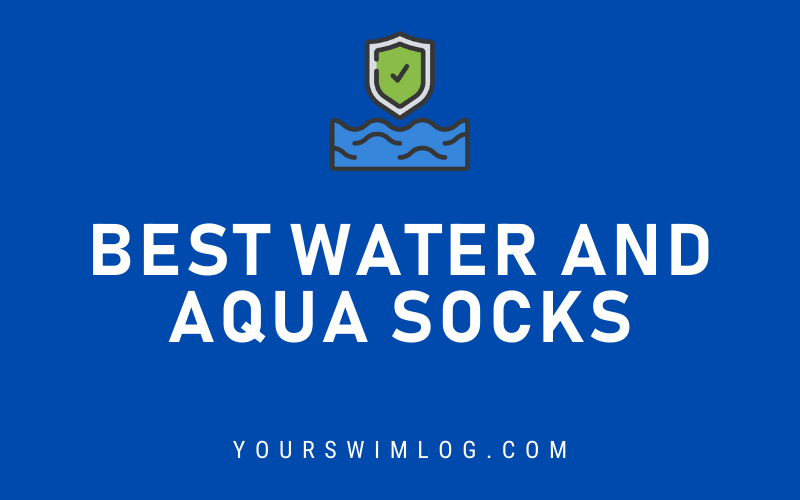 Seavenger Zephyr Water Socks
Best all-purpose water socks
The Seavenger Zephyr Water Socks are a great all-purpose sock for all of your aquatic activities. Whether you are snorkeling and want socks to keep your feet warm or you have gone to the pool with your water jogging belt in tow to workout on your own, the Zephyr's 3mm neoprene material–the same stuff that is used to make open water and triathlon wet-suits—will keep your feet and toes nice and toasty.
Available in 15 different colors, and with a low ankle cut that maximizes mobility, the Zephyr Water Socks' four-way stretch and glued seams make it an excellent choice for hitting the water.
With their super reasonable price point, the Seavenger Zephyr lands at the top of our list of the best water socks.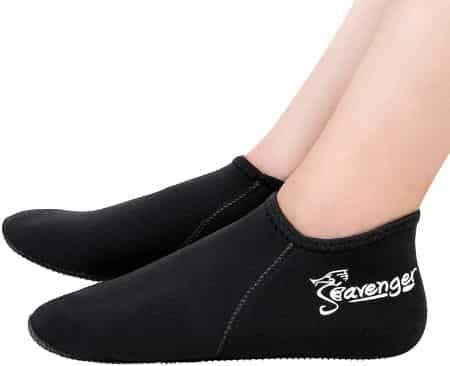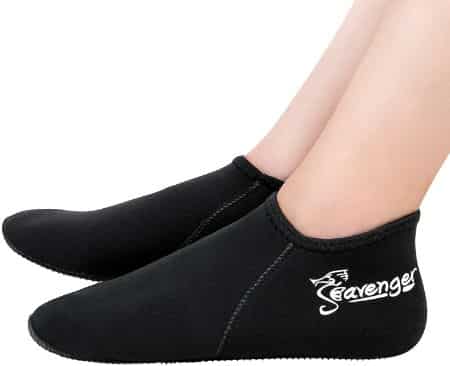 Cressi Anti-Slip Water Socks for Snorkeling
Best swim socks for snorkeling and scuba
Cressi is one of the top scuba and snorkel outfitters on the planet. Their products rank highly in our list of the best snorkel masks on the planet.
The Cressi Anti-Slip Socks is our favorite set of socks for snorkel and scuba enthusiasts. The 2.5mm neoprene is soft and comfortable, never pulling on the skin and quick to get in and out of.
Whether you are using open-heeled or closed-heeled fins, the Cressi Water Socks will keep your feet warm in the face of chilly open water while also eliminating the blisters and chafing that comes from using fins for extended periods of time.
Available in two different colors, and in half a dozen sizes, these water socks by Cressi also feature a speckled sole that reduces slippage and improves grip, particularly handy on boat decks and when climbing wet ladders.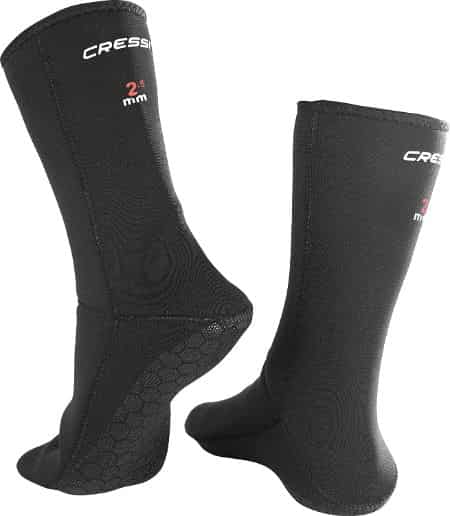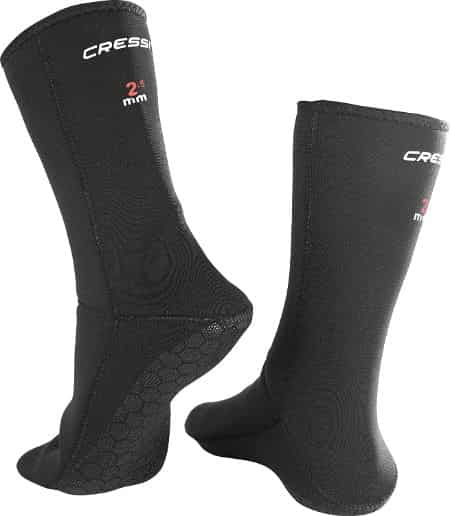 ---
blueseventy Thermal Water Socks
Best Socks for Open Water Swimming
Open water swimming has taken off in a big way over the past year. For pool swimmers looking to get their swimming fix in, the shock of how cold open water can be might be a bit of a surprise.
Fortunately, there is lots of awesome open water swimming gear for the new and experienced swimmer, including our all-time favorite neoprene socks for swimming, the blueseventy Thermal Water Socks.
With a textured bottom—perfect for tip-toe'ing your way across a rocky beach—these 2mm thick neoprene socks are long enough that you can unfurl your wetsuit over them, ensuring that your feet stay warm and dry.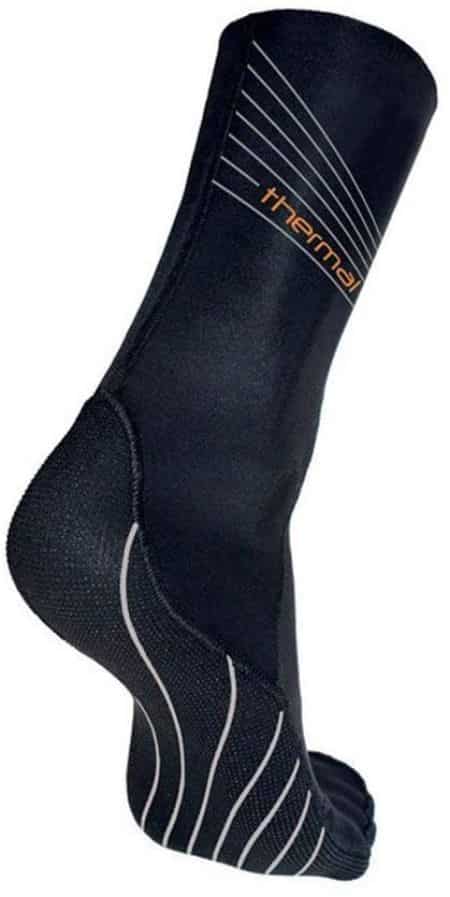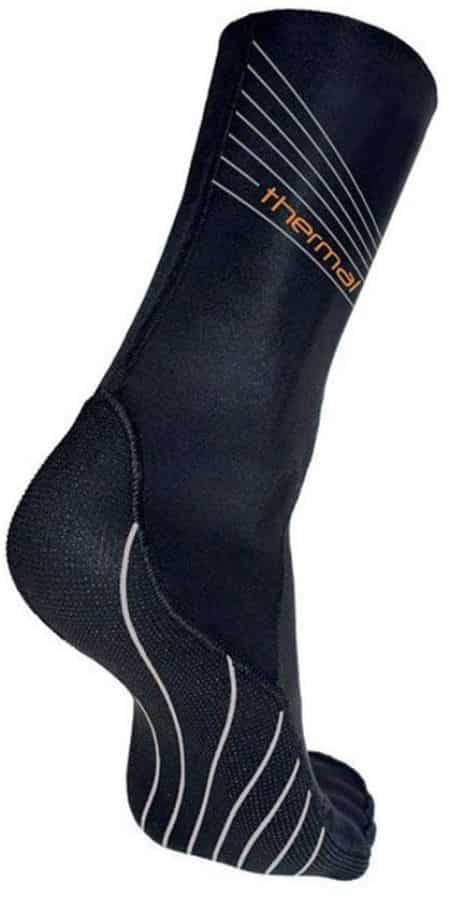 Tilos Neoprene Aqua Socks
The Tilos Neoprene Water Socks are a low-ankle swim sock made of tear-resistant, petroleum-free neoprene. At 3mm thick, these water socks will protect your feet in and out of the water.
The Tilos socks come in over half a dozen colors and are just as useful for wearing under your snorkeling fins as they are participating in your local water aerobics class. The sole has a traction-dot layer that helps secure your feet to slippery pool decks.
While the socks aren't fully water or sand-proof, they deliver when it comes to protecting your feet from hot sandy beaches, cold open water, and the blisters and chafing that comes from wearing swim fins.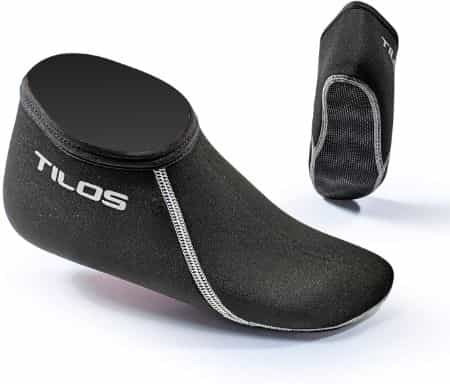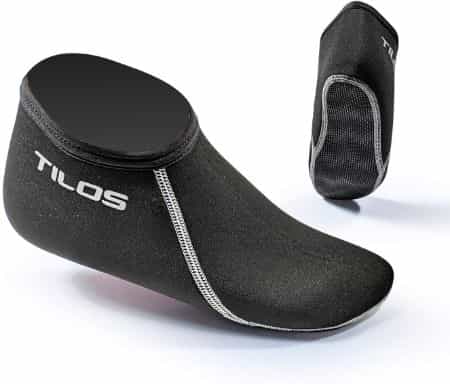 101SNORKEL H2O Swimming Socks
If you are looking for an absolute no-frills, no colors, no logo swim socks, then these bad boys are exactly what you want.
The neoprene is 2mm, placing these socks on the thinner side when it comes to thickness, making them ideal for pools and open water swimming in milder to warmer temperatures.
Ideal for snorkelers and scuba divers looking for a way to protect their feet without warming up their feet too much. The bottom of the 101SNORKEL H20 Swim Socks has a non-slip grip to give you stability on slippery surfaces.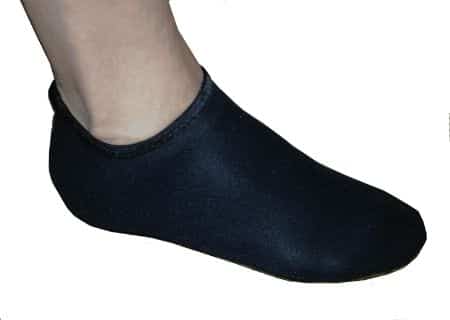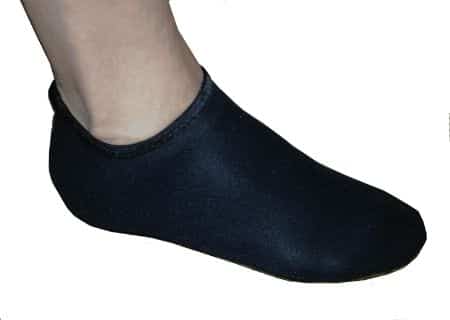 COPOZZ 3mm Dive and Swim Socks
Another of the elite scuba and snorkel brands is COPOZZ, and their 3mm dive and swim socks are flat out comfortable. The socks slide on and can be tightened with a Velcro strap above the ankle to fully secure the swim socks on your feet.
The supple neoprene keeps your feet warm while swimming or diving in cold water, protects the top of your feet and heels from the chafing that tends to happen with hard plastic snorkel fins, and the bright and bold colors make a statement in terms of style.
Like the other swim socks on our list, the COPOZZ socks have a rubber sole with a textured bottom that help you navigate wet and slippery environments with confidence.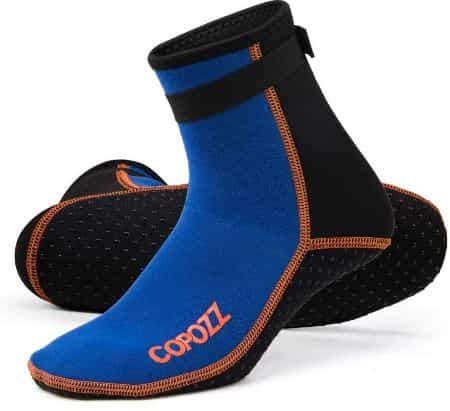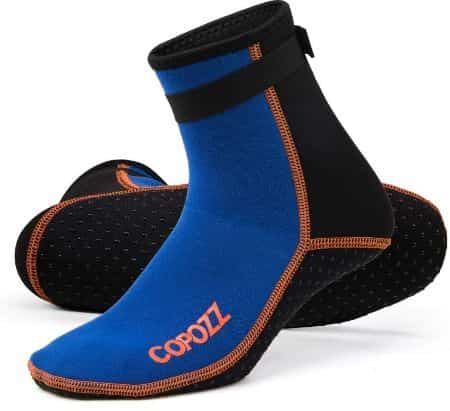 BPS Storm Sock Neoprene Aqua Socks
If you are looking for a swim sock with bold colors and patterns, the BPS Storm Socks are your go-to pick. Available in a half dozen color patterns, from green camo to solid black, these socks are made with 3mm neoprene.
Other key features include an elastic strap above the ankle that can be adjusted for a custom fit, reducing the amount of water that seeps into the socks, keeping your feet warmer for longer. The rubberized sole is sturdy but provides plenty of flexion, giving your feet a confident grip on slippery surfaces.
With over 300+ five-star reviews, the BPS Storm Sock is a great way to protect your feet when you are on a stand-up paddleboard, snorkeling, or anything else that involves you conquering an aquatic-based activity.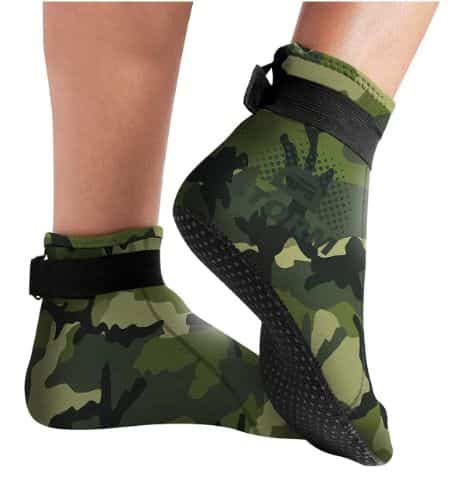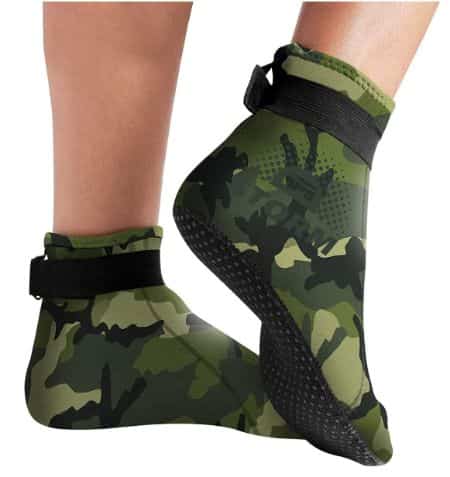 ---
More Stuff Like This
6 Best Pool Noodles for Swimming, Playing, Aquafit, and More. Add some buoyancy to your time in the water with our collection of the best pool noodles for all of your aquatic activities.
Best Swim Gloves for Aquafit and Open Water Swimming. Whether you want to keep your hands warm in open water or want to add some resistance to your pool workouts, here are your best choices for swim training gloves.
9 Best Shower Sandals, Flip-Flops, and Pool Deck Sandals. Whether you need some slip-free and waterproof footwear for walking on a pool deck or hitting the showers, we've got you covered.