A lot goes into the coaching of your swimmers.
There's technique.
Periodization.
And then on top of that, there are the countless and ever-changing mental challenges each of your swimmers face along the way…
You've got the swimmer who is an emotional and performance yo-yo in practice…and then repeats this in competition (and usually wonders why).
You've got the training stud, the swimmer who works their tail off every single day in training…and then can barely swim faster when they step up on the block.
You've got the "when I feel like it" athlete…who swims crazy fast when and only when they are 100% motivated (which isn't often enough).
There's the athlete who can't stay mentally focused long enough during a workout…and then wonders why their performance is shaky at race time.
And on and on….
It's enough to pull your hair out of your head.
That's where Conquer the Pool: The Swimmer's Ultimate Guide to a High-Performance Mindset comes in.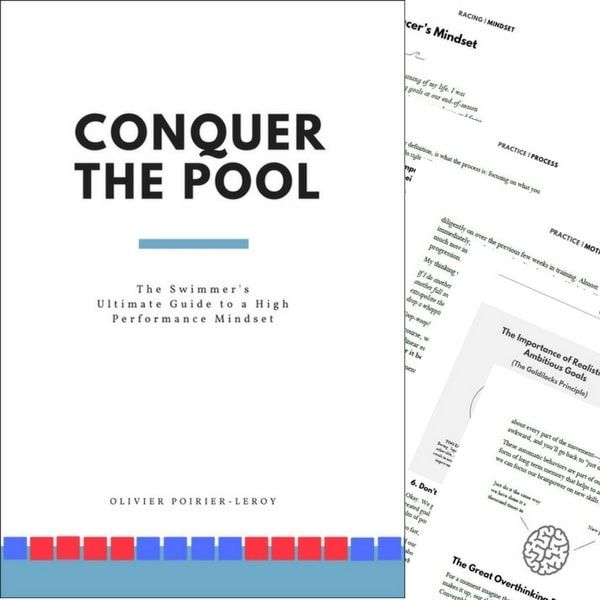 It's a mental training book for the elite-minded competitive swimmer who wants to get more from their swimming.
It takes the confusing, complicated and frustrating topic of mental training and makes it accessible for swimmers and coaches alike.
After all, if your swimmers are sick and tired of…
Cracking under pressure, not training as consistently as they want, and leaving a lot of performance on the table, than this book has your name written all over it.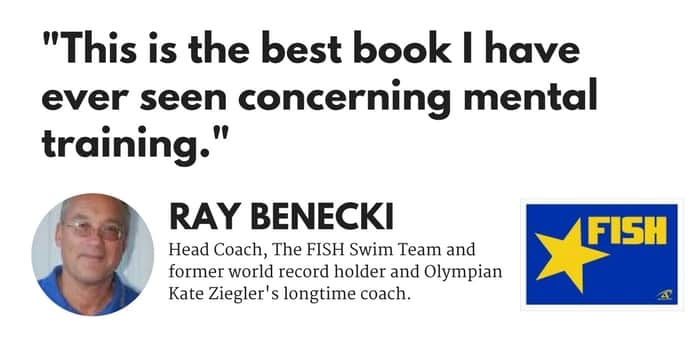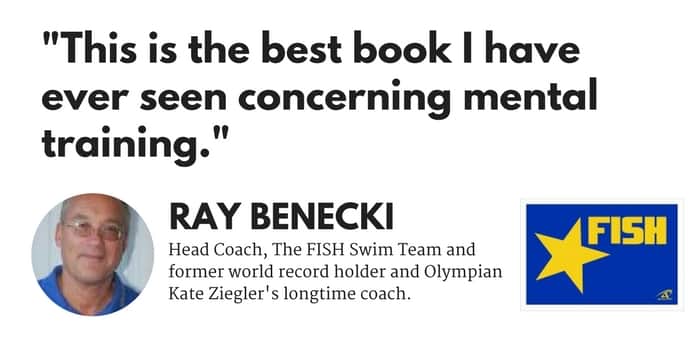 About Me
If we haven't crossed paths before, my name is Olivier Poirier-Leroy, and I am a former national level swimmer, NAG record holder and OT qualifier.
Since 2012 I have been researching and writing about the high-performance mindset in SwimSwam, USA Swimming, and at my own little home on the web, YourSwimLog.com.
This book, which comes in at a shade over 300 pages, is the distillation of my years of competitive swimming and the research I have been doing since then.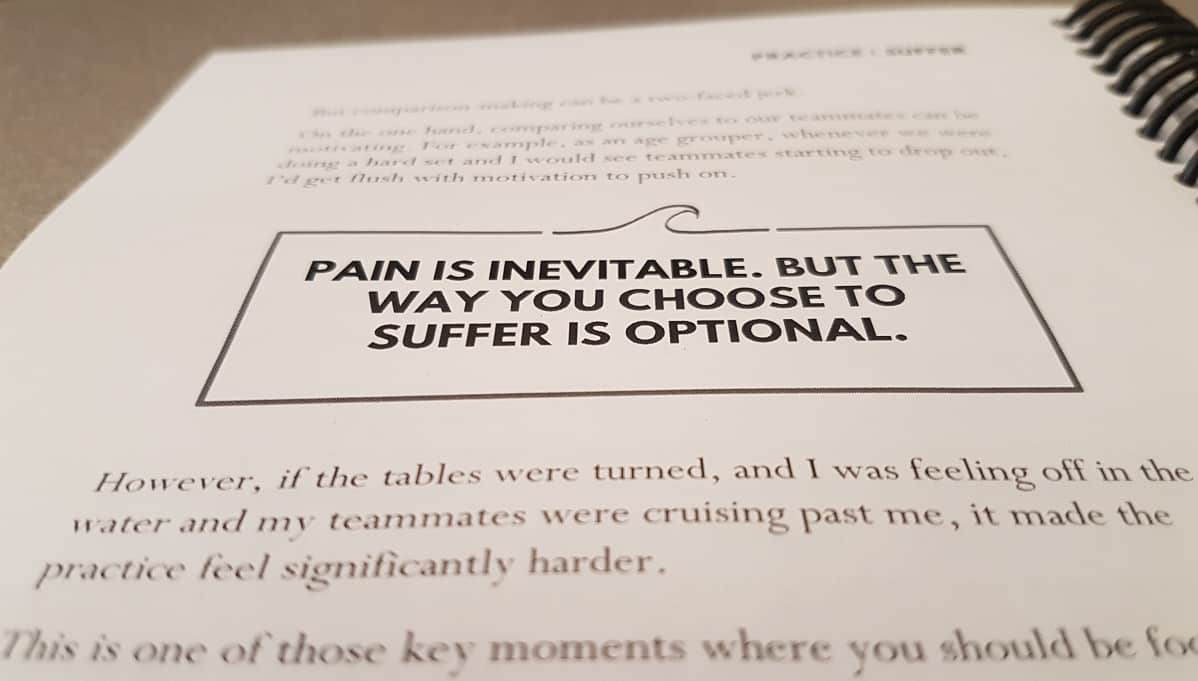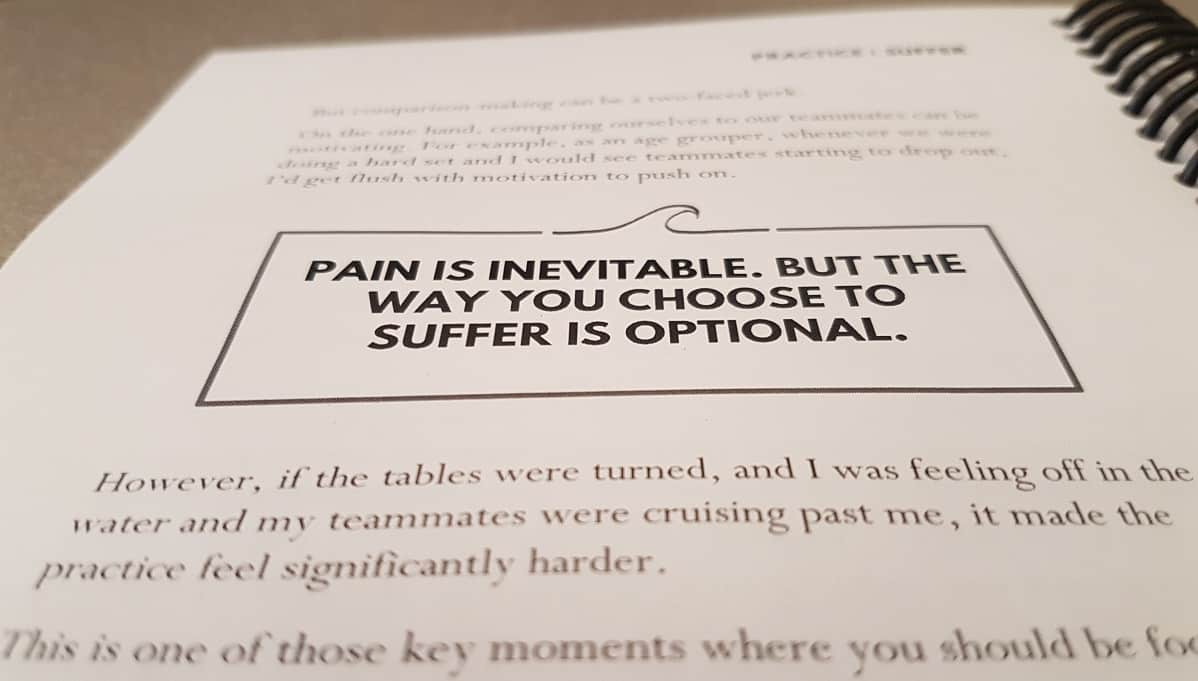 About the book
Conquer the Pool…to be honest with you…is my baby.
It's the book I wish I'd had as a young age grouper.
It's what I would use if I was training and competing today.
It would have helped give me perspective and help to deal with my own mental hang-ups in the water.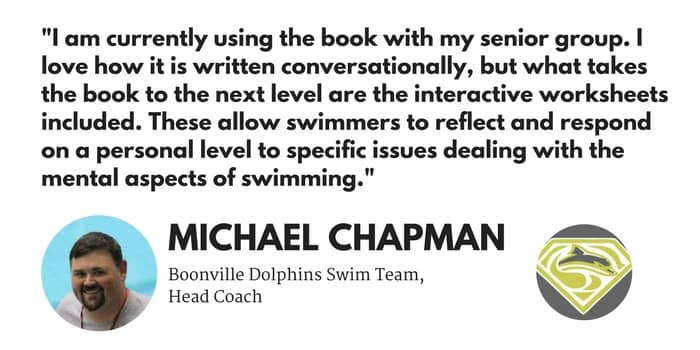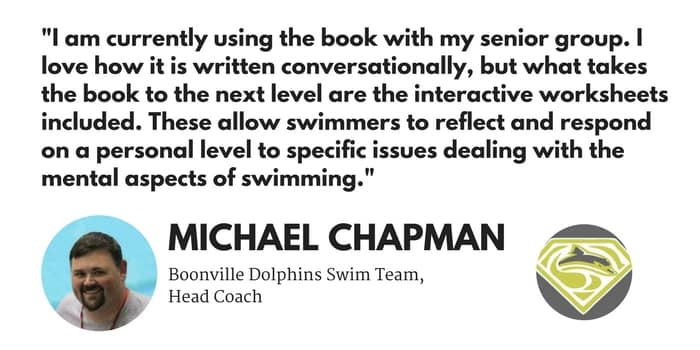 Conquer the Pool is broken down into three sections:
(1) Goal setting: how to build the dream;
(2) Practice: how to make the most of time spent in the water on those early mornings, and;
(3) Racing: how to unlock all that hard work when it matters most.
Here's just some of the things that are covered in the book:
The truth about motivation, and why the way you have been approaching it is all wrong.
The unconquerable value of mastering the process. This is one of the biggies of a master mindset, and something so many swimmers ignore. You will learn how to build one and why it is so utterly fundamental to becoming an elite swimmer.
The right way to focus in practice (there's different types of focus?).
How to suffer like a champion. Swim practice is hard, but pain can be your ally. You will learn how to suffer the right kind of pain with a series of pain-coping tricks and strategies.
Use this little visualization trick to immediately boost your in-practice results.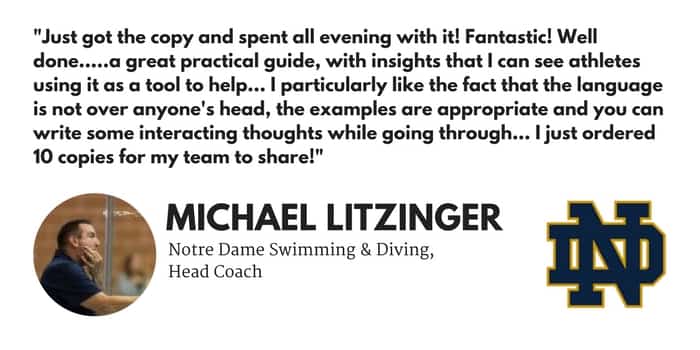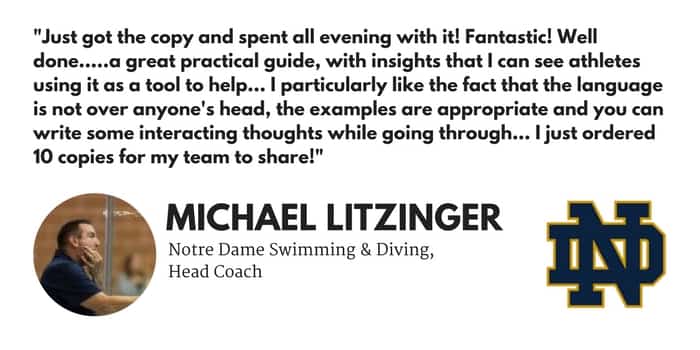 How to build a pre-race routine that will give you epic levels of confidence on race day.
Exercises and techniques proven to help squash race-day anxiety so that you can perform your best when it matters most.
How to get psyched-up properly so that you can perform fast during prelims and other low-excitement races. You'll learn what getting psyched-up entails, and the one thing that is actually more powerful than using aggressive psych-up talk.
What kind of mindset you need when you step up on the blocks. (Hint: it's completely different from the one you use in practice.)
How to deal with every swimmer's biggest nightmare–choking. You will get a list of proven tools and strategies that will help you keep calm and poised and be prepared to lock and load on your personal best times.
You will learn exactly what it takes for you to perform at your best. Not your teammate, not the competition–you and you alone.
And much, much more.
The goal with the book is simple: To provide an easy to read, not-too-serious, and powerful tool for swimmers to maximize their mental prep so that they can make the most of their time in the water.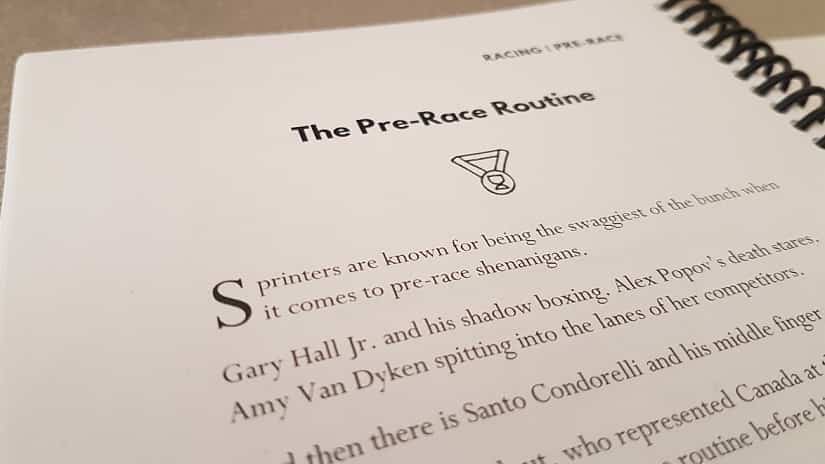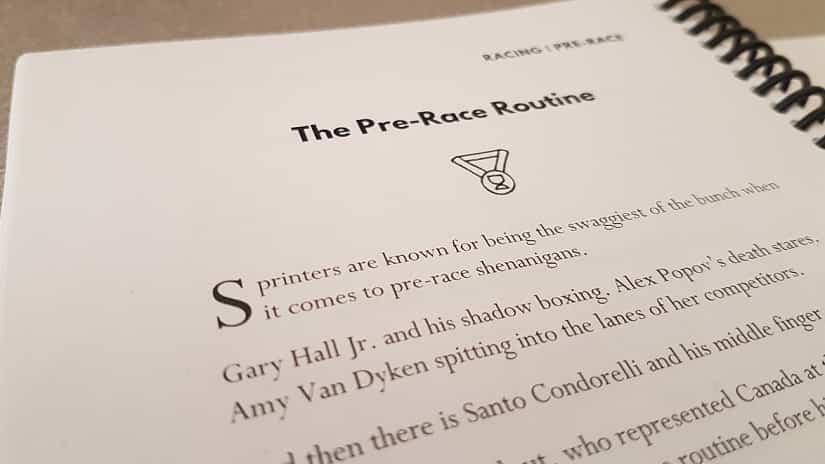 Here are some more fun facts about this bad boy:
200+ head coaches from USA Swimming clubs, Division I NCAA teams, former world record holders and NCAA champions provided feedback and input during the writing of this book.
The book isn't a 300+ page monologue—there are worksheets along with all the concepts and information provided, as well as examples. It's not enough for swimmers to read about this stuff like it's a textbook, they need to put it into practice!
PDF versions of the worksheets are also provided so that swimmers can revisit or redo them as the season goes along.
The concepts presented are proven by research. No voodoo magic or "The Secret" type stuff here—just real-world application backed by science.
And yes, it's an actual book. Made from paper and brawn!
Conquer the Pool: Team Orders
Wondering if we do team and group orders?
You bet!
These are just some of the teams and clubs that are using the book to help their swimmers crush it mentally…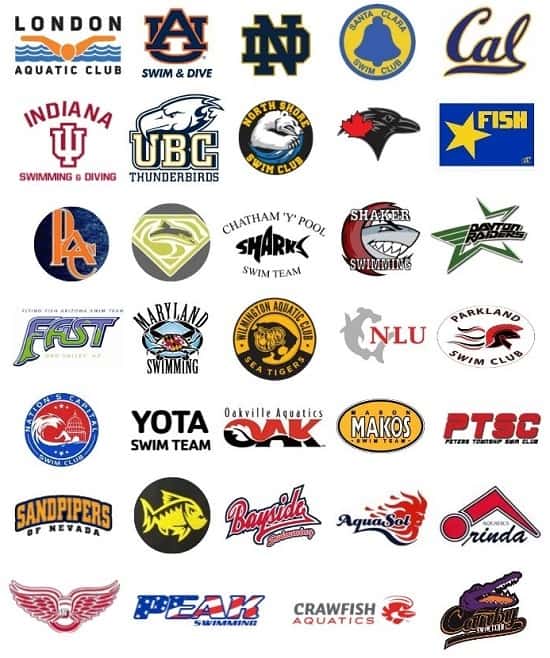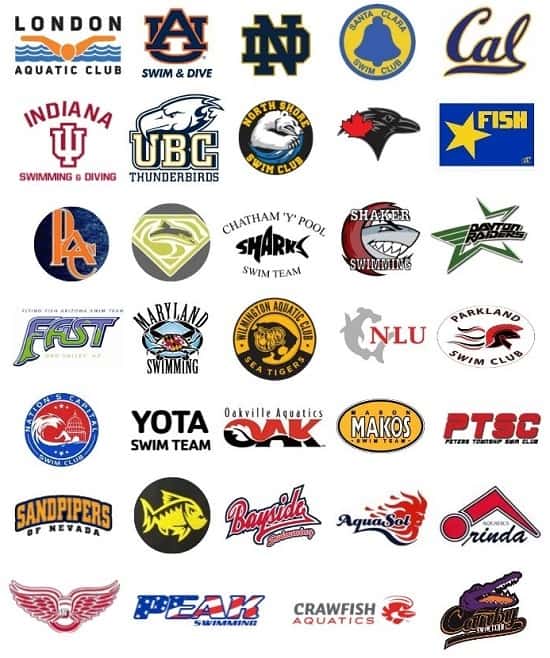 We can do some pretty cool stuff with team orders, including a 25% off discount and putting your club logo on the cover of the book.
Fill out the form below and I will be in touch with more details.
---
[ninja_form id=6]
---
I look forward to helping you and your swimmers crush it this year!
Olivier
P.S. Here's more of what some of your fellow coaches think of the book….