Not giving up in the face of failure and adversity is a big component of your success in the pool. But persistence alone isn't enough.
Becoming the ultra-best version of yourself isn't a G-14 Classified secret:
Work hard. Have a good attitude. Focus on improving your technique. Measure key markers of progress. And don't give up.
The basics, right?
Not giving up in the face of adversity is one of the biggies.
Persistence in the face of stalled progress or even moments where we've backtracked is key.
But persistence isn't enough.
As it turns out, the way you deal with your failures is what matters most.
Persistence isn't enough.
As long as you keep coming back and not giving up, you will get better, right?
Well, that's not exactly true.
Researchers at Northwestern University analyzed 776,721 grant applications over a 30-year stretch [1]. They also looked at nearly 50 years of capital venture start-ups.
The purpose of the study?
To see if persistence was the main driver of success.
What they found was pretty neat…
Every successful grant or start-up had some bumps and failures before becoming successful.
Probably not a big surprise there, right?
But failing also didn't guarantee being successful.
In fact—and this is the thing that should blow your chlorinated hair back—those who failed and those who succeeded made the same number of attempts.
It wasn't persistence alone that predicted being successful.
Yes, coming back and trying again was obviously important, but more critical was whether lessons were being learned, capitalizing on what was working, and focusing on how to improve future attempts.
"You have to figure out what worked and what didn't, and then focus on what needs to be improved instead of thrashing around and changing everything," said lead researcher Dashun Wang.
When we don't learn from our failures, we are bound to repeat them.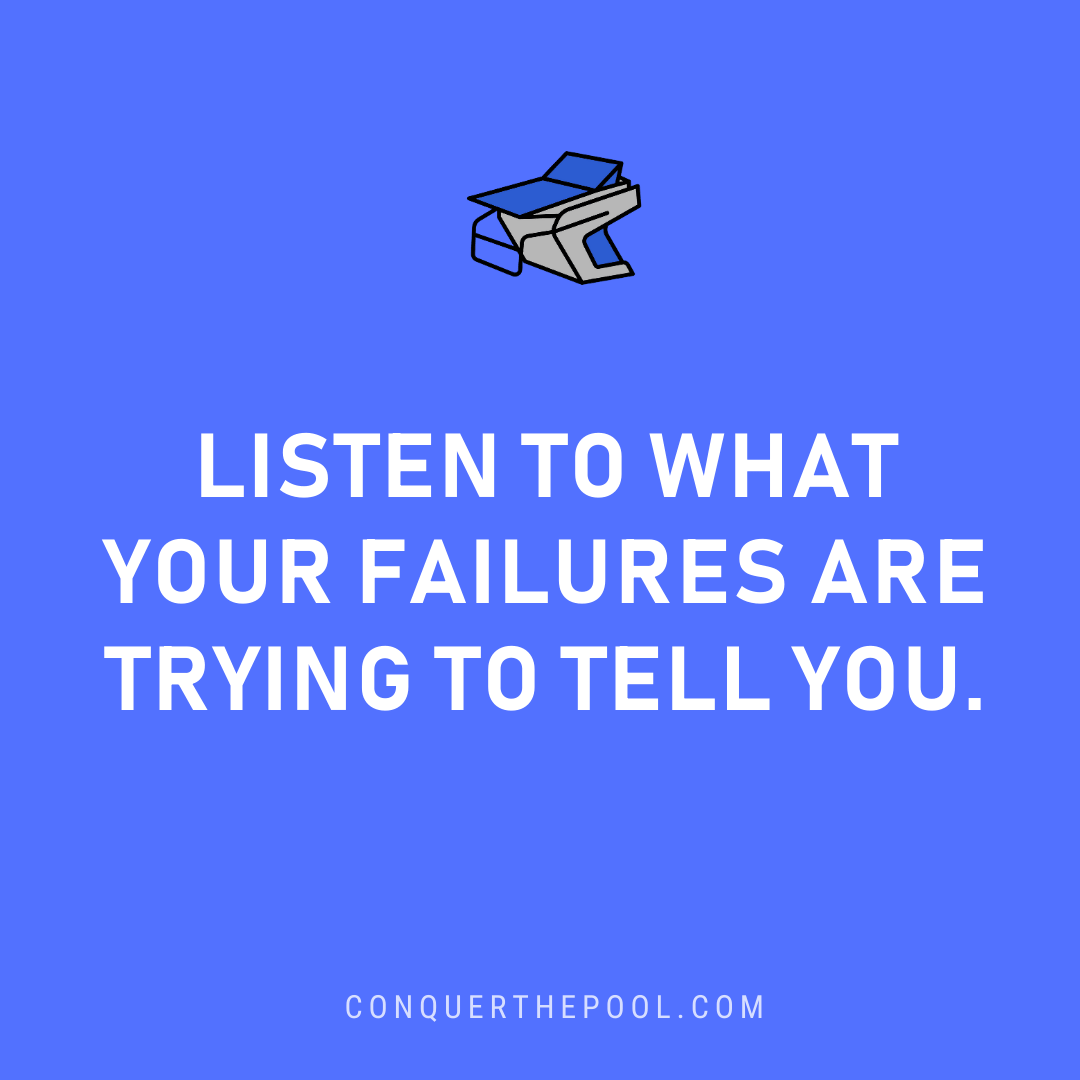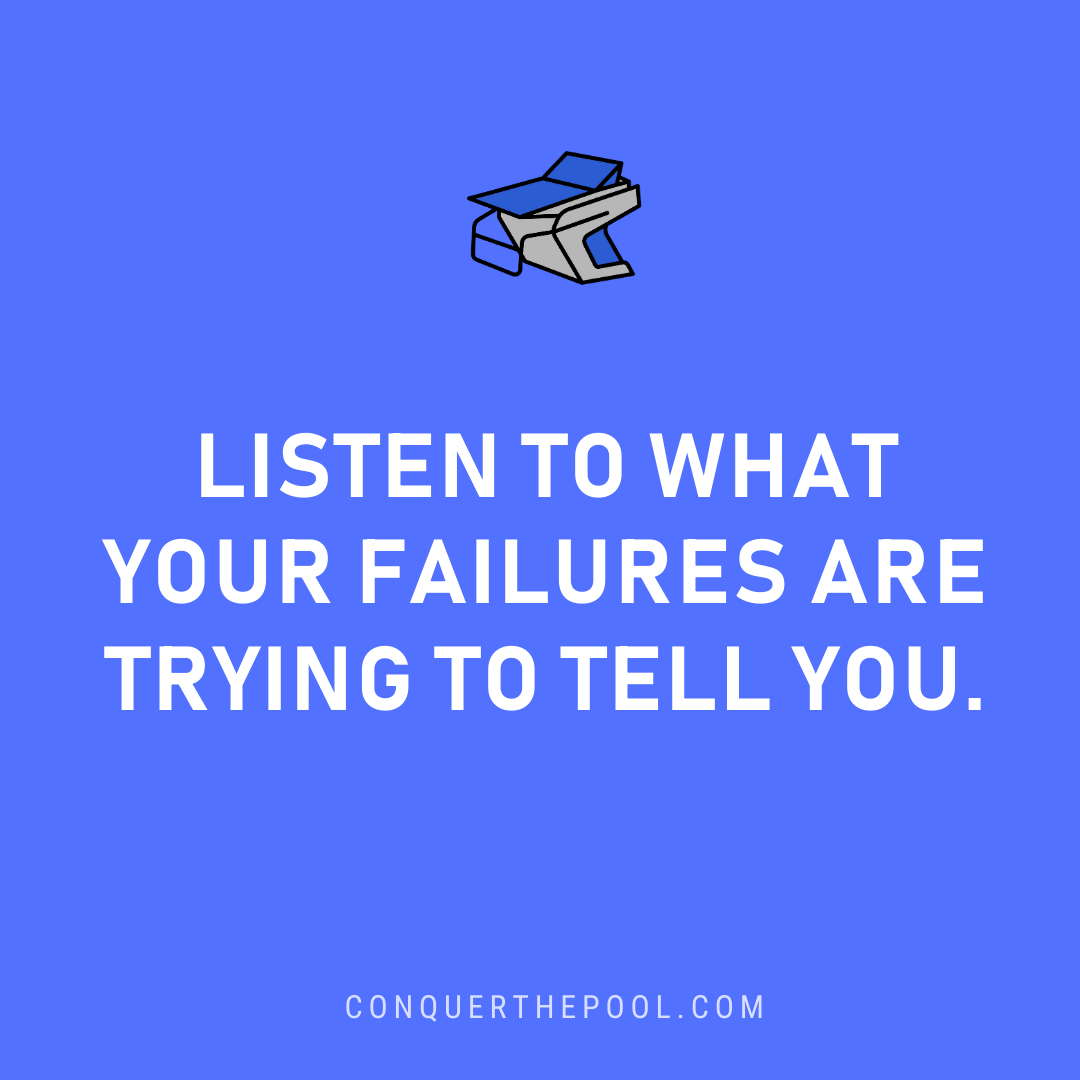 The power of failures
When we use failure as high-grade motivational fuel, some pretty awesome things start happening. The least of which is that failure becomes less scary.
Elite-minded swimmers pull their failures over their head like a latex swim cap and springboard into doubling-down their commitment and resolve.
American butterflier Mel Stewart, when he placed out of the medals at the Seoul Olympics in 1988, used that defeat as high-octane fuel for the next four years of training.
"It was humiliating. I've been on a comeback ever since," he said at the FINA World Championships in Perth in 1991.
He would break the world record in the 200m butterfly at worlds, and a year later, at the Barcelona Olympics, Stewart would win gold in the 200m butterfly and pick up a couple relay medals.
This kind of mindset is very typical of super-champions, who face missteps and setbacks with a fierce resolve to overcome them.
Additionally, and this more to the point of this particular post, is that failure helps you diagnose what needs to change.
Setbacks and failures are a sign that something can be improved.
And it's on you to step up and grab this opportunity for improvement instead of wallowing in not having been successful.
Summer Sanders would narrowly miss making the US Olympic Team in 1988. After leading the 200m individual medley for 150m, she faltered coming down the home-stretch, getting out-touched at the wall.
Some swimmers, this close to going to the Olympics, would have been devastated, but Sanders had gone a best time, and now understood what it would take to compete at the highest level.
"Defeat meant I hadn't had enough experience going into the race," she would reflect later. "It never meant I was destined to fail again, that I had fallen into some impossible rut. Quite the contrary: I was in control."
Four years later, Sanders would go the Barcelona Olympics and win four medals, including a gold medal in the 200-meter butterfly.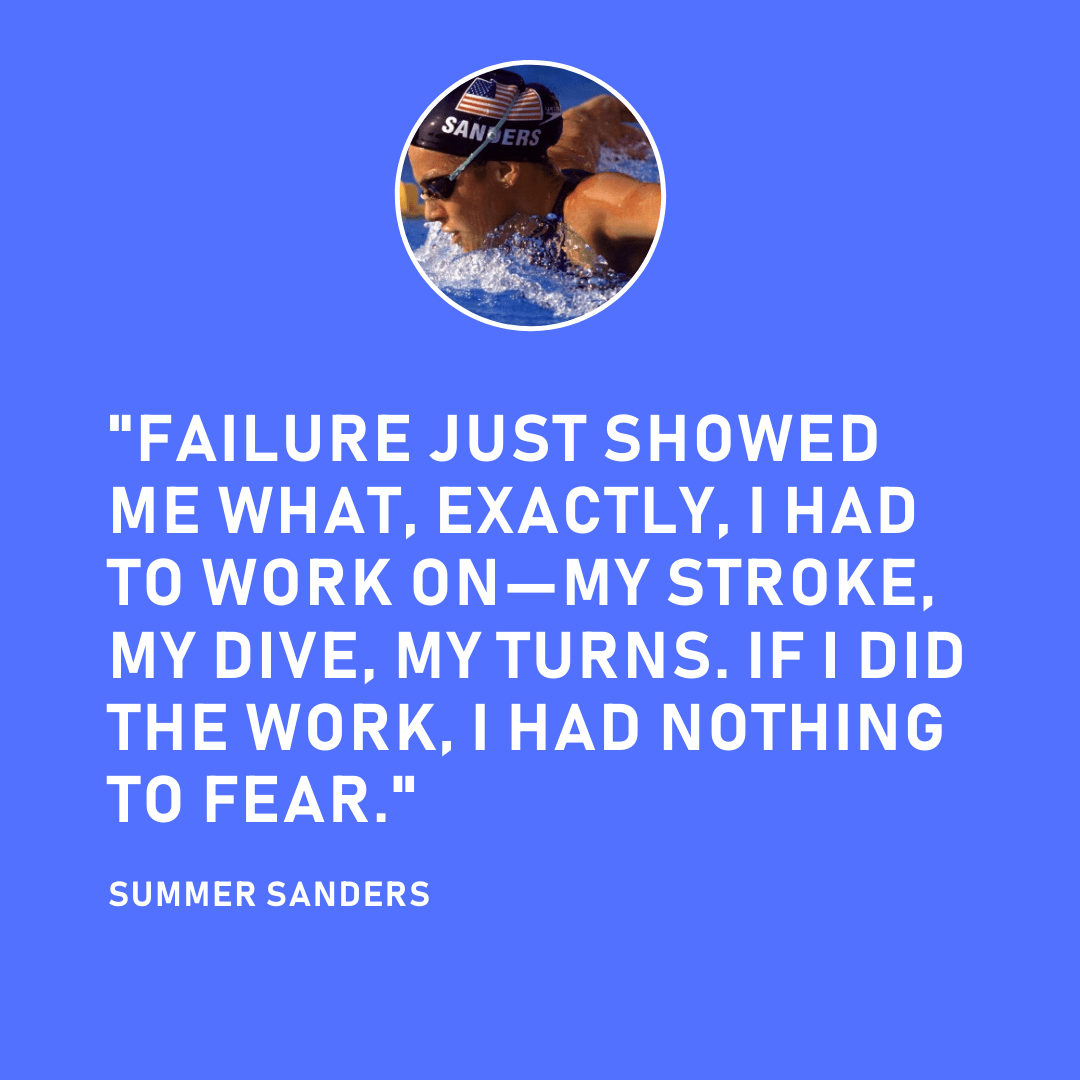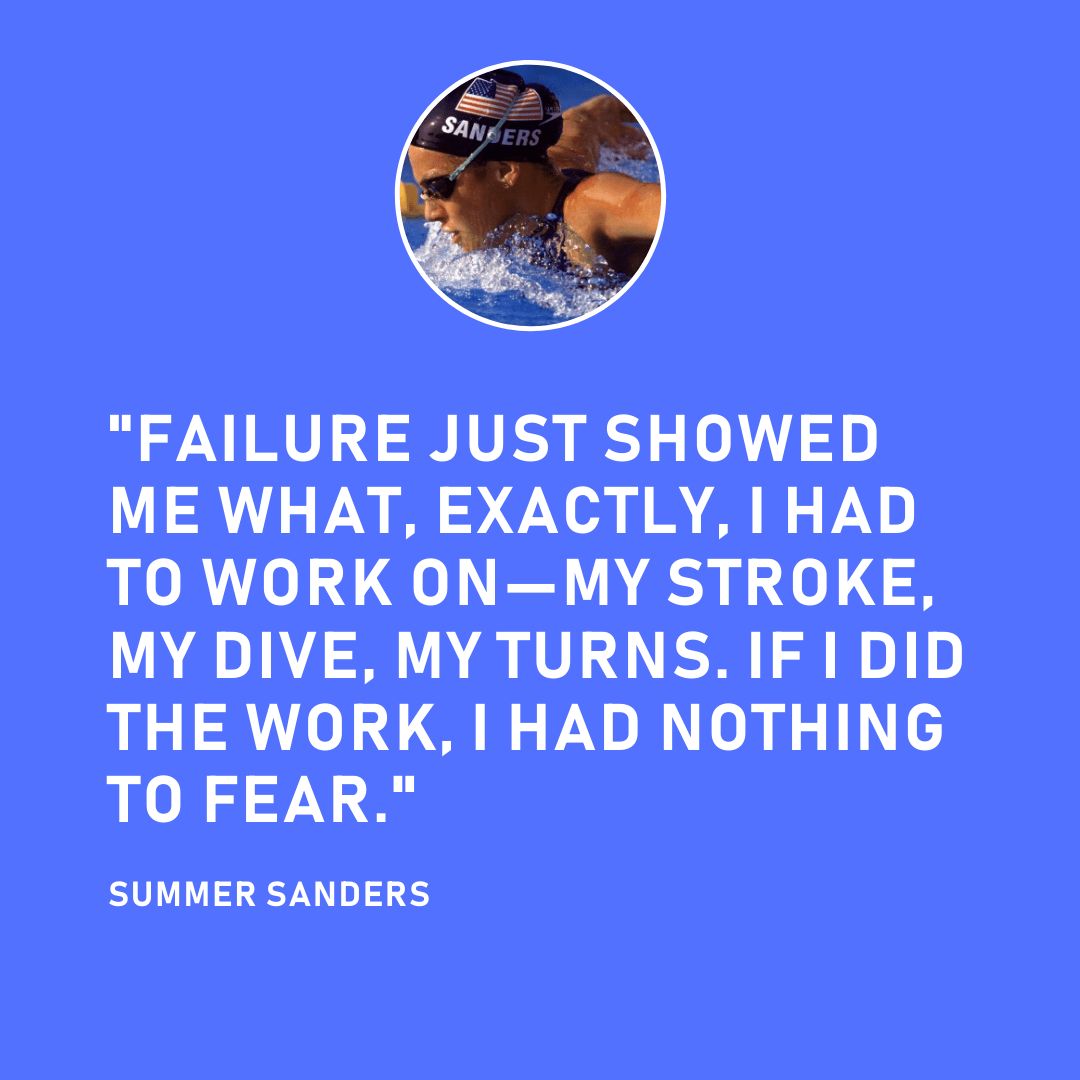 Use your failures for good
I get the tendency to get down on yourself when things don't pan out the way you hope or expect in the water.
You get injured.
Choke on race day.
Get beat at the wall.
But failing is a part of the process.
Don't fear it.
Listen to what they are trying to tell you and go forth with renewed effort and focus on becoming a better swimmer.
More Stuff Like This:
This Mental Training Workbook Will Help You Swim Like a Rock Star This Season. Confused about mental training? Want to unleash pro mode on your swimming this year? Learn how this mental training workbook will change your mindset and help you pummel your PB's this season.
Why You Should Be Grading Your Effort After Practice. One of my favorite ways to stay consistent and accountable in practice is this simple technique. Takes about three seconds, and will keep you honest about the effort in the water.