Improvement in the water can often feel maddening.
Some days, we go to the pool, feel absolutely amazing through the warm-up and pre-set…
And then tank the main set.
Other days, we head to the pool, exhausted and crabby, swim bag dragging on the ground behind us…
And somehow nearly go a personal best time in the middle of a brutal set.
The lack of control with our performance can be discouraging, especially when we are doing everything right.
In this article, I am going to discuss a way that you can ditch the yo-yo of having good practices sometimes and giving you more control over the improvement you so desperately want.
Let's dive right in.
The Sneaky Truth About Improvement – It's Everywhere, All the Time
Look, I get it…
The one form of improvement we ALL want is the one on the clock.
If we are used to seeing a 1:01 on the clock, we want to see a 1:00. Or even better… :59.
We want to dive into the water and swim into new and uncharted waters.
But while time is the major metric of improvement, the idea that you are going to constantly improve each and every time you hit the water is unsustainable.
Fortunately, there are other ways you can chase improvement while waiting for the time to drop.
Here are four, and for each we are going to use an example of 20×100 freestyle, holding best average.
Swim faster. This is the obvious one. Instead of swimming 20×100's holding 1:10s, you hold 1:09s. Improvement, yay!
Swim the same speed with more reps. Instead of swimming 20x100s holding 1:10s, you do 25x100s holding 1:10s. Gains!
Swim the same speed with less strokes. Instead of swimming 20x100s holding 1:10 and 14 strokes per lap, you hold 1:10s with 13 strokes per lap. Improvement, yippie!
Swim the same speed with the same strokes with less rest. Instead of swimming 20x100s @1:30 holding 1:10, you hold 1:10s @1:25. Progress, giddyup!
This is a very simplified example, but this concept of relentless improvement does some powerful things:
Keeps you focused on "off" days. You don't have to feel great in the water to work on your stroke count. Or try a harder interval. Often swimmers get hung up on having to feel "perfect" in order to give a great effort at practice.
Keeps you engaged. Instead of hoping for the big, random bursts of improvement, you take a craftsman's mindset to practice each day. It's a lot easier to focus on training at the peak of your ability when you have something to work on.
Gives you objective metrics to work with. Having clear metrics and indicators of progress is crucial. It attaches an objective set of metrics to what can often be subjective training goals ("My goal is to work hard at practice").
Keeps you moving forward. And this is the biggie—because you have clear, measurable things you can improve upon nearly every day, you build an unstoppable sense of momentum. Progress snowballs on itself.
Do the Hard Work of Chasing Improvement Each Day
Does this approach work?
Absolutely.
This was the exact blueprint I followed over the spring and summer of 2018.
And it's the same methodology that your coach uses in designing your training (aka "progressive overload").
In my case, I had a very simple goal… I wanted to see if I could push a :25 long course as a 38-year old swimmer who goes to lap swim each lunch hour.
And my plan was this…
Do as many 50s fast it took to accomplish it (aka "putting in the reps").
This is a cleaned-up version of how the progression went down over the course of those 7-8 months:
10×50 free fast all-out @3:00 (averaging :29s)
12×50 free fast all-out @3:00 (averaging :29s)
16×50 free fast all-out @3:00 (averaging :29s)
12×50 free fast all-out @2:00 (averaging :29s)
6×50 free fast all-out @3:00 (averaging :28s)
8×50 free fast all-out @3:00 (averaging :28s)
12×50 free fast @1:30 (averaging :29s)
10×50 free fast @2:30 (averaging :28s)
And on and on and on.
You can see that the rest and reps were adjusted like knobs on a mixing board.
Each day when I got to the pool, even if my stroke felt like garbage that's been out in the sun for a week, there was a way to push the envelope.
By the end of the summer, I strapped on a tech suit, shaved my caveman beard (seen below), got myself hyped up, and pushed a couple of :25s.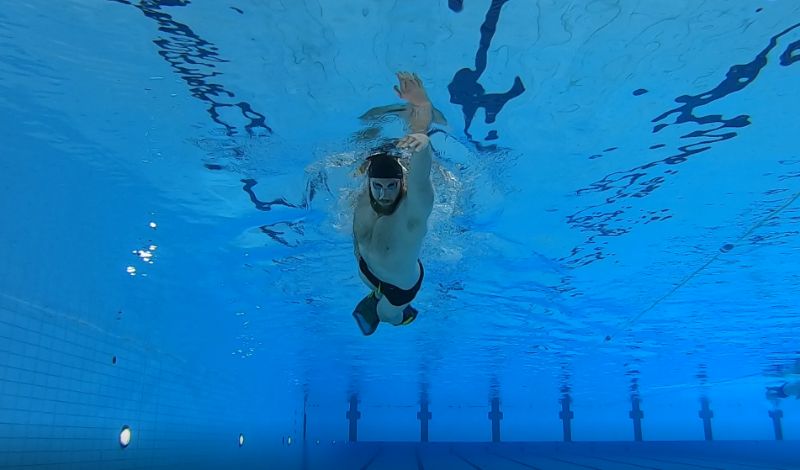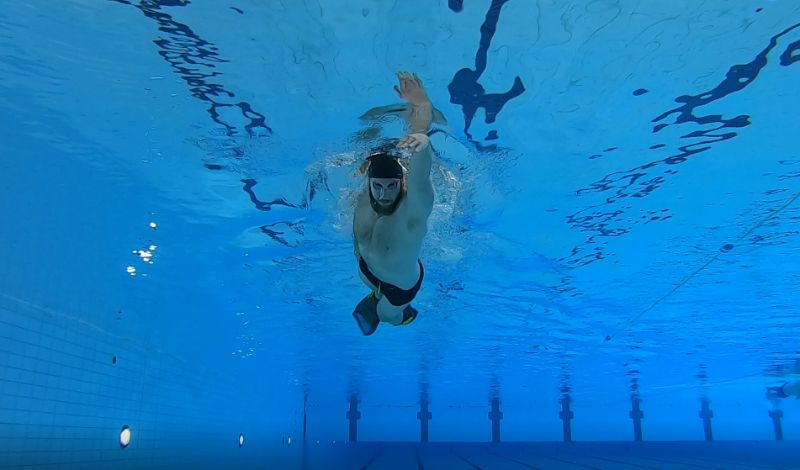 It took around 7-8 months to complete the trajectory.
And there were absolutely some days where I faltered and failed, missing the times I wanted to go.
But overwhelmingly, the path was simple (not easy), and it kept me motivated because I knew that there were several different ways I could chase improvement each day at the pool.
I am slowly ramping up this exact blueprint again, with the goal of pushing a :25 again at the end of next summer.
Yesterday, I started with the goal of pushing 6×50 free with paddles, holding :30s on 3:00, establishing a baseline from which I can unleash a rain of torrential improvement over the coming months.
I'm a lot more out-of-shape than I was in the spring of 2018, and I expect this to be incredibly difficult…
But I know how to do it and I have a workable and proven blueprint for improvement that generates an endless fountain of motivation.
(Plus, I've broadcast it out to all of you, so I've got that little bit of social pressure too ?)
The Bottom Line
Improvement can feel like a mystical thing at times.
But in reality, it's not.
All it requires is you focusing on finding ways to improve in the water, on days when you aren't motivated and on days when you are.
(Fun fact: This approach will dramatically reduce the number of days where you don't feel motivated or engaged at practice. Source: Me.)
In sum:
Swim fast
Swim fast more
Swim fast with less strokes
Swim fast with less rest
---
More Stuff Like This
This Mental Training Workbook Will Help You Swim Like a Rock Star This Season. Confused about mental training? Want to unleash pro mode on your swimming this year? Learn how this mental training workbook will change your mindset and help you pummel your PB's this season.
The Power of Journaling for Swimmers. Want better workouts? A bullet-proof race plan? Less anxiety behind the blocks? Yup—the simple act of journaling can help. Big time. Here's how.