There are a lot of great reasons to bring your baby to the swimming pool.
Although the idea of putting your baby into water might feel a little scary, there is a wide range of benefits to getting your infant into the water.
In this guide to the benefits of baby swimming, we are going to cover some of the major mental and physical health benefits.
From the basics (life-saving!) to social development, here are seven reasons you should start baby swim lessons.
Let's get into it.
Quick Facts About Babies and Swimming:
Drowning is the leading cause of injury death for children 1 to 4 years of age in the United States.
"Baby swimmers" have been shown repeatedly in research to have better motor skills, increased autonomy, and even higher levels of self-esteem.
Infants can drown in as little as 1-2 inches of water. The American Association of Pediatrics recommends using "touch supervision" when around water, and especially at home in the bathtub, where a majority of child drownings occur.
Infants are most likely to drown in bathtubs while preschool children are most likely to drown in swimming pools.
Baby swimming lessons are not a replacement for "touch supervision" and drown-proofing pools, bathtubs, and other bodies of water.
Baby water programs are a great way to help improve water literacy but won't necessarily help your child learn to swim faster. Whether children had their first swim lesson at 2, 3, or 4 years of age, they all learned proper front crawl around 5 and a half years.
Baby swim lessons can help reduce drowning
Water literacy is a life skill.
According to the CDC, drowning is one of the leading preventable causes of death in the United States, with over 3,500 deaths annually. One in five of those fatalities are children, and for every death, another five are sent to the hospital.
Getting comfortable in the water early helps break down the barriers towards more swimming lessons and greater confidence and skills in the water.
That being said, swimming lessons, particularly for babies and toddlers, do not replace supervision in the bathtub or around the backyard pool and wearing proper swim floaties designed for toddlers.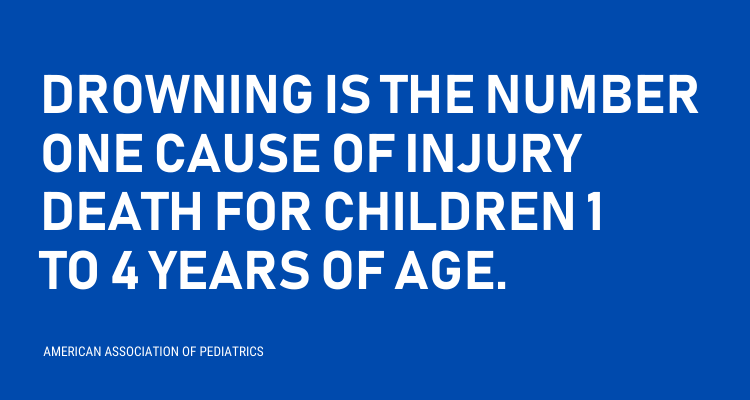 Boosts motor skills and cognitive function
Swimming is hugely popular in Australia. As a culture that is heavily into water-sports, from lifeguarding to surfing to competitive swimming, strapping on a pair of kids' swim goggles and hitting the water is something that Australians learn early.
One study down under looked at the effect of early-childhood swimming lessons on the motor and cognitive skills of children.
The study, which was carried out by the Griffith Institute for Educational Research and famed Australian swim coach Laurie Lawrence's Kids Swim Alive program found a strong correlation between swimming lessons at an early age and increased verbal, math, and literacy skills later in childhood.
Children were surveyed over a four-year span, with children in Australia, the United States, and New Zealand. The kids had a head-start of six to fifteen months compared to the normal population.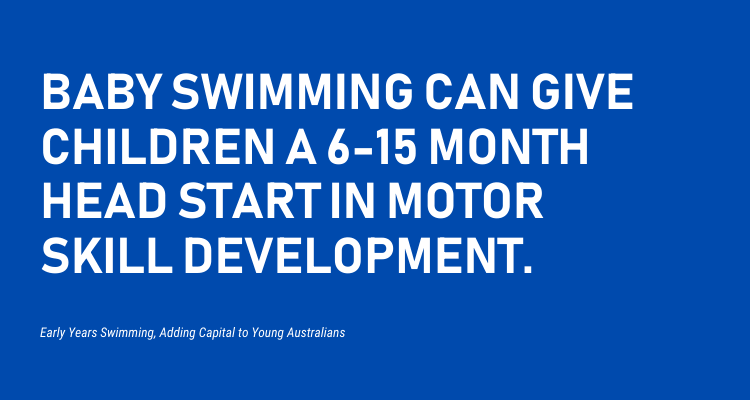 An Icelandic study from 2010 found that children who had undertaken some sort of baby swimming program between two and three months had a significantly broader set of motor skills at age four compared to children who didn't have baby swimming lessons.
Particular benefits in the swimming group were increased prehension (catching, ball rolling) and static balance (being able to balance on one leg, walking with heels raised).
Swimming lessons boost self-esteem
On top of the socializing aspects of bringing your toddler to a learn-to-swim class, there is evidence that these kinds of classes can boost self-esteem, increase comfort in social situations, and encourage autonomy.
Personal development isn't something that always comes to mind when we are thinking about when it comes to picking up swimming skills, but research dating back to the 1970s shows that "swimming babies" are more adaptable to new situations, have a stronger sense of self, and become more independent.
Early motor stimulation, in our case with swimming, predicts higher intelligence scores, "differences in movement quality, movement accuracy, and balancing and reaction ability compared with children of the control group."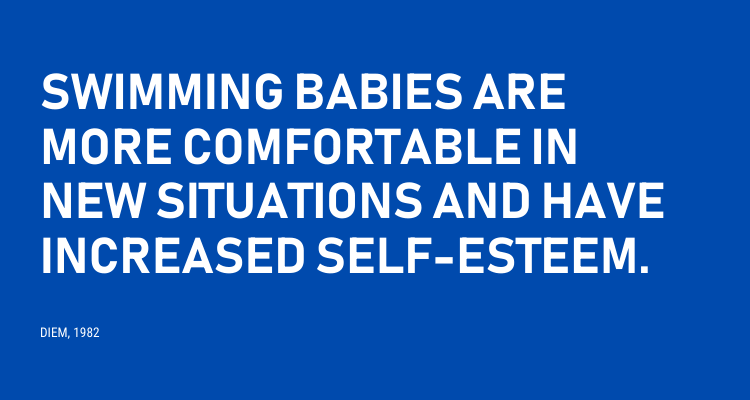 Baby swimming lessons are awesome parent-baby bonding time
Baby swimming lessons are typically performed with a parent (or two) in the water together with the child. This is high-grade, quality bonding time.
Swim teams and clubs that run "learn to swim" programs regularly promote this one-on-one quality time as a peak benefit to baby swimming lessons.
Swimming helps build muscle.
If you have spent time in the lap pool in the past (or this morning, as I did—hence the smell of chlorine wafting through your screen), you know that swimming is a full-body activity.
Using the whole body is one of my favorite health benefits of swimming laps, and while your little kiddo won't be putting down any Michael Phelps' performances, they will be exploring a full range of motion and all of their little muscles while in the water.
As Swim England notes, "Working and strengthening all of their muscles effectively helps them to make them stronger."
Swimming is a family activity
Whether this means signing up our child later in life to organized swimming and pursuing the competitive swimmer lifestyle, or just spending quality time as a family down at the beach, being in the water is an activity for life.
Swimming is something that children can enjoy now and into their later years, and it is something that the whole family can do as part of an active lifestyle.
Baby swim lessons will help with sleep patterns
One of the fun challenges of parenting is navigating the ever-changing and ever-challenging sleep cycles of growing children.
Lifelong competitive swimmers know the knock-out power of a good swim, and it's no different for babies when they get suited up in their favorite swimsuit for toddlers and babies.
Even though it looks like they are relaxing and chilling in the water, make no mistake, your little baby is exerting themselves (remember what we mentioned about the full-body nature of this exercise?) in a big way.
Combine that with your baby getting to use that powerful kick reflex (which they often shed by the time they get to around six months), and you will find that regular sessions in the pool will result in deeper and longers sessions in the crib.
More Stuff Like This:
9 Best Swimming Aids for Toddlers and Children. Ready to up the safety and fun quotient in the water? Here is a selection of some of our favorite swim aids for young children.
7 Best Life Jackets for Youth and Kids. Hit the water with security and comfort with our hand-picked collection of the best life jackets for kids.
7 Best Swim Vests for Toddlers and Children. Swim vests are a great tool for helping toddlers get comfortable in the water. Here's a rundown of the best toddler swim vests.
7 Best Pool Alarms for Your Backyard Pool. Safety is the first priority with your backyard pool. Secure your pool and keep your kids safe with our hand-picked selection of the best swim pool alarms.