Swim tethers and resistance belts are a convenient way to maximize your swim training. Here is a breakdown of the best swim tethers and swim belts for all types of pools and swimmers. 
Swim tethers, swim harnesses, swim cords—whatever you wanna call them, are excellent tools for developing power and speed in the water.
Swim resistance bands and stationary swim belts are also a great option for people with a small backyard pool who want to get some swimming in without the benefit of a full-length swim pool.
Swim tethers are awesome because they allow you to make the most of limited pool space (for example, you can train in a small hotel pool, a dive tank, or even in calm open water), and for you swimmers who are lucky enough to have a small pool in the backyard, is a way to simulate longer lengths in a shorter pool.
When choosing the right swim resistance band, there are a few solid options on the market.
In this guide, we will break down the best swim tethers and cords for swimmers and swim training.
Let's dive right in.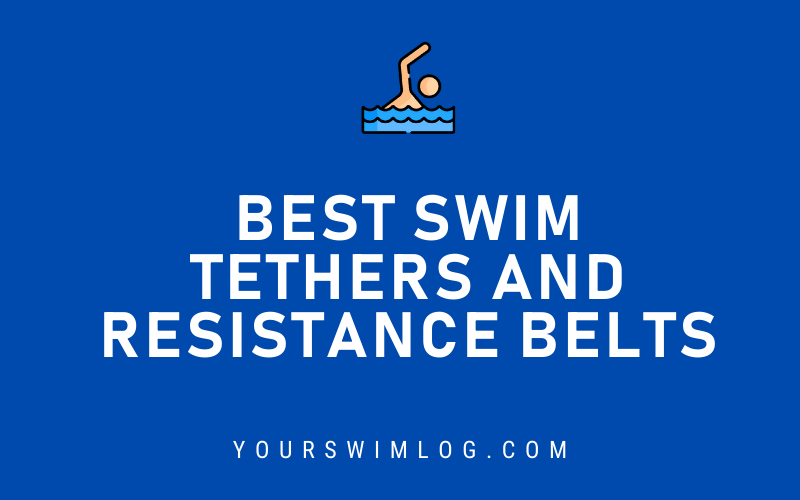 StretchCordz SuperStroke Swim Tether (Long Belt)
⭐ Best overall swim resistance bands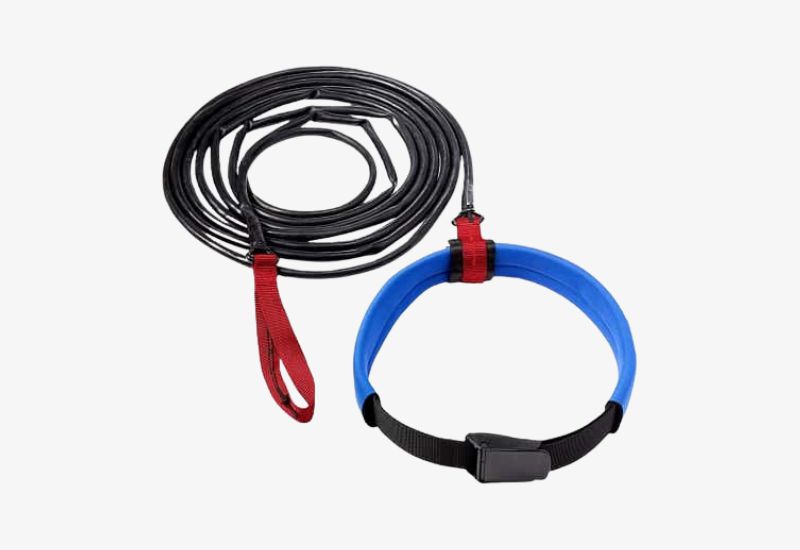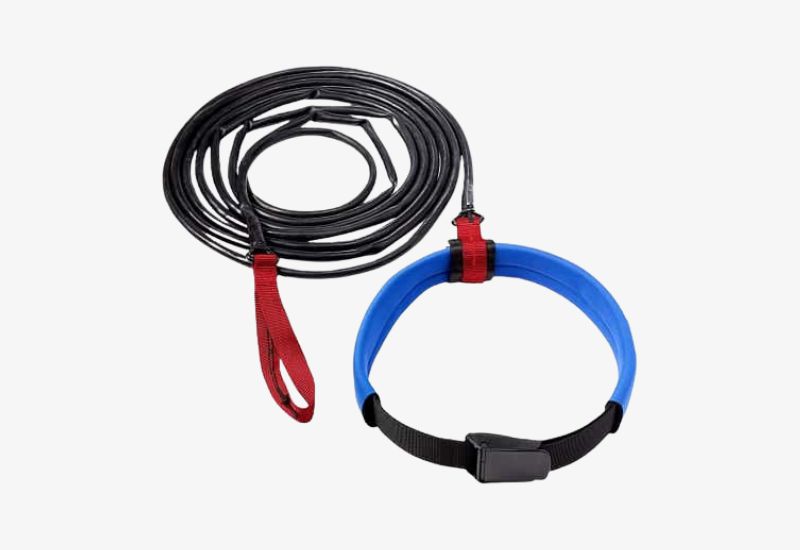 I have been using StretchCordz products since my early age group swimming days. StretchCordz, whether it's their swim tether or stretch cords (the resistance bands frequently seen on pool decks and essential dryland workout gear), have long been the brand most associated with swim resistance bands.
The StretchCordz Swim Tether comes in three different levels of difficulty.
Red is the "heaviest," giving 12-30 pounds of resistance, with green (8-24), yellow (5-14), and silver (3-8 pounds) following.
The range of difficulty depends on how far the cord is stretched out. These particular cords can stretch out quite a bit, so if you want to train in a small pool, consider the short belt StretchCordz (detailed below).
The StretchCordz SuperStroke is long enough to accommodate larger swimmers easily (I am a 36" waist and still have plenty of strap leftover). The cord itself is made of thick latex that can withstand plenty of swims and the resulting pool chemicals.
---
StretchCordz SuperStroke Swim Tether (Short Band)
⭐ Best short resistance band swim tether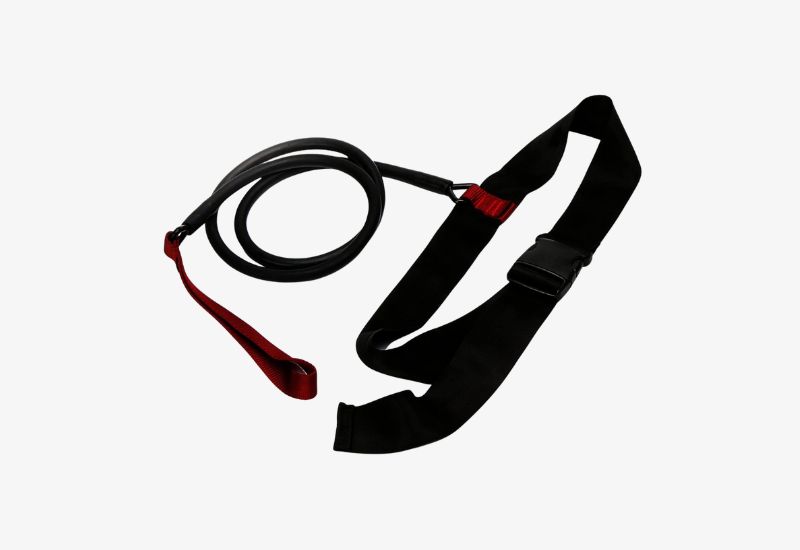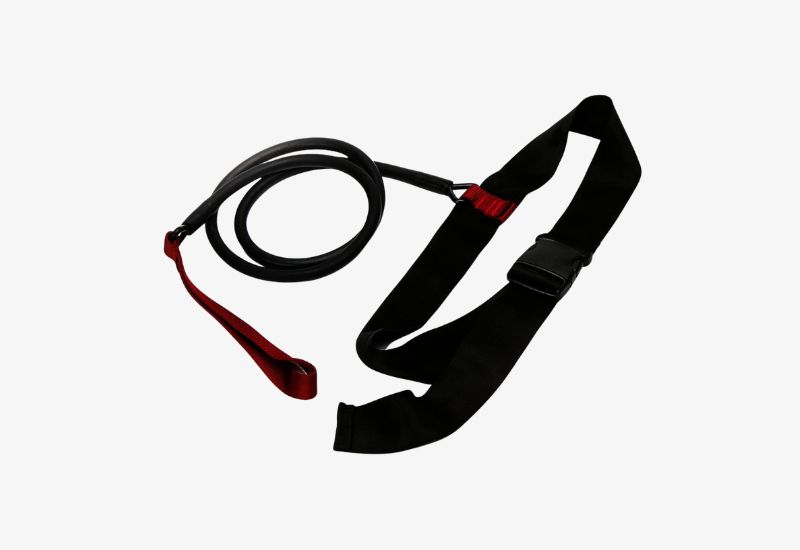 Swimming in a small backyard or hotel pool?
The StretchCordz SuperStroke Swim Tether is your best pick. The thick rubber cords are just 4 feet in length (and can stretch up to 3x).
They are very short, and the rubber tubing doesn't give a ton (best used in a small rectangular above-ground backyard pool if yer lucky enough to have one), so consider going with one of the easier colors to get started.
The short length of the cords also makes the StretchCrodz Short Belt Swim Tether a preferred choice for those looking to do other forms of water-based exercise, including jogging, lunges, etc.
---
StretchCordz Stationary Swim Trainer
⭐ Best stationary swim harness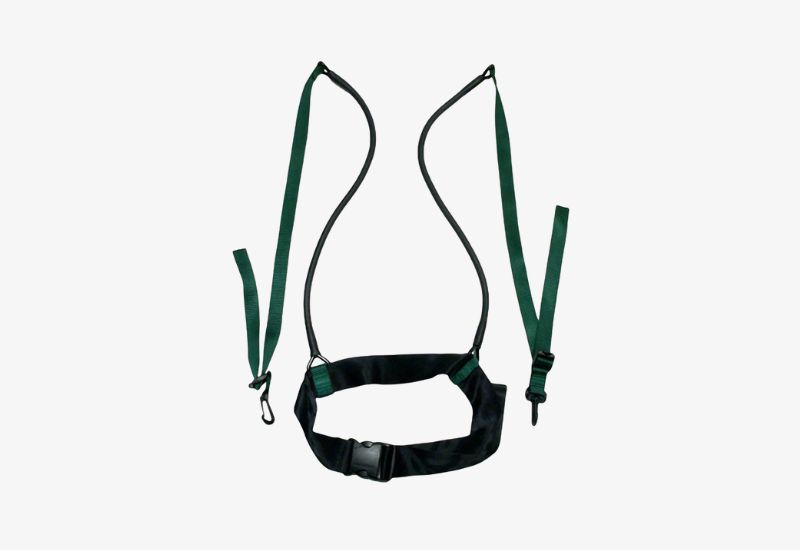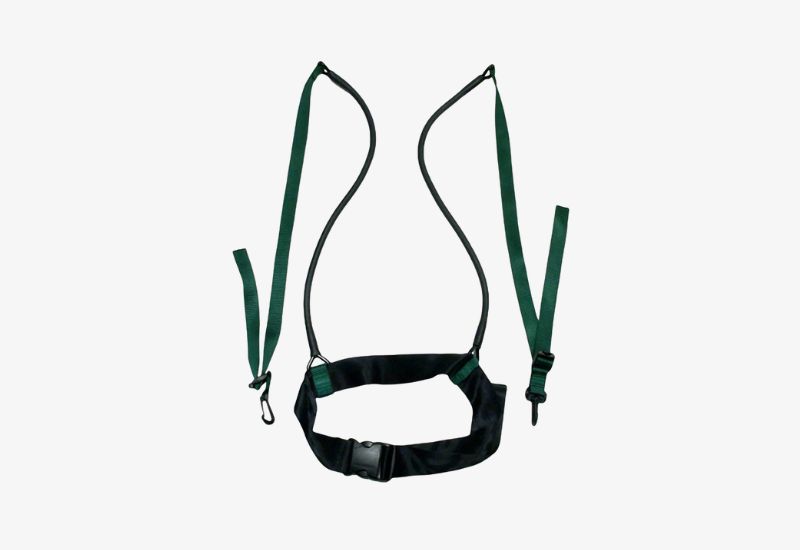 StretchCordz makes another resistance belt and tether perfectly suited for very small pools.
For swimmers who want to get some extra training under the belt (ha!), but don't have a lot of water to work with, the StretchCordz Stationary Swim Trainer is an excellent choice.
While designed to be latched onto a set of lane ropes, it can be easily jerry-rigged to the side of a small pool.
Each side has 2.5 feet of tubing and the belt can accommodate swimmers with a waist of up to 44-inches.
---
TYR Aquatic Resistance Belt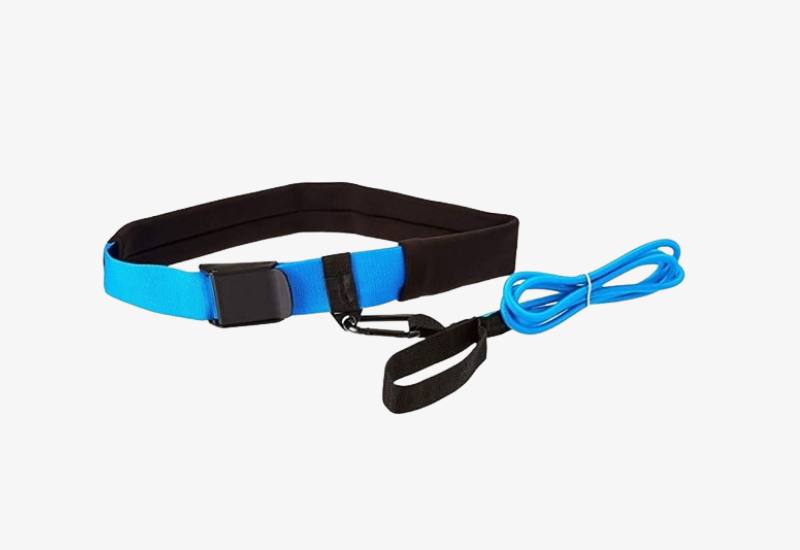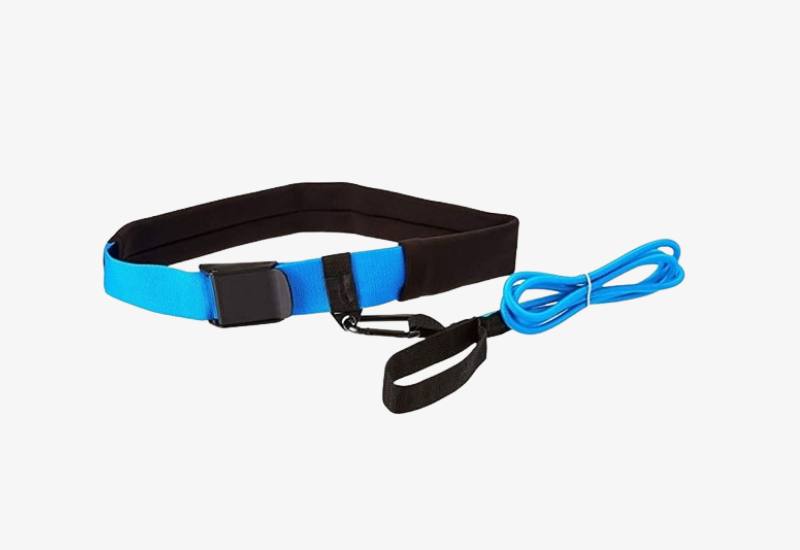 Surprisingly, out of the major swimwear and swim gear companies, TYR is the only one that makes a swim tether.
The belt buckle is a simple slider set-up that can be easily adjusted and removed. The belt strap is made of heavy-duty nylon, and the cord is a thick, durable latex.
The TYR Aquatic Resistance Swim Belt is not particularly long, which makes it an excellent choice for smaller and medium-sized pools. (Of course, you can also use it in the big pools if you have access.) The only downside is that is doesn't come in different levels of resistance.
---
YYST Stationary Swim Belt
⭐ Best budget-friendly swim resistance belt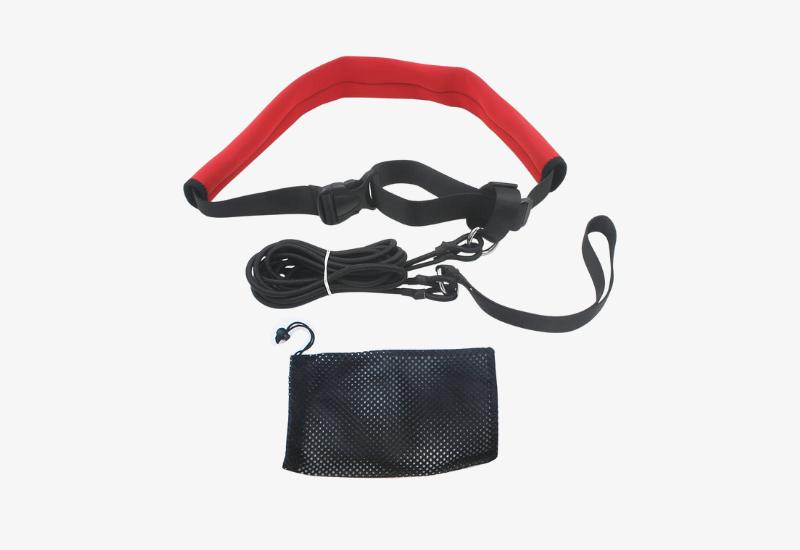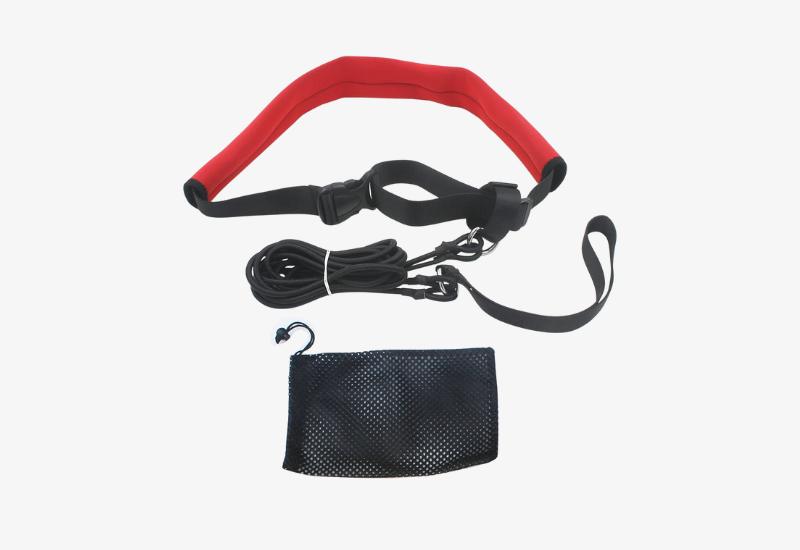 Although not one of the more recognizable brands of swimming gear, YYST manufactures low-cost alternatives for recreational and competitive swimmers.
The YYST Swim Belt is a killer option because of its durable cord and price point (around 60-70% cheaper than the name-brand swim gear).
The YYST Stationary Swim Belt comes with a mesh bag for quick storage, a belt that is padded with neoprene that can accommodate up to a 44" waist, and can be easily looped to pool ladders or starting blocks.
With a cord that is two meters long, this particular swim belt is ideally suited for smaller swimming pools.
---
How to Use a Swim Tether Like a Pro
Now that you have gotten a breakdown on the best swim belts and swim tethers are out there, here some tried-and-true tips for getting the most from that fancy new swim tether of yours.
Mix up the swimming with kicking, pulling, and different strokes.
It's tempting to strap up on the swim tether and bang out 10-20 minutes straight of freestyle swimming. Most swimmers tend to treat a swim tether like a treadmill—hop on, run for twenty minutes at the same pace, hop-off.
One of the perks of swimming is the myriad of ways you can challenge yourself, so don't feel married to the thought that you need to swim straight.
Add kick with a kickboard, strap on your favorite pull buoy and swim paddles for maximum upper body work, use different strokes, and do higher intensity reps to mix things up and target different energy zones.
Place the hooking strap higher than your hips.
If you attach the cords water-level, you will notice your feet and legs getting tangled on the cord. Place the hooking strap several feet above the surface of the water.
Use a snorkel.
If you are using a swimming harness in a backyard pool, whether its an inground swim pool or one of those inexpensive above-ground pools you can buy at Costco, you will notice that the water is going to be real choppy.
Poking your head above the surface of the water will progressively get more challenging as the waves rattle back and forth across the pool.
Dust off your favorite swimmer's snorkel and also benefit from the improved neck-spine line that comes with using this killer piece of swimming gear.
Rinse after use.
Although swim tethers are made with durable latex and rubber, they will degrade over time, especially if left out in the sun. During my age group swimming days, there were a couple of occasions where the bands broke after years of chlorine exposure and use.
Rinse them after use and store them somewhere dark to extend the life of the cords.
---
More Stuff Like This
VASA Trainer Reviewed: The Swimmer's Ultimate Dryland Tool for a More Powerful Stroke. Looking to strengthen up your stroke? Develop a more powerful catch? Here's why the VASA trainer should be added to your training arsenal.
Swim Parachutes: How to Power Up Your Swimming. The swimmer's parachute is a power development tool that increases resistance in the water. The result? Faster, more powerful swimming. Here's the 411 on swim parachutes, including the best ones for swimmers.