Frustrated with being dry-docked with a broken arm or leg? Here's a breakdown of the best waterproof cast covers for swimming and showering.
One of the miseries of having a broken wrist, leg, or arm—and yup, there are plenty!—is that you can't hop into the backyard pool or play in the surf at the beach.
As a lifelong competitive swimmer who has broken both arm and my right wrist twice, I can attest to the frustration that comes with not being able to swim with a cast on.
Typically, my swim coach had me wrap the cast with plastic bags, which provided an understandably lousy solution. Fortunately, nowadays there are far better options available to swimmers who want to waterproof their cast.
Whether you want something to wear when you shower, hit the beach, or need something to get somewhat back into the swing of things at the pool, here are a bunch of cast covers for swimming to get you back into the water.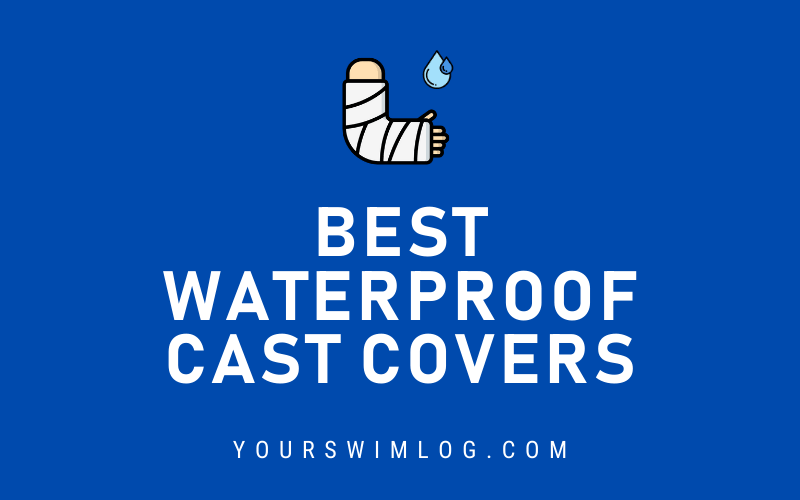 DryPro Waterproof Vacuum Sealed Arm Cast Cover

Best waterproof arm cast cover for active kids.
A vacuum-sealed, low-profile fit ensures the cast is covered during activity, including swimming.
Cast covers are difficult to properly measure because of varying sizes of arms and casts. The DryPro Waterproof Vacuum Sealed Arm Cast Cover smartly solves this problem.
Made for children, the cast cover is pulled over the broken arm and using the included pump, the air is pulled from the cover and the stretchy opening seals the cast from water. The cover, made of tough surgical latex, acts as a second layer to the cast, and its low profile makes it ideal for swimmers and those who are active in the water.
With three sizes, from X-small to Large, the DryPro Cast Cover works for a variety of arm sizes, but as the manufacturer notes, it's critical to follow the sizing instructions before ordering. For kids who are keen on continuing their swimming lessons or are spending the summer at the lake, the DryPro lets them continue on with their aquatic adventures.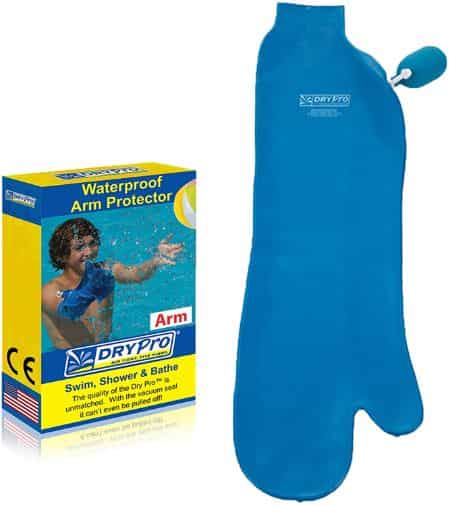 DryPro Waterproof Vacuum Sealed Leg Cast Cover

Best waterproof leg cast cover for active kids
If you read my summary on the DryPro Arm Cast Cover, it's likely that what follows won't be much of a surprise. Made of surgical latex, the DryPro cast cover wraps around your foot, with the rubber coating sucked close to the cast courtesy of a vacuum (a hand-pump is included in the order).
A rubberized grip on the bottom of the cast cover is one of the best features of this product. Foot and leg stability with a cast on is already at a premium, nevermind when you are around wet surfaces like pool decks and boats. The grey rubber grip helps you keep your footing.
The DryPro Waterproof Leg Cast Cover provides a leak-free swimming experience, whether you are in the shower or in the pool, and for younger swimmers who might be tempted to pull it off, the cast cover is very difficult to rip, tear, or remove. Available in a variety of sizes, ages 3 and up.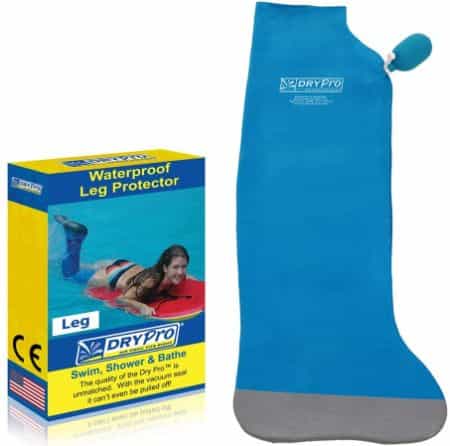 Bloccs Waterproof Cast Covers
Made of soft and flexible rubber, the Bloccs Waterproof Cast Cover protects casts from water by fully enveloping the affected arm.
A water-tight seal prevents leaks, and the Bloccs Cast Cover is available in sizes for both adults and children, which means everyone can hit the water without worrying about exposing injuries and casts to the water. The reusable cover can be fully submerged, and Bloccs makes covers for both arms and legs (view their full line up of cast covers here).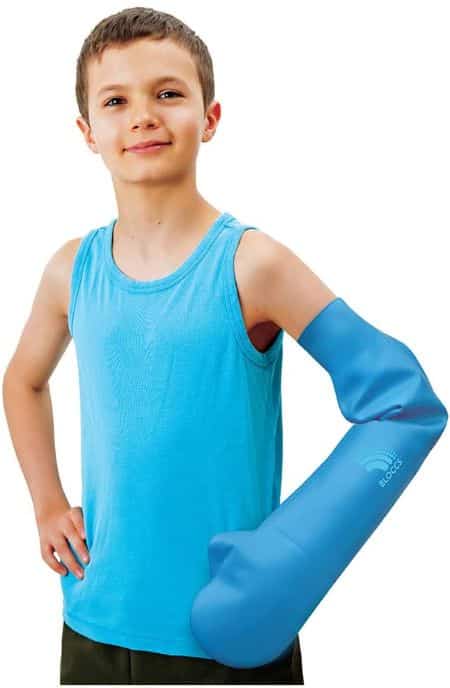 Mighty-X Arm Cast Covers for Showering

Best inexpensive arm cast cover for showering
The Mighty-X Arm Cast Cover comes in a three-pack, is easy to get in and out of, and is perfect for those of you who don't have a spotter to help you get your injured arm into the cast cover.
The most inexpensive cast cover on this list (especially when you consider that it comes as a three-pack and is still cheaper than our other selections), reviewers found that they could get 3-4 uses out of each cast cover before the hole began to stretch and deteriorate.
Made specifically for adult and older children, the covers come as one-size-fits-all, and measures 23" by 9". To extend the length of the cover, air dry between uses to maintain the elasticity. Lightweight, budget-friendly, and somewhat reusable, the Mighty-X Arm Cast Covers is an excellent no-frills cover for adults and older children who want to protect their injury when taking a shower.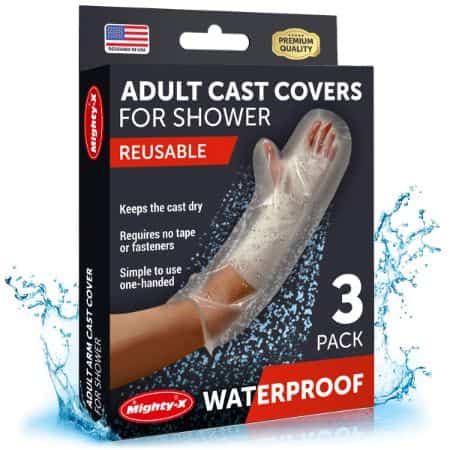 UpGoing Waterproof Arm Cast Cover
Many cast covers generally make your arm look three times as large, almost comically large, and the UpGoing Waterproof Arm Cast Cover lands in this category. Although you might get some looks, there is no doubt that this thing works wonders when used properly.
Designed specifically for light water activities like showering or bathing (and not for full-submersion activities like swimming), the UpGoing Waterproof Arm Cast Cover is basically a condom for your arm.
Slide the blue seal mouth down your arm, and once your injury and cast are covered, close the sealing ring to achieve water-resistance. Reviewers note that you shouldn't wear the cover if you don't need to, the seal can be quite tight and will start to choke off circulation with extended wear.
Made with durable PVC, polypropylene, and rubber, the reusable cast cover won't stick to your skin and the materials are hypoallergenic. The cover is 22.5" in length and 10 inches wide, one of the bigger covers on our list.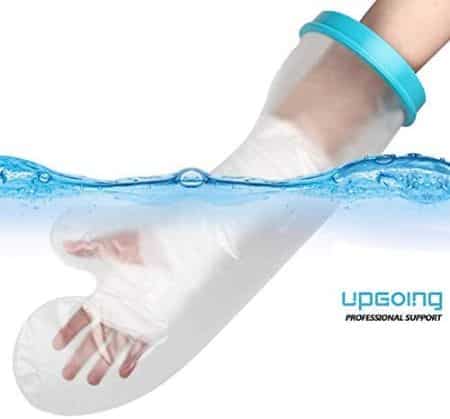 KEEFITT Adult Leg Cast Cover

Best inexpensive leg cast cover for showering
Made of durable neoprene rubber and medical-grade thermoplastic polyurethane, the KEEFITT Adult Leg Cast Cover basically looks like a big Ziplock bag for your legs. And this is basically exactly how it works!
You pull the cover, which has a 40-60cm opening, over your cast and leg, pull it on up, and secure the cover with an elastic mouth seal. Like the UpGoing cover, and the Mighty-X one before that, this cover is made for light aquatic activity like showering, and not for sustained or vigorous water activities like swimming where the cast cover is going to be submerged for longer periods of time.
One thing that came up over and over again is that the mouth seal is quite comfortable, and not inclined to cut off circulation in your leg to get that water-proof fit. The liner has additional waterproof sealing material to keep water out, and the makers recommend that you don't subject the cover to water for longer than 20 minutes and to dry the cover post-exposure with a cloth.