While most kneeskins cost upwards of $600, Blueseventy's neroFIT kneeskin provides the same compression and water-repellent suit at a fraction of the cost. Here's a review and breakdown of the neroFIT kneeskin.
One of the defining characteristics of racing suits for women, known as kneeskins, are that they are expensive.
Just how expensive?
Well, the Speedo LZR Racer X kneeskin costs around $500-600. And it's not just the one-off cost that drains the bank account, it's the short lifespan of these types of suits that leave parents and swimmers having to buy a couple of these bank-busting suits per season.
That's where swimwear company Blueseventy steps in.
Their tech suits and swim jammers, and in this case the NeroFIT Kneeskin, are made with *generally* the same water-repellent materials as the other big players in the game, including Arena and Speedo. They offer the same compression and body support, and they come in at a much more affordable price.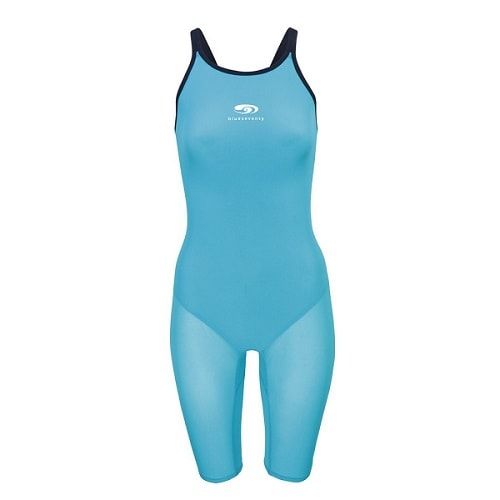 The neroFIT Kneeskin: What You Need to Know
Here are some of the key features of the Blueseventy neroFIT kneeskin:
Takes way less time to slip in and out of the suit. One of the most infuriating things about these suits is that they can take a long time to wrestle in and out of. With some of the higher end models easily taking 30-45 minutes to put on, it's refreshing to see a tech suit that takes 4-8 minutes to wear. For you swimmers who are perpetually late to get behind the blocks, this is a critical feature.
They last longer. The main thing that differentiates this particular suit from the Speedo LZR Racer X kneeskin or the Arena Carbon Ultra Kneeskin is that it's made with less elastane or spandex. If you are familiar with this particular fabric, you know that it's fragile, and decomposes and frays quickly when met with repeated exposure to chlorine. It's why rinsing your tech suit with cold water is numero uno when it comes to caring for it. Because the neroFIT kneeskin is made with 20% elastane, compared to 35% for the LZR Racer X, you are able to get a whole lot more use out of it.
The neroFIT is much cheaper than most kneeskins. Now for the biggie—cost savings. As mentioned previously, kneeskins are hilariously expensive. (Okay, maybe not that hilarious.) I hear stories from parents all the time about how their swimmer doesn't properly care for the suit, or rips it while putting on in a hurry, or never rinses it out, or wears it to meets where PBs aren't on the line. The only thing this is doing is keeping the bottom line of the swim gear companies healthy, and cleaning out the wallets and bank accounts of parents. The neroFIT is by far one of the cheapest racing suits for competitive swimmers, coming in at around $150-200, which is almost a quarter the price of some of the more expensive (and popular) kneeskins.
It dries quickly. Marketing materials for the neroFIT advertise the suit as having a "fast drying component" that insures the suit gets dryer faster. Not sure how they measure this, but most tech suits dry pretty quickly by the nature of the fact that they are water-repellant. Anyhoo.
Use it for the B-meets and preliminaries. If you are still dead-set on getting one of the pricier tech suits ("But everyone is wearing them!"), no worries. You can still use this suit to help you extend the life of your more expensive kneeskin by rocking the neroFIT during less critical races, dual meets, and even during preliminaries at the championship meet.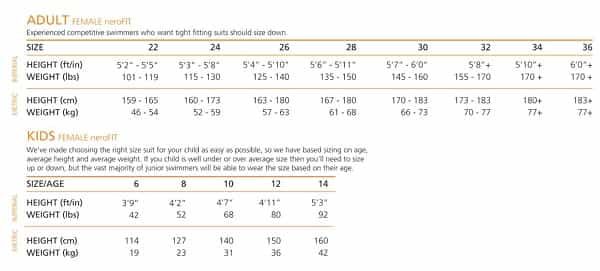 Blueseventy neroFIT Kneeskin: Quick Facts
FINA-approved
Constructed without stitches, and fully bonded
Grippers on the inside of the legs to help you get in and out of the suit more easily.
80% polyamide, 20% elastane
Available in turquoise, black, pink and navy.
Where to Buy the neroFIT Kneeskin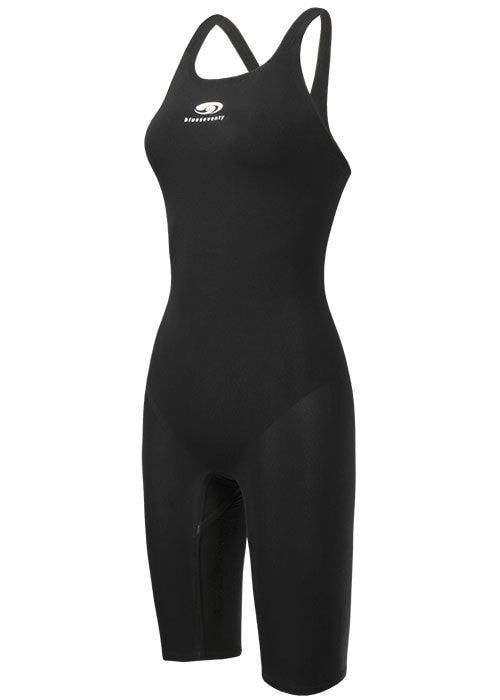 ---
More Stuff Like This:
Tech Suits Guide: Everything You Ever Wanted to Know About Racing Suits for Swimmers. We recently put together a comprehensive tech suit guide that covers the background on why tech suits became all the rage (hint: the 2009 world championships have a lot to do with it), as well as a full 2017 tech buyer's guide for swimmers that covers all the major brands.
10 Tips for Making Your Tech Suit Last. So you've gone ahead and made the investment–now here is how you make that investment last.