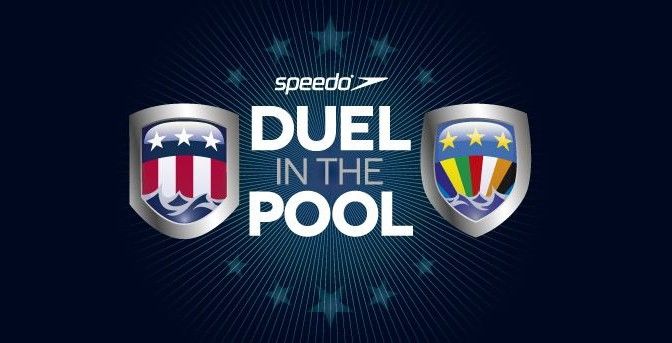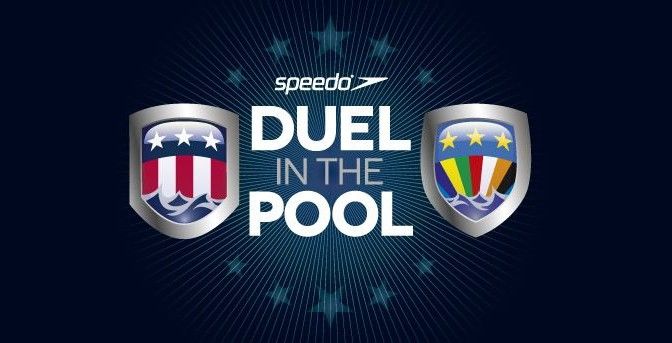 (Glasgow, Scotland / December 22, 2013) The European All-Stars and Team USA capped off a fast weekend of racing at the Mutual of Omaha Duel in the Pool by swimming a tie-breaking mixed medley race to decide the winner.
The Americans, down by 23 points at one point in the competition held at the Tollcross International Swim Centre in Glasgow, Scotland, came back to tie up the score at 131 points after 30 events.
FRONT END SPEED NETS AMERICANS THE WIN
The American squad of Eugene Godsoe, Kevin Cordes, Claire Donohue, and up-and-coming sprint star Simone Manuel beat the world record cruising to a WR of 1:31.17, edging the Europeans by two tenths of a second.
The comback was made possible by several American records set by Michael McBroom in the 800 freestyle (7:33.69), while Tom Shields from Cal-Berkeley unleashed his signature stellar underwater fly kick to dominate the 200m butterfly in a time of 1:50.61, while Tucson Ford's Cordes continued his warpath on the US breaststroke records winning the 100m breast in a time of 56.88.
North Baltimore Aquatic Club's Conor Dwyer was instrumental in the US comeback as well, winning the 200 freestyle (1:41.68), 200 IM (1:53.51), as well as the 400metre IM.
EUROPEANS DOMINATE 800 FREE TO TAKE LEAD
Heading into Saturday's session the Europeans led by a score of 77-54, they extended their lead with a sweep of the 800 metre freestyle, with winner Mireia Belmonte (ESP) touching first in 8:07.90. (Interestingly, Katie Ledecky, who has been absolutely dominating the distance events in the world this year, did not swim this event.)
ABOUT THE MUTUAL OF OMAHA DUEL IN THE POOL
A made-for-television production, this was the sixth time that the Duel in the Pool event has been held, with it being put on every two years dating back to 2003. The meet, held in short course meters, is designed to broaden the appeal of swimming by showcasing some of the fastest swimmers in the world going head-to-head in a team point format. The Americans are now 6-0.
For complete results of the Duel in the Pool click here.