As a swimmer you already know the motivational impact that comes from watching the Olympics on television for a week.
With more viewing options than ever, and a series of jaw-dropping performances in the pool, interest in the sport has never been greater than it is during the immediate aftermath of a Games.
I know that I have certainly seen an increase in head-up breaststrokers at my local lap swim, as well as some old faces in the fast lane that I haven't seen in months.
See Also: The One Thing You Should Have Learned from Rio
The post Olympic-boom reminds me a little bit of New Years, when the fitness centers are flooded with enthusiastic and well-meaning new patrons, teeming with motivation.
And while the local lap swim has gotten a little more crowded, the Olympics is also big business for local swim teams and clubs.
USA Swimming, after the London Games, reported a 13% surge in membership, with similar spikes after the Beijing and Athens Games. And while it will be some time before the numbers are in for this time around, there is one country that is already feeling the post-Olympic bump in a big way.
Interest in GB Swimming Spikes Over July
Over the course of July nearly 200,000 people flocked to Great Britain's national swimming portal to find a local pool, an increase of almost 40% over the same period last year. In addition, there were 1,700 people looking to join local teams and clubs over the course of the month, a 3-fold improvement.
This isn't too surprising when you consider how Team GB fared in the water this Olympiad.
You had Adam Peaty who utterly destroyed the 100m breaststroke world record, not once, but twice. He followed that up with a :56 second split on the medley relay on the final night of the competition, giving Great Britain a brief lead before settling for silver behind the powerhouse Americans. Peaty's gold medal winning 100m breaststroke was also the first gold for Team GB.
See Also: The Top Male Swimming Performances of 2016
In total they walked away from Rio with 6 medals, five of them silver, good enough for fifth in the medal table in the water. This was double the medals they won when the hosted the Games in 2012, and matches their total from Beijing.
Overall Great Britain put in a stellar performance in Rio, with their most successful medal haul since 1908, surpassing their medal total from London.
They were second in the overall medal count with 67 medals, 27 of them gold, behind strong performances in the cycling events, where they have absolutely dominated since program director David Brailsford took over in 2003 (read more about his philosophy of incremental gains here).
The Legacy of London
Legacy is talked about a lot whenever a nation hosts the Olympics. The hope is that hosting the Games will inspire a generation or two to take up sport.
But for Great Britain, it was clear that having the Olympics held in London would give a sense that achieving at the top was not only possible, but doable.
We have talked a lot about legacy and one of the things I was absolutely sure we wanted to make happen was that this wasn't just about participation," notes Sebastien Coe, Chairman of the British Olympic Association and a 4-time Olympic medalist [1]. "It was about inspiring a new generation to want to do what they have seen Chris Hoy and Victoria Pendleton do in London, and we have seen that happen across a range of sports."
Great Britain has been on an ascending trajectory since Atlanta, where they were 36th in the overall medal table.
As the chart below shows, in the past 20 years Great Britain has become a sporting superpower: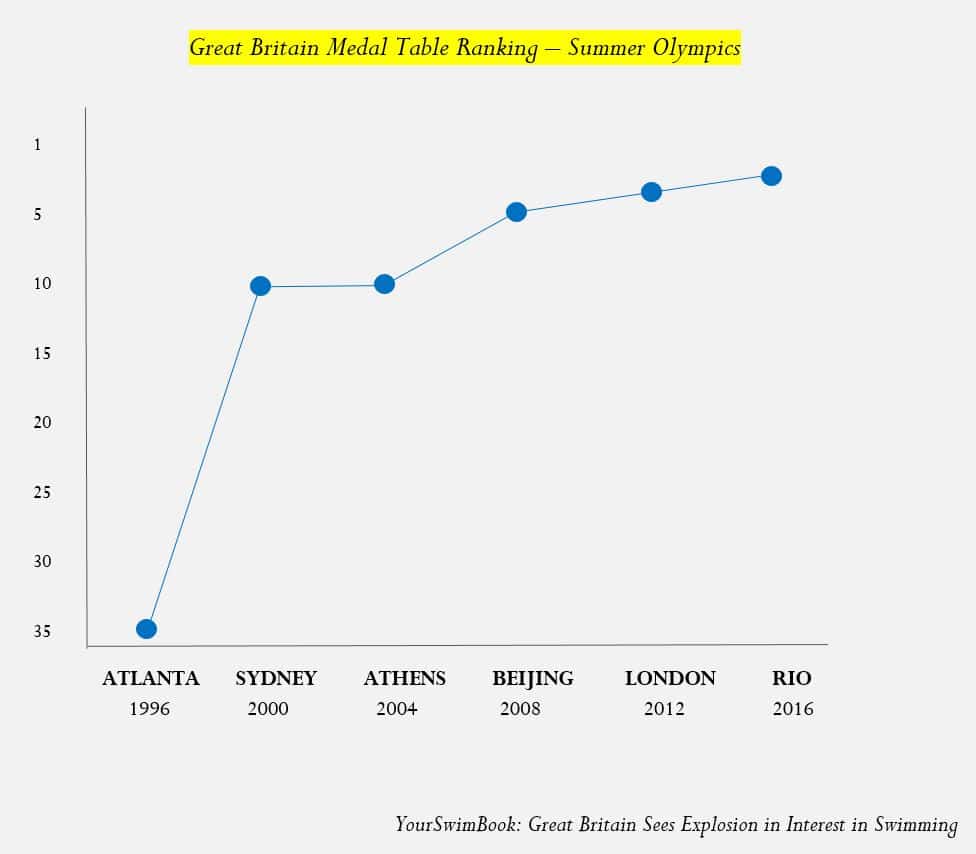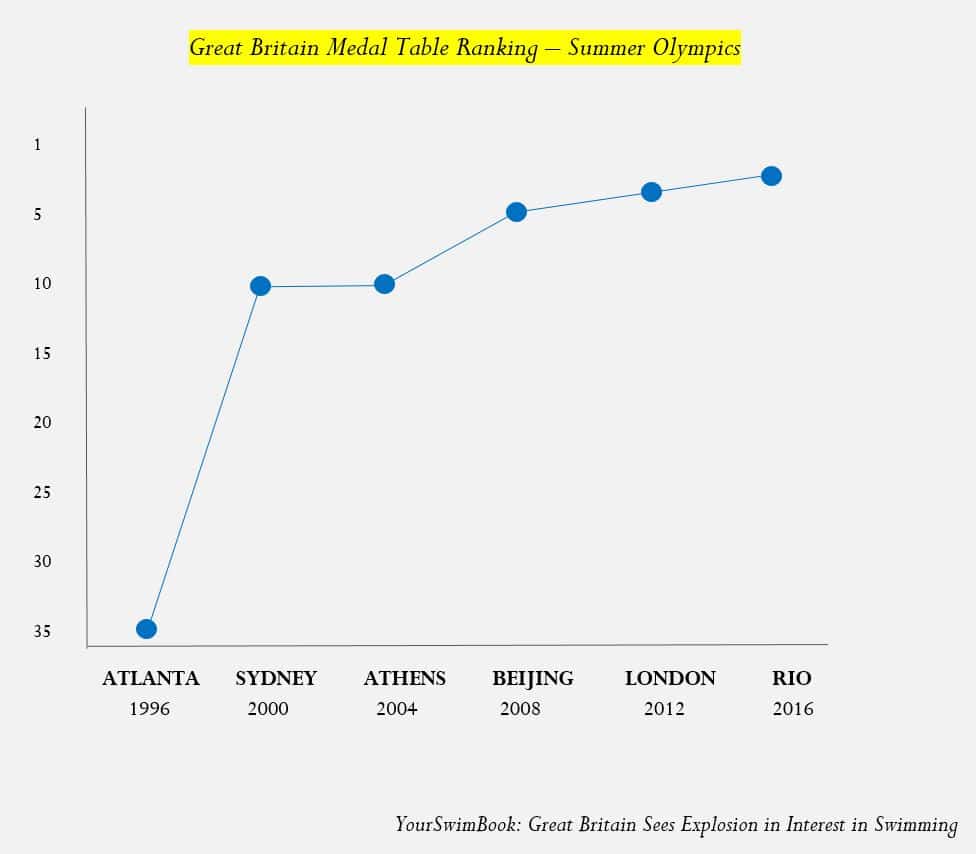 In spite of the performance of Team GB, they are still struggling to find ways to keep their facilities open. After all, during Olympic years spending money on sport is easy. It's the in-between years where investing money into high performance sport is a tough sell.
In Derby, the city where Adam Peaty trains under his coach Mel Marshall, training became a challenge when three local pools were closed. Only after a petition gathered 4,000 signatures was the Moorways pool—the pool that Peaty honed his craft in—allowed to stay open for another year.
It will be interesting to see whether the renewed interest in the sport will help slow down the closures of facilities and pools—17 have already been closed or threatened with closure in Cornwall alone.
Whether Olympic success results in more funding will remain to be seen. But what is for sure, however, is the motivational effect that the Olympics has, not only in Great Britain, but in pools everywhere.
After all, it was the London Games that was the "if he can do that, I can do that too" moment for Adam Peaty, who watched his friend Craig Benson compete for his country.
This is the power of the Games.
Up Next:
The Top Female Swimmers of 2016. You already know who #1 is going to be, but read on to learn who the other shakers and movers from this season in the pool.