The following is a list of questions to ask your prospective college swim coach. Getting as thorough a picture as possible of what the team atmosphere and the coach's philosophy is before you commit to a school for four years is understandably critical. Many swimmers will focus solely on selling themselves to a coach and program, but you should remember that they are recruiting you.
SEE ALSO: How to Get Recruited for College Swimming
Each conversation with prospective coaches will be different. As the speed with which the recruitment process varies from school to school, the questions you ask will rely on what stage of the process you are at. At the end of the day, however, each of the following questions are designed to help you build a clearer picture of whether or not the university program is a good fit for you.
Here goes:
1. Does the team have a year-round program? If you're looking at taking your swimming beyond NCAA's and beyond, will the program support these goals?
2. What's the team culture like? Is the team more about having fun, or is it a competitive environment?
3. What is the team's goal for the season? How high is the program aiming? Is it going to be a rebuilding year for the school or are they charging ahead with a specific goal in mind?
4. Does the coach personalize training or is it a one-size-fits-all approach? You should get a feel for how the coaching staff works with their swimmers in practice; is the team broken up by stroke and discipline during main sets, or is it a one-size-fits-all approach? Certainly something you want to know before you decide to head to swim for a coach for four years.
5. What is the average GPA of the team? If you are into the whole scholastic thing this one is pretty key! This stat will also give you an indication of how much the program is focused on creating well-rounded student athletes, as opposed to just elite swimmers. A good follow-up to this would be to inquire if the team has a full-time academic advisor.
6. How long have you coached here for? Sure, this information will be made available on the bio for the team. But asking also implies interest in knowing whether or not they will be there for the duration of your college swimming career. If the coach has only been there for a season or two, you will need to delve into their previous coaching experience, and if they have been there for an extended period of time, inquire whether they plan on retiring in the next few years (tactfully, obviously).
7. How recent are the fastest times on the top 10 list? Looking at the all-time fastest results is a fantastic way of gauging how well the program is performing under current leadership. Are most of the times from the early 2000's or 1990's? While the top 10 doesn't need to be a straight line of 2013's, there should be some recent times in there.
8. What is your coaching philosophy? This question is great as it will produce a wide variety of answers.
9. What is the training schedule like? Another obvious question that frequently gets overlooked. When you swim for the same program for years and years you begin to assume that other teams and programs do it the same way. This is not always the case. Asking for a copy of the training schedule can help you get an idea of what your time commitments will be like.
10. What percentage of swimmers graduate from the school in four years? This rate is an indication of how the academic requirements balance with the activities as an athlete. Yes, you want to go to a program where you can swim to the fullest of your potential. But you also want to live up to your potential academically as well.
[divider type="thin"]
Ready to Take Your Swimming to the Next Level?
YourSwimBook is a log book and goal setting guide designed specifically for competitive swimmers. It includes a ten month log book,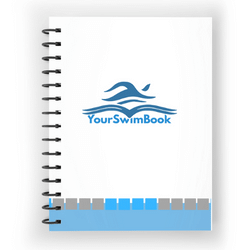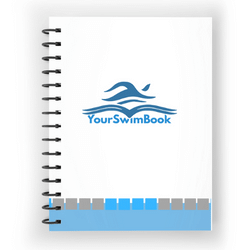 comprehensive goal setting section, monthly evaluations to be filled out with your coach, and more. Learn 8 more reasons why this tool kicks butt.
Note: We now have motivational swimming posters. Five of 'em, actually.
Join the YourSwimBook weekly newsletter group and get motivational tips and more straight to your inbox. Sign up for free here.