Looking for the best swim cap for training and competition? Here's your ultimate guide to picking out the best swimming cap for you.
Swim caps are one of the essential pieces of swim gear for hitting the water.
They keep hair out of your eyes, keep your hair from floating off into the water, clogging up the gutter and collecting at the bottom of the pool like a hair tornado, and they can even help you swim a little faster.
Over the past 30+ years, first as a qualifier for Olympic Trials, and now idling along through daily lap swim sessions, I've had the chance to try just about every swim cap in the pool.
In this guide to the best swimming caps, we will look at the best kinds of swim caps for every kind of swimming.
Whether you are looking for a daily-driver swim cap for doing laps, a thicker swim cap for keeping your head warm in open water, a swim cap for long hair, or an extra hydrodynamic racing swim cap for competition, we've got ya covered.
Let's dive right in.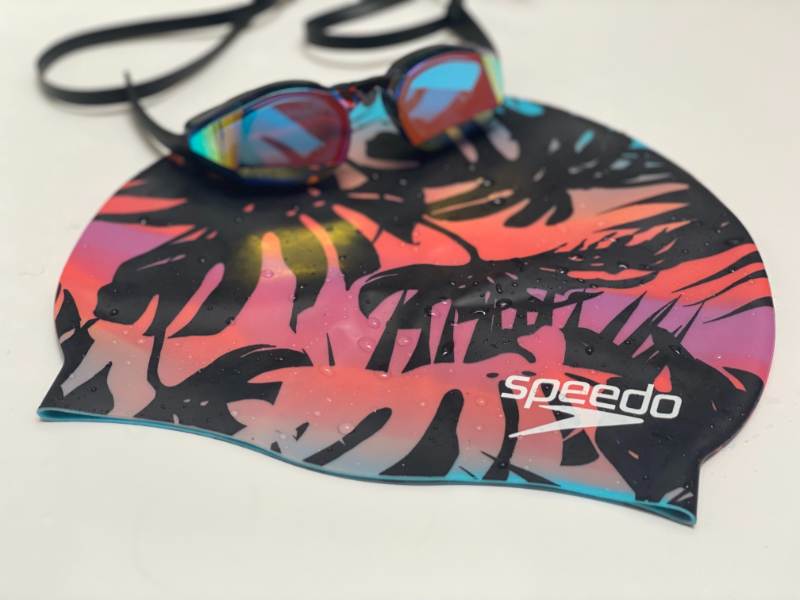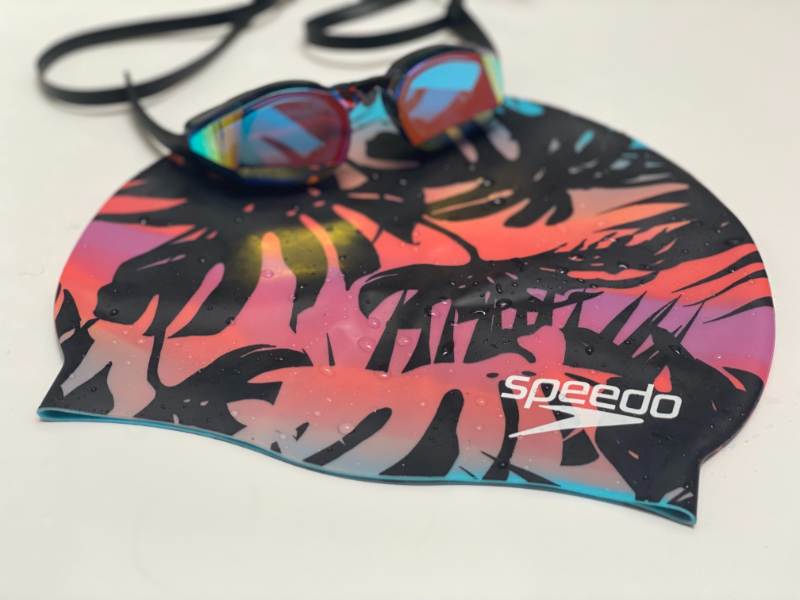 Best Swim Caps for Training and Swimming Laps
These swim caps are ideal for your day-to-day use in the pool.
From your weekend warrior swimmer to the this-sport-is-my-complete-life swimmer, these swim caps will survive the long bouts of training in the water with you.
Arena Classic Silicone Cap
⭐ Best silicone swim training cap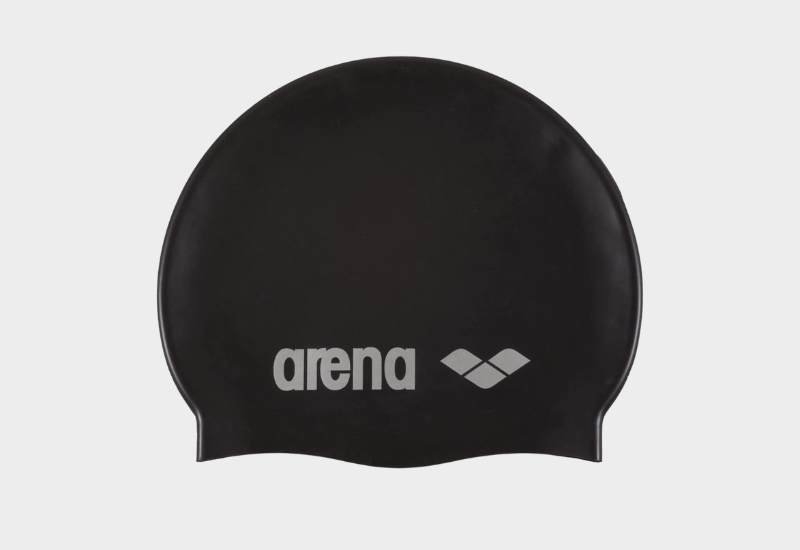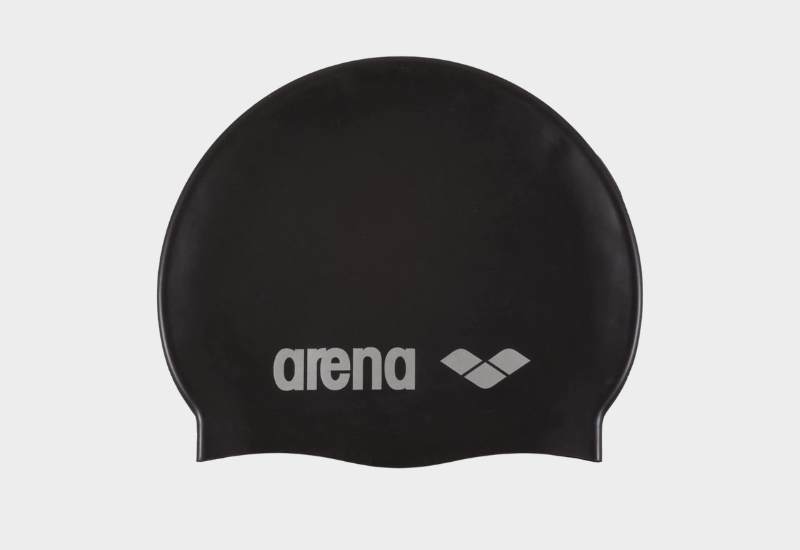 The Arena Classic Silicone Swim Cap has been my go-to training cap for years now.
They are hilariously durable, aren't as thick as other silicone swim caps (which means they don't cook your head when you are pushing the pace in the water), and they don't stretch and rip over time.
The Arena Classic has a ribbed interior edge so that the cap doesn't ride up your head when swimming, and the cap is available in an almost absurd number of colors, prints, and patterns (nearly 30 the last time I checked).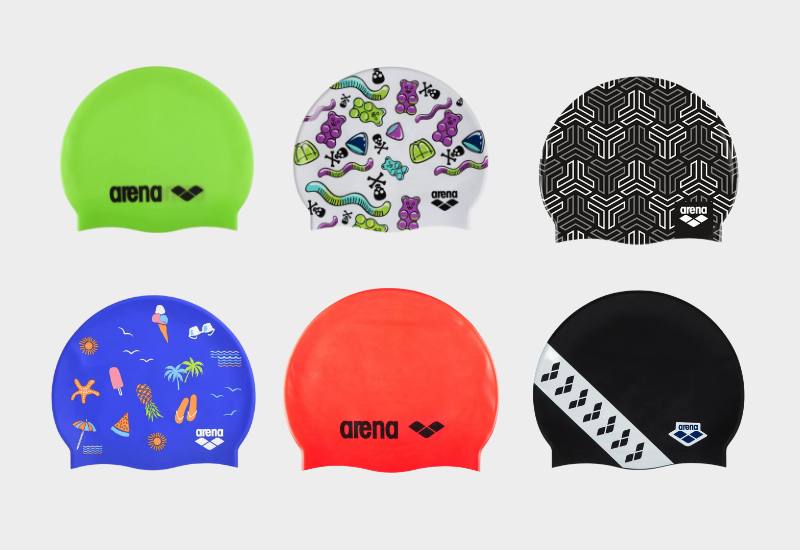 The Arena Classic Silicone Swim Cap is unisex sized and costs only $10 per cap.
Buy a couple and you will be set for years in the pool.
---
Speedo Silicone Long Hair Swim Cap 
⭐ Best Training Swim Cap for Long Hair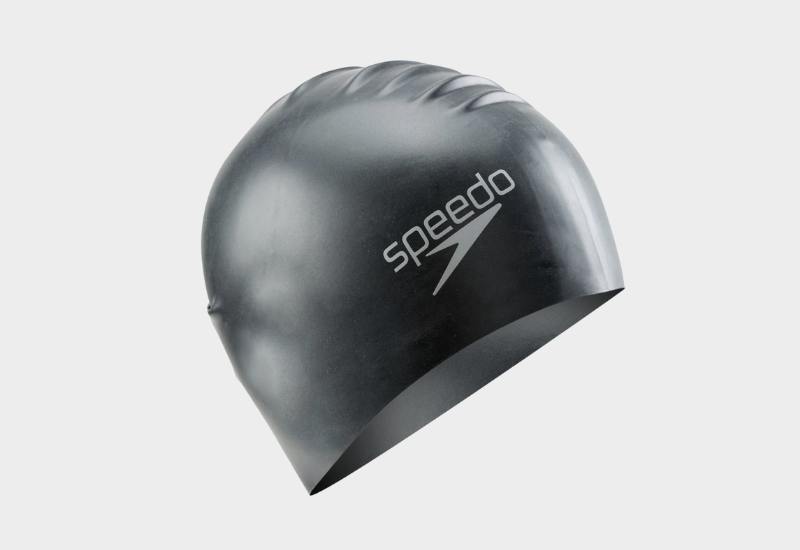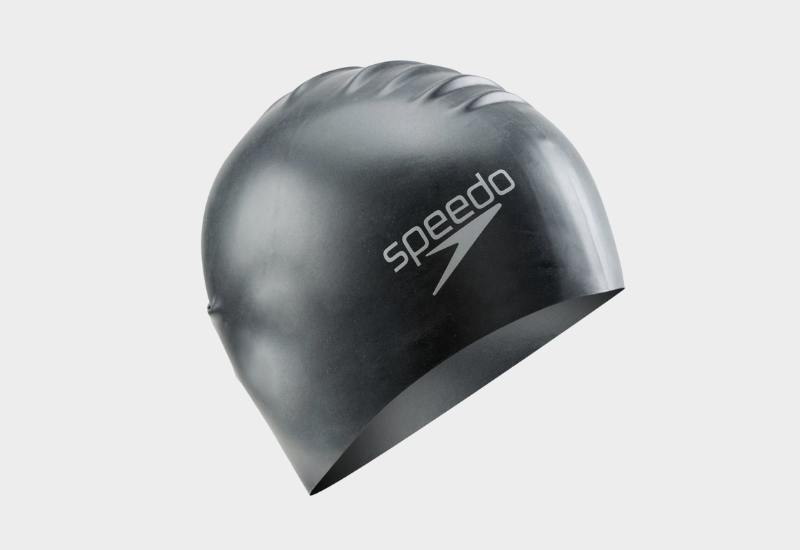 For you swimmers with long hair, Speedo makes a version of their Silicone Solid cap that is made just for you.
Being someone that doesn't suffer from this particular problem I sourced out some of my long-haired swimmer friends for their go-to cap, and this one was consistently at the top of their list.
[Looking for more long hair swim caps? See our detailed reviews of the best swimming caps for long hair here.]
They praised the fact that the cap didn't snag their hair when pulling it on or off, and that their was enough space in the cap to accommodate their hair while also providing a secure fit that kept drag to a minimum.
Additionally, because the cap is silicone, and not latex, you can stretch the cap over your hair with confidence that it's not going to rip and tear, unlike traditional latex swim caps.
Speedo also offers their long-hair silicone swim cap in a few different color options and sizes it unisex for adults.
---
TheMagic5 Silicone Swim Cap
⭐ Best swim caps for staying in place when swimming laps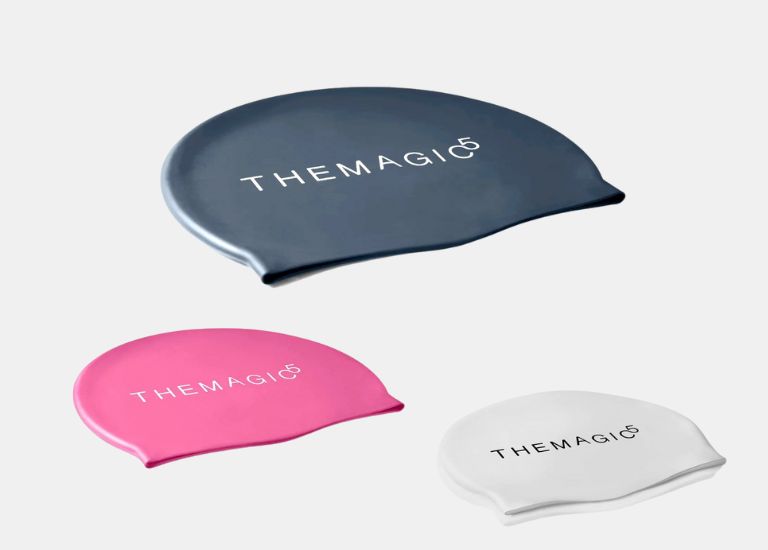 TheMagic5 Silicone Swim Cap is a comfortable, slip-free cap that is cut for an ergonomic fit. TheMagic5 Swim Cap also has a ribbed interior lining, which reduces hair-pulling when taking the cap on and off, and keeps it in place when going Mach 5 up and down the pool.
In other words, it's the perfect swim cap for crushing your swim practice in style and in comfort.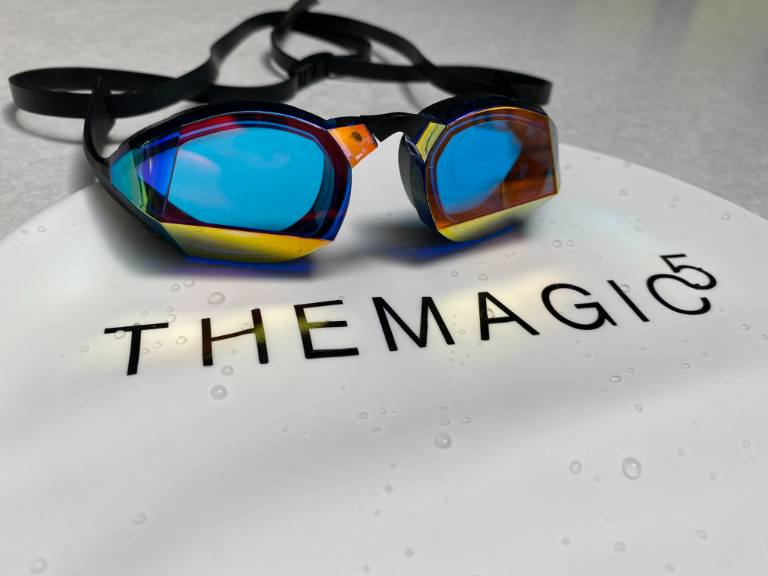 Swimmers and readers will recognize TheMagic5 as a swim goggle company, with their custom-fit swim goggles exploding onto the swim scene in recent years. We reviewed the Magic5 Swim Goggles and loved the 1-2 combination of the swim goggles and their caps.
TheMagic5 cap comes in three different colors, is super budget-friendly ($7), and goes perfect with those custom-fitted swim goggles.
The unisex-sized cap is sold exclusively through TheMagic5 website.
---
Sporti Silicone Swim Cap
⭐ Best budget-friendly silicone swim cap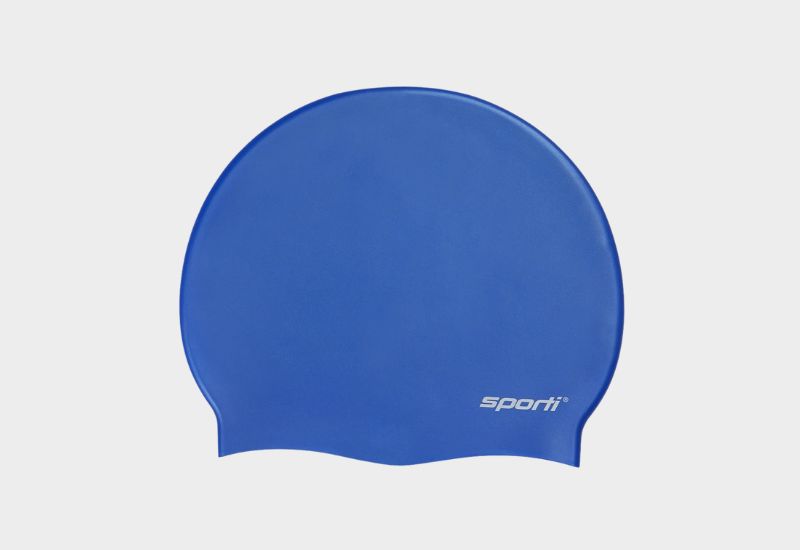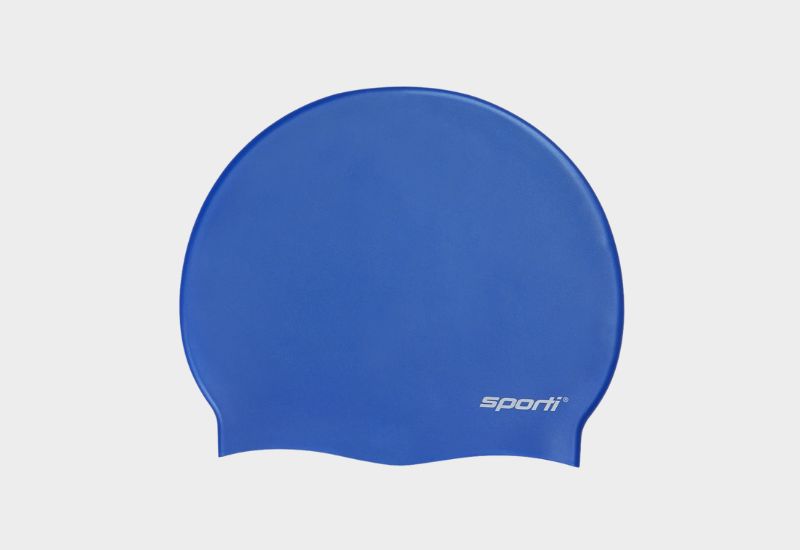 Swim caps are one of the less expensive pieces of swimming gear that aquatic athletes invest in—looking at you tech suits!—and the best ­budget-friendly swim brand is Sporti, Swim Outlet's in-house brand of gear and apparel.
The Sporti Silicone Swim Cap is almost hilariously inexpensive at around $5 per cap with 14 different solid color options.
On the functionality side, the swim cap features an anti-slip interior that won't ride up the side of your head when swimming your brains out in the water, a 100% silicone construction (soft on hair and durable), and a contoured edge for a comfy fit.
For swimmers looking to ball on a budget with their new swim cap, the Sporti Silicone Swim Cap is your best choice.
---
Sporti Latex Swim Cap
⭐ Best overall latex swim training cap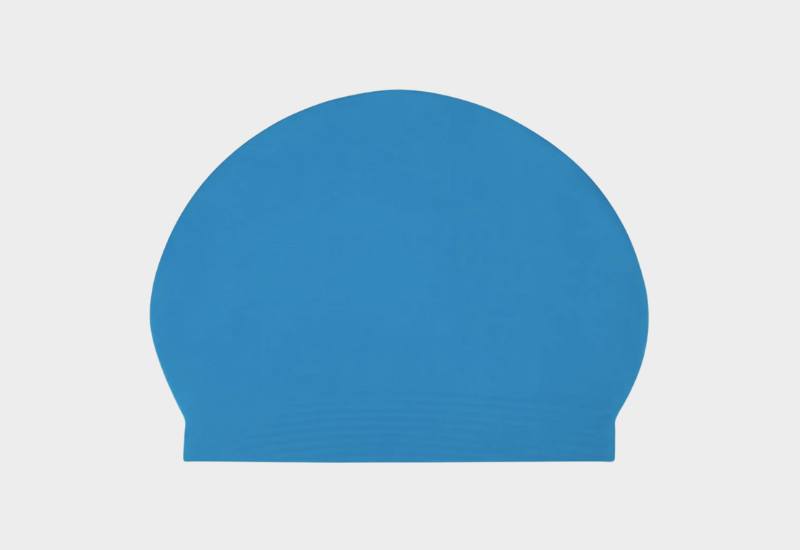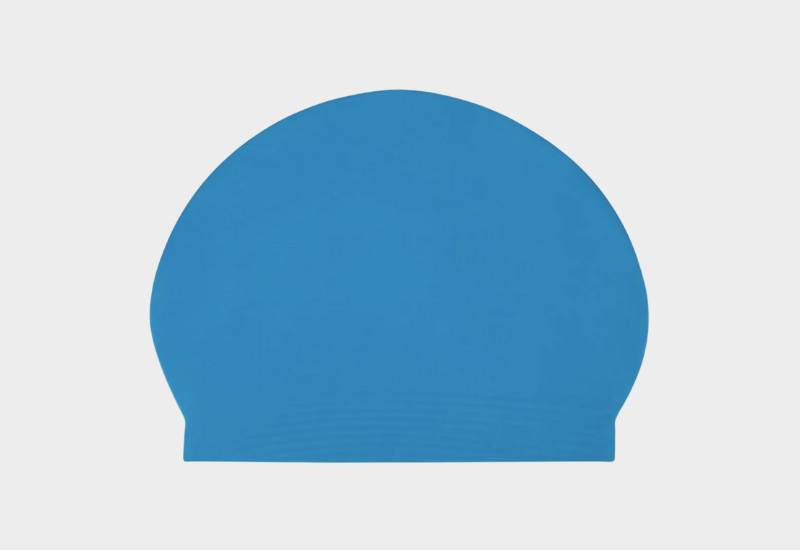 Although silicone swim caps tend to rule the pool nowadays thanks to the softer material that is also more durable, latex swim caps still have their place for a lot of swimmers.
Latex swim caps, after all, are less expensive and the thinner latex construction makes them more breathable compared to silicone swim caps, ideal for swimmers who get really warm at the pool.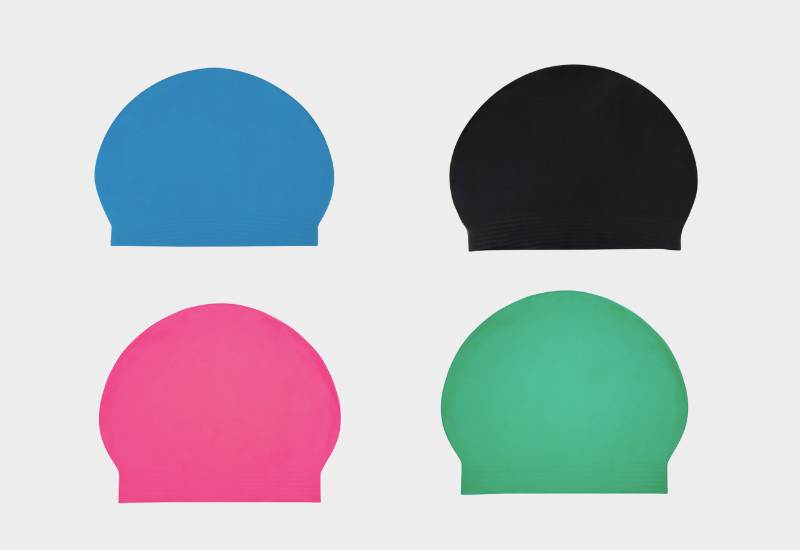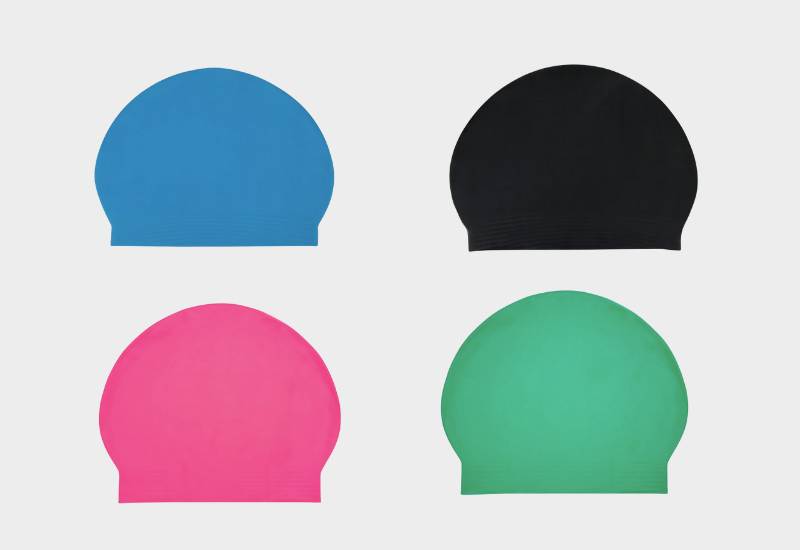 The Sporti Latex Swim Cap is the ultimate in no-frills, long-lasting latex swim caps, available in 10 solid colors, with ribbing on the bottom rail of the cap for a custom fit, and costs just a couple of dollars.
The reviews on this swim cap are also exponentially better, especially as it regards to fit, compared to pricier brands like Speedo.
---
TYR Lycra Swim Cap
⭐ Best lycra swim cap for laps and training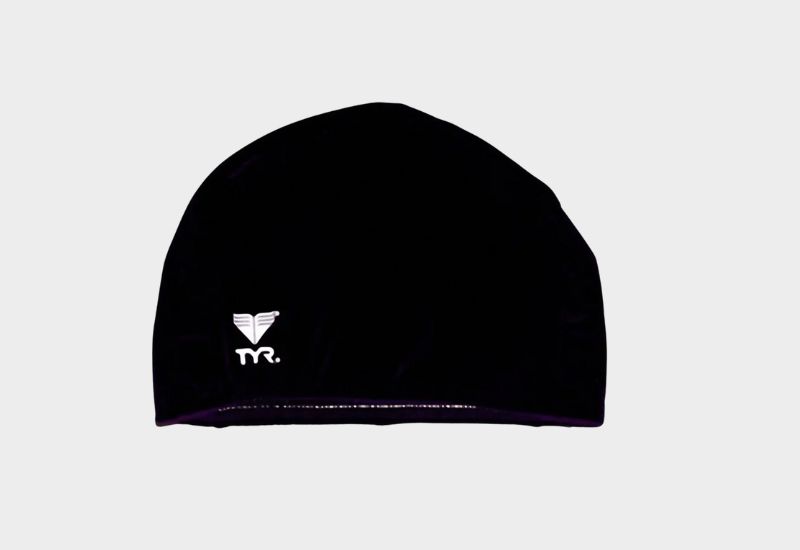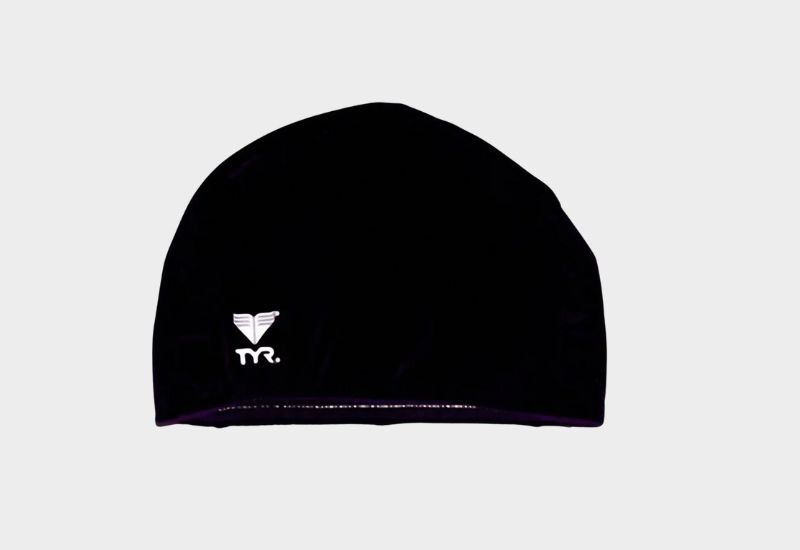 The TYR Lycra Swim Caps are a comfortable and durable swim cap that are perfectly suited for the more casual and recreational swimmer (also ideal for a base cap if you feel like wearing two swim caps at the pool—more on that later!).
Made for adults and older kids, the caps come in five different colors and are a one-size fits all. Lycra caps are exceptionally comfortable, but don't provide the same tight fit as silicone and latex swim caps, and they stretch out and thin faster, as well.
If you're looking for a swim cap that keeps your head cool, and you don't mind getting your hair a little wet, and your goals at the pool are a little less Olympics and a little more recreation, the TYR Lycra Swim Cap is your top choice.
---
Best Competition Swim Caps
The workouts have been completed, and it's time to get up on the starting block and throw down on your personal best times. Now you just need something to cover your dome with.
Racing swim caps are meant to be very snug, have no wrinkles for maximum drag reduction, and are made of silicone to ensure a smooth and hydrodynamic dome when racing.
Here's our selection of the best racing caps for swimmers.
Speedo Silicone Aqua V Swim Cap
⭐ Best overall racing swim cap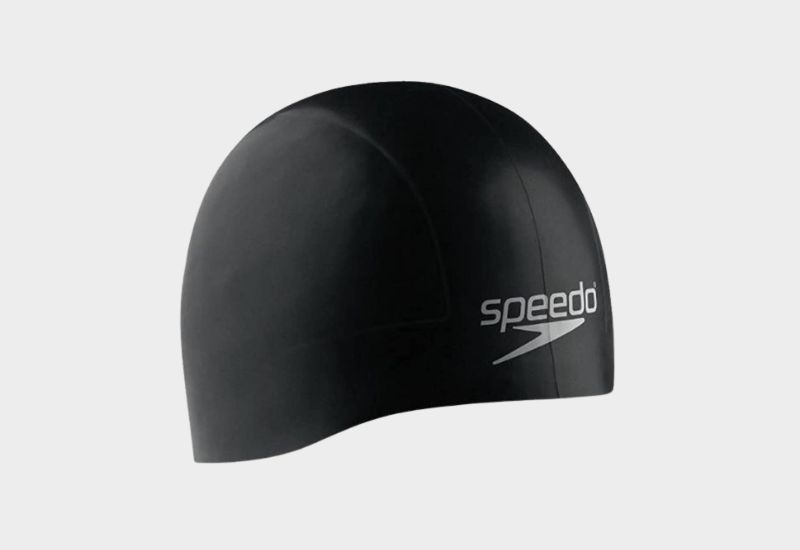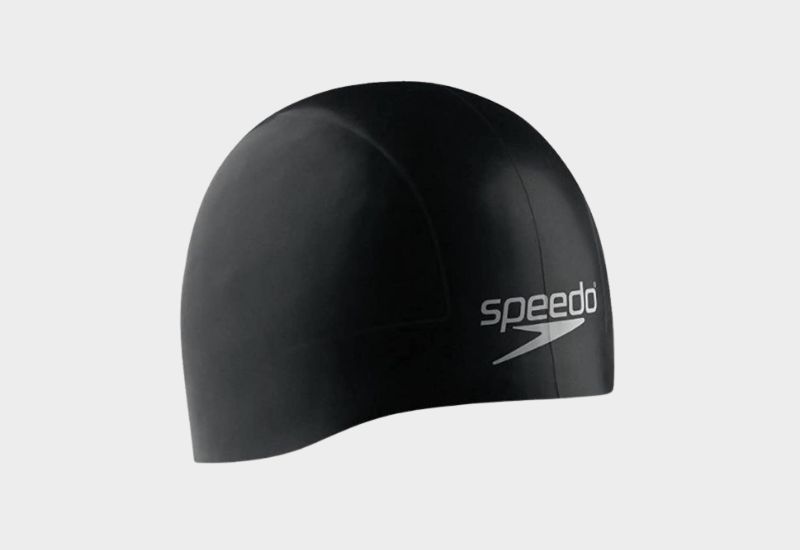 This is my go-to racing cap. I've purchased two since 2013 (I lost the first one when moving) and they have been excellent all the way through. After having used them at multiple meets, countless meet warm-ups and even some bouts of training they have still completely retained their shape and form.
The one thing I would note is that wearing a cap like this that is made of thicker silicone than your typical training silicone cap is that your head will get warmer much faster. I learned this first-hand when wearing the cap at a local YMCA where the pool temperature runs a little warmer.
The cap sits comfortably on your head, and because it is domed-shaped, it is designed not to have any wrinkles on your head, reducing drag in the water.
Like the Speedo Silicone Solid it comes in a variety of colors (not quite as many—"just" five different shades).
Another note, similar to how you need to size down with competition suits this cap runs a little smaller than the sizing you would traditionally find in silicone and latex caps. Speedo themselves recommends sizing up if in doubt.
---
Speedo Fastskin Competition Swim Cap
⭐ Best swim cap for racing like an Olympian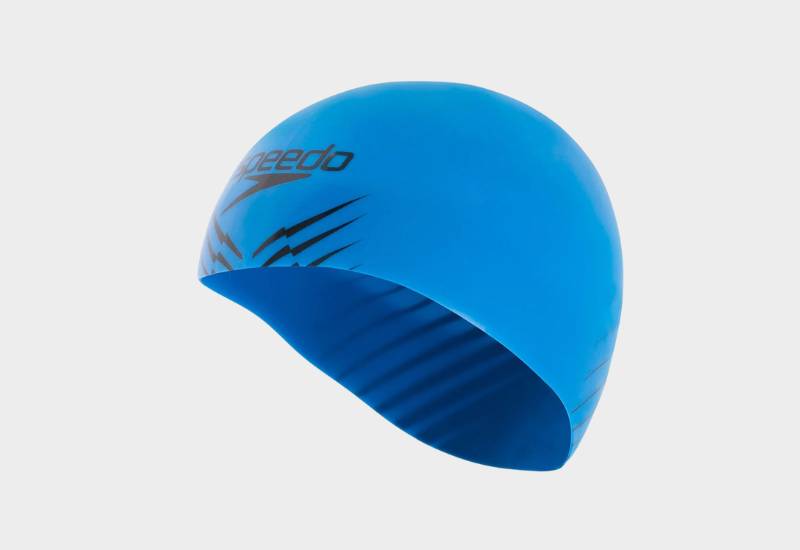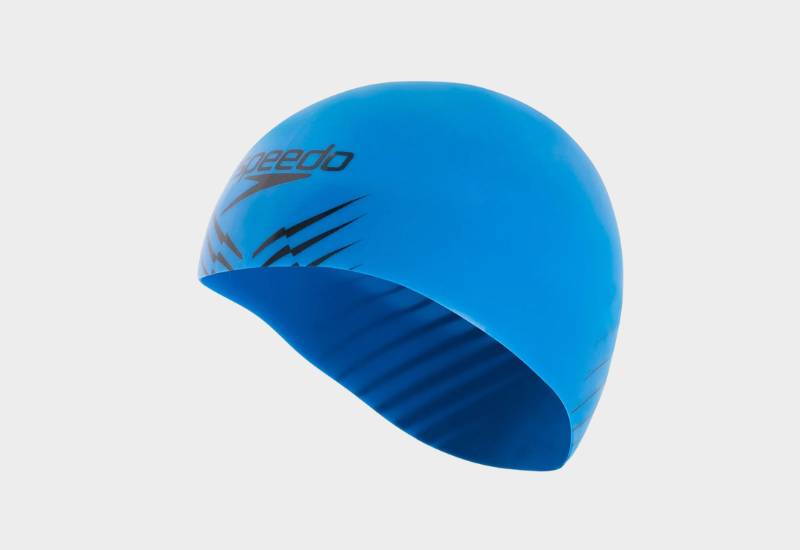 The Speedo Fastskin cap is designed as part of the Fastskin "system" that Speedo put together after the drunken tech suit storm of the late 2000s.
Although it is advertised as part of a "system" it doesn't actually work in concert with the Fastskin goggles and Fastskin tech suits. (It's not like a Fastskin cap doesn't somehow "work" with an Arena tech suit, for instance.)
With Speedo sponsoring a wide amount of elite swimmers, this cap was everywhere in Tokyo at the Olympics in 2021. From Florent Manaudou, Cam McEvoy to Pernille Blume, this cap was on the heads of a lot of swimmers that made it to the medal podium.
There are some interesting features to this cap that are kind of neat-o:
It features a marker on the cap that allows you to align them up with the goggles that you are wearing. In other words, it helps you guide the cap onto your head so that the cap is straight and not left-of-center (like my swim caps always seem to end up).
For swimmers with longer hair, Speedo recommends adding an "under" cap—a lycra cap is the best choice for this.
The Speedo Fastskin competition cap is available in a variety of colors over at SwimOutlet.com.
---
Arena Domed 3D Ultra Competition Swim Cap
⭐ Best racing swim cap for swimmers with larger heads/lots of hair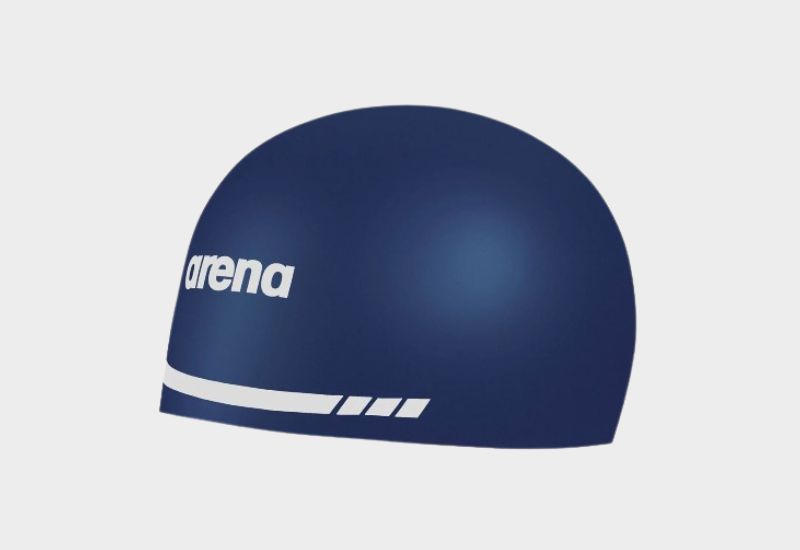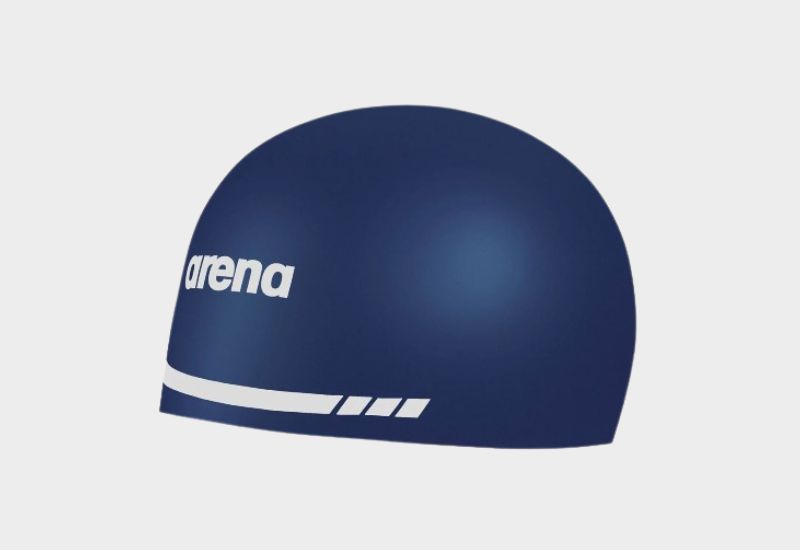 Arena has put together a heavyweight list of athletes on their sponsored squad that includes Chad le Clos, Tom Shields, and world breaststroke super-champion Adam Peaty.
Their racing cap, the Arena Domed 3D Ultra, has a similar look and feel to the competition caps listed previously. And it is also the only one that has XL size, making it a great choice for swimmers with larger heads and/or lots of hair to stuff under the cap.
The cap is made of 100% silicone and features a slick interior so that the cap doesn't snag and rip at your hair when you pull it off after you destroy your personal best times on race day.
Arena offers them in 6 different solid colors, two sizes (remember to size up with racing caps as they are similar to tech suits in that they are smaller than standard), and the 3D molding gives the cap that "second skin" feeling when you hit the water.
---
Swim Caps – FAQ and Buying Guide
Swim caps come in a wide variety of sizes, shapes, colors, and materials.
The type of cap you choose ultimately comes down to what is comfortable and your goals in the water.
Before throwing down your hard-earned cash for your next swim cap, here is everything you need to know about them.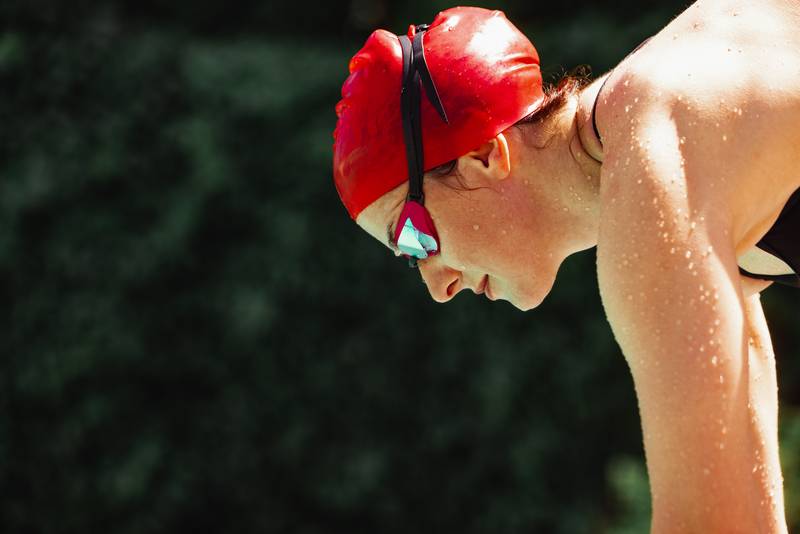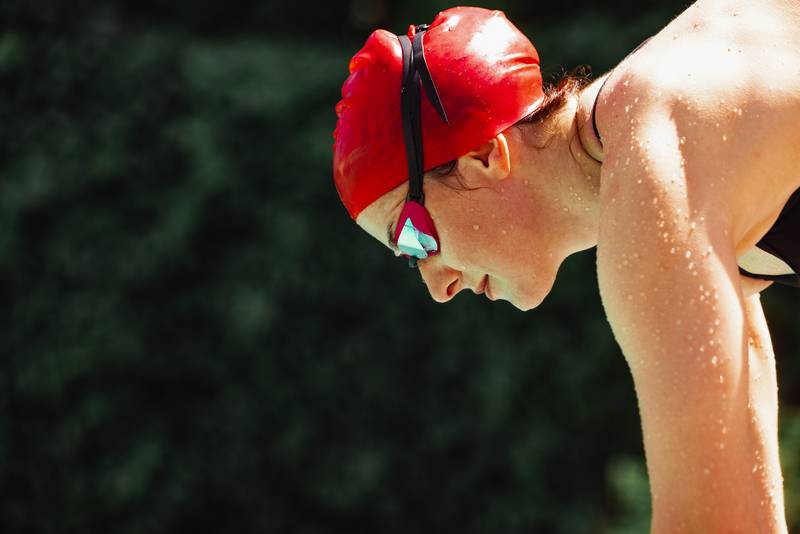 What are the benefits of wearing a swim cap?
Here's a fun fact that might not make much sense to you: Swim caps are not meant for keeping your hair dry.
I know, I know—so what the chlorinated heck is the point of wearing one if not to keep our hair dry?
Well, there are a few reasons why you should wear a swim cap when you go swimming:
Keeps your hair out of your face. Having your hair slop down in front of your goggles, blinding you mid-length during the middle of your swim workout, is no one's idea of a good time. Think of your swim cap as a hair management tool.
Keeps hair out of the pool. A little talked about benefit of swim caps is that it keeps your hair from proliferating into the common water of the pool. More times than I can count I've seen a hairball come slowly flying at me through the water like an asteroid in space while swimming. Caps keep your hair from littering the pool and prevent the pool filter from getting clogged.
Protects your hair from chlorine. Although your cap doesn't keep your hair perfectly dry (unless you're the head-up breaststroker type of swimmer), it does keep a majority of the chlorine-soaked water from coming into contact with your hair. Chlorine, being a solvent, is not overly awesome for hair (which is why you should also be using a good swimmer's shampoo to fully rinse the chlorine out of your hairdo). Caps reduce the amount of chlorinated water your hair is exposed to.
Makes you a little more hydrodynamic in the water. This is most relevant to the competition swimmer—swim caps decrease a little bit of drag and resistance in the water. Domed silicone caps, as covered in the competition caps section, provide a wrinkle-free cap experience that minimizes your drag profile in the water.
In the case of neoprene swim caps, which we review more fully here, they help keep your head nice and warm in cold water. Pairing swim caps (one latex, one silicone) is another way for swimmers to keep warm.

What is the difference between latex vs. silicone swim caps?
Swimming caps come in a variety of formats, but the two most common materials are latex and silicone caps.
Latex swim caps are cheaper, more breathable, but less durable.
Latex caps provide an excellent range of stretchiness, making them ideal for swimmers with just about every shape of head.
They are also "stickier" to the head and less prone to sliding around on your head while swimming.
Latex caps are an excellent swim training cap for both experienced and recreational lap swimmers.
Silicone caps are more expensive, faster, last longer, and keep your head warm.
Silicone caps are also more hydrodynamic because they have fewer wrinkles. Latex caps typically bunch up at the back or front, while silicone caps fit smoothly.
These caps are also best suited for swimmers with long hair as they won't tug or pull on your hair when putting them on. The added thickness is also perfect for colder pools and open-water swimming.
While silicone caps are a little pricier, they are excellent racing caps for their hydrodynamic properties, for swimmers with longer hair, and cold water swimming.
What about Lycra Swim Caps?
While latex and silicone swim caps get most of the attention, there are also plenty of excellent Lycra swim caps on the market.
Lycra caps are made of a mixture of Lycra and polyester (but we call 'em Lycra to keep things easy).
Recreational and casual swimmers will enjoy the comfort and fit of this kind of cap, as they are less constrictive on the head and because they are more permeable than latex and silicone caps, they also keep your head cool in warmer pools.
Lycra caps are well-known for staying on when your hair is already wet, providing sun protection in outdoor pools (Lycra caps are typically rated SPF 50+), and not yanking on your hair when putting it on and taking it off.
Lycra caps do absorb more water than silicone and latex caps, and if you are looking for a cap that will keep your hair dry-ish, Lycra is not the way to go, as they do allow for some water absorption into the hair when swimming.
Why do Olympic swimmers wear two swim caps?
If you watched the most recent edition of the summer Olympics, you likely saw some of your favorite swimmers wearing two swimming caps.
There are two main reasons swimmers do this.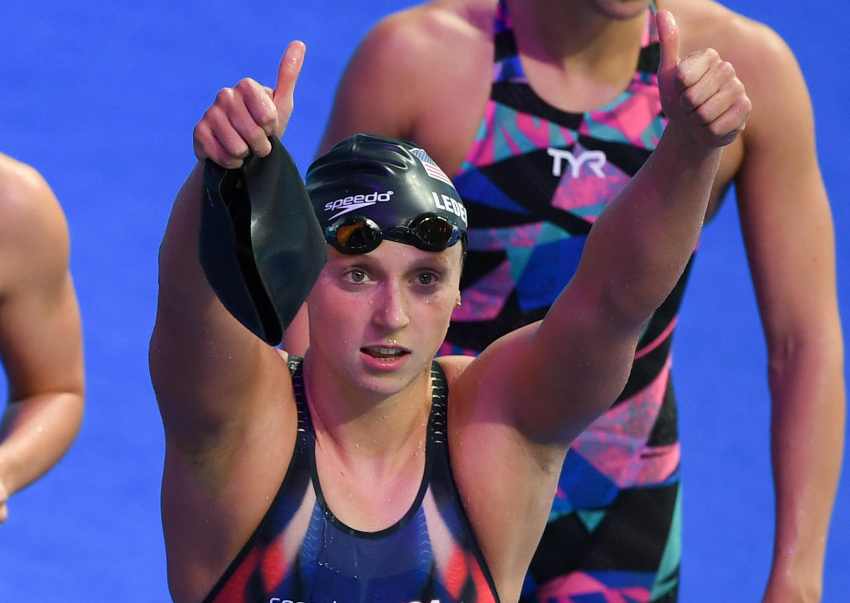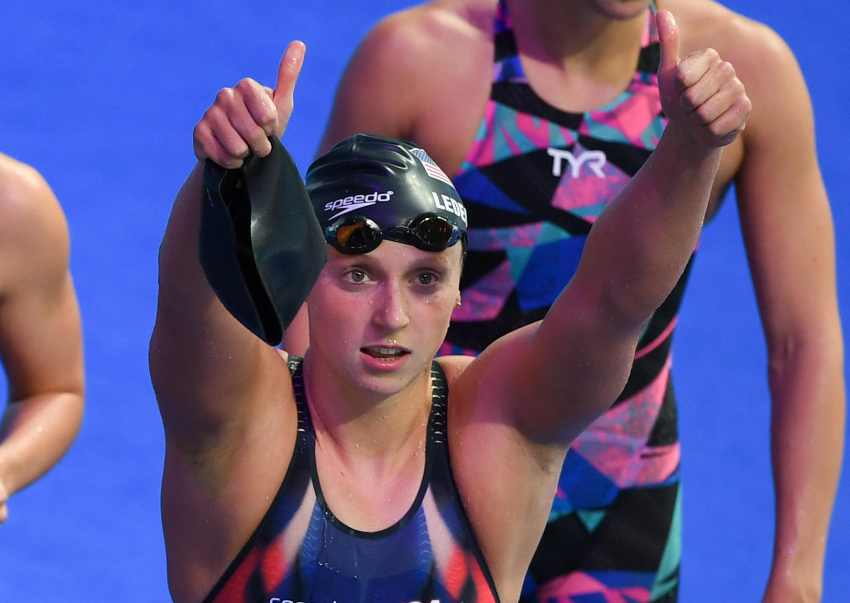 First, wearing two caps is a way to keep your swim goggles securely planted on your face and head when you dive off of the blocks.
Ask any swimmer: their biggest race-day nightmare is the goggles coming off or filling up with water when they dive into the water.
Doubling up on swim caps—and placing the goggle straps under the second cap—is a way to "lock" goggles into place so that swimmers can race with confidence.
And secondly, the two layers of swim caps have a hydrodynamic purpose as well.
Swimmers who double up on caps generally use a latex swim cap as a "base" and the silicone cap on top.
While latex caps stick to the head better than silicone caps, they wrinkle and can cause a tiny bit of added resistance and drag in the water.
Silicone caps are sleeker and provide less friction. They are also awesome at smoothing out the lumps and bumps from goggles, the latex cap, and even the natural contours of the skull.
In sum: the base layer is a latex cap that doesn't slide around, and the silicone cap smooths out the combination.
Can swim caps make swimming safer?
Swim caps are a quick and easy way to increase safety in the water, for both children and adults.
Drowning is one of the leading causes of accidental death for children, with the CDC listing drowning as the second leading cause of death behind motor vehicle accidents.
While nothing replaces proper supervision and swimming skills, a swim cap can increase safety by making swimmers easier to spot in the water. Swim caps also keep hair out of the eyes and mouth so that we can properly see and breathe in the water.
Swimmers with longer hair benefit from using a cap as it keeps hair from getting snagged and tangled on other swimmers, lane ropes, goggles, and so on.
More experienced swimmers also reap the safety benefits of wearing a swim cap, particularly open water swimmers. A bright swim cap keeps you visible to other swimmers and boaters.
The Bottom Line
At the end of the day, a quality swim cap does so much more than protect your hair.
It helps you swim faster, stay safe on the water, and can even help regulate body temperature.
To recap our top choices for the best swimming caps:
⭐ The Arena Classic Silicone Swim Cap is my top recommendation for a durable and comfortable swim cap for hitting the pool. They last forever, are comfortable, and you've got 30+ colors and prints to choose from.
⭐ The Speedo Silicone Long Hair Swim Cap is the best option for swimmers with longer hair. Silicone is excellent—particularly for long hair—as it won't tug on your hair.
⭐ Sporti's Latex Swim Cap is an excellent budget-friendly latex cap that is very breathable and almost hilariously inexpensive.
⭐ And finally, for swim meets, the Speedo Silicone Aqua V Swim Cap is my go-to cap for a hydrodynamic and wrinkle-free swim cap for maximum speed when it matters most.
Choose the best swim cap for you, your hair, and your swimming, and get the most from your time in the water!
---
More Swim Gear Guides:
8 Best Goggles for Swimming. Confused about what kind of goggles to get? Here's a breakdown of the best swimming goggles for fast swimming.
7 Best Swim Caps for Toddlers and Children. Swim caps protect your toddler or child's hair from harsh pool chemicals, help them stay safe in the pool, and keep their hair out of the pool. Here are our top picks for the best swimming caps for toddlers and children.
5 Best Earplugs for Swimming. Want to keep your ear-holes nice and dry when you are at the pool? You are in luck–use my 30+ years of experience wearing earplugs to find the best pair of earplugs for swimming laps.