Looking for a swim robe for drying off, changing, and staying warm after your next swim? Here's a look at the best swimming robes for hitting the pool.
There's a lot to love about swimming, whether it's at the local lap pool or when you cannon-ball into the local lake.
But the inevitable chillies that happen before those swims—especially you early risers—and after swimming in cold water, not so much.
Fortunately, swim robes provide a quick and easy solution for drying you off and warming you up after (and before) swimming. They are also excellent for changing out of your wet swimsuit before heading home.
In this guide to the best swim robes, we will look at the top options for every kind of swimmer, from open water swimming enthusiasts to the casual lap swimmer.
Let's dive right in (and get dry and warm!).
Best Dry Robes for Swimming
Speedo Aquatic Fitness Swim Robe
⭐ Best after swimming robe for women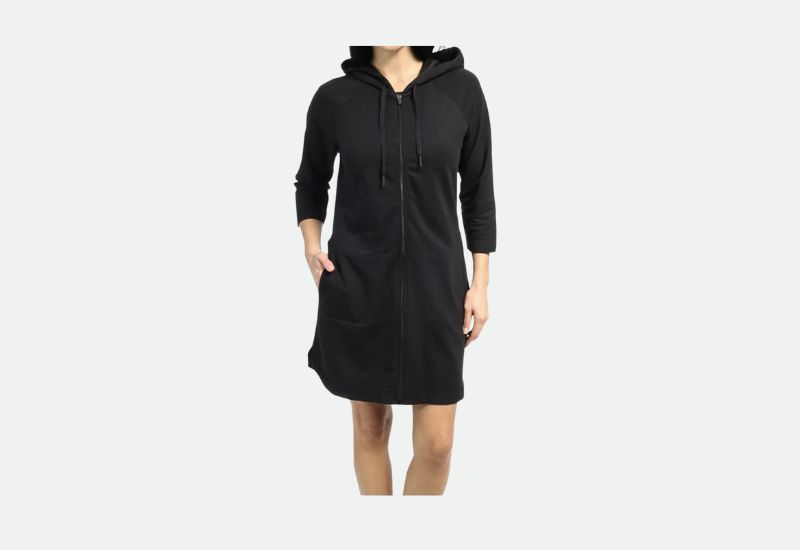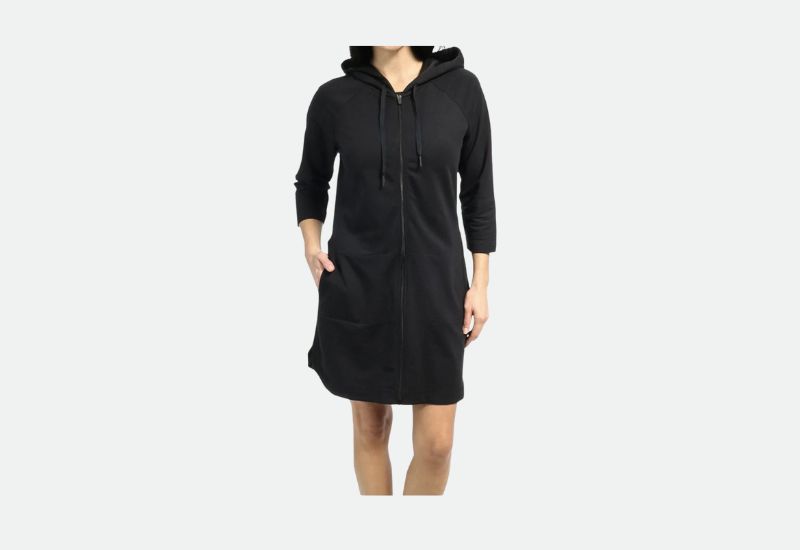 When you think swimming, you think Speedo. Whether it's swim goggles, swim caps, or staying warm from the change room to the pool water, Speedo has the needs of swimmers covered.
The Speedo's Aquatic Fitness Swim Robe is the perfect swimming robe for those chilly pool decks and after-swim walks back to the car and drive home, making it our favorite swim robe for women.
It's made of soft terry cloth, has a drawstring hood to protect wet hair, and side pockets for tucking away goggles, keys, and so on.
The Speedo swim robe gets extra points for the zipper closure, securing the closure of the robe (especially compared to robes with belts).
Speedo offers it in four sizes (small to XL) and two color options (black or white) and the mid-length provides coverage while also being easy to walk around in.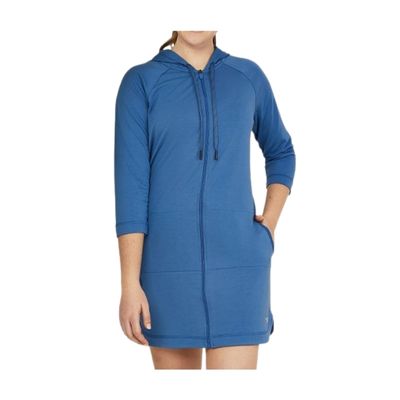 ---
Arena Core Soft Swim Robe
⭐ Best unisex classic swim robe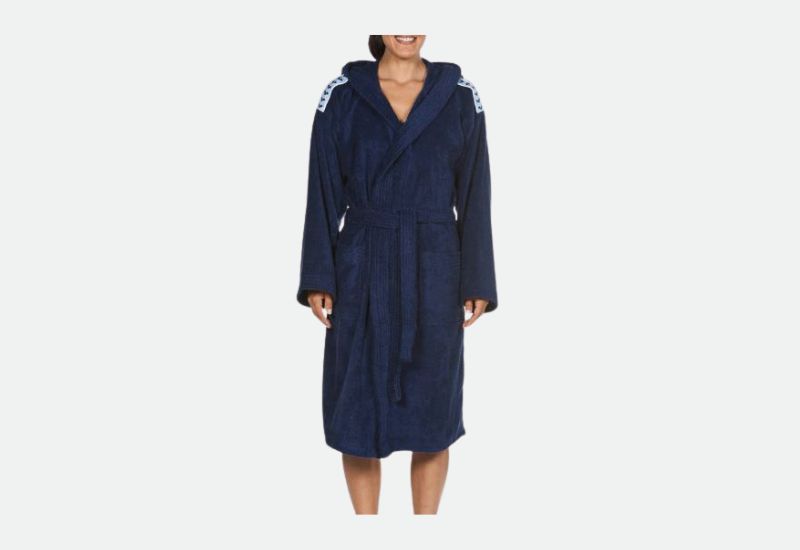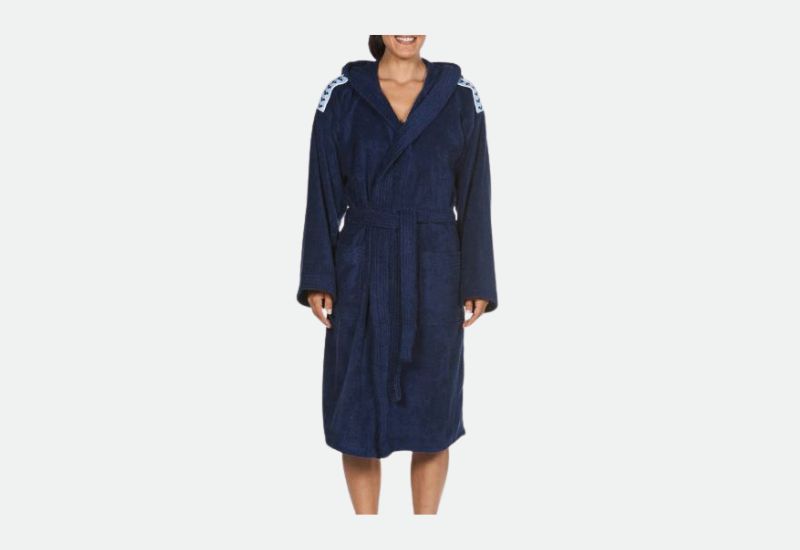 The Arena Core Soft Swim Robe is the perfect "old school" swim robe.
It has extra thick micro cotton fabric that instantly soaks up water and starts the process of heating you up after a chilly swim, has an adjustable belt, extra large hood for keeping your lid warm after swimming, and the classic Arena logo emblazoned along the shoulders.
I really like the old school feel of these swim robes. Feels like you are sinking into a pile of cotton pillows when you wrap yourself in it.
Arena offers them in a ton of unisex sizes, from extra small to XX-large, and you get more color options compared to the Speedo robe.
---
Slowtide All Day Microfiber Changing Swim Robe
⭐ Best changing swim robe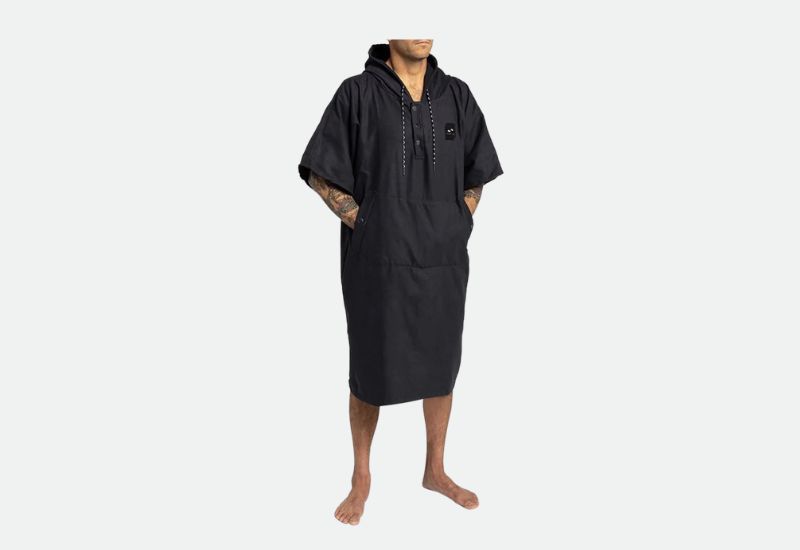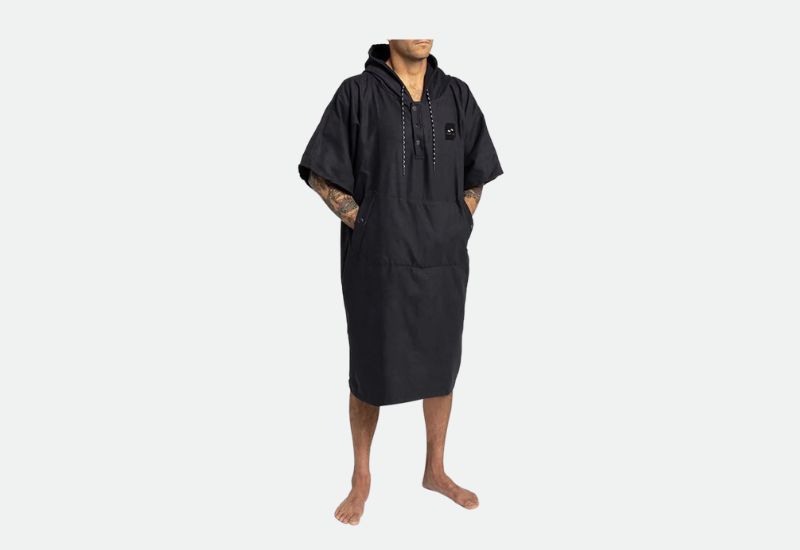 Deck changing is a skill most swimmers master at an early age—being able to quickly change swimsuits under a towel like Clark Kent changing in a phone booth means swimmers can change quickly without having to run to the locker room.
Getting changed out of your swimsuit is a whole lot easier with something like the Slowtide All Day Microfiber Changing Poncho, which is basically your portable locker room.
Pull it over your head, and you have total coverage and the ability to change out of your swimsuit without worrying about the towel wrapped around you falling off.
The swim robe—or rather, poncho—has an exterior shell made of water-resistant polyester, making it an ideal robe for getting to your car in inclement weather. The interior is lined with soft microfiber cotton.
The only downside with the Slowtide All Day Changing Swim Robe is that there are limited size options and it is a little pricier compared to the other swim robes on this list.
---
Zone3 Polar Fleece Swim Robe
⭐ Best swim robe for open water and tri swimmers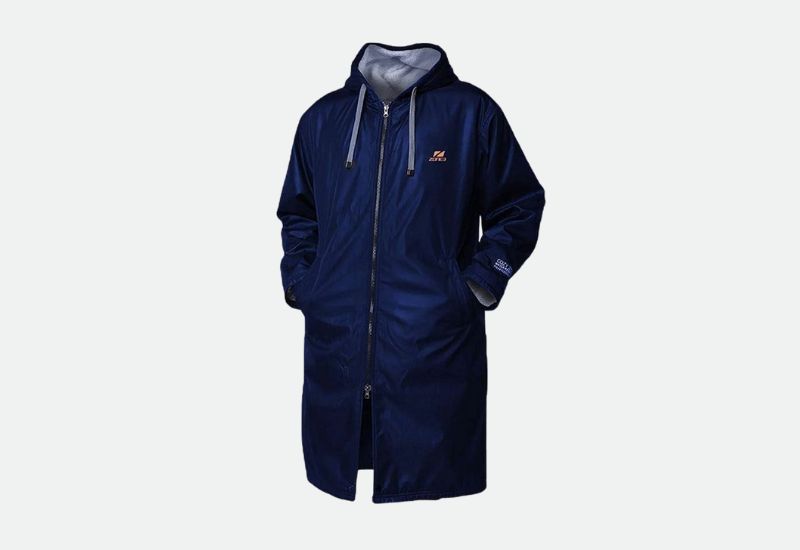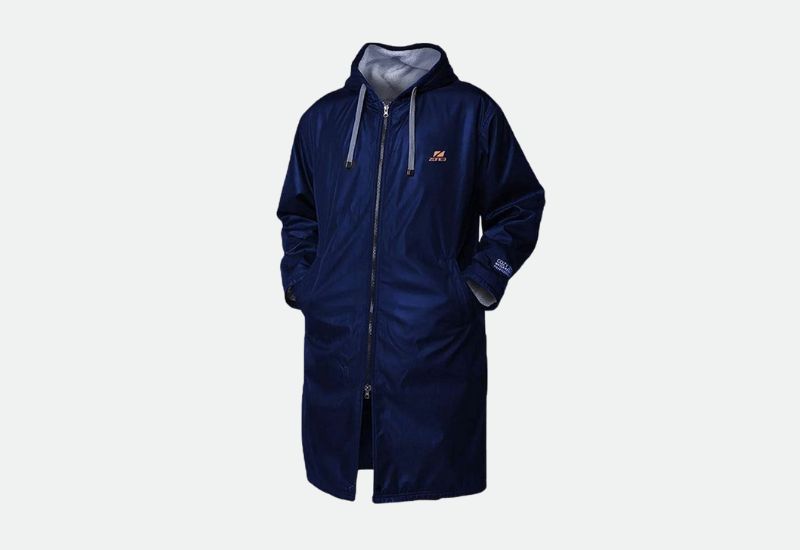 Open water swimmers and triathletes deeply understand how chilly it can get both in the water and in the moments after a long swim before they get to the warm confines of their vehicle.
While open water swimmers rely on their neoprene swim socks and cold water wetsuits to stay warm in the water, a proper swim robe can help them stay warm outside of the water, too.
The Zone3 Polar Fleece Swim Robe is the perfect option for these swimmers, with a thick polar fleece lining, three-quarter length zipper, and two huge front pockets for warming your cold fingies after a swim.
The after swimming robe is extremely comfortable, and I really liked how the moment I slipped it on after an early morning swim the warming began.
The Zone3 Polar Fleece Swim Robe is a great option for swimmers who want that extra shot of warmth when on the way to or from their swims.
Zone3 offers the robe in four unisex sizes (X-small to large) and in a navy and orange color combo.
---
Turkish Linen Ultra-Soft Swim Robe
⭐ best swim robes for kids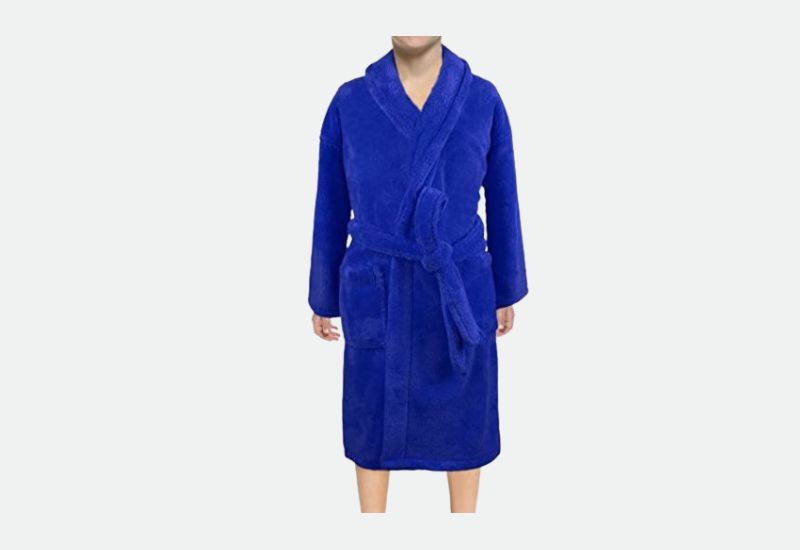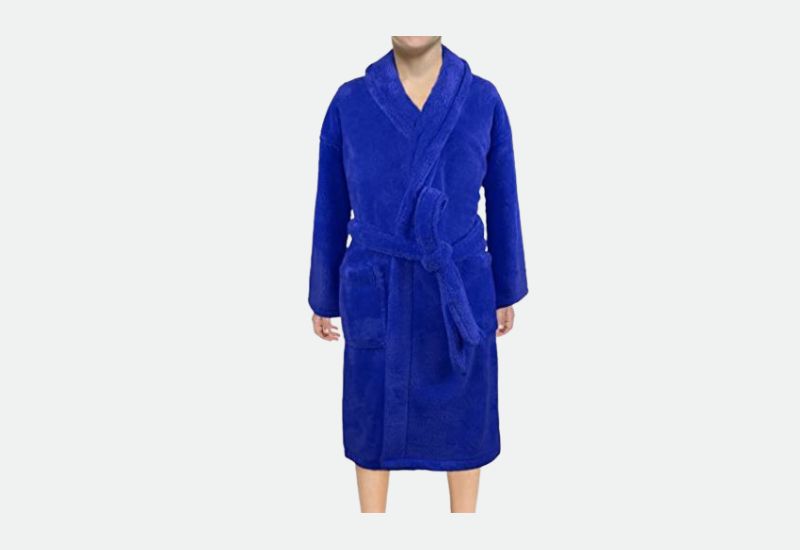 Looking for a swim robe for the enterprising young swimmer in the family? Look no further.
The Turkish Linen Ultra-Soft Swim Robes are thick, comfortable, and easy to put on a soggy little swimmer after a dip in the pool.
Turkish Linen offers them in a variety of sizes for kids and youth, from toddlers (3-5 years) all the way up to pre-teens (9-12 years) and in seven different colors.
My nephew has been sporting his blue swim robe after swim lessons and won't take it off until nearly bed-time, he finds it so comfortable.
The swim robe has a pair of pockets in the front and an extra long belt to properly secure the robe on your little swimmer.
---
Rip Curl Viral Anti-Series Swim Robe
⭐ Best swim robe for warmer swimmers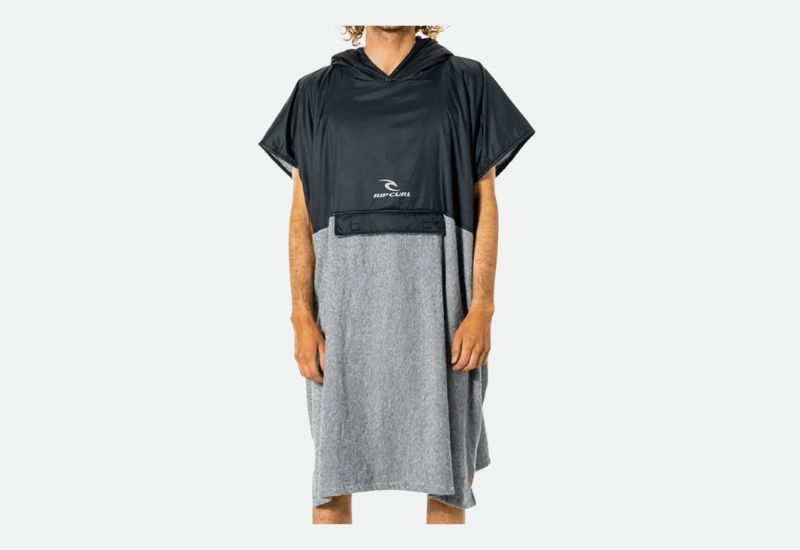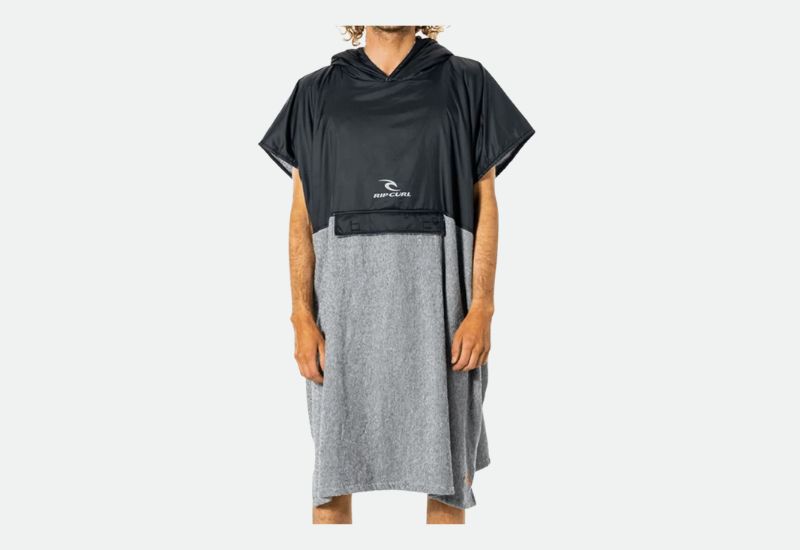 While the Rip Curl Anti-Series Robe is probably more targeted at outdoor watersports enthusiasts, the short sleeves and terrycloth make it an excellent swim robe.
Those shorter sleeves aren't for everyone (less coverage means less warmth), but they are ideal for deck changing quickly at the pool as they stay out of the way as you wiggle out of your soggy swimsuit (double wiggles in the event that you are trying to wrestle out of your tech suit).
In terms of utility, this dry robe for after swimming has you covered with a big zipped front pocket for stashing valuables and a nylon top (with hood) to keep you dry on rainy days at the pool.
I really like the interior shell on this swim robe (cotton terry), that wicks water fast and kickstarts the process of warming you up.
While it doesn't have a ton of coverage, for "warmer" swimmers who don't need to be microwaved after a chilly swim, the Rip Curl Anti-Series Swim Robe is a killer choice.
---
Swimming Robes – FAQs
What are swim robes used for?
Swim robes are the perfect accessory for swimmers and water aerobics trainees who want to stay warm before and after they get in the water.
The linings of swim robes are made of moisture-soaking terry cloth, which dries and warms you after a chilly swim.
The number of uses for swim robes are only limited by your imagination.
Swim robes can be used to provide coverage while changing out of your swimsuit (or even wetsuit) after a swim.
They are an extra layer on your way to the pool in the mornings. And they are great for making a quick getaway after being in the water—throw it on over your swimsuit and hit the road.
How are swim robes different from swim parkas?
Swim parkas are thicker and made with wool compared to the thinner design of swim robes.
They are especially used by competitive swimmers, who need to stay warm between races at swim meets or simply stay warm from the pool to their vehicle/home.
Swim robes are designed for coverage so that you can change out of a swimsuit and are typically thinner and easier to haul around compared to parkas for swimmers. However, like swim parkas, swim robes are designed help keep you warm with hoodies and water-repellant materials like terry cloth to retain body heat.
Do competitive swimmers use swim robes?
Yes and no. Swim robes are more popular with younger swimmers just getting started with swim lessons and the early years of competitive swimmers.
Swim parkas tend to be the norm in age group swimmers and beyond, mainly because swim teams will purchase branded parkas for the team with the club logo (and sometimes the swimmer's name) as part of the team's uniform.
Whether you choose a swim robe or swim parka ultimately comes down to how much warmth and the materials you want when wrapping yourself up like a burrito after a swim.
The Bottom Line
Swim robes are a must-have for people who spend a lot of time at the pool and in the water.
They help you dry off fast, keep you comfortable on the way home, and because they are so light, are easy to travel with.
To recap our top choices of the best swimming robes:
⭐The Arena Core Soft Swim Robe is our top unisex swimming robe for after swimming. Especially love the classic, no-frills design.
⭐ Speedo's Aquatic Fitness Swim Robe is the best option for women who want something that can be zipped up and provides more secure coverage when leaving the pool.
⭐ For deck changing like a pro at the pool, the Slowtide All-Day Microfiber Changing Swim Robe is perfect for quick and covered changes on the pool deck.
Choose the right swimming robe for you and get dry and toasty after your next swim!
---
More Articles and Guides Like This
Why Do Olympic Swimmers Wear Coats Before Racing? Wondering why Olympic swimmers wear coats before racing? Here are the reasons swimmers rely on swim parkas to swim fast when it matters most.