Looking for a wetsuit to help you dominate the swim? Here's a detailed look at the best women's triathlon wetsuits for fit, price, buoyancy, and more.
The wetsuit is one of the most expensive items you will buy on your journey to becoming a better triathlete.
While the wetsuit has improved a lot over the years in terms of tech, fit, and buoyancy, the function of your wetsuit has remained the same: to help you complete the swim leg of your tri race as quickly and as safely as possible.
Below is a breakdown of the best tri wetsuits for women on the market. Each wetsuit has been tested and recommended by actual open water swimmers and triathletes.
No matter what your budget, or how serious of a triathlete you fancy yourself, there is an ideal wetsuit out there for you.
Let's dive right in.
Synergy Endorphin Women's Triathlon Wetsuit
The Synergy Endorphin is an award-winning wetsuit that is ideal for beginners and experienced triathletes alike.
Made with 39 and 40-cell Yamamoto neoprene, and 5/3/2mm thickness, the Endorphin is an excellent balance of flexibility, buoyancy, and affordability (around $300).
The most recent edition of this popular wetsuit has new V-shaped paneling on the chest and abdomen of the suit to improve water flow down the front of the wetsuit, reducing drag. Additionally, the suit is 5mm in the core and chest for maximum buoyancy, while the arms are 2mm thick to promote full range of motion while swimming.
Easy-out ankle cuffs and back zipper make it easy to sail through T1, a low neck reduces chafing, and a wide range of sizes keeps the Endorphin in the conversation when it comes to the top women's triathlon wetsuit on the market.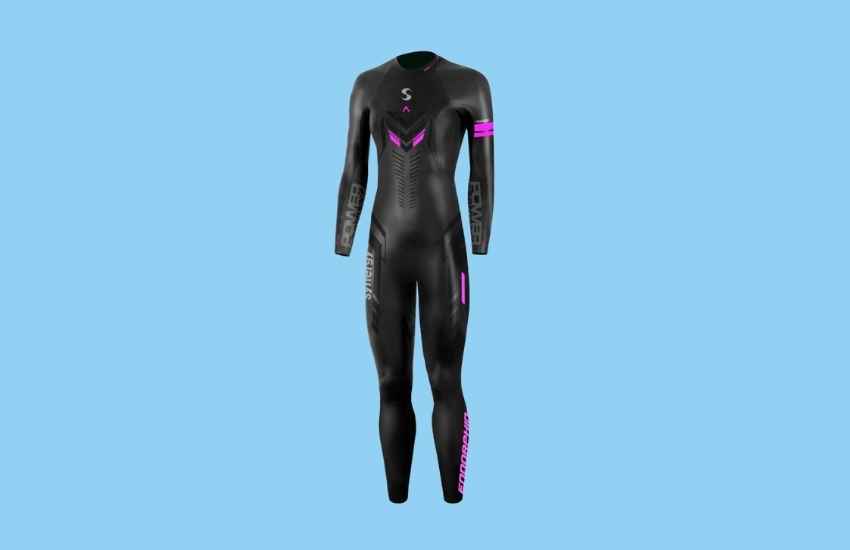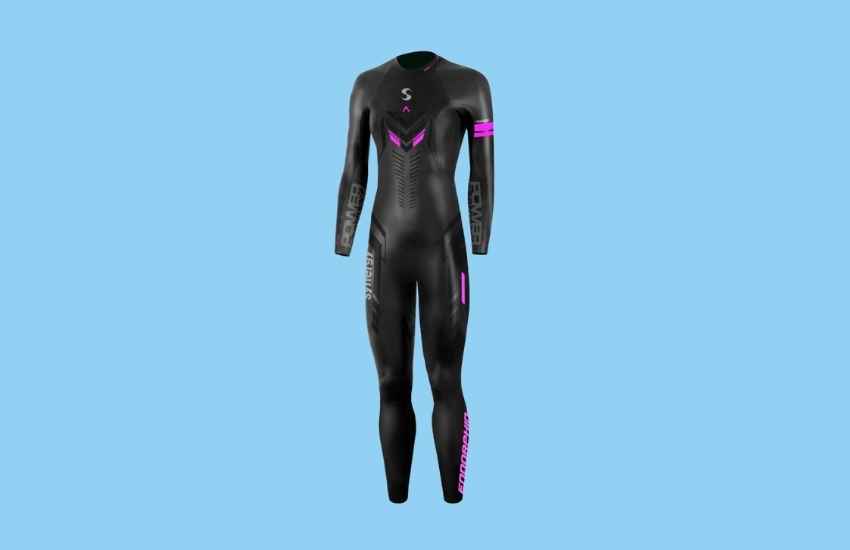 TYR Women's Hurricane Cat 5 Wetsuit
The Cat 5 is TYR premium wetsuit for triathletes, with high-end speed, flexibility, and comfort for serious open water swimming.
Key features include V-shaped panels that gives you a better feel for the water. Thin, tapered ankles that are quick-release and speed up transitions. Form-fitted wrist cuffs to keep water from seeping into the suit.
The wetsuit is built with Yamamoto neoprene rubber, with 5mm thickness through the torso for excellent buoyancy and 1.5mm thickness in the arms and shoulders to help you maintain excellent technique and range of motion with your stroke.
While not priced as affordably as the Cat 1 (reviewed below and our top pick for best budget women's tri wetsuit), the Cat 5 does pack a bunch of extra features that make it a faster wetsuit, and SwimOutlet often has this wetsuit on sale (check SwimOutlet for current pricing and special offers), making it a top choice for women who want a wetsuit that is exceptionally fast in the water.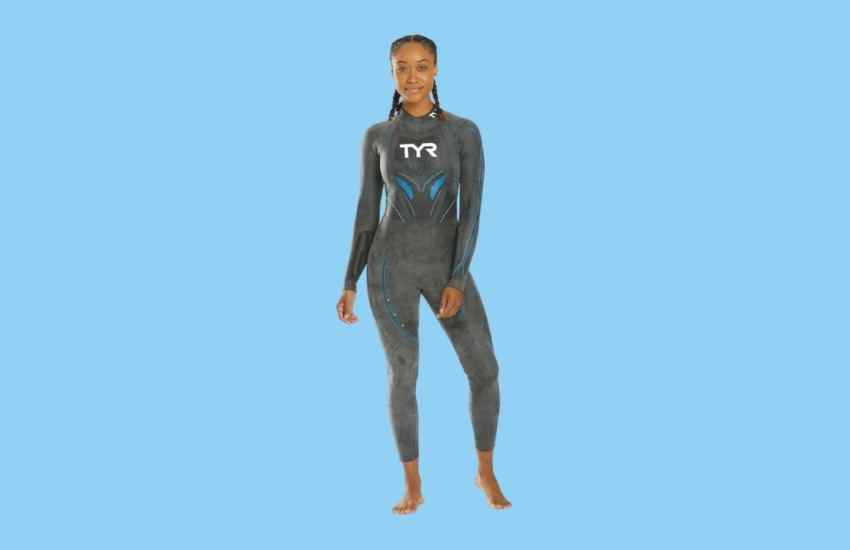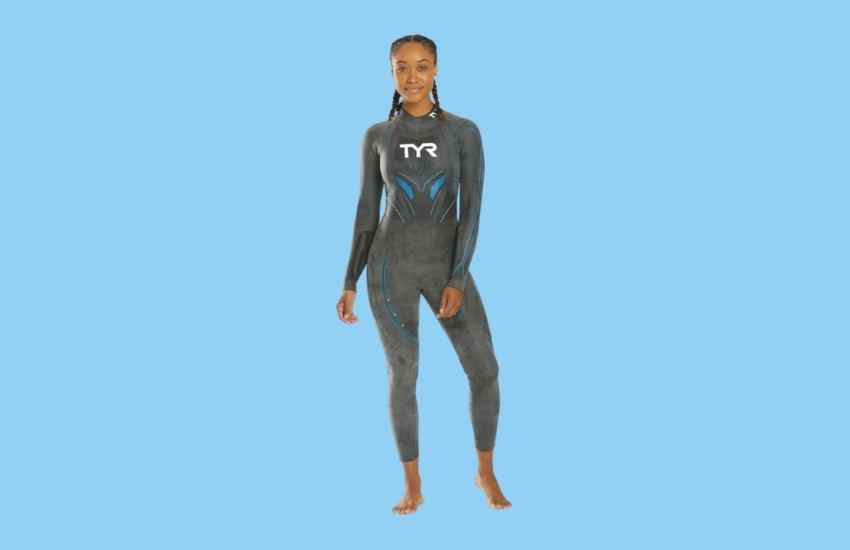 Orca Enduro 3.8 Women's Triathlon Wetsuit
Orca makes some of the best open water swimming gear on the planet. The Orca Predator and the Enduro are two of my favorite wetsuits on the market, balancing both a reasonable price tag (for what is considered a premium racing wetsuit) and tons of high-performance features.
For swimmers who want peak buoyancy in the water, it's tough to compete with the Enduro, which has an exo-cell core, which is a fancy way of saying that it has a ton of paneling around the chest and torso that help you stay on the surface of the water.
Additional paneling is strategically placed around the legs, shoulders, and even on the forearms to help you swim more efficiently.
A slick nano SCS coating reduces drag and friction in the water. The SKN lining makes the wetsuit comfortable to wear while also offering lots of flexibility for solid freedom to swim properly. And a low-profile neck means you won't get out of the water for the transition with a red, painful neck.
Orca consistently produces some of the best wetsuits for triathletes on the market. The combination of buoyancy, comfort, and high-vis markings on the arms make the Enduro a killer choice for women who want to dominate the swim leg of their next triathlon.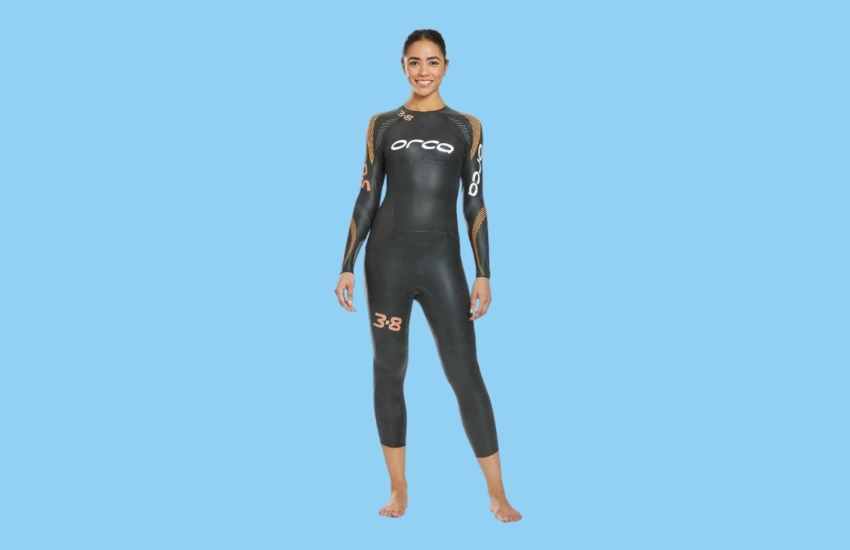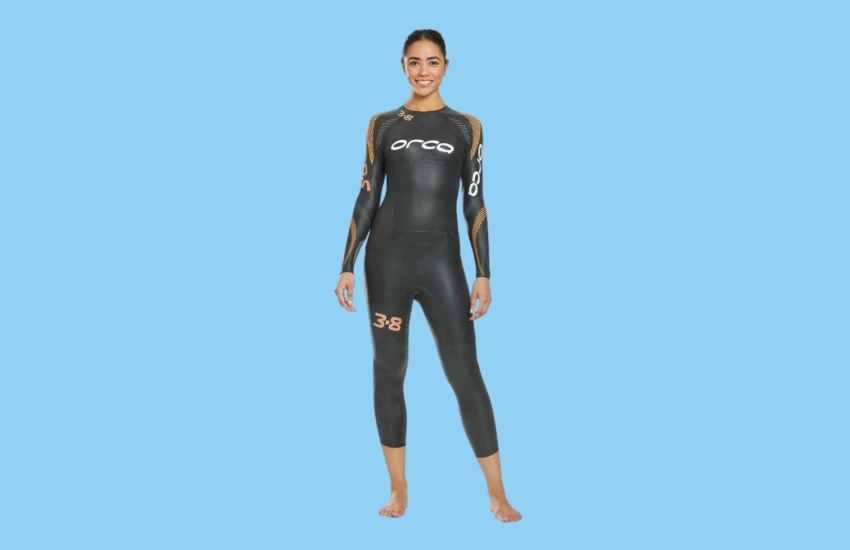 TYR Women's Hurricane Cat 1 Full Sleeve Wetsuit
⭐ Best budget women's tri wetsuit
While TYR might be better known for making gear for competitive and recreational swimmers, they have a deep roster of equipment and suits for open water swimmers and triathletes.
The TYR Hurricane Cat 1 is my favorite budget wetsuit for triathletes, and even though it's relatively low-cost, it's not lacking in features and comfort.
Made with 100% slick skin Yamamoto neoprene, the wetsuit has paneling in the legs, chest and core to provide added buoyancy to help you swim with better body position and also help you swim longer.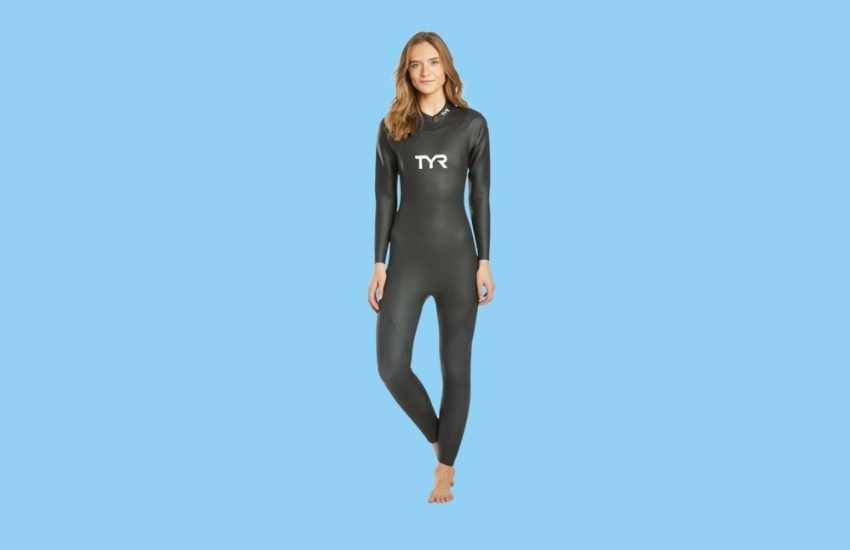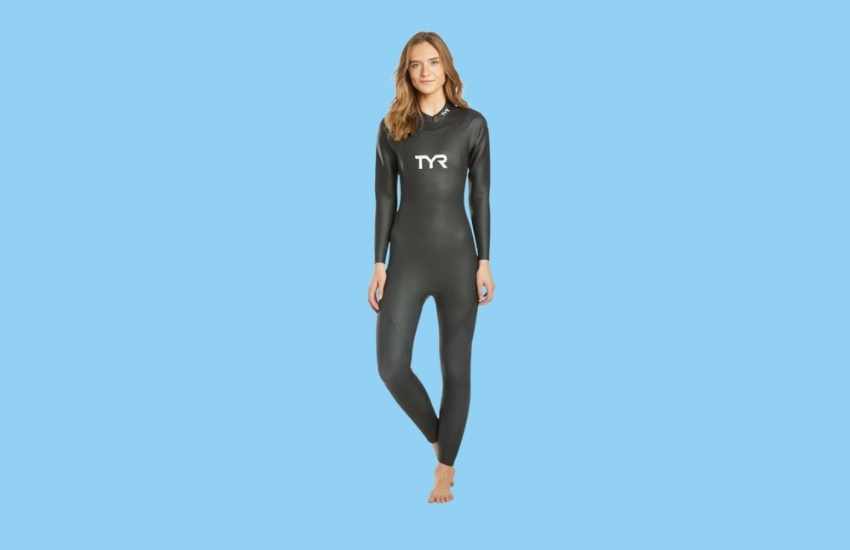 Blueseventy Helix Women's Triathlon Wetsuit
Blueseventy makes excellent gear for open water swimmers and triathletes looking to improve their swim. Blueseventy makes some of my favorite wetsuits for cold water swimming, neoprene swim socks, and thick, neoprene swimming caps for open water swimming.
While Blueseventy's stuff tends to be on the low-cost end of the pricing spectrum, the Helix is actually their premium triathlon wetsuit that is best suited for racing.
Tested and built in conjunction with world-class triathletes, including Olympic and World Champions, the Helix is built with Blueseventy's proprietary LIFT technology that helps you achieve superior body position in the water. With raised hips and better body position, you simply swim faster and for longer.
This wetsuit is fast, and with 1.5mm thickness in the shoulders you will be able to unleash the full extent of your training on race day without worrying your wetsuit cramping your technique and range of motion. The chest and torso has 5mm thick Yamamoto neoprene rubber (40-cell) that encourages maximum buoyancy.
If you are looking for a wetsuit that will help you deliver a fast swim on race day, the Blueseventy Helix is an excellent choice.