Boston College Swimming's head coach Tom Groden shares some recruiting and planning advice for prospective student athletes (PSA) looking to extend their swimming career into their college years.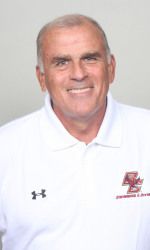 Coach Groden has been the head coach at Boston College's swim program – which has both a women and men's squad – since he started the program upon his own graduation in 1972.
Since then he has become the most successful coach of any sport at Boston College, with over 600 wins and counting under his belt. He also is in sole possession of most wins by any NCAA swim coach in history.
Last month at the ACC Championships in Greensboro, North Carolina, the Eagles placed 11th on the strength of their relay teams which all scored. At that same meet Melissa Merwin would set an ACC conference meet record in the 50 yard breaststroke, swimming 30.71 in a time trial.
What are the biggest mistakes or assumptions student-athletes make during the recruiting process?
With me – it is that it is not all about times.  We have no scholarship monies and absolutely no say on Financial Aid.  We tell PSA's that the most important part of the process is their demonstrated interest.
What surprises student-athletes most during their first year? What do you find they are least prepared for, or possibly, are most surprised to see/experience?
Often frosh get overwhelmed academically.  For most it is the first time away from home and they let that "freedom" become a distraction.
What is the most important answer you look from a student-athlete when talking to them for the first time?
Not really looking for answers – I look for questions.  I do not start the process with anyone.  All kids I speak with have come to BC.  I look for questions that indicate an interest in BC being where they spend their next four years – studying and swimming.
What are some "red flags" of prospective student-athletes?
Kids whose interest seems to be elsewhere.  To many questions about non-swim/non-academic info like Boston, Junior Year abroad, social life, football, etc.  Example Jr Yr Abroad.  I have five kids this year that went abroad – all five chose programs that did not conflict with the swim season.  Four went to New Zealand/Australia since it does not start until March and one chose an Italian semester that also did not start until March.
What makes your program and team culture unique from other swim teams?
I don't like to think of it as a unique culture.  All programs have requirements and commitments that vary.  We run our program as we see fit.  I answer all questions to let the interested PSA evaluate what we do – so they can see if it is what they wish to do.
What does your school offer that is unique or special from other institutions?
Boston College is a great school where you can get a great education in a safe setting with Boston available to you.
Unique/different about our program:
1. Five swim workouts a week (out of ten offered so Academics work with swimming)
2. Sunday night practice held in conjunction with a meeting.
3. Wednesdays and Saturdays off
4.  Key word in the Off-Season is Off.  No practices after ACC's or during the summer.
5. Kids stay with the program – by choice.  No scholarships so they return in the fall because they want to continue to swim for Boston College.
6. Kids improve as much here as they do anywhere.  We broke over forty school records the last two seasons.
Outside of swimming and academic performance, what most impresses you about a new recruit?
That he or she came prepared.  I have a very complete and comprehensive website.  When that high school junior or senior visits and has an excellent list of questions – prepared to ask – that impresses me.
What is the best piece of advice you could give for someone about to go through the recruiting process?
I tell this to kids all the time.  The Recruiting Process is for you – not for the coach or the school.  Keep yourself as the key and understand that your swimming ability is a talent you possess and use it to help you find the right school for you where that talent helps you get admitted.  Eighty-five percent of the kids on my teams would not be students at BC if they weren't swimmers/divers.  Despite that they are better students than the average BC student (by comparing the team GPA to the University's GPA.  They understand this and strive to succeed academically along with athletically.