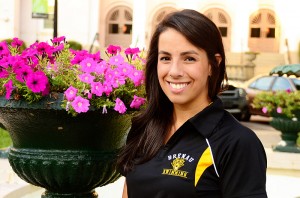 Blaire Bachman, head coach at Brenau University's Swimming & Diving program drops by to share some insight and tips on taking your swimming to the collegiate level.
Brenau University's program competes in the NAIA, where this past month they placed 4th nationally, while Bachman also shared NAIA's Women's Coach of the Year award. The Golden Tigers fourth place is noted for being the best in program history.
Founded in 1878, Brenau University is located in Gainesville, Georgia. The school has an enrollment of just under 3,000 students and has been recognized by The Princeton Review, US News & World Report and Chronicle of Higher Education .
What are the biggest mistakes or assumptions student-athletes make during the recruiting process? 
A potential assumption that a student-athlete may make is that their decision will be easy, but there are many colleges and universities that could be a great fit both academically and athletically; they just have to do some research and decide what's best for them. These days, coaches are seeing more parent involvement in recruiting, and a mistake that could be made is if the student-athlete doesn't get involved in the process. This is the time when a student-athlete gets to ask the coach the tough questions and investigate if this is the program to carry out their collegiate aspirations.
What surprises student-athletes most during their first year? What do you find they are least prepared for, or possibly, are most surprised to see/experience?
The first year is a complete shift in lifestyle and a test of independence, as a student-athlete is longer being taken care of by their parents. What I've seen student-athletes struggle with most is time management, as they are used to parents telling them when and where to go at what time. I believe what surprises them most is how busy they become with academic and athletic commitments.
What are some non-swimming and non-academic questions that you ask athletes during the recruiting process? 
I enjoy getting to know the individual, not just the swimmer. Questions like what do you do for fun outside of swimming, asking them about an experience or challenge in life they've had to overcome and how it has helped them develop character, and then also asking where they see themselves in 10 years from now and what would they like to accomplish.
What is the most important answer you look from a student-athlete when talking to them for the first time?
What I look for is an outgoing individual that gives more than one word answers, and can communicate to me the reason they are looking at the university and also, what their goals are for the next four years. I'm a big believer in goals. 
What are some "red flags" of prospective student-athletes?
A red flag would be if a student-athlete doesn't put as much emphasis and importance on academics when making a decision about a college/university. Ultimately, they are looking to attend school to receive a degree and it is important that they are driven in both respects, to achieve high academic success and athletic achievement.
What does your school offer that is unique or special from other institutions? What makes your program and team culture unique from other swim teams?
Brenau University is member of the NAIA (National Association of Intercollegiate Athletics) and is fortunate to be able to offer student-athletes the degrees of larger universities, but with a smaller and more individualized academic atmosphere. The same goes for our team, we have had the opportunity give athletes from around the world a platform to grow and develop their talents to become the best in the NAIA, while receiving individualized attention from coaches and staff.
Being a women's college & program is unique in itself and one we take pride in that! Our team is much like a family, leaning on each other for support and encouragement in achieving individual and team goals. 
Outside of swimming and academic performance, what most impresses you about a new recruit?
What impresses me most is maturity, it is a personality trait that takes life experiences to gain, and if an athlete already possesses that, then she/he will be able to handle the commitment to becoming a collegiate athlete more easily.
What is the best piece of advice you could give for someone about to go through the recruiting process?
Best advice would be to enjoy the process, get involved, ask questions and ultimately follow your heart when it comes time to make a decision!