Now this is cool.
In this video that was posted originally on the International Swimming Hall of Fame's YouTube channel, we get a behind the scenes look at the Santa Clara Swim Club, along with George Haines, as they prepare for a championship meet.
The video was produced in 1967, and appropriately titled, "Championship Swimming: Preparing for Competition" we watch legendary coach Haines work with his swimmers in the lead up to a meet.
For current swimmers a lot of the preparation remains very similar:
A drop of volume and sessions in the weeks leading up to the meet.
Doing broken swims.
Focusing on starts and turns.
More high intensity work.
The video includes a teenage Mark Spitz, in high school at the time, training under the tutelage of Haines long before his exploits in Munich in 1972.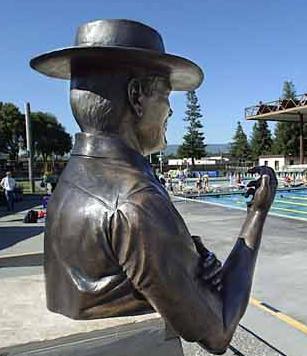 Haines is a certified legend in the sport, and helmed the Santa Clara program for the first 23 years of its existence from 1950 when he founded it, to 1973 before moving on to UCLA and later Stanford.
But it was his time in Santa Clara for which he will be remembered most. He sent 7 of his own swimmers to the 1960 Olympics in Tokyo (where he would also coach the US team), including Don Schollander, who won 4 gold medals and broke 3 world records.
In all while at SCSC he would send 26 swimmers to the Olympics. Today you can find a bronze statue of the famed coach next to the pool at the Santa Clara Swim Center.
Here is the video, enjoy, and if you like it, feel free to share!