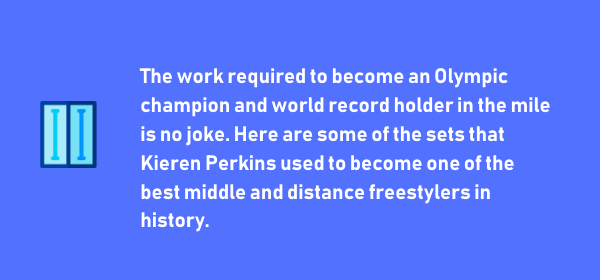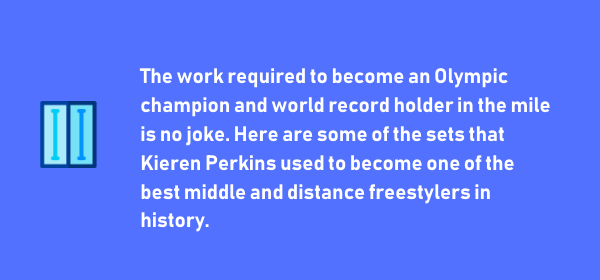 When you think of epic Australian milers, the name Grant Hackett would probably bubble up first.
Which would be fair.
But the man he succeeded, Kieren Perkins, was an absolute legend in his own right.
During the summer of 1994, Kieren Perkins would break world records in the 400, 800 and 1500-meter freestyles, the latter two  in the same race. He won back to back Olympic gold medals in the 1500m freestyle in 1992 and 1996, and followed that up with a silver medal at the 2000 Sydney Olympics behind Hackett.
The Training of an Olympic Champion Miler
Perkins didn't really look like a distance swimmer. He kicked hard. He raced hard. He went out fast and kept going. He made the mile look like one long, controlled sprint, creating the blueprint for the next generation of distance swimmers.
In the January-March 1998 issue of Swimming Technique, Ron Johnson reported on some of the work that Kieren Perkins and his coach John Carew did. The five swim workouts below were shown to Johnson by one of Perkins's training mates, Marcos Vecolini. The workouts were pulled directly from the pages of his logbook.
When you see the workouts, it might fly in the face of your expectation of what a distance practice should look like. After all, the instinct when training distance is to do lots and lots and lots of swimming.
But while Perkins put in a decent amount of meters per week (60-70k), there was rarely any over-distance swimming.
Instead, the focus was similar to how Bob Bowman and Michael Phelps prepared for the 200m butterfly—shorter reps, speed, and perhaps more rest than you would expect.
The main sets that Perkins and his training mates would do were rarely over 3,000m.
Here are some of his "typical" sets that he would do over the course of a week:
Set 1
On Monday morning would be a descending ladder set:
3x
400 @ 6:00 (avg 4:05)
300 @ 4:30 (avg 3:02)
200 @ 3:00 (avg 2:00)
100 @ 1:30 (avg :57-:58)
Set 2
On Tuesdays it was all about speed:
30×50 @ 1:30-2:00 (avg :26-:27)
Set 3
Wednesday morning would feature a threshold set that many of us have likely done at some point during the season. The set was to be done with the expectation that Perkins's heart rate would not exceed 150 bpm.
30×100 freestyle
First 10 @ 2:00, Last 20 @ 1:40 (Perkins would hold :56-:57 per rep.)
Set 4
On Thursday mornings, they would do a sped-up broken 1500 in the short course pool:
6x
Everything was to be done at top speed.
Set 5
On Friday morning, another ladder set:
6x
200 @ 3:00 (avg 1:58-2:00)
150 @ 2:15 (avg 1:28)
100 @ 1:30 (avg :57-:58)
50 @ :45 (avg :27)
There was plenty of "easy" recovery swimming between the fast workouts (10×200 @ 2:30, avg 2:18-2:20, for example). Recovery was also extended to the weekend, with both Saturday and Sunday being days off.
Perkins trained at a fast pace.
There was rarely over-distance work.
The goal was to swim at or under race pace as much as possible. The 100s weren't done at 1500 pace—they were generally performed 1-2 seconds faster than his mile pace.
Every couple of weeks they would do a 1,500m at around 80% effort, and the longest unbroken swim done was a 2,000m that Vecolini said they "played through."
They trained fast to perform fast.
More Stuff Like This:
Gregg Troy's Favorite Distance Sets. One of the elite swim coaches on the planet, University of Florida coach Gregg Troy stops by with his favorite distance set.
5 Lessons in Mental Toughness from Kieren Perkins. You don't become an Olympic champion and world record holder in one of the toughest events in the sport without having some serious mental fortitude.
Image Credit: PA Images / Alamy Stock Photo