Want to help your swimmers take it to the next level this season? Here are 5 ways YourSwimBook will help them swim faster than ever before.
As a coach you put in a lot of work trying to help your swimmers prepare.
From teaching the fundamentals of technique, planning out a season's worth of training, to coaching them through tough sets that are designed to push them beyond their perceived limits the job of a coach can seem never-ending.
At the end of the day it's all about helping them get to be the best swimmers they can be.
But I know how frustrating it can be having swimmers who…
Put in the work but are unable to show up at meet-time when it matters most.
Absolutely destroy a few workouts in a row before disappearing off the face of the earth for a week or so before reappearing and having to start back up from scratch (again).
Give up routinely the moment that adversity or difficult circumstances present themselves.
Believe that things like mental toughness or resilience is not for them or something they can't learn or develop on their own.
Have big goals in the water but not the work ethic to go with it.
As a coach you know how much of an impact getting that extra 5, 10, even 25% out of individual swimmers could make to their swimming and to the team.
That's where YourSwimBook comes in.
It's a 10-month log book + mental training guide that is designed specifically to help competitive swimmers make the most of their time in the water.
It can be your secret weapon to better, faster swimming.
Used by teams such as Auburn University, Crimson Aquatics, Nation's Capital Swim Club, Oakville Aquatics, and many others, YourSwimBook can help your swimmers set better goals, be more consistent in training, get mentally tougher, and a whole lot more.


After all, it will…
1. Teach your swimmers accountability.
As a coach you know you can only do so much to teach an athlete to be accountable.
There will come a point where they have to take the reins.
Where they have to assume ownership of their swimming.
Especially in the midst of really hard training when swimmers maybe aren't swimming as fast as they feel they should.
Or during a hard practice when they are teetering on failing on the interval.
Or when they are close to slipping into another bender of missed workouts.
Logging workouts gives swimmers a feedback tool that allows them to take ownership of their swimming.
It gives them an outlet to evaluate their training, a way to measure and rank their training based on effort, and also provides a platform for setting mini-goals during their training ("Tomorrow I am going to do 4 UDK off each wall!") that further instills accountability and ownership.
You know that an accountable swimmer is more likely to show up, more likely to be intrinsically motivated, and more likely to "buy-in" to the program.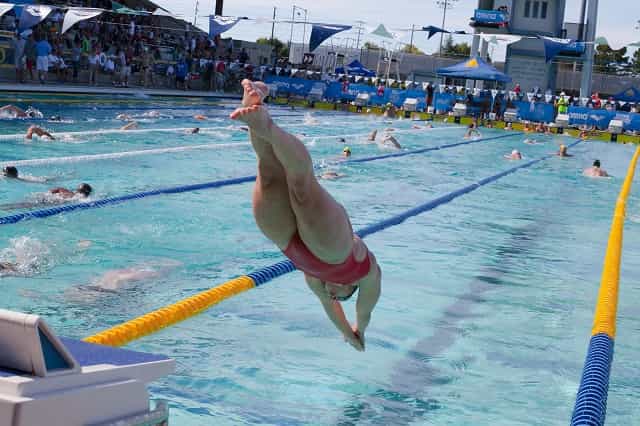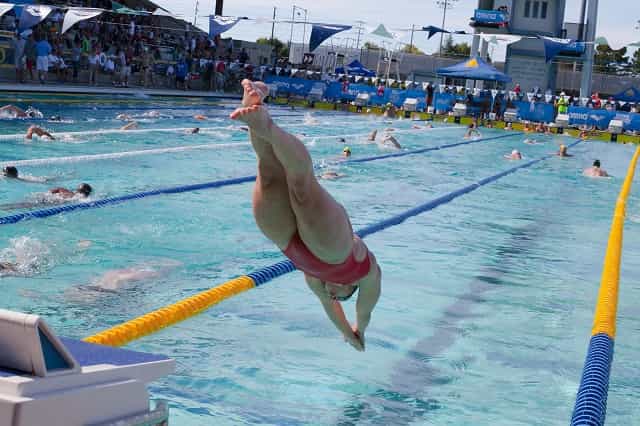 2. It's what the greats do.
It's easy to get dazzled by the latest and greatest when it comes to workout hacks and tools.
Logging your workouts has stood the test of your time as a tool for swimmers young and old to get more from their training.
For instance…
Olympic gold medalist and distance powerhouse Janet Evans kept a detailed log of her legendary distance workouts over the years.
Katie Ledecky used her log book as home base for her workouts, her goals, and even as a place to list what she was grateful for. Her age group coach credited the log book as being one of the big reasons they were able to better communicate in the lead up to her gold medal winning performance in London.
Caeleb Dressel, the fastest man to ever swim the 50 and 100-yard freestyle, uses his logbook to help explain bad practices while also using it as a powerful and detailed feedback loop for how his body feels moving through the water.
3. It comes with a mental training skills guide specifically for swimmers.
One of my old coaches used to say that swimming is 50% physical and 100% mental.
Even though I doubted his math skills, there is some very real truth to that statement.
More often than not it isn't the swimmer who put in more miles that ends up taking the gold or crushing their best time, it's the athlete who has mastered the mental side of the sport.
Whether this means using visualization to mentally rehearse, or set goals that are realistic and still ambitious, or employing various relaxation strategies in order to manage their arousal levels, high performance athletes understand that being mentally ready to rock and roll is just as important as the work done in the pool.
That's where the "Dominate the Pool" eBook—a free companion piece to YourSwimBook—comes in handy.
Here is just some of the ground that your swimmers will cover with this jam-packed mental skills training guide: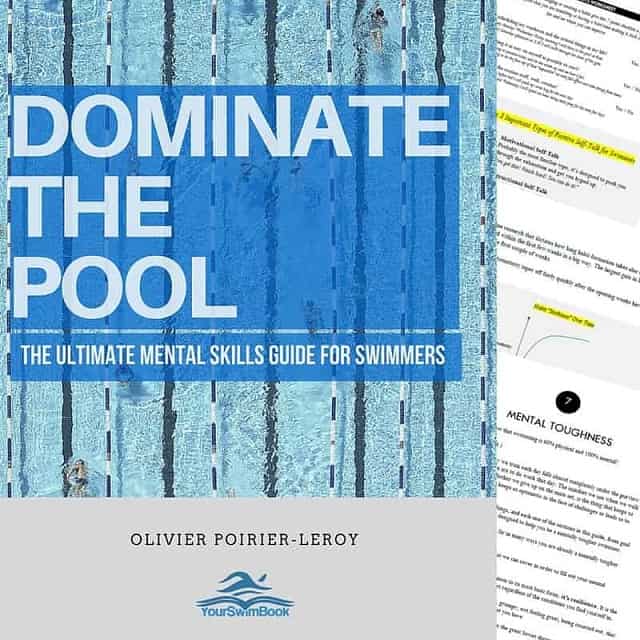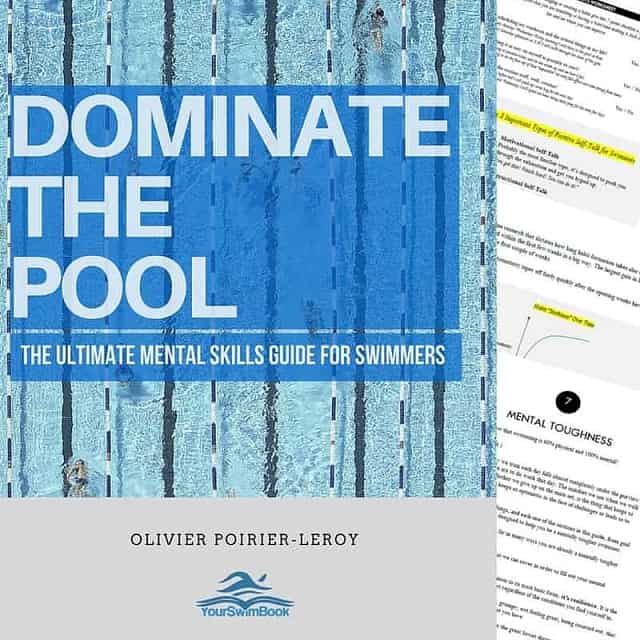 How this two-minute exercise, done nightly, can dramatically improve mood, cut stress, and even help you sleep better (particularly helpful during big meets).
The proven way to set goals that will double the likelihood that they will achieve them (plus the science to back it up).
How to become a process-based swimmer (and why it is so crucial to their success).
Over a dozen strategies to help swimmers master the one recovery tool that they are slacking on—getting better sleep!
And a whole chlorinated heap more.
(Fun Fact: We can also add your club logo to the cover of the eBook at no additional charge with team orders.)
4. It's the only log book out there made for elite swimming.
There are no shortage of apps out there for logging your workouts.
YourSwimBook is an old school, paper-backed book.
And there is a reason for this…
Writing out your workouts is simply more effective.
The book contains everything you need to set and plan your goals, track your best times, set goals, track results and comment and plan each competition (up to nine over the year), as well as weekly evaluations that you can fill out with your coach to make sure that the swimmer is headed in the right direction.
You can track up to 10-months of two-a-days, meaning that you will run out of pool space before you run out of space in this logbook.
5. Self-monitoring works. Simple as that.
Research has shown over and over again that self-monitoring, whether it is journaling, logging meals, or writing out workouts, makes a significant impact on performance.
Which makes sense, if you want to change something, if you want to improve something, whether it is your effort, attendance, or attitude you start by measuring it.
By writing out their swim practices swimmers become more aware and more conscious of their performance.
Self-monitoring is especially powerful with impulse behaviors, things where the athlete might not even really be thinking about what they are doing…
Things like giving up during a main set, not showing up to a morning workout, or having their technique disintegrate mid-workout.
The awareness and the accountability (there is that word again!) that comes with knowing the swimmer will have to write out their workout is often enough to salvage a bad practice.
The Next Step
If you want to help your swimmers take their swimming and performance to the next level quickly fill out the form below and I will put together a custom estimate for you and your team.
Team order discounts start at 20% off of retail price, and with orders of 50+ we can throw your club logo on the cover for no additional charge.
To learn more about YourSwimBook and the "Dominate the Pool" eBook click here.
I look forward to the opportunity to help your swimmers swim even faster this season.