The Arena Carbon Pro is the most compressive of the Carbon jammer suits. If it's raw, unbridled power you need, the Carbon Pro is your suit.
I'll say it right off the red top: This suit is the best of the Carbon series. If you are a freestyler, backstroker, butterflyer, and a sprinter.
As a sprint freestyler who wants nothing to do with swimming breaststroke or doing long bouts of straight swimming in competition, this is my go-to jammer for racing.
While the Arena Carbon suits all look the same, it's surprising how much they differ in function and form.
(Are you a breaststroker, or do lots of individual medley events? I'd suggest you try the Arena Carbon Flex jammer instead. Similarly, if you are a mid-distance to distance swimmer, you are better off with the Carbon Air jammer.)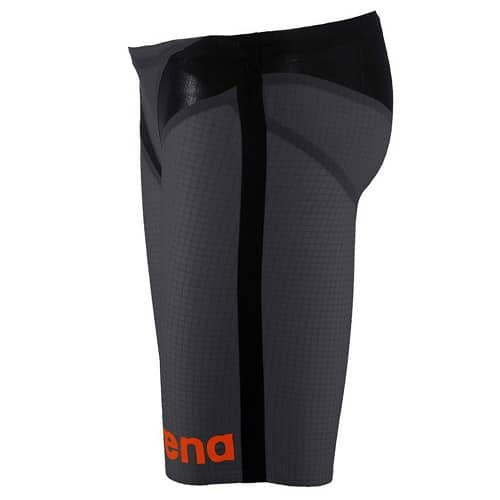 Why is the Arena Carbon Pro ideal for sprinters?
Simple: This jammer is one of the most compressive suits I've ever worn.
Go too small and you will find that your lateral movement is almost completely gone. So these suits, while awesome for freestyle and backstroke, do cause a little bit of restriction when worn.
Extended wear in the Pro isn't really recommended; while the high compression will keep your body position tight and high, and will make your kick feel somewhat effortless, it does make it a little harder on and off the walls.
For raw sprinting power, the Pro is your best call of the Arena Carbon jammer series.
The Details: Arena Carbon Pro
This suit is made of 52% polyamide, 47% elastane, and 1% carbon fiber. Which, unless you are a space scientist, means nothing. The key word in all of that is elastane, which is an elastic polyurethane (which should sound familiar if you remember the drunken record breaking spree of the rubber suits from the late 2000's).
The problem with elastane is that it is not a fan of chlorine. They dislike each other so much they blocked each other on Facebook.
(Before you lose your chlorinated mind, remember this—every one of these jammers and tech suits are made with some form of this kind of Spandex, which degrades with repeated exposure to chlorine, and basically any kind of solvent, including shampoos and soaps. So yeah, don't wash your expensive suit in the shower with the pool soap.)
The Carbon Pro is the "stiffest" of the three suits, so when buying, I found that going a size up from my usual waist size insured a good fit.
How long will my Arena Carbon Pro last me?
This is the million dollar question—or rather, the $300+ question—that swimmers and swim parents are faced with when it comes to these kinds of racing suits. How much use can you expect to get out of your investment.
The answer: It totally depends on you. If you wear it to swim practice, throw it in the dryer after use, and never rinse it out, then you will be going through one of these every few days.
But if you are careful to use the silicone grips on the inside of the suit to gently pull the suit on and off, you rinse it with cold water after each use, and don't warm up in it and just use it for racing, than it can last you quite a while.
I'm going on 4 competitions of just wearing it for finals and it's still not see through. So, giddyup!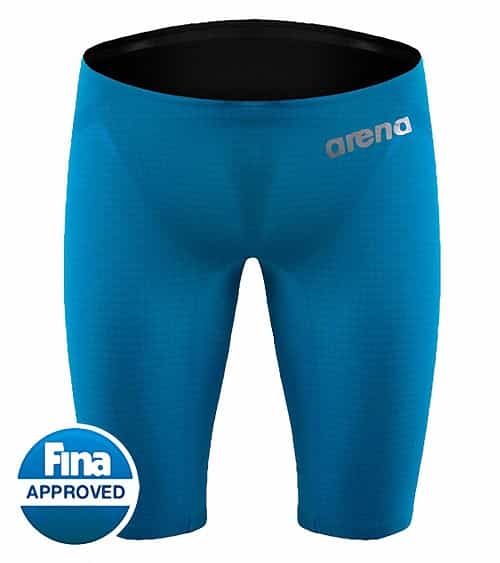 ---
More Stuff Like This:
9 Best Tech Suits for Swimmers. Looking for the latest and fastest tech suits on the market? Here's a detailed look at the top racing suits on the market for every kind of swimmer.
Jammer Reviews: The Top 5 Best Jammers for Swimmers. We break down the top five most popular jammers from function, price and of course, style! Look good, swim good!
Swim Gear Review: Speedo LZR Racer X Jammer. The Speedo LZR Racer X is the most popular jammer for competitive swimmers. Here's what you need to know about the Speedo LZR Racer X jammer.