Gear up for the water with our hand-picked collection of the best snorkeling sets for adults and kids.
One of the best ways to level up your vacation when you are at the beach is strapping on a pair of snorkeling fins and a snorkel set and exploring the waters. Whether it is the beach down the road or halfway across the globe, snorkeling is a fun activity that anyone can enjoy.
While you can always rent snorkeling gear, especially when you are traveling, it's always best to have your own kit. Having your own snorkel mask and snorkel means you know they will fit, the set is tailored to your face, and it's best suited to your needs in the water.
While purchasing the mask, snorkel, and fins separately is an option, there are also plenty of snorkel sets that give you everything you need in one package, and usually at significant savings compared to purchasing them individually.
Below are some of my favorites for every kind of snorkeler, from adult to child.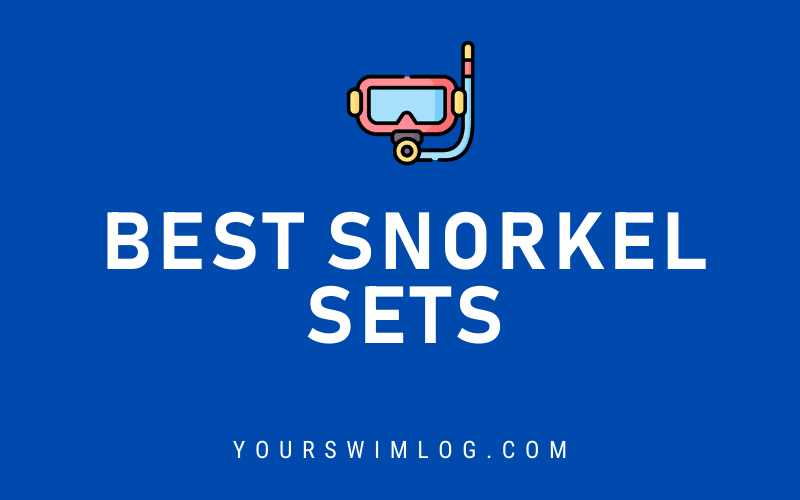 Cressi Palau Snorkel Set
Best overall snorkeling set
If you are looking for a complete snorkel set, Cressi, one of the industry leaders in scuba and snorkel gear, has a fins, mask, and snorkel set for you. The snorkel itself has an anti-splash exit that keeps water out when you go below the surface of the water. The soft silicone skirt sits comfortably on your face, giving you a secure and leak-free snorkel experience.
Included are short-bladed fins that have adjustable heels and are ideal for snorkeling around in the water. Cressi bundles the full batch of gear with a mesh bag that makes traveling and hauling your snorkel set painless. Available in seven different colors.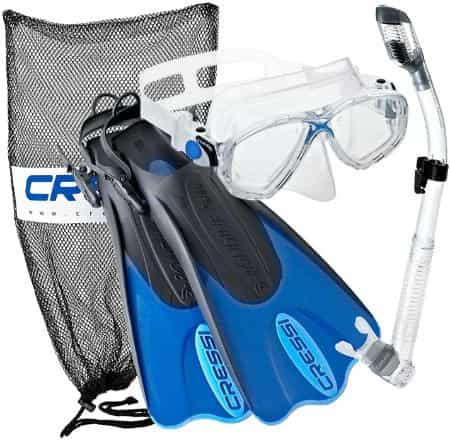 ---
Seavenger Aviator Snorkeling Set
Available in sizes suitable for children and adults, the Seavenger Aviator Snorkel Set includes everything you need to get snorkelin' in the water. The snorkel has a purge valve and splash guard at the top to keep water out when you submerged. The fins, with 16" short blades, are perfect for traveling and storing in small spaces, while also helping you zoom along in the water.
The snorkel mask, which is made of tempered glass (unlike polycarbonate as is usually the case with snorkel masks), is resistant to scratches from sand and better-suited for deeper diving. The Seavenger Aviator Snorkel Set comes with a mesh gear bag for easy storage and the kit comes in over a dozen colors, from pink to orange to black, ensuring that you can snorkel in style.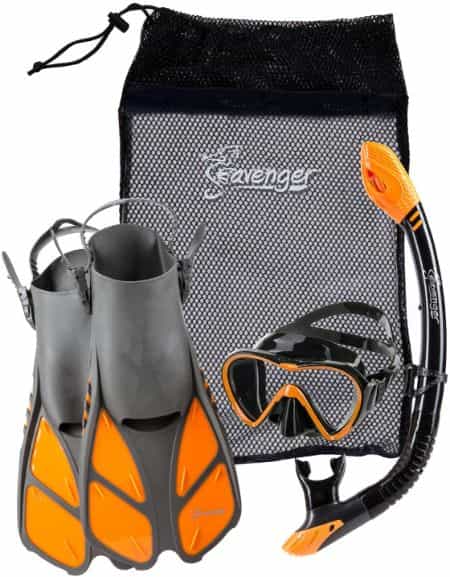 ---
Cozia Snorkeling Set
Best snorkel set with full face mask
Cozia makes a snorkel set for aquatic adventurists who want a full-face scuba mask.
Coated with an anti-fog layer that minimizes the fog that happens when you breathe on the mask (and get warmer in the water), the Cozia mask and snorkel combo is ideal for those who don't like having their nose plugged when snorkeling. The exceptional field of vision provided by the mask takes your snorkeling to another level.
Water will leak into the mask a little bit—this is normal, the manufacturer stresses. To expunge the water, just blow air out and the water will leave via the snorkel. The fins are short blade, with an adjustable heel strap that can be buckled and changed with easy-click snaps on the side of the heels. The flippers can be adjusted to adjust snorkelers with size 7.5 to 12.
Available in four different colors, the Cozia Snorkel Set is awesome for those new to snorkeling and are apprehensive about using traditional snorkel masks and snorkels.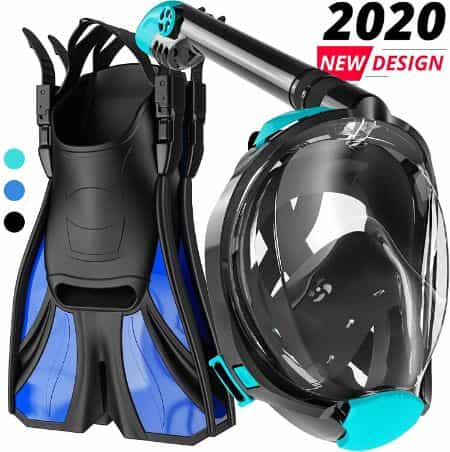 ---
Phantom Aquatics Snorkel Set with Carry Bag
Best snorkel set with long blade fins
Phantom Aquatics makes snorkeling gear for those who prefer to use fins with long blades in the water.
Included in the snorkel set is a scuba mask with tempered glass. The mask provides exceptional peripheral views, meaning you won't miss a thing when under the water. The soft silicone skirt sits comfortably on the face and provides a leak free swimming experience. A low-profile snorkel with an angled top and purge chamber can be easily angled to suit your face.
The long-blade fins have a greater surface area than typical swim fins, helping to propel you further and faster in the water (the long blade fins will tire you out quicker than the short blade fins, however). The foot pocket for the fins is made of soft rubber (consider wearing water socks if you are going to be in the water for long periods of time, as fins will eventually blister and chafe your feet), the heel is adjustable, and the Phantom Aquatics Snorkel Set comes with an easy drawstring-close mesh bag for packing away your gear at the end of a successful day of snorkeling.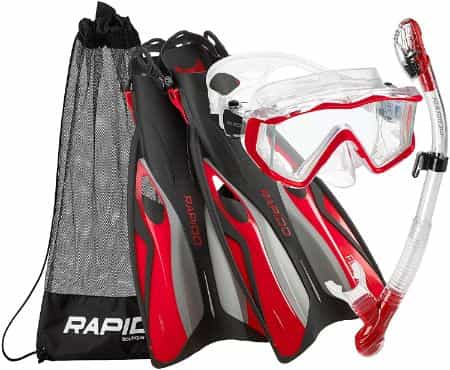 ---
U.S. Divers Lux Snorkel Set
Best snorkel set for GoPro enthusiasts
U.S. Divers makes industry-leading scuba and snorkeling gear, and while they are perhaps better known for making equipment for more experienced divers, they also make exceptional stuff for the beginner and novice water enthusiasts.
The U.S. Divers Lux Snorkel Set has everything you need to conquer the water. The mask is made of strong tempered glass that is scratch-resistant and coated with a layer of anti-fog to keep your vision crystal-clear. The snorkel has a removable mouth-piece for easy cleaning and a patented purge valve that keeps water out. Perhaps the coolest feature of this snorkel is the clip at the bottom with which we can attach your GoPro.
Mid-length fins, with soft rubber heels and adjustable heel strap, help you power through the water. U.S. Divers rounds out their snorkel set with a durable nylon gear bag that you can store the snorkel set, GoPro, and other gear. Available in four different colors and in two different adult sizes.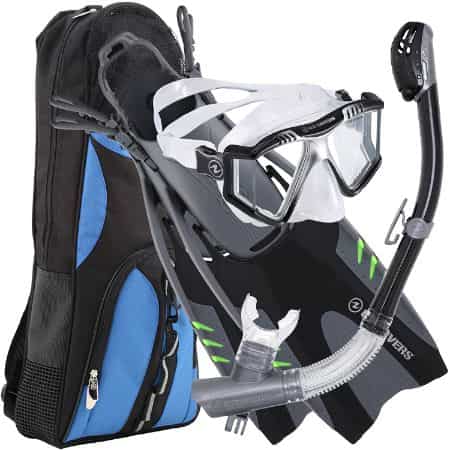 ---
U.S. Divers Dorado Junior Snorkel Set
Best snorkel set for juniors
Made specifically for junior snorkelers, U.S. Divers' second entry on our list of the best snorkeling sets is a bright, durable, and comfortable set of snorkeling gear. The mouthpiece is made of soft silicone, staying in place while exploring the water.
Adjustable, rubber-heeled fins are easy to put on and will help motor your child around the water. Energy-efficient fins an adjustable face mask, and a lightweight, quick-drying gear bag rounds out the snorkel set.
Available in three different sizes and three different bright and bold color patterns, the U.S. Divers Dorado Junior Snorkel set comes with everything you need to get snorkelin'.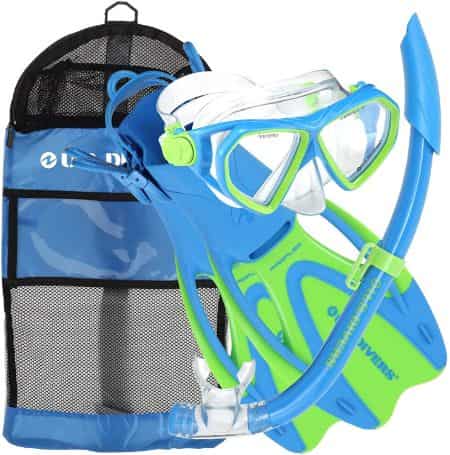 ---
Mares Head Kids Snorkeling Set
Best snorkel set for children
For the youngest swimmers who want a snorkeling set that is more playful, Mares makes an excellent set of snorkeling gear.
Made with bright, playful colors and patterns, the set includes a snorkel, snorkel mask, Head branded fins, and a themed carry bag. The snorkel has a quick purge valve and a dry top design to make sure what doesn't go back down the tube. The soft silicone skirt on the mask means your kiddo can wear it for hours of fun comfortably.
And with junior/youth sizing, and nine different carry bag styles, from turtle to clown fish, your child will have everything they need to hit the water with confidence.