Here's a breakdown of how the swimskin can help you race faster, and our favorite swimskins for rocking out on race day.
Over the last decade a new, smaller version of the traditional triathlete's wet-suit has made an appearance in the water: the swimskin.
The swimskin features a smaller cut, is recommended for warmer water swims, for races where wet-suits and their little bro, neoprene buoyant swim shorts, aren't permitted, and doesn't provide the same buoyancy.
They are, however, compressive, hydrodynamic, and fast.
Do swimskins actually help make you faster?
In the same way that high-grade racing suits for competitive swimmers help them reduce friction and use compression to boost performance, swimskins help keep your body more horizontal in the water while reducing surface and form drag. Research into tech suits for swimmers has found that racing suits tend to also increase distance per stroke [1].
So, how much difference do the compression and slick materials actually make?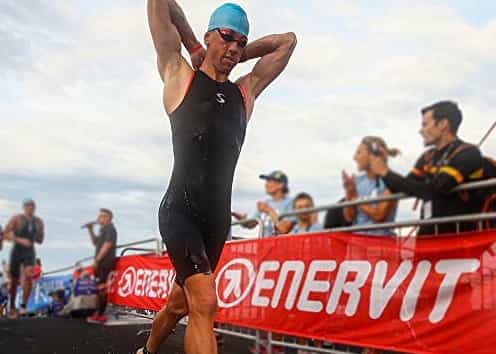 According to Roka [2], a popular triathlon equipment manufacturer, they found that when swimming with a Viper X (their swimskin), performance improved by between 2 to 6 seconds per 100m compared to wearing a jammer or regular training suit.
These improvements are in line with the claims that swimwear companies like Speedo make about their racing suits (16% reduction in passive drag, for example, compared to wearing a regular training suit).
Extrapolating this difference over a 1,000m swim would make for :20 to :60 difference, which is obviously substantial.
While swimskins can be work in any water temperature, wet-suits are not allowed when the water is 84 degrees or higher, making swimskins an excellent option for warmer water races.
Here's a breakdown of some of our favorite swimskins for triathletes and open water swimming.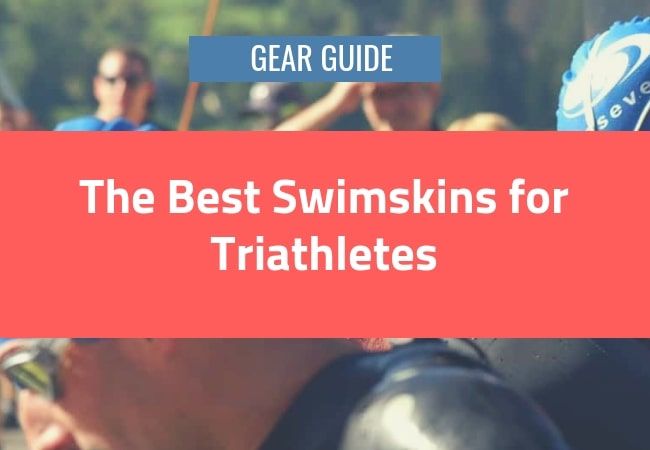 Roka Viper X
Within just two years the Roka Viper quickly became the most used swimskin at Kona.
The Roka Viper X is hilariously feature-rich.
The seams are bonded (which is why it looks like it has a seamless appearance), just as they are with high-performance swimsuits. The bonded seams provide another tangible benefit—less rubbing and the resulting chafing that comes with loose material jostling back and forth against your skin.
At the bottom of the suit, in the two leg holes, are some dotted silicone that keeps the suit in place and also helps keep the Viper X from pinching off your legs.
The outside of the suit is coated with Teflon which makes it hydrophobic, and like most fast-drying, performance swimwear, the suit is exceptionally light. For the transition, the Viper X has a tab on the zipper that makes getting out of the suit easily.
The Viper X is fully compliant with USA Triathlon and WTC regulations. While the suit is badass in appearance and performance, it should be noted that it does not include a chamois for the cycling portion of your race.
Roka Viper X — Sleeveless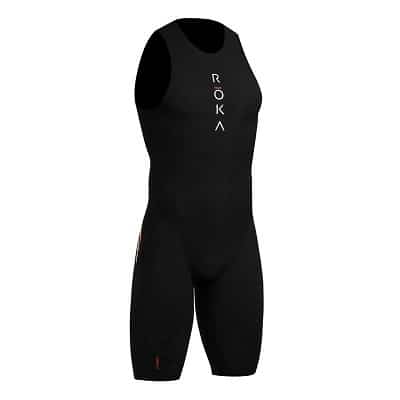 Roka Viper X — Sleeved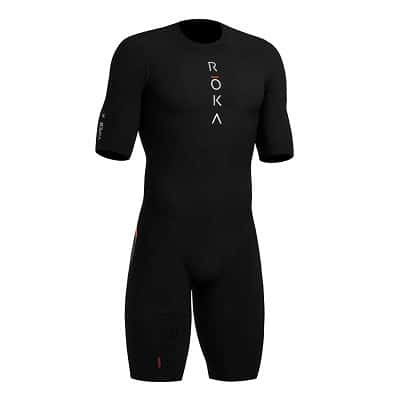 Quick tip: How to make your swimskin last. Swimskins are mostly made of polyester, a durable and long-lasting fabric. Also, in the mix is spandex/elastane, which is not very durable, especially when it comes to pool chemicals. The spandex part of racing suits are the first to give, so to make your swimskin last rinse with cold un-soaped water after use, hang dry, and avoid using them in pools where you can.
Blueseventy PZ4TX Swimskin
Although the name of the Blueseventy PZ4TX sounds more like a tire size than a swimskin, this entry-level swimskin is big on features and high on value. Blueseventy is a popular maker of gear for open water swimmers, from neoprene swim caps to tri wetsuits.
The suit comes with a long-sleeve for maximum compression and coverage on your shoulders and arms. The surface of the swimskin is water-repellent, giving you that sense of added speed when moving through the water.
The Blueseventy PZ4TX gives you a solid balance of compression and elasticity, giving you speed and full range of motion. Plus their value pricing, the PZ4TX is win-win-win.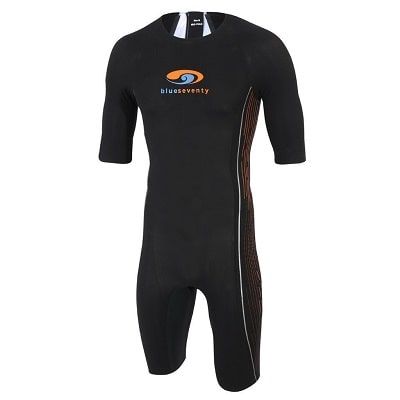 ---
TYR Torque Pro Swimskin
One of the best aspects of these kind of suits—and any suit that provides a faster surface than your skin—is the feeling you get when you first put it on and slide through the water.
The TYR Torque Pro Swimskin achieves this feeling with a slick outer layer that—according to TYR—provides an class-leading drag coefficient of just .021. The inner layer, the jersey of the suit, is similarly allergic to water, absorbing a minimal amount of water to keep you light and fast in the water.
The Torque Pro comes with the bells and whistles you'd expect with a suit that is in the upper end of the pricing spectrum of swimskins, with a beaded silicone band around the leg holes of the suit, an 80% polyester/20% spandex composition, and fully compliant with USAT specs.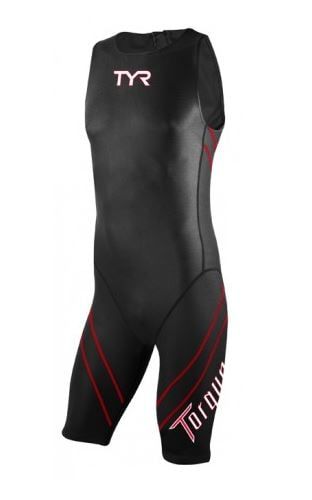 ---
Synergy SynSkin2
Synergy is one of the value brands of triathlon and open water swim equipment. Their contribution to swimskins is the cheapest on this list, but still comes with the "feel good" specs that make the suits fast.
The YKK zipper on the back is auto-locking, which helps keep the suit secure while swimming. The legs of the suit have a cut that is an inch longer than typical tri shorts, and the