Looking for the best swimsuits for triathletes? Look no further—this detailed guide shows you exactly what to look for in choosing the right swimwear and where to buy the top ones on the market.
For people new to triathlons, and the world of swimming, it can be tough to know what swimwear is best for triathlon training. Here's what to know.
One of my favorite parts about working with new triathletes is the excitement and enthusiasm. Whether they want to complete a small local triathlon or eventually move on to Ironman races, this initial burst of spirited energy is a lot of fun to be around.
This eagerness is usually dampened by a sense of being overwhelmed with everything that they need to learn, especially when it comes to the wet side of the sport.
Not only are they trying to master the technique and skill required to swim efficiently from one side of the pool to another (and eventually across large bodies of water), but they are navigating the equipment and gear that comes with mastering the swim.
The main piece of swimwear that triathletes look for is the right wetsuit for race day.
But what about training? Or what if you are happy with a more simple swimsuit for your next triathlon?
Well, there are tons of options for both.
Let's break it down.
Swimwear for triathletes – Before you buy
Before we get into my recommendations for the best swimsuits for triathletes, let's look at the key considerations you should have in mind when choosing the right one for you.
Arming yourself with a better understanding of what makes a swimsuit good or not can save you a lot of headaches and money in the long run.
? Coverage and Cut.
Swimsuits show a lot of skin. Whether you are a man or woman, how much skin you want to show off, obviously, is up to what you are comfortable showing and what kind of coverage helps you swim with optimal technique and range of motion.
Triathletes who have a deep swimming background are familiar if not fully used to training with "Speedos" (aka swim briefs), which dry very fast, are cheap, give you total flexibility of your hips and legs, and can be comfortably worn under tri shorts. One-piece swimsuits, as made by top swim brands like Speedo, TYR, and Arena, also check these boxes when it comes to fast-drying fabrics and maximum range of motion in the water.
Newer swimmers tend to get started with swimming trunks, but this type of swimwear is best suited for the beach, not the lap swimming pool.
Women have the option of one or two-piece training suits, while the fellas can choose between briefs, square-cut briefs, or the newest addition to the men's swimsuit portfolio, the jammer (a knee-length swimsuit that gives max coverage).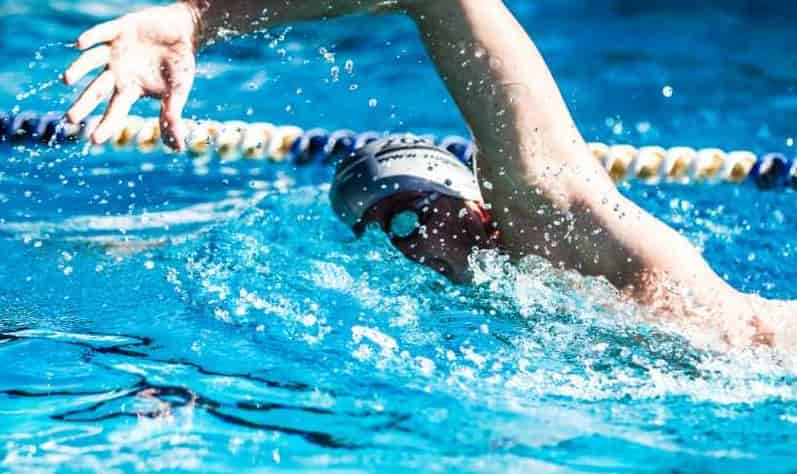 ? Swimsuit fabric.
Most swimsuits, whether we are talking about jammers, briefs, a one-piece suit, or even a two-piece training suit, are made primarily of polyester or a polyester blend. This particular fabric is excellent for training purposes as it is very long-lasting and resistant to chlorine and UV damage.
Some swimsuits have a touch of elastane, Lycra or Spandex in them, which give a little bit of stretch, perfect for those who have a body shape that isn't formulated in a lab (so, basically, all of us).  This kind of material, while it sounds awesome, is delicate and fades rapidly.
? Proper sizing.
Like clothing and shoe companies, the sizing of swimwear (infuriatingly) varies by brand.
When choosing the right swimwear for triathlons, you want to go full Goldilocks with your swimsuit: not so tight that it cuts off circulation and cramps your swimming technique and not so loose that you are taking on water and the suit is flapping like a flag in a hurricane.
When it comes to swimsuits, it's best to try them in person or taking extra careful measurements when ordering online.
Should I train in a swimming pool with a wetsuit?
I get this question a lot.
The thinking makes sense, on the surface of it: I am racing in a wetsuit, so why not train in one?
Train the way you race, right?
In this case, no.
There are two reasons you should absolutely not train in a swimming pool with a wetsuit.
First, your wetsuit is designed for open water swimming, in fresh or salt water. Neoprene rubber, the material that makes up your standard wetsuit, degrades very rapidly when exposed to harsh pool chemicals (aka chlorine). Your typical swimsuit for lap swimming is far cheaper and is made of nylon which is very resistant to chlorine.
Second, unless you enjoy boiling yourself alive while training, you don't want to swim in a pool with a wetsuit on. Even the coldest swimming pool I've ever been in hasn't warranted the use of a wetsuit, and lots of local pools are kept at a warm temperature. Wetsuits are designed to keep you warm, and exercising in warmish water with an added layer of insulation gets very warm, very fast.
Now that you're a certified space scientist when it comes swimsuits, let's take a sneaky-peeky at my top picks for swimsuits for triathletes:
Speedo Endurance+ Swimsuits
? Best overall choice for triathlon swimwear
$35 (jammer for men), $68 (women's one-piece)
It's probably no big surprise that Speedo would land atop this list.
Even though they are primarily known for making swimsuits and accessories for competitive and recreational swimmers, their stuff is just as useful for triathletes taking to the pool.
For over a hundred years they've outfitted most of the fastest swimmers on the planet, so we might as well take advantage of their history and experience for a killer training suit.
While Speedo has a long roster of swimsuits, the line of Endurance+ is the perfect swimwear for triathletes looking for a training suit.
Made with a polyester and polyester blend, it offers the maximum amount of durability and use for a swimsuit. Highly resistant to chlorine, UV-exposure, this suit is built like a tank and takes forever to degrade and stretch.
The Endurance+ comes in a huge variety of cuts. For men, square-shaped briefs, briefs, jammers—all in a huge variety of solid colors and vibrant prints. Same with the ladies: there is a multitude of strap options, different backs, and an almost endless number of colors patterns, and styles to choose from.
They are also super affordable and often on sale over at SwimOutlet.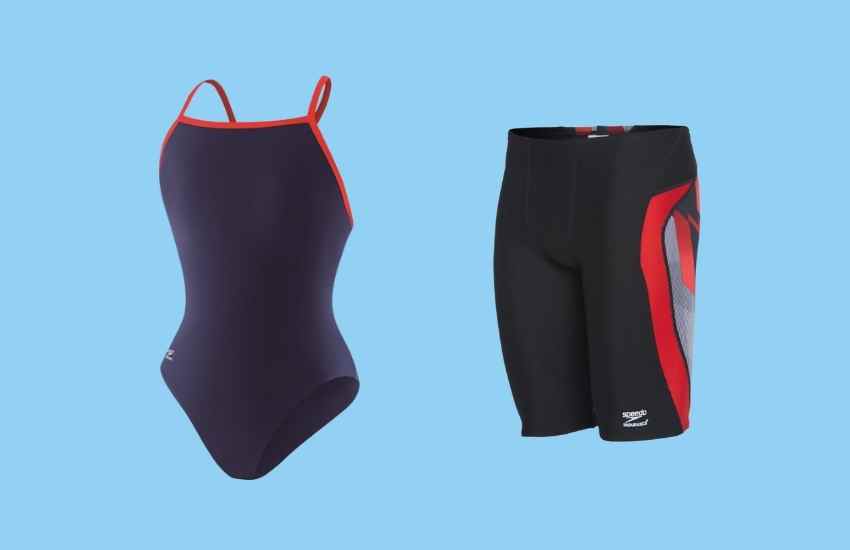 iSwim Essential Solid Swimsuits
? Best "balling on a budget" swimwear for triathlon
$9 (men's swim briefs), $19 (women's thin strap one-piece)
Swimwear can get really expensive, really quickly. Springing a few extra bucks for a good racing wetsuit can make sense, but when it comes to training suits, you don't need to break the bank to get a long-lasting and comfortable swimsuit.
The iSwim line of swimsuits is about as much of a bargain as you will find, with prices ranging in the $13-19 for men's and women's swimsuits. The value of these suits is in the fabric, which is 82% polyester and 18% elastane, which gives you enough stretch for a comfortable fit.
Available in a wide range of colors and prints (the swirl pattern is a great choice if you want to add some jazz to the look of your swimsuit), and in a large range of sizes (up to 40 for men), these suits are form-fitting, comfortable, and priced so competitively it's hard to pass.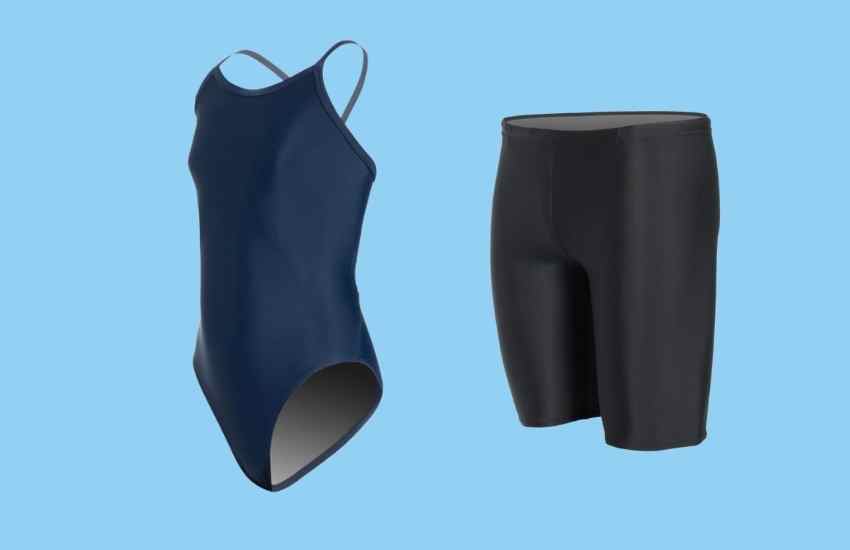 Related Resources
3 Swimming Workouts for Triathletes. Looking to throw down on race day? These three swim workouts for triathletes will help you dominate the swim leg of your next triathlon.
5 Best Budget Triathlon Wetsuits for Men and Women. Below is a breakdown of the best budget triathlon wetsuits for both men and women. Read on, find the wetsuit that matches your budget and preferences, and get to conquering the swim.
5 Best Wetsuits for Open Water Swimming. Looking for the best open water wetsuits for swimming? We've got you covered with the top wetsuits for every kind of swimmer and budget.
7 Best Swimming Briefs for Boys. Looking to hit the pool in style and comfort? Here's a breakdown of the top boys swim briefs on the market.