Hit the pool and beach in style with our collection of the best swim trunks for every activity, body type, and budget.
Look, I get it—Speedos (aka men's swim briefs) aren't for everyone. And maybe while you like the coverage that swimming jammers provide, you still want something that isn't so, well, snug.
Swim trunks, boardshorts, whatever you wanna call them—tend to provide a whole lot more coverage and provide more utility with pockets, clips for keys, and so on. Swim trunks feel you less, well, exposed when at the pool, jumping off the back of the boat, or lounging by the pool.
Typically made of long-lasting and durable polyester (much like most of our favorite swim training suits for men), which stands up to harsh pool chemicals and the sun's harmful rays, the best swim trunks combine the quick-drying nature of swimsuits with added durability and coverage.
Below is a collection of our favorite swim trunks for every occasion.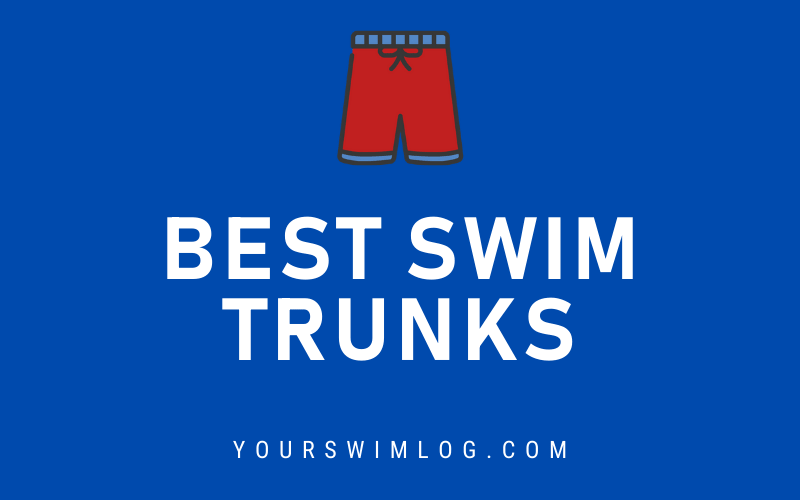 Speedo Marina Volley Knee Length Swim Trunks
Speedo makes a ton of different types of swimming gear, from swim shoes to swimming goggles.
One of the big perks of swim trunks—unlike the regular lap swimming suits that men wear at the pool—is that they can usually double as activewear outside of your aquatic adventures. With a polyester brushed microfiber fabric, the Speedo Marina Volley swim trunks bring a clean grey aesthetic that is quick-drying and looks great.
With an elastic closure, UPF 50+ protective fabric, and more than six color options, the Speedo Marin Volley swim trunks look great in and out of the water.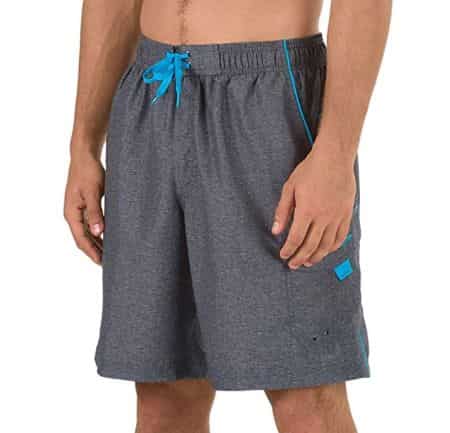 ---
SILKWORLD Men's Quick-Dry Swim Trunks
If you are looking for a pair of swim trunks that are simple in style but full of the usual features you expect for hitting the water-logged outdoors, SILKWORLD's basic trunks have you covered. With a soft mesh lining that keeps everything where it should be, the shorts are made of 100% long-lasting polyester that will stand up to the sun, saltwater, chlorinated pools, and whatever else you throw at them. Two deep pockets and an elastic waistband with a drawstring round out these bargain-priced swim trunks, that are available in two dozen different colors.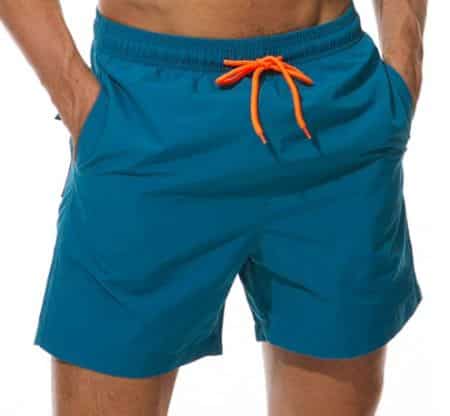 ---
Hurley One and Only Swim Trunks
Hurley is one of our favorite manufacturers of swim gear, including making some awesome rash guards for men. The Hurley One and Only Swim Trunks are 21" long and made of water-repellant polyester that helps you dry off quickly after being in the water.
The fabric of the swim trunks is made of recycled super-suede, and a Velcro EZ-fly and drawstring keeps the shorts secure no matter how hard you decided to hit the water activities. Available in ten solid colors from black to bright pink.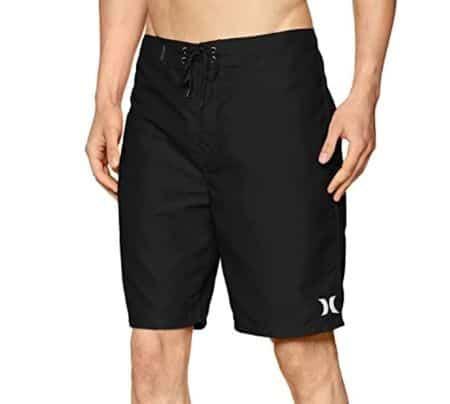 ---
Hurley Phantom Patriot Men's Swim Trunks
Made of 92% polyester (the durable fabric you want in your swim-related apparel) and 8% spandex (which gives the swim trunks a bit of a stretch so that it fits your body properly), the Phantom Patriot Swim Trunks are a comfortable and patriotic way to hit the water.
The shorts provide 20" of coverage down the leg, have a double-drawstring to keep the shorts snug and secure, and a closable back pocket makes these swim trunks a top pick for all of your swimming and water-based activities.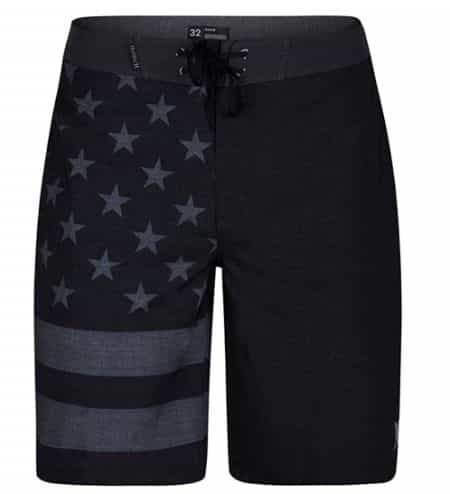 ---
Nonwe Retro Quick Dry Swim Trunks
For a brighter and bolder look in the water, Nonwe shows up on the scene with shorts that are sure to turn heads. With a retro pelican print, these polyester swim shorts are made of water-resistant material that dries quickly.
The inside of the shorts is fully lined, keeping your manhood snug, while two side pockets and a back pocket mean you can swiftly move from the pool to drier activities with all the storage you need. Available in over a dozen prints and color combinations, the Nonwe Retro Quick-Dry Swim Trunks fit true to size and provide about 19" of leg coverage.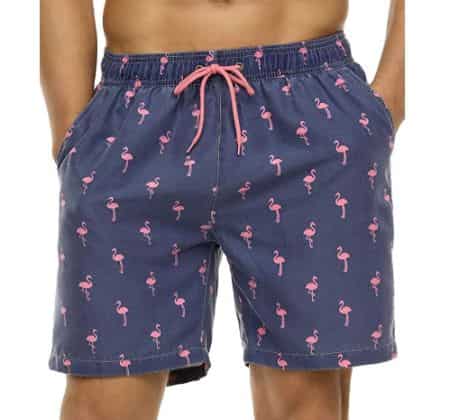 ---
Lacoste Classic Men's Swim Trunks
Lacoste is one of the premium clothiers for men, and their classic solid swim shorts do not disappoint. With their typical understated style, the shell of the Lacoste Swim Trunks is made with 100% polyester that dries fast when you step out of the pool.
Perfect for the backyard pool or hitting the beach at the resort, the Lacoste trunks are available in half a dozen colors and feature a shorter leg length. Machine washable, with adjustable drawstring, and deep pockets for quick and easy storage.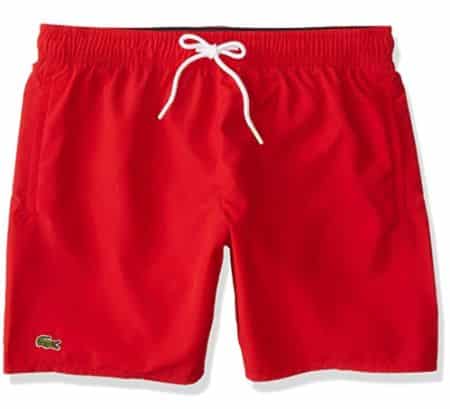 ---
Quiksilver Everyday Swim Trunks
Quiksilver is well-known in the outdoor sports world, particularly known for its deep roots in the surfing world. With decades of experience with outdoor athletes, it's not much a surprise that they produce some of the best-reviewed swim trunks. The Quiksilver Everyday swim shorts have an outer shell that is all polyester, keeping your thighs blocked from the sun and require minimal time to dry.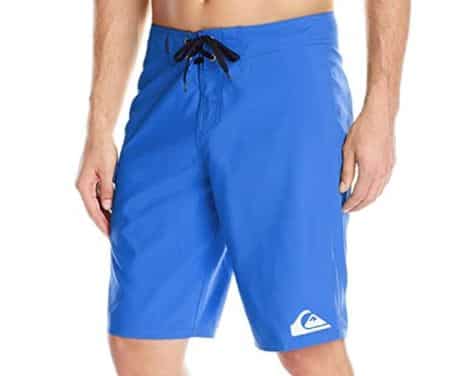 ---
Nautica Men's Tri-Block Series Swim Trunks
Nautica is a big name in the outdoor and water-sports space. Their Tri-Color Series Swim Trunks are a splashy and colorful pair of swim shorts that feature your typical polyester lining and nylon body.
Half a dozen colors, drawstring closure, and a leg seam of 19" gives you plenty of coverage while tackling the watery outdoors. Available in seven different color patterns and in sizes ranging from small to XX-large.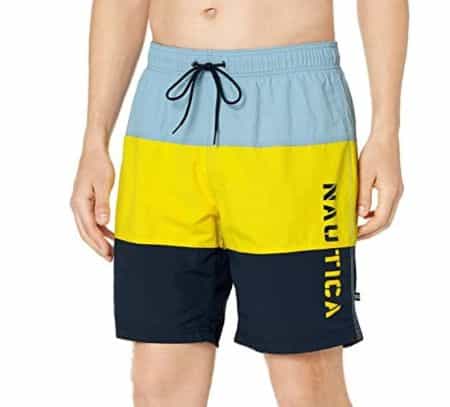 ---
More Stuff Like This
5 Best Waterproof Duffel Bags for Keeping Your Gear Dry. Looking for a duffel bag that can take some punishment and that is waterproof? Look no further. Get squared away with our breakdown of the best waterproof duffel bags.
5 Best Waterproof Backpacks for Crushing Wet Conditions. Prefer a waterproof backpack to your waterproof duffel bag? We break down the best of the best.
Swimsuits for Lifeguards: The Best Trunks and Bathing Suits for Guarding. The right swimwear is essential when you are on the job at the pool or the beach. Here's a look at the best bathings suits for lifeguards for men and women.