Looking for a lifeguard bathing suit for your next shift at the pool or beach? Here's a rundown of all the best men's and women's lifeguard swimsuits on the market right now.
The job of a lifeguard is often a thankless one.
Long days by the water, interspersed with rapid bursts of frenzied activity, and plenty of "accidents" in the water to go around.
Choosing the right swimsuit for the job is a piece of the puzzle.
You want swimwear that is comfortable for long days patrolling the water, but you also need a swimsuit that is highly functional. That will work as hard as you do in the pool and by the water's edge.
Below is a complete breakdown of the best lifeguard swimsuits on the market.
We've also included a buyer's guide that will help you understand the nuances of different swimsuit fabrics and other considerations when choosing the right swimwear for your next shift at the pool or beach.
Lifeguard Swimsuits– What are Your Options?
There's a lot of choices when it comes to the kind of swimsuit that you want to wear while lifeguarding.
Depending on the coverage you want and how cool/warm the environment is, there are a lot of options out there!
In this guide to the top lifeguard bathing suits, we will look at:
One-piece swimsuits
Two-piece swimsuits
Board shorts (swim trunks)
Rash guards
Swim parkas for staying warm
Let's dive right in.
---
One-Piece Lifeguard Swimsuits
Jolyn Jackson 4 Solid One-Piece Swimsuit
The Jolyn Jacksopn 4 One-Piece is a women's swimsuit designed for swim training but is equally adept in lifeguarding circles. A fully rounded neckline keeps the fabric of the suit from flapping in the water when swimming, and the thin shoulder straps won't dig into your skin in the long hours being on the pool deck or at the beach.
A major feature of this suit are the adjustable tie-straps along the back that allow you to get a custom fit to your body. There's nothing more frustrating than a swimsuit that doesn't sit snug to the contours of your body, and this is even more critical when trying to move through the water quickly.
Made completely of polyester, and with a polyester lining, this chlorine-resistant one-piece swimsuit is perfect for lifeguards who want to be comfortable and hydrodynamic in the water.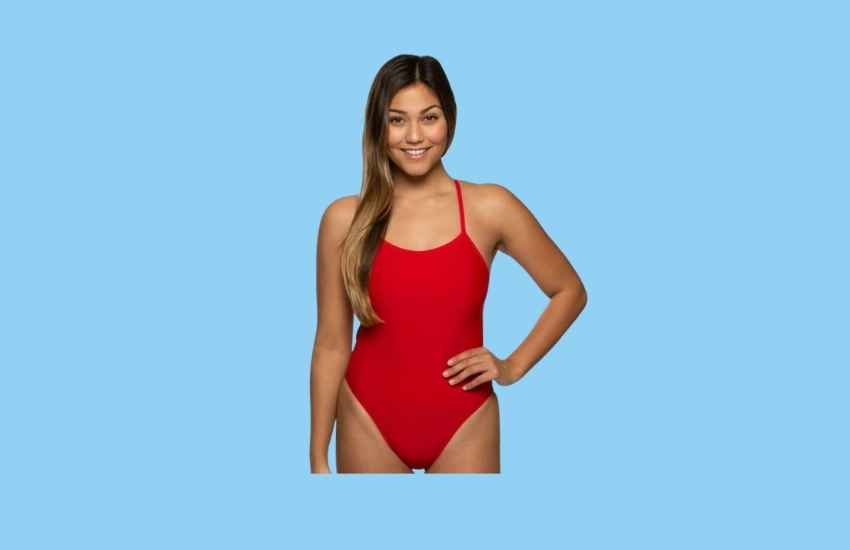 ---
Sporti Guard Thin Strap One-Piece Swimsuit
Sporti is the in-house brand of swimming online retailer Swim Outlet. They make quality gear that is comparable in build to other leading swim apparel at a fraction of the costs, and the Sporti Guard Thin Strap is an excellent example of getting a great suit at a reasonable price.
Designed for lifeguards (if you couldn't tell by the print on the front of the suit…), the swimsuit features a low cut for added coverage on the rear end, fully lined, and a blend of 80% nylon and 20% Lycra Xtra Life.
This combination of suit fabrics gives you both durability and a little bit of stretch and water-repellence for a comfortable, quick-drying fit.
Available in a variety of color combinations, the Sporti Guard Thin Strap One-Piece Swimsuit is a bargain at just $29 (check Swim Outlet for current pricing).

---
Speedo Lifeguard Pro LT Crossback One-Piece Swimsuit
If you've ever been to a pool, you already know the name. Speedo has been around for over a hundred years.
While best known for "Speedos"—the slinky briefs that male swimmers wear—they make a wide range of swimsuits and gear for the aquatic enthusiast.
The Speedo Lifeguard Pro LT One-Piece is an exceptionally comfortable and durable swimsuit for long shifts at the pool and at the beach.
Constructed of 82% long-lasting polyester and 18% Spandex, this suit perfectly balances the stretchy comfort of Spandex with the UV and chlorine-resistance of polyester.
The suit has a front liner (but no back liner), has moderate coverage, and criss-cross straps on the back for added looks.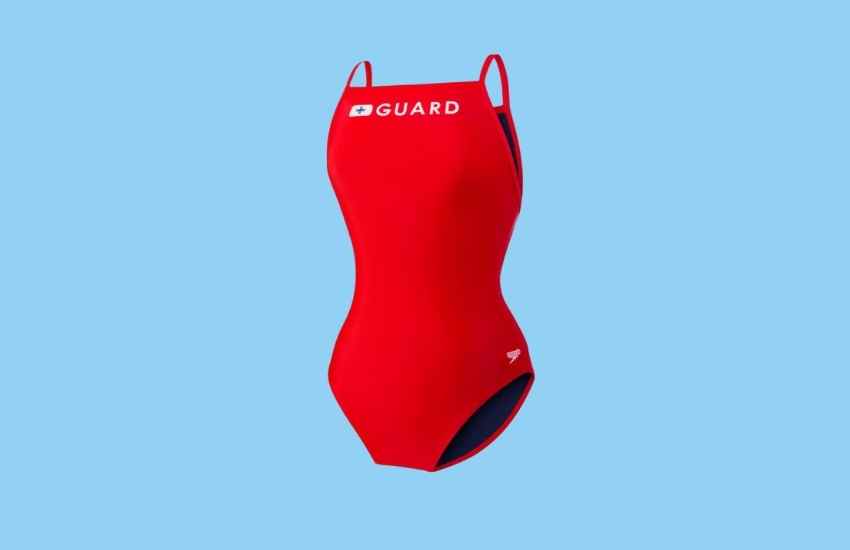 ---
Dolfin Lifeguard Plus Size DBX Women's One-Piece Swimsuit
Made specifically for long days by the pool, the Dolfin Lifeguard Plus Size  DBX One-Piece Swimsuit features a guard logo on the front, added coverage on the leg, and full coverage along the backside.
Made with 100% polyester fabric, this suit will not fade or thin out from repeated exposure to pool chemicals like chlorine. The suit has a V-back, keyhole design and has a lining but no cup support.
The DBX Plus Size Lifeguard Swimsuit is available from Swim Outlet in four different colors. (The red is frequently sold out, unfortunately.)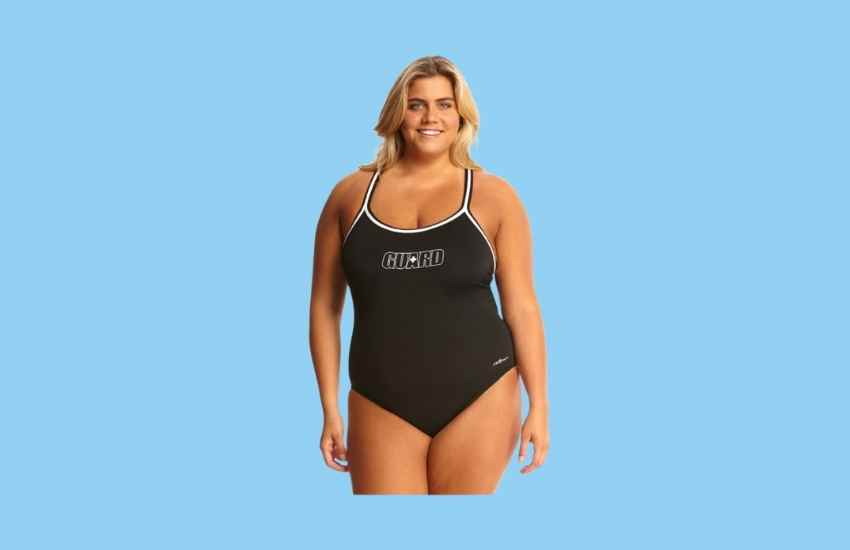 ---
Two-piece Lifeguard Bathing Suits
Two-piece swimsuits are great for lifeguards who work outdoors and want an active swimsuit that can keep up with the rigors of the job. Two-piece swimsuits also provide more sizing flexibility and options.
Jolyn Tomcat Solid Lifeguard Bikini Top
Made completely of long-lasting polyester, the Jolyn Tomcat Bikini Top is chlorine-resistant, adjustable, and ideal for girls and women who are active on the job and in the pool.
The suit features a scooped neckline, polyester lining, and three vents in the front of the suit to allow water to pass through when churning through the water.
Available in red and seven other colors, the top retails for around $25 at Swim Outlet. (Note: bottoms sold separately.)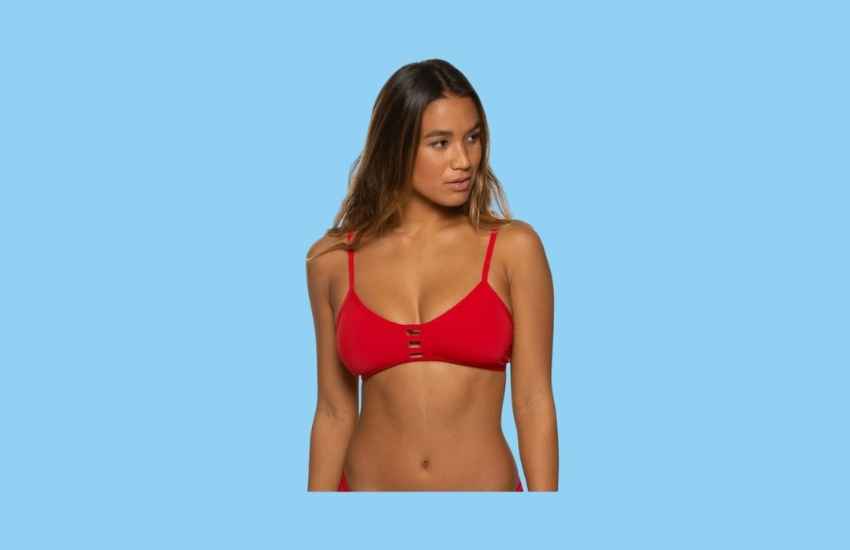 ---
Sporti Double Cross Guard Bikini Top
With a round neckline, fully lined, and with the "Guard" screen print, the Sporti Double Cross Guard Bikini Top is worth considering.
Perfect for lifeguards who are active and want added flexibility in sizing, this top is built with 80% nylon and 20% Lycra. No matter how often you jump/dive/cannonball into the water, this suit will retain its shape.
An inner lining has a mostly nylon composition and the double-cross back helps you find that perfect fit when by the water.
Swim Outlet exclusively offers these tops (bottoms sold separately) for about $20.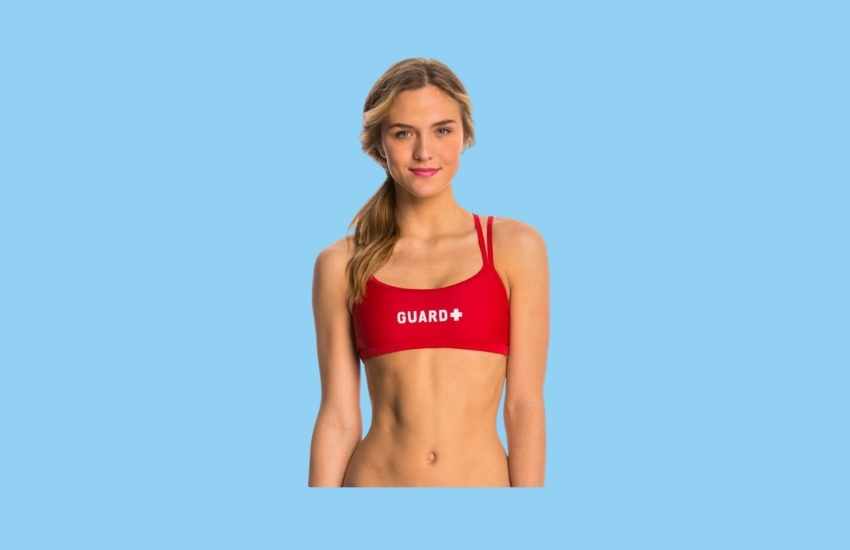 ---
Lifeguard Board Shorts and Swim Trunks
Sporti Guard Essential Board Short
For lifeguards who want something a little less, umm, revealing than swim briefs, board shorts are your best option. These Sporti Guard Essential Board shorts are an excellent set of swim trunks that have a ton of features that will make your life (and job) a little easier.
For starters, the suit is made of quick-drying polyester that won't soak up water like a mop, weighing you down in the pool.
A utility pocket with an eyelet for drainage allows you to store stuff for those long shifts (a snack, perhaps?) and drawstrings keep the shorts secure and on your waist when you execute a technically excellent dive into the water.
With "Guard" printed on the lower right leg, hook and loop fly, and a tighter-than-average fit (Sporti recommends going up a size with these swim shorts), these swim trunks are a bright and comfy combination of utility and looks.
Available exclusively at Swim Outlet and in sizes ranging from 30 to 40-inch waists for around $20 (check Swim Outlet for current pricing).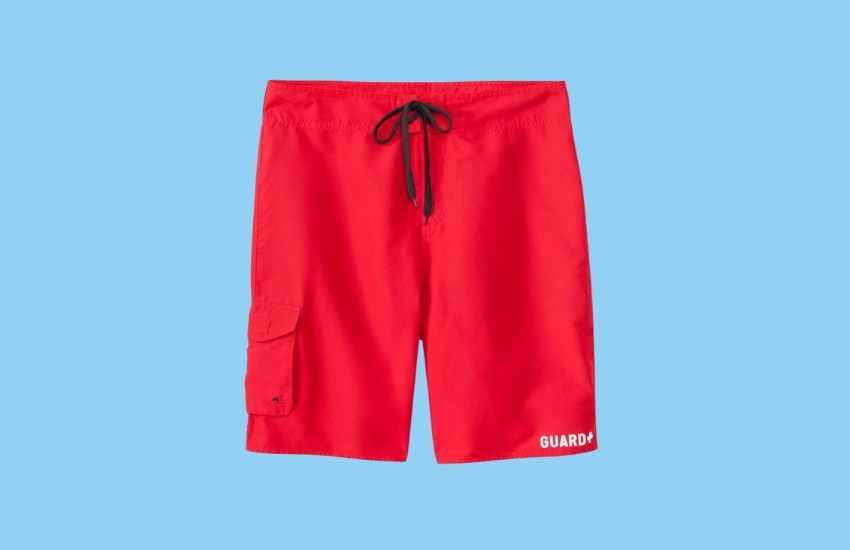 ---
Speedo Lifeguard 21 Board Shorts
These 21" long swim trunks, made by Speedo, combine the legendary swim apparel's commitment to water excellence with a custom fabric blend called "Speedry" that is purported to dry twice as fast as your usual board shorts.
The Lifeguard 21's include a side storage pocket with a Velcro closure, fit true-to-size, and with the added length provide extra protection from the sun during long days by the water.
Speedo offers these shorts in a wide range of youth and adult sizes, from 28-inch all the way up to 40-inch waists for us bigger fellas.
Made with brushed polyester microfiber, these shorts generate a lot of coverage, dry fast, and are easy to secure with the extra-thick drawstrings.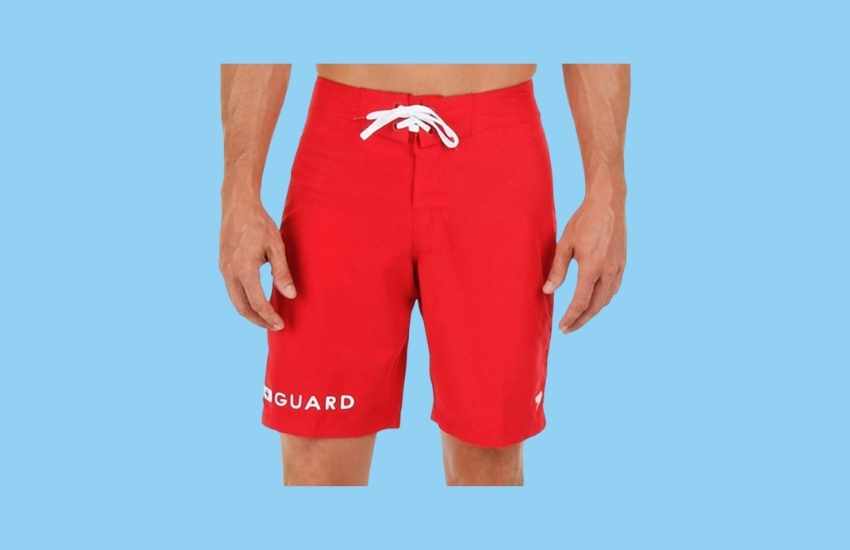 ---
Rash Guards
Dolfin Lifeguard Men's Long Sleeve Rashguard
Designed for maximum upper body coverage, the Dolfin Long Sleeve Rashguard is made of 90% polyester and 10% Spandex, giving you an awesome blend of durability, reduced color fade, and just enough stretchiness to have the shirt sit snugly on your skin.
This men's rash guard (alternatively known as a swim shirt) is perfect for lifeguards with its "Guard" print in the middle of the chest, a crew neck that won't chafe when paddling or swimming, and a slim fit design to rest comfortably against your body.
Available in both red and blue and in a range of sizes, from small to XX-large at Swim Outlet.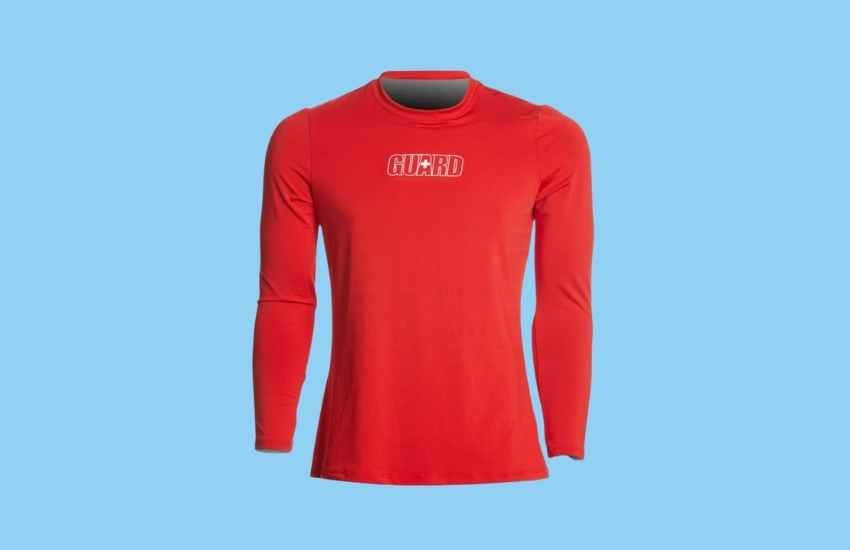 Sporti Lifeguard Short Sleeve Rashguard for Women
Rashguards come in both short sleeve and long sleeve version, and the short sleeve is perfect for lifeguards who want to keep warm during lessons at the pool or are comfortable with showing the sun a little skin.
Sporti's Short Sleeve Rash Guard sits close to your skin, comfortable but not chafing, protects your skin, and with a crew neck that allows you to swim properly without your neck getting blistered up.
This particular rash guard for women is made of 80% nylon and 20% Spandex, providing a 1-2 punch of durability and customized fit. The shirt also features a loop that you can attach to your board shorts.
Whether you are instructing swim lessons, patrolling the beach, or simply want to add a water-repellent layer to a chilly pool deck, the Sporti Short Sleeve Rash Guard is an effective weapon in your battle against the elements.
Available exclusively at Swim Outlet and from size XX-small to XX-large.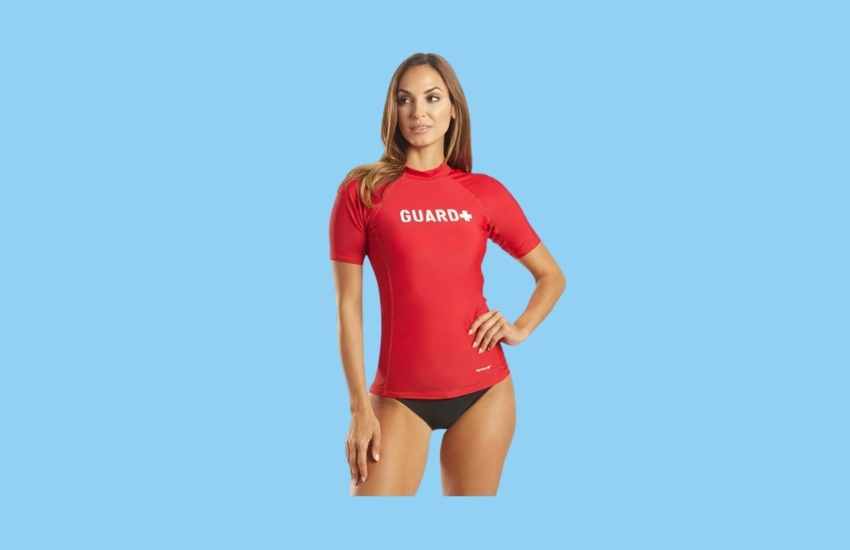 ---
Parkas for Lifeguards
The almighty swim parka is a must for lifeguards who work at outdoor pools. Mornings get chilly, the weather can quickly get windy and/or wet, and parkas provide an extra layer of protection against the elements that can be quickly dispensed of in the case of an emergency.
Parkas designed for the pool have a wool or fleece lining to keep you warm, polyester or lining shell to keep you dry, a hoodie, and a zipper that goes to the waist to allow room for the knees to walk/run.
Speedo Unisex Team Parka
Swim parkas are ubiquitous to pool decks. They are ideal for swim coaches patrolling the deck during early morning swim practice just as they work exceptionally for lifeguards sitting in the tower keeping an eye on things.
The Speedo Unisex Team Parka is a little pricey, at around $100, but it's built like a tank.
The shell is made of 100% polyester, which will keep you dry, and the inner layer is a polyester fleece designed to protect you against the breeze and cooler temperatures.
The parka has a pocket on the inside that can be zipped shut, a two-way front zipper, and a drawstring hood to wrap your head when the weather really turns.
The Speedo Unisex Team Parka can also be customized by the folks at Swim Outlet with your choice of font, embroidery color, and of course, the text you want on the parka ("Lifeguard #1!") for just $10.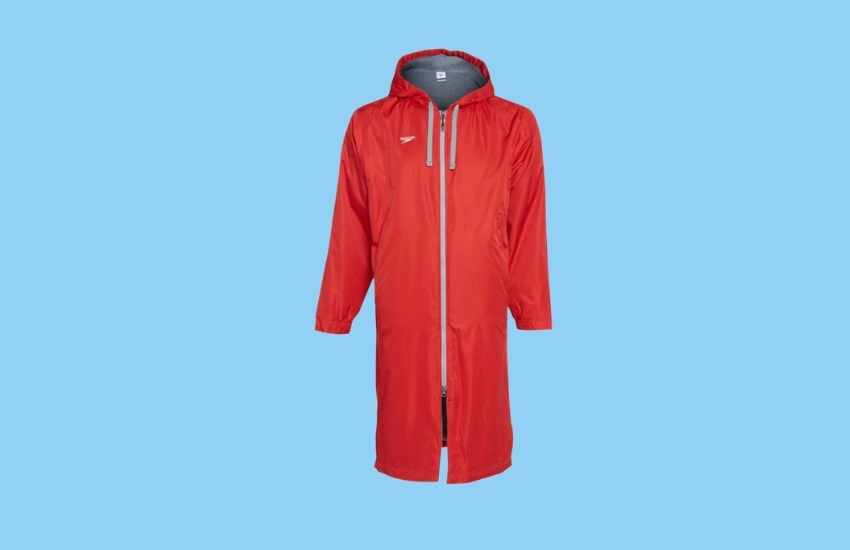 ---
Lifeguard Swimwear – FAQs and Buying Guide
Got questions about buying the right lifeguard swimsuit for you?
Welp, we've got answers.
Here's what you need to know about choosing the right gear for you.
Style.
Lifeguarding swimsuits, like your regular old swimsuit, come in a wide variety of styles. Two-piece swimsuits and one-piece swimsuits are the most common.
Two-piece suits, also known as tankinis, are built for active use and are better suited to lifeguarding than a bikini. There are also lots of different kinds of one-piece swimsuits, including open and closed back, think and thick straps, and so on.
According to dress codes.
Most pools and beaches and lifesaving organizations have a dress code and/or a uniform. Often these are staff shirts that are worn above your swimsuit.
The pool's dress code often dictates the type of swimwear you are asked to don at the water's edge.
Red swimsuits stand out, both in terms of visibility but also because red is the color that is most typically associated with lifeguards.
Water and air temperature.
Rash guards are an excellent choice for lifeguarding swimwear.
Rash guards keep you warm during chilly days by the water, protect your skin from sun exposure at the beach, and also provide a measure of protection from errant fingernails and obstacles in nature (rocks, barnacles, etc).
Swimsuit materials.
Swimsuits are made of a select number of materials. Polyester, elastane (this includes Lycra and Spandex), nylon, and polyamide are the core fabrics that make up swimsuits.
When it comes to a swimsuit for lifeguarding, you want something that is going to last. It is, after all, a work uniform. You will be wearing them a lot, and thus want a swimsuit that will work as long as you do.
Polyester in particular is the most durable and long-lasting fabric for swimsuits. It doesn't fade from extended UV exposure and it's chlorine resistant. Nylon is often used as a substitute for polyester and comes close to matching polyester's durability.
Elastane (and its branded counterparts, Lycra Spandex) is a stretchy fabric that gives a comfortable and custom fit in your swimsuit. It's also more prone to fading and thinning over time as it is a more delicate material.
Most swimsuits are a blend of polyester and elastane, giving you the best of both fabrics in a suit that is durable and comfortable.