Hit the water and sun with confidence. Here is our hand-picked selection of the best rash guards and swim shirts for men.
Swim shirts, rash guards, surf tees.
These particular shirts made for aquatic fun come in a variety of different names, but their benefits remain the same:
Provide coverage and protection against the sun's rays, helping you enjoy the outdoors for longer
Protect yourself against nasty surprises in the water (looking at you, Mr. Jellyfish)
Like an excellent pair of water shoes, they protect you from the rocky elements
A little bit of added warmth in cold-water, whether the ocean or at the pool
And added coverage for those who are feeling beach-body shy
Rash guards and swim shirts come in a wide variety of styles, sizes, and sleeves. They are generally made of long-lasting polyester, which blocks the sun and sits comfortably on the skin when wet.
Here is a breakdown of our favorite rash guards and swim shirts for men.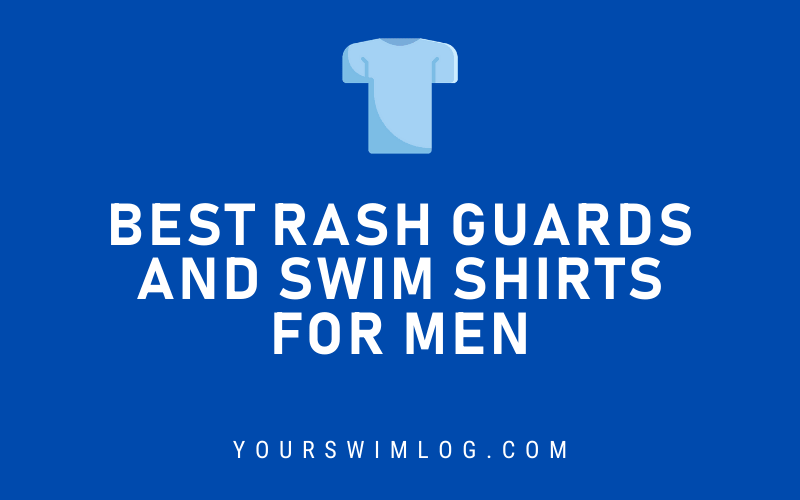 Speedo Men's Swim Long Sleeve Rash Guard
Speedo is one of the most well-known and respected swim brands on the planet. From their line of competitive racing goggles to swim vests for toddlers, Speedo makes it all for the aquatically obsessed. The Speedo Men's Long Sleeve Swim Shirt is a loose-fitting rash guard for men.
Made with 100% polyester, you get the benefits of UV protection while the premium garment dries quickly when you are out of the water. Designed to be loose-fitting, this rash guard also has a ton of options in sizes and colors. Available in a half-dozen color combinations and from small to XX-large.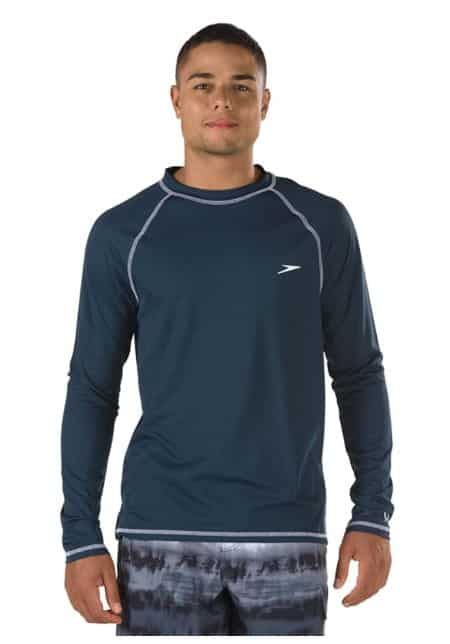 ---
Speedo Men's Swim Short Sleeve Rash Guard
Another entry from Speedo is the loose-fitting short-sleeve edition of the Speedo Men's Rash Guard. Just like its big brother, it is made with long-lasting polyester, a breathable and fast-drying fabric that is comfy whether wet or dry.
If you like the look of the shirt but want a slightly snugger fit, Speedo recommends simply going a size down when ordering. The short-sleeve Speedo Men's Swim Shirt is available in eight color combinations and offers the widest range of sizes, from small to XXXX-large.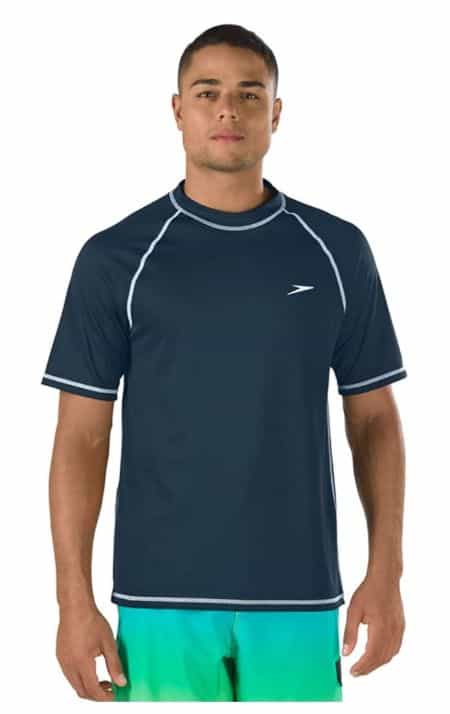 ---
Quiksilver All-Time Long Sleeve Rashguard Swim Shirt
Quiksilver is one of the most recognized brands when it comes to aquatic sports, and also one of my favorites. The Quiksilver All-Time Long Sleeve Rash Guard is a comfortable and stylish rash guard
The shirt is made of 92% polyester and 8% elastane, which gives the shirt a slight stretch, hugging your body. Breathable, fast-drying, and light, the Quicksilver All-Time Rash Guard lives up to its name providing a stylish way to protect yourself from the sun and heat.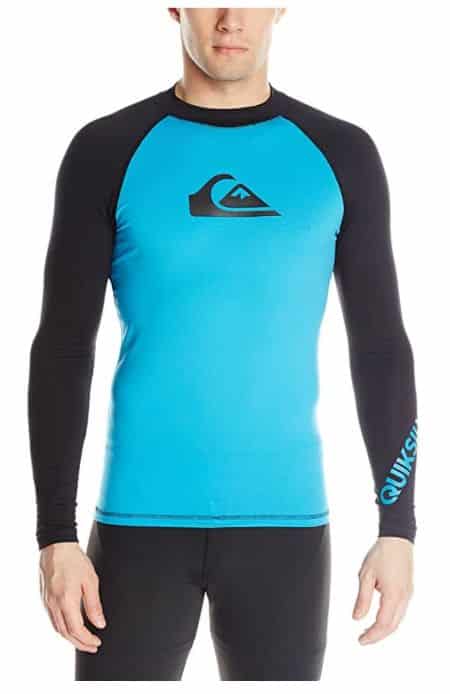 ---
Quiksilver All-Time Short Sleeve Rashguard and Swim Shirt
With how much we were just gushing about the long-sleeve version, you just knew that we were going to include the short-sleeve version as well.
But instead of being composed of a polyester/elastane combination, the Quicksilver All-Time Short Sleeve Rash Guard is 100%. While not as stretchy, it is exceptionally breathable and comfortable.
Designed to sit snugly on the skin, the Quiksilver All-Time Short Sleeve Swim Shirt is put together with super-durable flatlock seams that are stitched tightly together to make the shirts last under the most aquatic and rugged of circumstances. The rash guard also provides 50+ UPF sun protection.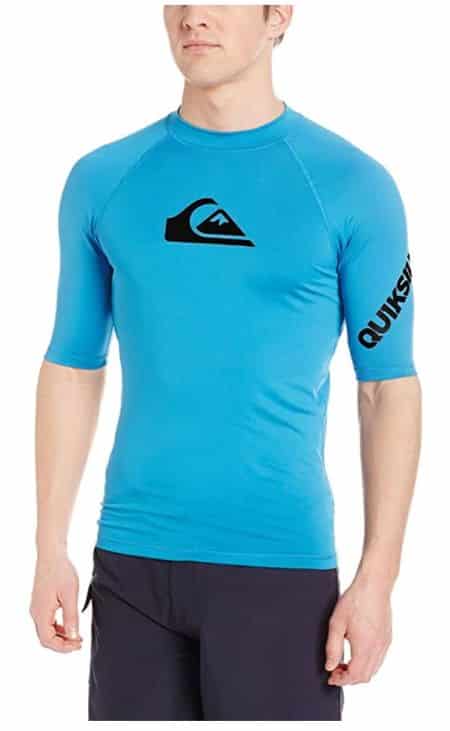 ---
BPS Rash Guard and Swim Shirt
BPS is one of the lesser-known swim and surf apparel makers, but their rash guard is a killer alternative to the big names on this list. Available in a metric ton of colors, color patterns, sizes, and both long and short sleeve, the BPS Rash Guards are made of a comfortable four-way fabric that is exceptionally comfortable.
The garment is made of durable polyester and stretchy Lycra, which means the shirt stretches and hugs your body. The BPS Swim Shirts dry quickly and have minimal seam placement that makes the shirt sit lightly on the skin.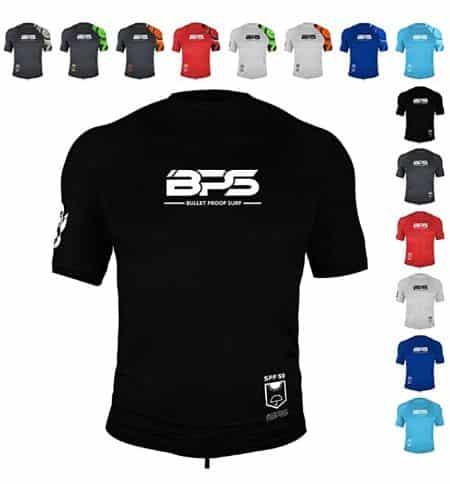 ---
O'Neill Basic Skins Men's Rash Guard and Swim Shirt
O'Neill is another one of the big surf and swim companies out there, and the O'Neill Basic Skins Rash Guard is a stylish, comfortable, and long-lasting rash guard for all your aquatic adventures. The shirt looks almost like a wet-suit, but the polyester/spandex blend is super light.
The seams are stitched to make the shirt feel particularly light, the shirt comes over a dozen colors, and the O'Neill Men's Rash Guard comes in every size imaginable, from small to XXXX-large.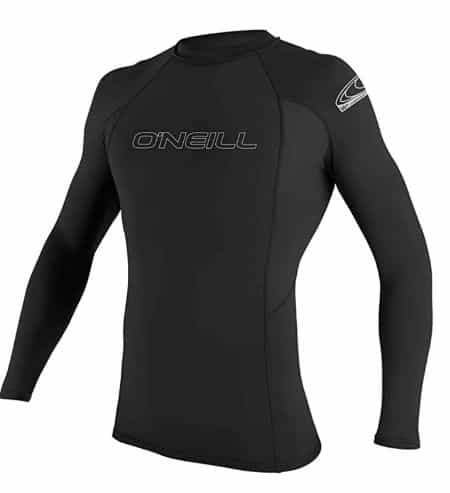 ---
Nike Men's Long Sleeve Rashguard Swim Tee
We all know and recognize the swoosh. This loose-fitting and 100% polyester rash guard is comfortable and dries quickly thanks to Nike proprietary Dry-Fit technology. The Nike Men's Long Sleeve Rashguard provides up UPF 40+ protection, which isn't quite as high as the other swim shirts on this list.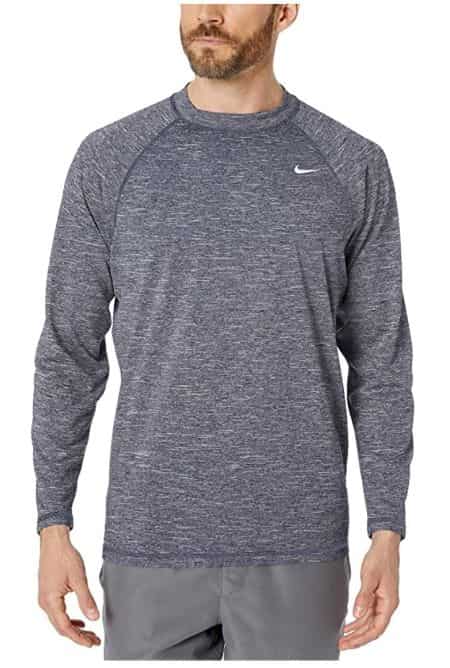 ---
More Stuff Like This:
8 Best Men's Swim Trunks. Hit the pool and beach in style with our collection of the best swim trunks for every activity, body type, and budget.
6 Best Swim Jammers for Training and Lap Swimming. Looking to get a new training jammer for your time at practice? Here's a breakdown of our favorite jammers, for lap swimming and training.
7 Best Rash Guards and Swim Shirts for Women. Ready to conquer the water and the sun? Here is a breakdown of our favorite rash guards and swim shirts for women.
6 Best Rash Guards and Swim Shirt for Kids. Rash guards a great way to provide protection during those long summer days. Here's a round-up of the best rash guards and swim shirts for kids.