Hit the water and sun with confidence. Here is our hand-picked selection of the best rash guards and swim shirts for men.
Swim shirts, rash guards, surf tees.
These particular shirts made for aquatic fun come in a variety of different names, but their benefits remain the same:
Provide coverage and protection against the sun's rays, helping you enjoy the outdoors for longer
Protect yourself against nasty surprises in the water (looking at you, Mr. Jellyfish)
Like an excellent pair of water shoes, they protect you from the rocky elements
A little bit of added warmth in cold-water, whether the ocean or at the pool
And added coverage for those who are feeling beach-body shy
Rash guards and swim shirts come in a wide variety of styles, sizes, and sleeves. They are generally made of long-lasting polyester, which blocks the sun and sits comfortably on the skin when wet.
Here is a breakdown of our favorite rash guards and swim shirts for men.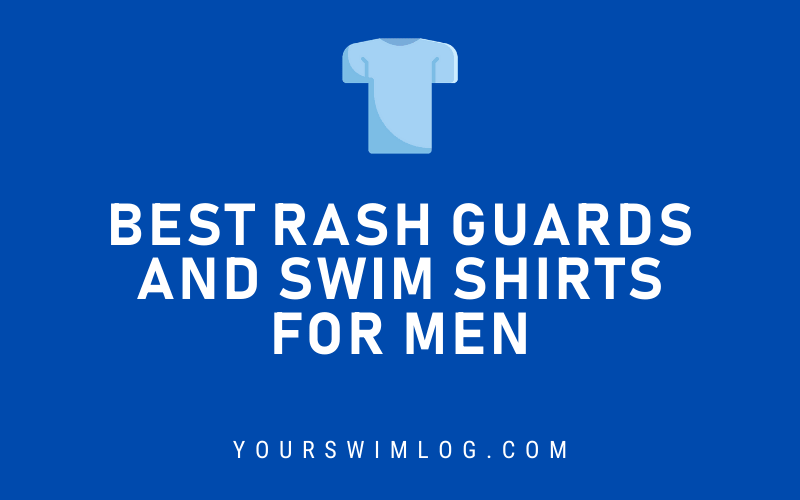 Speedo Men's Swim Long Sleeve Rash Guard
Speedo is one of the most well-known and respected swim brands on the planet. From their line of competitive racing goggles to swim vests for toddlers, Speedo makes it all for the aquatically obsessed. The Speedo Men's Long Sleeve Swim Shirt is a loose-fitting rash guard for men.
Made with 100% polyester, you get the benefits of UV protection while the premium garment dries quickly when you are out of the water. Designed to be loose-fitting, this rash guard also has a ton of options in sizes and colors. Available in a half-dozen color combinations and from small to XX-large.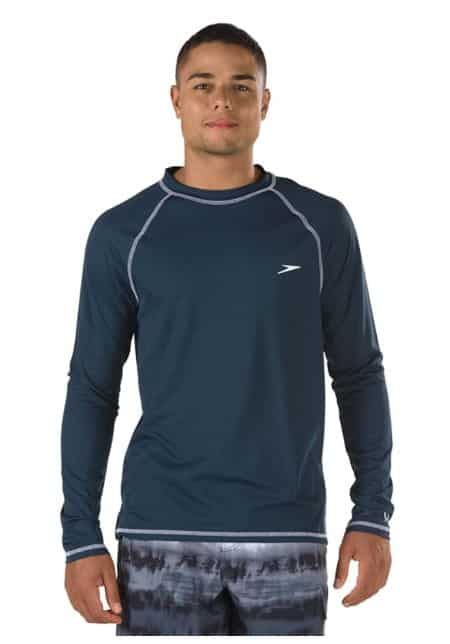 ---
Speedo Men's Swim Short Sleeve Rash Guard
Another entry from Speedo is the loose-fitting short-sleeve edition of the Speedo Men's Rash Guard. Just like its big brother, it is made with long-lasting polyester, a breathable and fast-drying fabric that is comfy whether wet or dry.
If you like the look of the shirt but want a slightly snugger fit, Speedo recommends simply going a size down when ordering. The short-sleeve Speedo Men's Swim Shirt is available in eight color combinations and offers the widest range of sizes, from small to XXXX-large.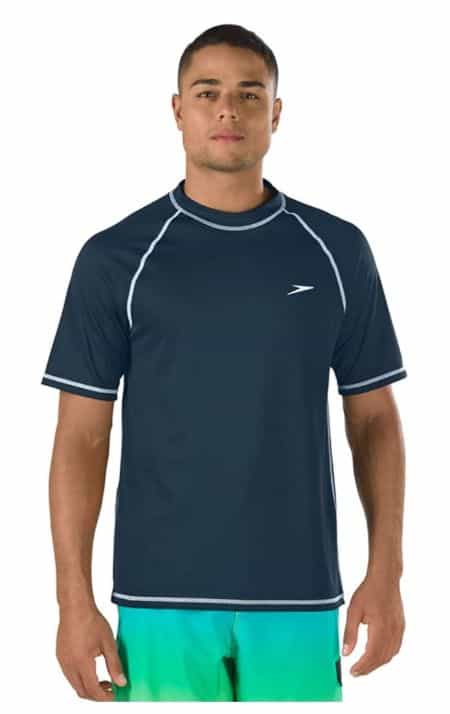 ---
Quiksilver All-Time Long Sleeve Rashguard Swim Shirt
Quiksilver is one of the most recognized brands when it comes to aquatic sports, and also one of my favorites. The Quiksilver All-Time Long Sleeve Rash Guard is a comfortable and stylish rash guard
The shirt is made of 92% polyester and 8% elastane, which gives the shirt a slight stretch, hugging your body. Breathable, fast-drying, and light, the Quicksilver All-Time Rash Guard lives up to its name providing a stylish way to protect yourself from the sun and heat.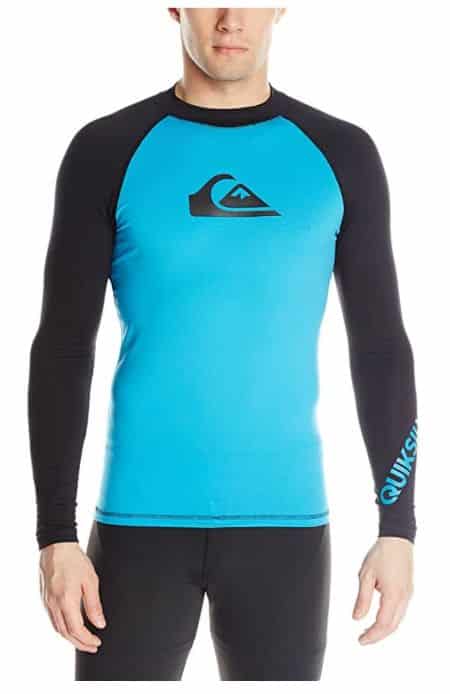 ---
Quiksilver All-Time Short Sleeve Rashguard and Swim Shirt
With how much we were just gushing about the long-sleeve version, you just knew that we were going to include the short-sleeve version as well.
But instead of being composed of a polyester/elastane combination, the Quicksilver All-Time Short Sleeve Rash Guard is 100%. While not as stretchy, it is exceptionally breathable and comfortable.
Designed to sit snugly on the skin, the Quiksilver All-Time Short Sleeve Swim Shirt is put together with super-durable flatlock seams that are stitched tightly together to make the shirts last under the most aquatic and rugged of circumstances. The rash guard also provides 50+ UPF sun protection.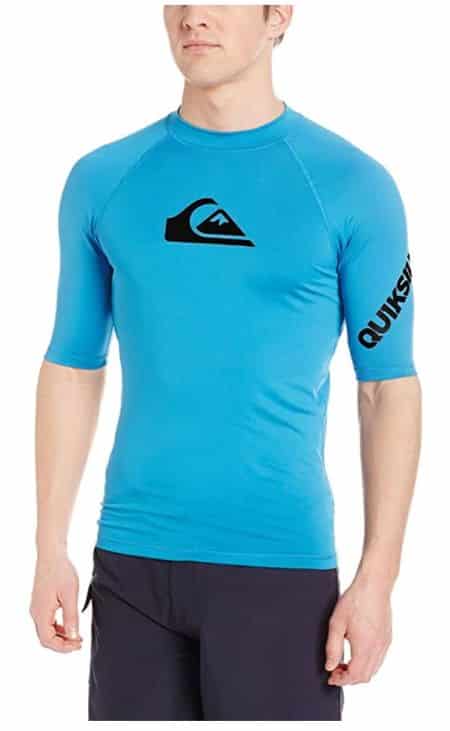 ---
BPS Rash Guard and Swim Shirt
BPS is one of the lesser-known swim and surf apparel makers, but their rash guard is a killer alternative to the big names on this list. Available in a metric ton of colors, color patterns, sizes, and both long and short sleeve, the BPS Rash Guards are made of a comfortable four-way fabric that is exceptionally comfortable.
The garment is made of durable polyester and stretchy Lycra, which means the shirt stretches and hugs your body. The BPS Swim Shirts dry quickly and have minimal seam placement that makes the shirt sit lightly on the skin.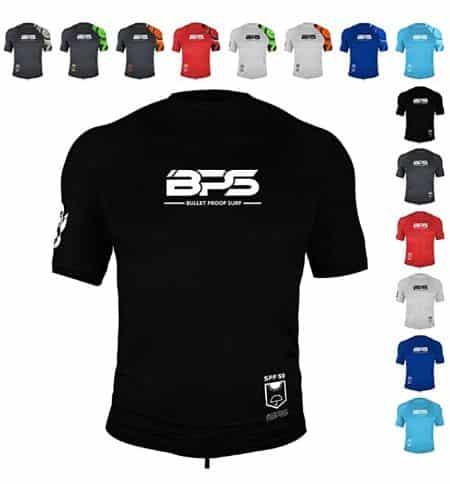 ---
O'Neill Basic Skins Men's Rash Guard and Swim Shirt
O'Neill is another one of the big surf and swim companies out there, and the O'Neill Basic Skins Rash Guard is a stylish, comfortable, and long-lasting rash guard for all your aquatic adventures. The shirt looks almost like a wet-suit, but the polyester/spandex blend is super light.
The seams are stitched to make the shirt feel particularly light, the shirt comes over a dozen colors, and the O'Neill Men's Rash Guard comes in every size imaginable, from small to XXXX-large.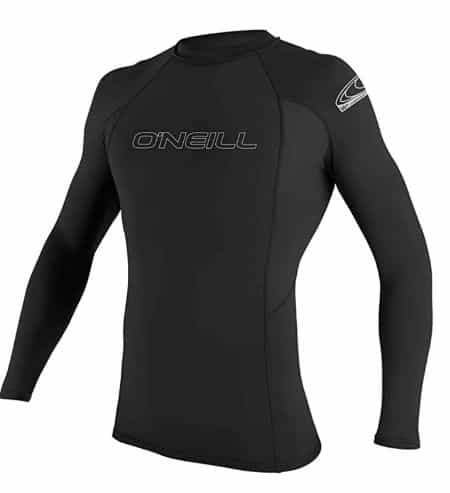 ---
Nike Men's Long Sleeve Rashguard Swim Tee
We all know and recognize the swoosh. This loose-fitting and 100% polyester rash guard is comfortable and dries quickly thanks to Nike proprietary Dry-Fit technology. The Nike Men's Long Sleeve Rashguard provides up UPF 40+ protection, which isn't quite as high as the other swim shirts on this list.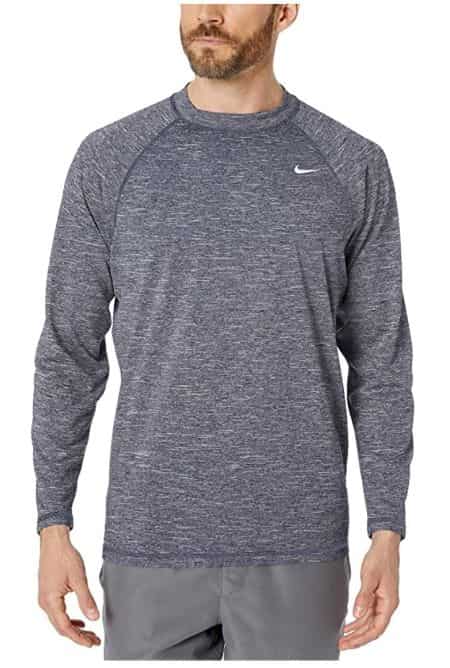 ---
How to Choose the Best Men's Rash Guard or Swim Shirt
Rash guards are a popular way to
Here are the three main things to be on the lookout for when searching for the right rash guard or swim shirt for you.
UPF protection. The sun is relentless, and you need a shirt that can extend the time you spend splashing around. Rash guards and swim shirts typically have a UPF rating of 50.
Material. Rash guards and swim shirts are made of a range of synthetic fabrics. The most common fibers used with rash guards for men are Lycra (also known as elastane or Spandex), polyester, nylon, neoprene (the same material wetsuits are made of), and in rarer instances, cotton blends.
Short sleeve vs long sleeve. The difference between the two sleeve lengths ultimately comes down how much coverage you want from your rash guard. Short sleeves are ideal for warmer climates while long sleeve rash guards are best suited for open and cold water swimming and surfing.
What does a rash guard do?
Rash guards can do a ton of things, including protect your skin from the sun, provide coverage for modesty, shield you from the elements, keep you warmer in cold water, and even wash the dishes*.
(* maybe not)
Rash guards and swim shirts also protect some of your more, er, delicate body parts from getting chafed from movement. Looking at you armpits, nipples and neck.
Ultimately, the kind of rash guard that works for you comes down to the environment and activities you plan on engaging in while wearing it.
There are rash guards that are excellent for high-intensity water athletes while there are swim shirts that are great for playing in the surf and then going for lunch.
What extra features do rash guards come with?
Rash guards are multi-functional wear for conquering the elements. That said, they aren't just about protecting your skin from the sun and staying comfortable in the water.
There are some additional features that rash guards and some swim shirts come packed with:
Pockets. Yup, pockets! Not just for shorts or pants, some rash guards have small pockets that you can use to tuck away your valuables.
Thumb hooks. Rash guards can roll up when we are wrestling our way into a wetsuit. Thumb hooks help keep the rash guard in place so that you can put on your preferred dry or wetsuit on properly.
Short connectors. Speaking of your rash guard rolling up on you, some of them, especially the ones designed for surfing, are hooks that connect your shorts to your rash guard.

Do rash guards protect you from the sun?
Rash guards do protect you from the sun. By adding coverage, using the right colors, and not being stretched out, rash guards give a high degree of protection from UV radiation.
While not every brand will specifically list this feature with their shirts, it's an implicit benefit of them and a major reason men pick up a rash guard before hitting the water.
The extra coverage of the shirt (high neckline, long sleeves), the darker/brighter colors, and the densely woven synthetic fibers combine to create an excellent barrier against the sun.
See also: The Best Waterproof Sunscreens and Sunblocks for Long Days on the Water
But how much protection does a rash guard provide from the sun?
Well, a lot of the more popular shirts on the market have a UPF of 50, which blocks 98% of the sun's rays1. Darker and brighter colors absorb more UV compared to lighter colored shirts.
A simple way to test this out is simply holding the shirt up in front of a bright light or the sun. The better you can see through the shirt, the more UV is getting through.
What is the difference between a rash guard and a swim shirt?
The main difference when it comes to rash guards and swim shirts for men is the fit.
Rash guards are meant for high-level activity sports like surfing and wind-surfing. They need to be snug while also providing a layer of thermal retention to keep you warm and comfortable on the open water. Rash guards are often made of thicker synthetic fabrics like neoprene, but are usually a mix of polyester and Elastane.
Swim shirts, on the other hand, are designed for coverage and sun protection, extending the amount of time you can spend in the water, and so they tend to have a slightly looser fit and a thinner fabric. Swim shirts are typically a blend of polyester and nylon, 100% polyester, or even blended cotton.
Swim shirts have the added benefit of being comfortable enough to wear around the town, while rash guards are designed to be tighter and compressive.
With some rash guards and swim shirts for men, the line can blur quickly between the two.
Can you wear a rash guard for swimming?
Heck yeah, you can!
Rash guards are great as they are relatively compressive, meaning they won't soak up a ton of water and hang off your arms while you swim.
When going to warmer climates, like Mexico or Hawaii, I always pack a couple of rash guards for my open water swims as they provide an excellent balance of sun protection and a tight fit.
This 1-2 punch means I can move through the water with the proper technique without getting dragged down by the shirt I am wearing.
Do rash guards keep you warm in cold water?
Yes, one of the primary functions of rash guards is to help you retain heat while you are swimming in cold water. While they don't have the same level of warming capabilities as a wetsuit for cold water swimming, they do help prevent body heat from escaping out into the air.
Thicker rash guards, especially the long sleeve kind, are designed to hug the skin and create a viscous layer of warm water between your skin and the shirt, helping to warm you.
If you plan on swimming in warmer or more comfortable water, you will want to consider using a swim shirt as an alternative.
---
More Stuff Like This:
8 Best Men's Swim Trunks. Hit the pool and beach in style with our collection of the best swim trunks for every activity, body type, and budget.
6 Best Swim Jammers for Training and Lap Swimming. Looking to get a new training jammer for your time at practice? Here's a breakdown of our favorite jammers, for lap swimming and training.
7 Best Rash Guards and Swim Shirts for Women. Ready to conquer the water and the sun? Here is a breakdown of our favorite rash guards and swim shirts for women.
6 Best Rash Guards and Swim Shirt for Kids. Rash guards a great way to provide protection during those long summer days. Here's a round-up of the best rash guards and swim shirts for kids.