Swim vests are a great tool for helping toddlers get comfortable in the water. Here's a rundown of the best toddler swim vests.
When it comes to the pool (and the beach) the first thing that usually comes to mind is sun and fun. Rightfully so. Right on the heels of the joys of hitting the water is safety, especially if you have little ones.
Drowning is one of the leading accidental causes of death in the United States, and according to the Centers for Disease Control and Prevention, one in five victims are children [1].
One of the tools that children can use to not only be safe in the water but also get more comfortable with the water and learn to enjoy swimming is the toddler swim vest.
For kids who are new to the pool and learning to swim, they can be clingy or anxious when it comes to the water. A swim vest is an essential piece of baby swim gear as it can help to increase "water literacy" by giving them a degree of independence.
Kids Swim Vest vs. Life Jackets
Although they look generally the same, and mostly perform the same functions in the water, there are big differences between a swim vest and a life jacket.
Essentially, whether you choose a swim vest or a life jacket depends on what kind of water you will be hitting.
Life jackets are generally much thicker for extra buoyancy, are harder to move around in, have several heavy-duty clasps along the front, and many offer thermal protection for chilly open water. They are also certified by the United State Coast Guard and are certified as a personal flotation device.
Swim vests are thinner and designed for the pool and calm bodies of water. While they provide less buoyancy than a life jacket, they give a greater range of motion and give enough mobility and flotation to give young swimmers confidence in the water. Swimming vests are best used as a swimming aid or swim float to help toddlers develop water literacy.
Most swim vests—including all the ones reviewed here—are not certified or approved as a PFD and should not be used as such.
To sum up the difference between the two: Life jackets are designed for survival and open water. Swim vests are designed for play and learning how to float.
See Also: 7 Best Life Jackets for Kids and Toddlers
Of course, it should be noted that neither a life jacket or a swim vest act as a substitute for proper adult supervision.
Okay, with all that fun stuff behind us, here's a list of our favorite swim vests and floaties suits for toddlers.
Let's hop right in!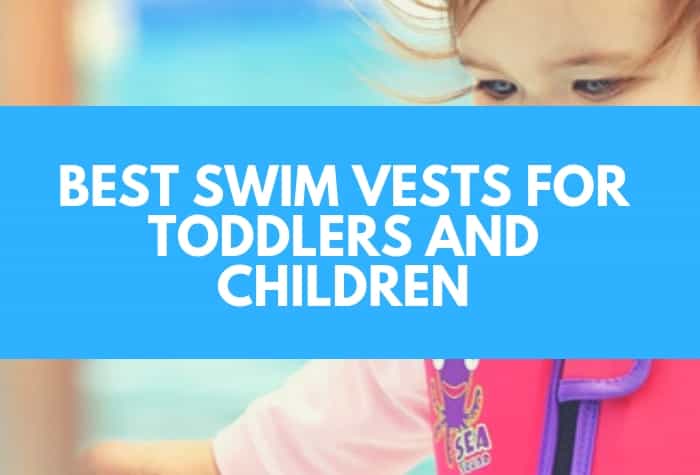 TYR Kids' Progressive Swim Vest
TYR is a leading maker of swim apparel and swimsuits, with a comprehensive line of swimming goggles, swim caps, and yup—these swim vests that are designed for toddlers and kids between the ages of 2-6 years of age.
The coolest part of this toddler swim vest is that it has removable floats that can be used to steadily increase the confidence of your little swimmer. The vest is sleeveless, with a zip-up front and a clasp at the bottom of the neckline. It's made with polyester and neoprene with a foam blend for the removable floatation pads.
Available in two different colors (blue and purple) and two different sizes. Small is suited for toddlers 2-3 years old or 33-40lbs, and the medium-sized vest is ideal for kids 3-6 years old in the 40-66lbs range.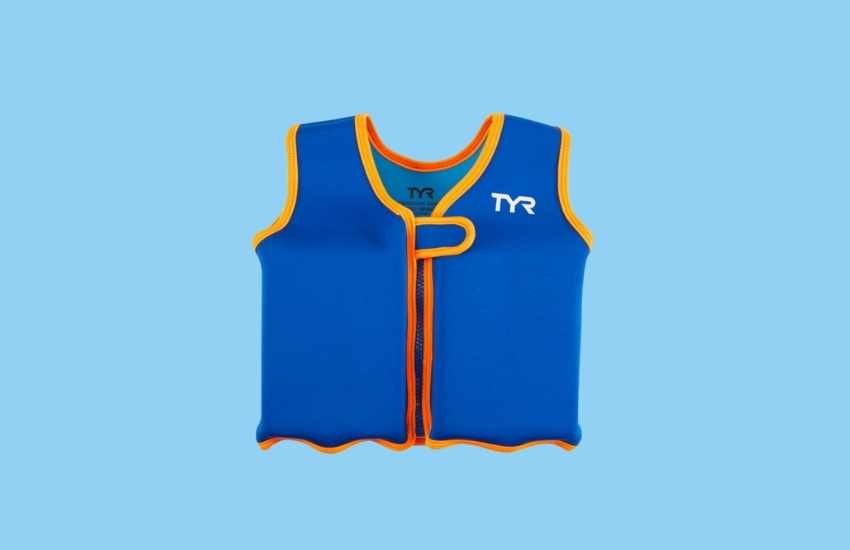 Aqua Leisure Swim Vest
The Aqua Leisure Swim Vest is another printed vest that is designed to provide flotation and comfort in the water.
Available in small/medium (up to 33lbs) and medium/large (up to 50lbs), these vests have padded shoulders, a zip close up the front, an added Velcro closure, and soft fabric that is easy on the skin and also doubles up as a sunblock for outdoor swimming.
These toddler swim vests have two fun prints and are very low-cost, with online swim retailer Swim Outlet offering them for less than $20.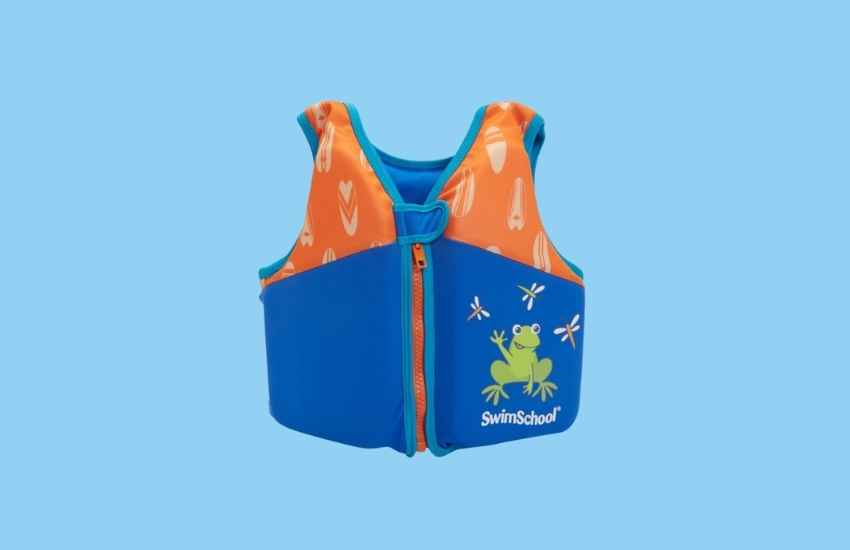 Speedo Kids Begin-to-Swim Vest
Speedo is one of the most popular makers of swimming gear and accessories, and their child line is just as popular as the stuff they sell for the most seasoned competitive swimmer. We love their swim goggles for kids, water shoes for toddlers, and just about everything else they make.
In the case of our youngest swimmers, their swim vest, the Speedo Kids Begin-to-Swim Classic Swim Vest, Speedo has developed a comfortable and adjustable vest for kids from 2-6 years of age.
The Speedo swim vest is opened and closed from the front and has an additional Velcro clasp at the top to keep the vest on while in the water.
Made with a soft neoprene (the same stuff that your open water swimming wetsuits are made of), the vest gives the child plenty of arm and leg mobility while also featuring a safety strap that wraps around the bottom of the child to keep it secured.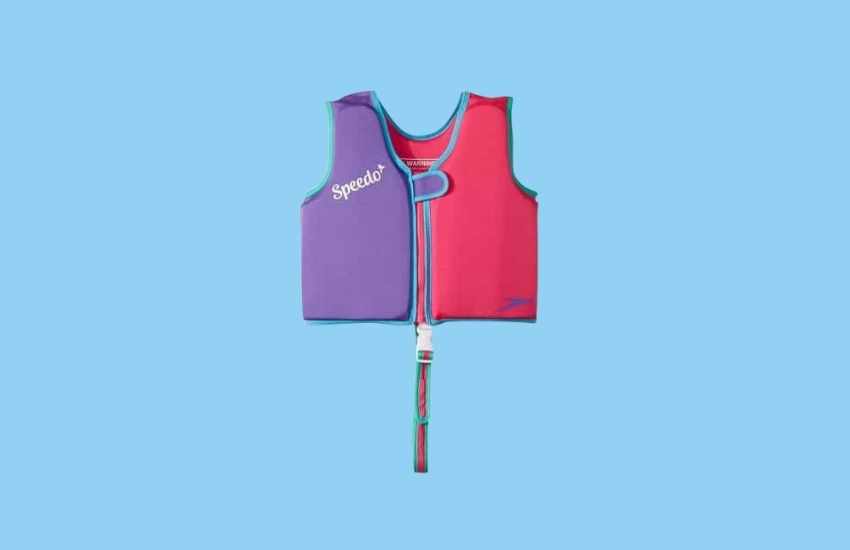 ---
Splash About Flotation Suit
For many, swimming in the pool means being outside. For outdoor pools, there is an added consideration for keeping your kiddo safe and comfortable, and that means protection from the sun.
The Splash About Sun Protection Floatie Suit, with its half-sleeves and jammer-length legs, give your child both flotation and protection from the sun. Although not technically a swim vest, it performs many of the same functions, along with the bonus coverage of the suit material.
The float suit comes with a band of floaties around the torso—sixteen separate buoys in all—that provide a flexible and complete fit. Because the Splash About Flotation Suit is more of a suit, and not just a vest, it means that it will stay on. Simply open the back zipper to help the child in and off they go.
The Splash About Flotation Suit comes in three different sizes, geared towards children of 1-2 years, 2-4, and 4-6, and come in 8 different colors and prints for both boys and girls.
Blue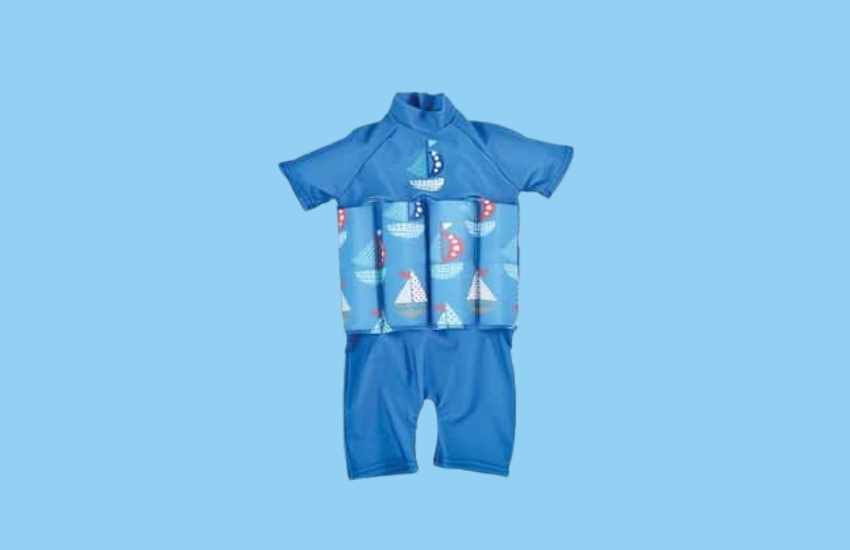 Pink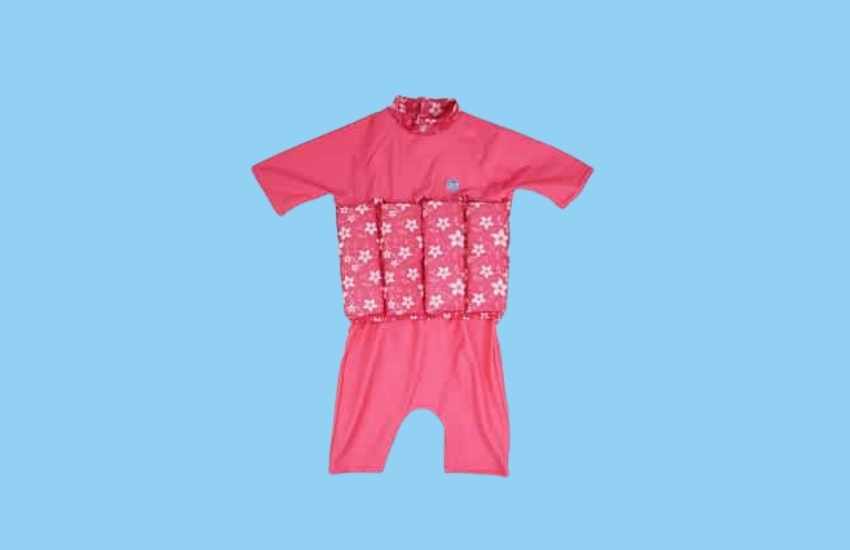 ---
MP Swim Method Swim Vest
When Michael Phelps and Speedo parted ways back in 2014 you knew that he would come out with his own signature line of swimming accessories, including his own racing goggles. As Phelps as grown, and now has two kids of his own, the swim gear line has also grown to include swimming aids for toddlers, including swim vests.
Unlike the Speedo vests, the MP Swim Vest distributes the flotation across the torso, giving the child a more even sense of flotation in the water. This is a more natural feeling, allowing kiddo to swim and float, and not just bob up and down in the water.
The MP Swim Vest has a handle on the back of the vest to help steady the child's body position in the water, multiple adjustment straps, and comes in a green/blue and pink. The vests come in two sizes, accommodating children 2-6 years of age, and from 33-66 pounds.
Blue/Green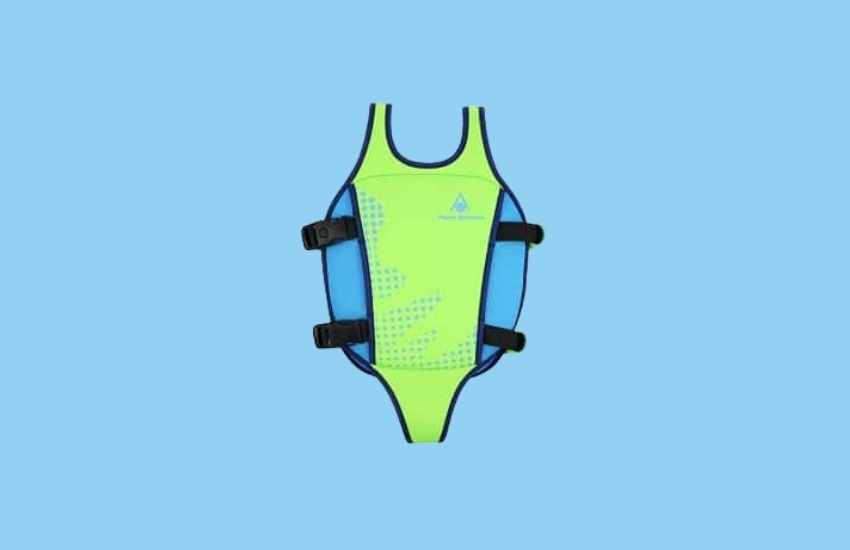 Pink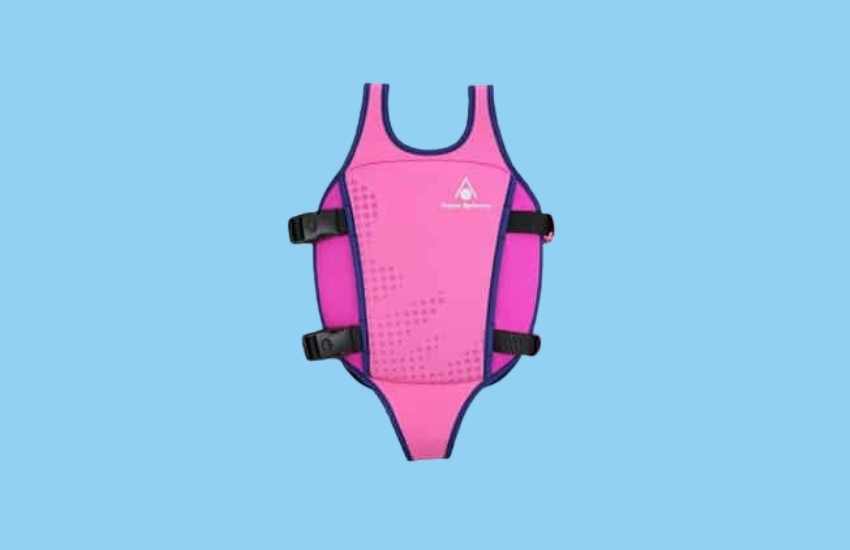 Konfidence Youth Swim Jacket
Looking for a swim vest for older children and kids? There is a company that specializes in making swim vests that are ideal for kids in the range of 10-12 years of age.
Made mostly of neoprene (80%) and Lycra, which is a stretchy and comfortable fabric, the Konfidence Youth Swim Jacket is ideal for kids who are a little more nervous around the water or who are limited in their mobility at the pool.
The swim vest, which is better described as a youth jacket, is an excellent option for kids who are just learning to get comfortable in the water. It has removable foam floats that allow you to progress to less and less floatation.
The vests and jackets come in three different sizes, with a size for 8-10 years of age (40kgs), 10-12 years of age (up to 45kgs) and 12-14 years of age (for kids up to 50kg).
The vest is not certified as a life jacket/floatation device and is best used as a swim floatation device.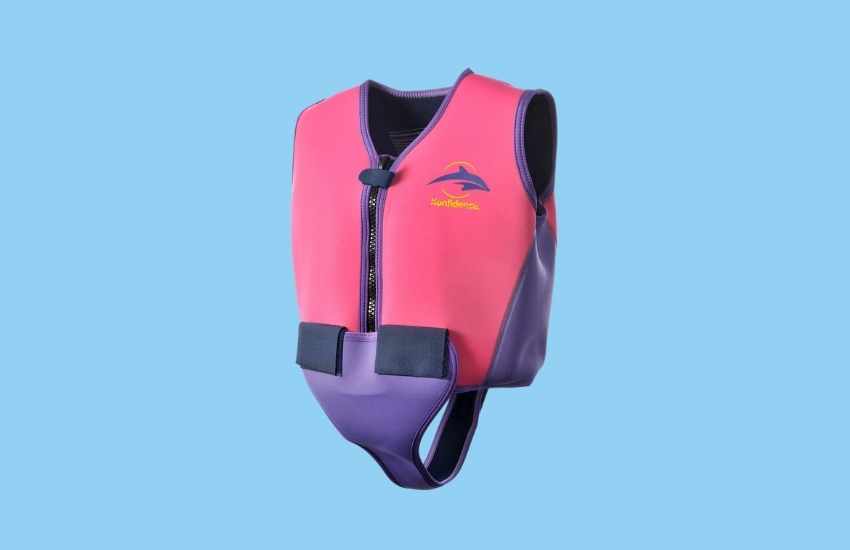 ---
How to Choose the Right Swim Vest for Toddlers
Here are some tips for finding the right swimming vest for your toddler.
Proper sizing.
Swim vests should fit snugly so that they don't slide off or your toddler wiggles out of it when in the water.
Vests are sized by age and by weight to give you two indicators of how to find a vest that fits adequately and comfortably.
Comfort.
For long days by the pool and by the water, a swim vest should be comfortable for your child to wear for extended periods of time.
Look for softer materials that won't chafe and rub on your child's skin.
Neoprene (the same material that we find in wetsuits for open water swimming) is a great material that is both soft and doesn't absorb tons of water.
Sun protection.
While there is no replacing a sun hat, a waterproof sunscreen, and avoiding extended exposure to the sun, swim vests for toddlers do provide a measure of sun protection.
Some vests have longer sleeves and cover the back to beat the heat and protect your toddler's skin for the sun.
Coast Guard certified.
While most swim vests are not certified by the USCG, there are a select number of vests that are good to go as a personal flotation device.
For families who are going boating, doing other water sports, or you simply want something a little more floaty with your swim vest, look for one that has been certified by the United States Coast Guard.
---
More Stuff Like This:
6 Best Swim Floaties for Toddlers. Looking for the best swim floatie for your toddler or child? Here's a breakdown of our favorite water wings, baby cruisers, and more for safety and fun in the pool.
6 Best Rash Guards and Swim Shirt for Kids. Rash guards a great way to provide protection during those long summer days. Here's a round-up of the best rash guards and swim shirts for kids.
8 Best Swim Goggles for Kids. The right pair of swimming goggles help children maximize fun and safety in the water. Here are our favorite children's swim goggles.
7 Best Pool Alarms for Your Backyard Pool. Safety is the first priority with your backyard pool. Secure your pool and keep your kids safe with our hand-picked selection of the best swim pool alarms.