Swimming is a key life skill every young child should learn.
There are plenty of health benefits of baby swimming and getting your child comfortable in the water at an early age.
Here's what you will need to get started with your baby in the water to maximize learning, safety, and fun.
Let's do this!
Baby Swim Gear — The Essentials
Here are the things you will need to keep your baby comfortable and safe in the water:
Swim diaper. There are two kinds of swim diapers, reusable and disposable.
Baby wetsuit. Keeps them warm in the water and provides a little bit of flotation.
Baby swimsuit. For warmer learn-to-swim pools, your baby will want a swimsuit to wear over their diaper.
Water shoes. Protect the soles of their feet, keep their feet warm, and give them grip on slippery pool decks with a pair of good water shoes for kids.
Toys. Teaching your baby to be comfortable in the water is easier with toys. Water toys for babies are a great way to build skills and have fun.
Goggles. As your baby gets more comfortable in the water, consider a pair of swim goggles for kids to improve visibility and allow them to visually explore underwater.
Swim vests. Not to be confused with PFD's or lifejackets, which are certified by the USCG, swim vests are a tool for toddlers to learn water literacy with a degree of floatation.
Swim floatie. Flotation devices safely allow your baby to explore the water while staying buoyant.
Swim aids. There are plenty of options when it comes to the best swimming aids for children and toddlers (here are a few of our favorites)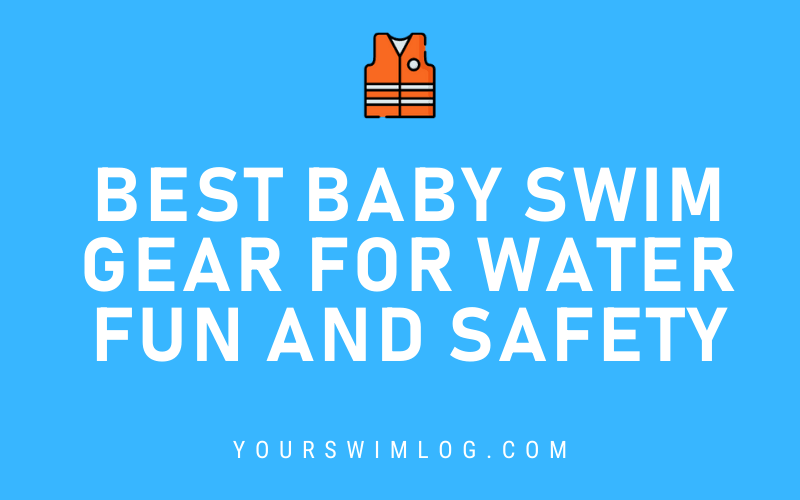 ---
iPlay Baby Snap Reusable Swim Diaper
**Best reusable swim diaper
One of the realities of going to the pool is that your baby is going to have the occasional accident. That's why swim diapers are so crucial–keeping doo-doo out of the pool is critical.
The iPlay Baby Snap Reusable Swim Diaper have a set of snap-buttons along the side that make it easy to put on and take off. They come in a variety of colors, patterns, and sizes, accommodating babies and toddlers.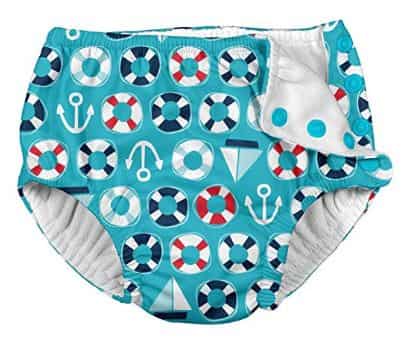 ---
Pampers Splashers Disposable Swim Diaper
**Best disposable swim diaper
If you prefer to take the disposable route with your swim diapers, Pampers makes a diaper that is made specifically for water-based activities.
Exceptionally well-reviewed on Amazon, with over a thousand 5-star reviews, the Pampers Splashers have flexible double leg cuffs that keep stuff in and limit the amount of water that gets in, preventing the ballooning of the diaper when in the water.
They are available in sizes 3-4, 5 and 6, and come in a series of fun designs, including Elmo and Dora and Diego.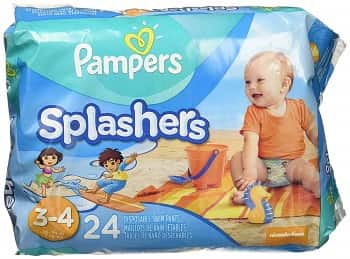 ---
Cheekaaboo Warmbabies Wetsuit for Babies and Toddlers
**Best baby wetsuit
Most learn-to-swim pools are intentionally a little warmer than your standard lap swimming pool. Because of this, your baby will likely not a wet-suit. It benefits them to get the full experience of being in the water. Of course, for pools that run on the cooler side, a wetsuit for your baby is an excellent idea.
Our favorite is the unisex Cheekaaboo Warmbabies Wetsuit for Babies and Toddlers. Available in half a dozen color patterns, and in sizes accommodating children aged 6 months to 4-years of age, the Warmbabies Wetsuit will keep your baby or toddler comfortable and warm.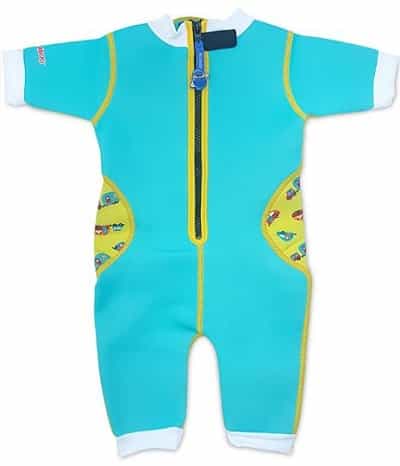 ---
upandfast Swimsuit with Sun Hat
**Best baby swimsuit
For the baby who is going to be spending time outside, whether it's at an outdoor pool or at the lake, covering yourself is key. The upandfast Baby Boy Swimsuit is a suit that covers the arms and thighs.
Available in five different colors and patterns, including dinosaurs, a nautical theme, and more, this swimsuit can fit a swim diaper underneath and according to numerous reviews, fits true to size.


---
iPlay Water Shoes for Babies and Toddlers
The iPlay Water Shoes are excellent for keeping your baby or toddler's feet warm. The textured rubber sole gives excellent grip on slick pool tiles, protects their feet from sun-drenched pool decks.
The water shoes dry quickly and are flexible enough that your baby will be able to kick with them on in the water. The iPlay Water Shoes for Toddlers come in almost a dozen colors and just about every size imaginable.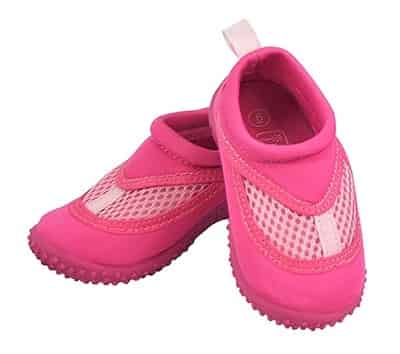 ---
BestWays Baby Swim Float
**Best Baby Swim Float
Flotation is a critical feature for any kind of baby swim gear you use. The SwimWays Swim Float checks that box, as well as a few others.
Besides being a secure and comfortable way to provide buoyancy to your baby (it accommodates children from 6 months to 4-years of age), it also features a shade that protects your baby from the sun when at the local outdoor pool.
The swim floatie for toddlers has some other great features that will keep your baby entertained, with plastic stacking rings, a fish teether, and an octopus in arms reach.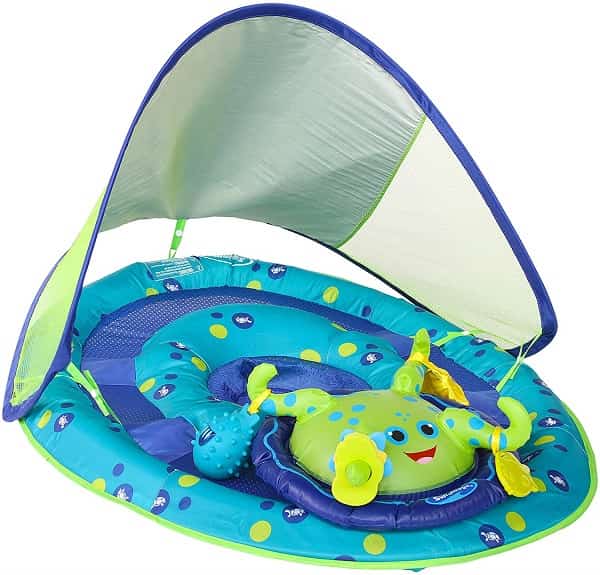 ---
Munchkin Squirtin Bath Toys
**Best water toy for babies
Munchkin makes a series of water-squirting water toys for babies. There are three in total, with barnyard animals, ocean buddies, and lake buddies. Each pack comes in a 4 or 8-pack. The toys float, can be squeezed to take on water and squirted, and are all-around great toys for bath and pool time.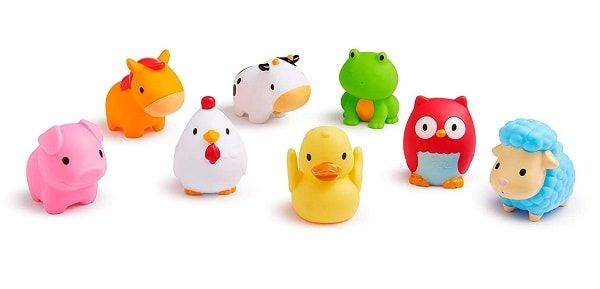 ---
More Stuff Like This
7 Best Swim Vests for Toddlers and Children. Swim vests are a great tool for helping toddlers get comfortable in the water. Here's a rundown of the best toddler swim vests.
7 Best Pool Alarms for Your Backyard Pool. Safety is the first priority with your backyard pool. Secure your pool and keep your kids safe with our hand-picked selection of the best swim pool alarms.
7 Best Swim Briefs for Boys. Looking for swim briefs for your little swimmer? Hit the swimming pool with confidence with this breakdown of the best swim briefs for boys.