Getting your baby comfortable in the water means using the right swimsuit. Here's a breakdown of our favorite swimsuits for babies.
Water literacy is one of the most important things your baby will learn. Part of the process of becoming a little swimmer is wearing the right baby swim gear.
When picking out the right swimsuit for your baby, there are a few things you want to keep in mind when it comes to functionality:
Coverage from the sun. During the summer months, whether you are at the beach or lounging around in an inflatable kiddie pool, the sun is beating down in a big way. The soft skin of babies is especially prone to sunburns, and while sunscreen is an effective screen, blocking some of the sun's harmful rays, a swimsuit with coverage provides an actual sunblock.
Space for swim diapers. The swimsuits in this collection do not include swim diapers, which is something your little swimmer will need when hitting the water, whether it's your backyard above ground swim pool or the neighborhood water park. (Check out our full breakdown on the best swim diapers for your baby)
Quick-Dry, Comfortable Fabrics. Look for swimsuits that are high in polyester. This is a durable, long-lasting fabric that also dries relatively quickly and that is hypoallergenic and sits comfortably on the skin of your baby. Swimsuits or clothing that is perpetually soggy can ride and chafe, making those swim sessions and the time after uncomfortable.
Of course, there are other things to consider, such as price and style, but those three are the basic functionalities every baby's swimsuit should check off.
Below is a collection of my favorite swimsuits for babies, whether you are looking for your baby boy, baby girl, or something unisex.
Hit the water with confidence with our favorite swimsuits for babies.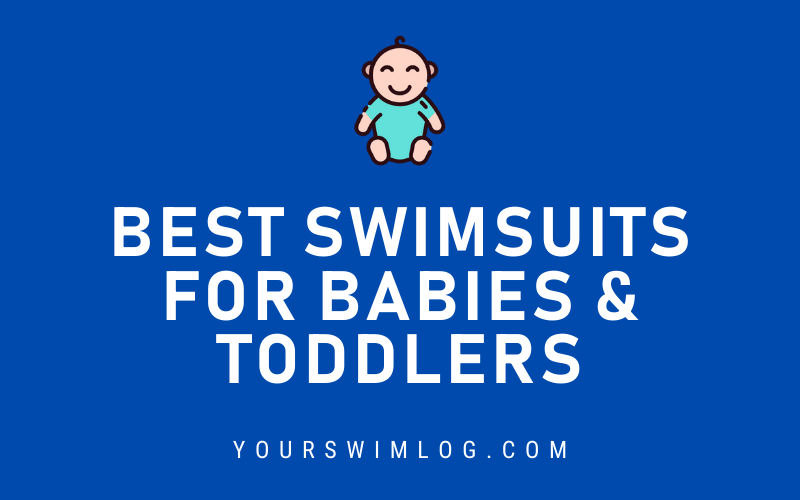 Bangely Swimsuit for Baby Boys
Exceptionally well-reviewed on Amazon, with a 4.5-star average rating, the Bangely series of rash guards and swimsuits for baby boys provide plenty of sun and water protection.
With playful designs on the front of the suit and on the hat, from dinosaurs to whales to sharks, the Bangely baby swimsuit is made of 85% quick-drying polyester and 15% spandex that gentry stretches and hugs the skin of your baby boy.
Available in baby and toddler sizes, the swimsuit includes a hat with ear flaps that protect the head and neck from the sun, while the mid-length rashguard covers sensitive thighs and shoulders, ensuring that your baby can spend more time out in the sun and water and less time hiding from it.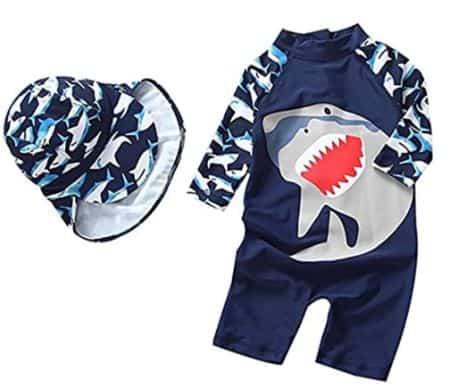 RuggedButts Striped One-Piece Swimsuit for Toddlers
Beyond having an awesome company name, RuggedButts makes high-quality gear for babies and toddlers. Their Striped One-Piece Swimsuit is available in three different softer color combinations that are backed by a 100-percent happiness guarantee. Chlorine and sun resistant, the RuggedButts Striped One-Piece Swimsuits come in sizes varying from 3-24 months.

Sugar House Long Sleeve Rash Guard and Swimsuit for Baby Girls
For little swimmers who are spending lots of time in the sun, one of the biggest priorities is shielding them from the sun's harmful rays. Waterproof sunscreen is one tool, but creating a physical barrier with clothing is another. Sugar House's Long Sleeve Rash Guard and Swimsuit for Baby Girls fully covers the soft skin on the arms.
Combine the sun protection and soft fabric with the playful colors and designs, varying from flamingos to pink paisley, and you've got a stylish way to keep your baby comfortable and protected from the sun while splashing around.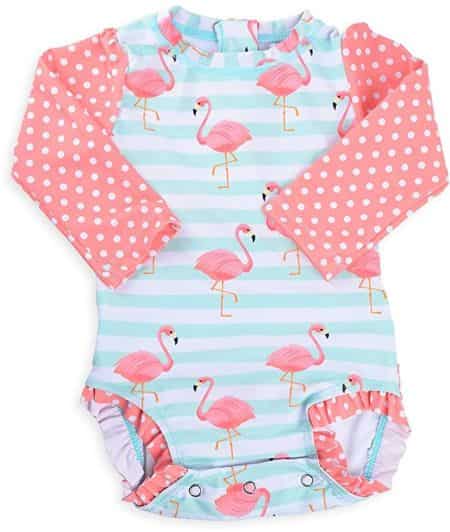 Jastore Baby Girls One-Piece Swimsuit
Designed more for the beach and leisurely splashing, the Jastore Baby Girls Swimsuit comes with a headband and bow, and is available in eight different color combinations.
While it doesn't provide as much sun protection as the other swimsuits on this list, the Jastore does check all the boxes when it comes to durability and comfort.
Made of 82% polyester and 18% Spandex, the swimsuit dries quickly, keeping your kiddo comfortable during long afternoons at the pool.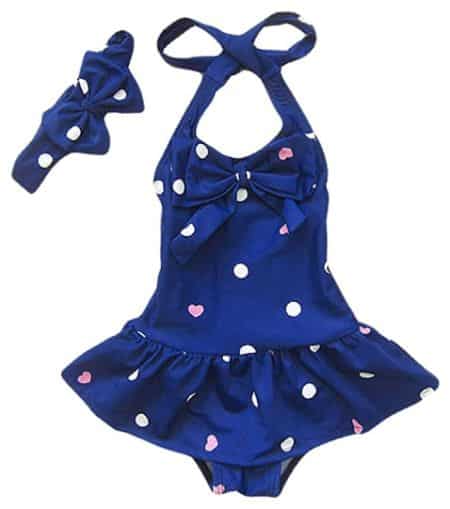 RuffleButts Baby Rash Guard and Swimsuit for Girls
Another entry by RuffleButts—fun company name to say out loud, not gonna lie!—is girl-centric, with bright colors, polka dots, and ruffles along the cuffs and waist.
The swimsuit is made of 80% polyester and 20% spandex, which perform a 1-2 punch of being sun and chlorine resistant while also flexible and stretchy enough to allow your baby to move freely.
The suit features a high neckline and half sleeves to help protect against the sun, is available in four different color combinations, and comes in sizes fitting baby girls from 3-24 months of age.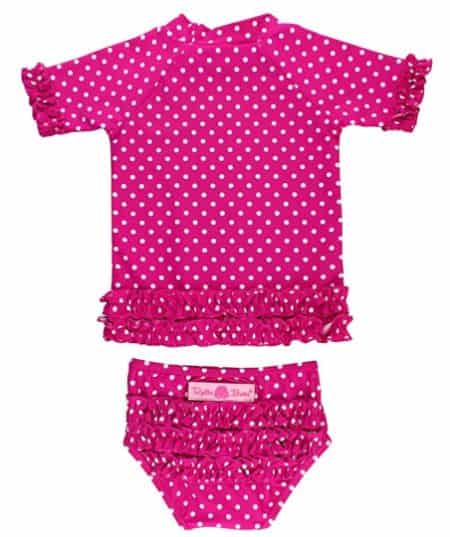 Stonz Unisex Rash Guard Swimsuit for Toddlers
Available in eight different neutral color patterns, the Stonz Premium Rashguard and Swimsuit features full-length sun protection, covering your baby girl or baby boy from wrist to ankle.
The side panels are made of a soft mesh that makes the swimsuit extra breathable and promotes airflow, and a raised neck collar provides shade on the bottom of the neck.
You can change out the waterproof diapers easily with a zipper system that allows you to change diapers without fully removing the swimsuit. The Stonz swimsuits are available in a wide range of infant sizes, from 0-24 months.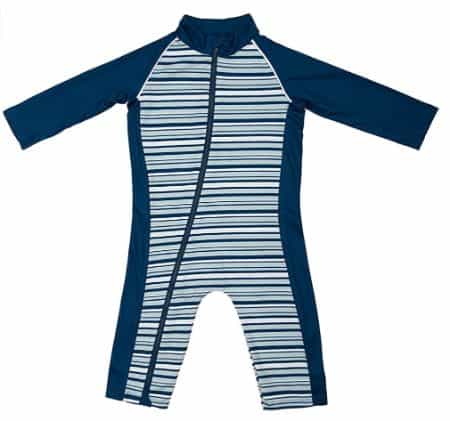 upandfast Baby Boy Swimsuit with Sun Hat
The upandfast Baby Boy Swimsuit delivers maximum protection from the sun with its blend of solid colors and playful patterns. The swimsuit is made of soft and durable chlorine-resistant material that dries quickly, keeping your baby happy and comfortable during long bouts of play in and around the water.
What makes the upandfast swimsuit for baby boys so special—beyond the five different animal-themed color patterns—is the bonus sun hat is included. The hat has a visor and a waterfall-back that covers the neck and ears. Available in baby and toddler sizes, from 6-36 months.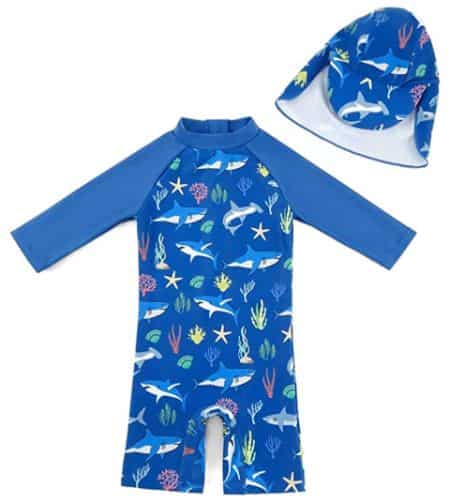 ---
Baby Swimwear – FAQs and Buying Guide
What should I look for when shopping for baby swimwear?
Ultimately, the baby swimsuit you choose should align with what you want for your child.
Here are the key things to look for:
Sun protection.
Because babies have such sensitive skin, sheltering them from extended UV exposure is critical. The best way to help protect them is to cover them up.
Sunscreen and sunblock have a place, for sure, but the surest way to reduce sun exposure is simply covering them. Most swimwear for babies is not like your traditional one-piece swimsuits or swim briefs, exposing shoulders and back to the sun.
Temperature regulation.
Swimsuits provide a layer that can warm up a toddler in the pool (wetsuits for toddlers are a great example of this) and also keep them cool in warmer environments.
The amount of coverage the swimsuit has plays a role in how cool/warm your baby will be. Swimsuits made of neoprene (the same material found in open water swimming wetsuits) are especially warm, with a solid layer of insulation, making them perfect for cooler aquatic environments.
Materials and fabrics.
Swimsuit fabrics generally fall into a couple of categories. Durable fabrics like polyester and nylon reduce excess stretch and thinning and hold the swimsuit's color over time. Stretchy fabrics like elastane (also known as Spandex or Lycra) give the fabric stretch for a snug and comfortable fit, but don't last as long.
While there's something to be said for ballin' on a budget and getting the cheapest suit you can find, often the stitching and seams on cheap swimsuits are ragged and flimsy, chafing your baby's skin.
Your baby's swimsuit is an investment, and choosing a quality baby swimsuit will only encourage both of you to hit the water more often.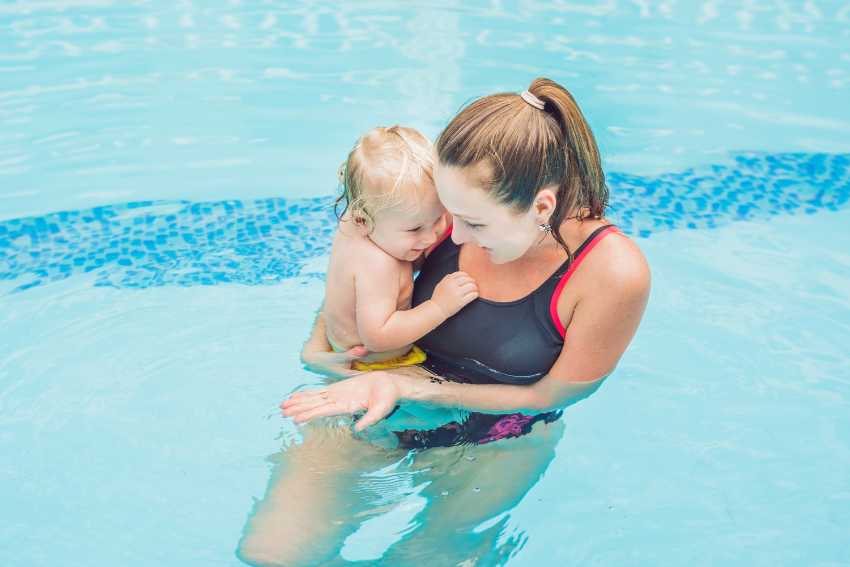 Does my little swimmer need to wear a swim diaper with a bathing suit?
Yes!
Swim diapers are a necessity when taking your baby to the pool or beach. They are an oft-misunderstood piece of the puzzle when it comes to baby swimwear, and parents will often use a regular diaper.
But swim diapers, while they don't hold pee, will keep doo-doos in the pool and out of the swimming pool.
Swim diapers don't balloon out when they get water-logged. They are designed for extended use in the water, and they are usually made with fabrics that don't chafe the soft skin of your toddler when wet.
Regular diapers soak up all of the liquids they can find (pee or not), and in a pool, this form of diaper will quickly become an anchor for your baby and toddler.
There are two kinds of swim diapers:
Disposable swim diapers. As you can probably guess, baby wears it once and then it finds its way to the garbage. While they look a lot like regular disposable diapers, they are specifically designed to not get water-logged with fluids. Available in both pull-down and tear away.
Reusable swim diapers. Usually available as a pull-down or with snaps or Velcro closures on the sides, reusable swimming diapers have a soft mesh on the inside and can be cleaned after use (note that most swim pools do not allow you to clean the diaper in the sinks in the locker room).
There are lots of benefits to both, but ultimately you want a swim diaper that matches the needs of your child.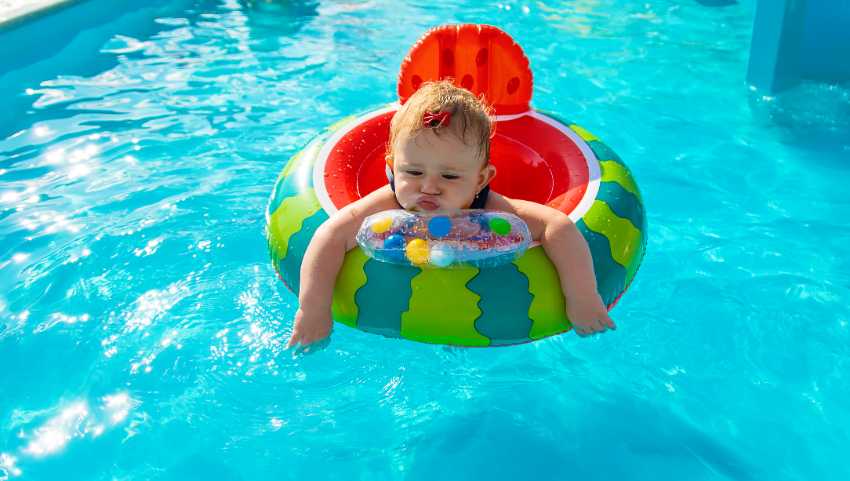 What swimwear do children need by age?
Babies are growing quickly, and as they grow, the swimwear they rock out in at the pool will change. What a three-month-old will need will be different than an 18-month old.
Here's a generalized age-by-age breakdown of each age group and recommended swimwear:
0-3 months. At this age, the big priorities are keeping your baby warm and being mindful of sensitive skin. Newborns have particularly sensitive skin which can get irritated by chafing of the swimsuit. They also feel the chills easily, so look for swimwear that is soft on the skin and will keep them warm while in the water. Thermal baby swimwear is worth a look for particularly chilly pools.
3-6 months. At this age, your baby is starting to get a little adventurous with their arms and legs, so look for a swimsuit that gives them excellent range of motion while also keeping them nice and warm (and comfortable!) in the water.
6-12 months. As your baby continues to grow, they will find themselves getting more comfortable in the water and will be eager to test out their splashing skills for longer. Extended periods of time in the water mean an increased likelihood of accidents, so diaper up. As toddlers are getting wiggly and splashy, a baby swimsuit that is made of neoprene is an excellent choice for both keeping them warm and giving you a good grip on your baby.
12-18 months. Okay, now baby is starting to exert some independence. Toddler swimsuits with floatation devices in the suit are a good choice for babies this age. (Floaties for toddlers do not replace proper supervision in the water.) Swimwear at this age should encourage more confidence and help your toddler learn how to float in the water.
What is the best kind of baby swimwear for outdoor pools and the beach?
There's not many things better than lazy summer days hanging out by the water, whether that's a backyard pool (these inflatable kiddie pools are worth a look for a low-cost way to cool off for adults and kiddos alike) or the water-s edge at the beach.
But with the great outdoors comes some added concerns when it comes to choosing the right swimwear for your baby.
Swimwear that doubles up as UV protection is an excellent bonus. Rash guards are ideal for warmer days at the beach where baby wants to avoid overheating while blocking the sun.
For cooler days, there are plenty of wetsuits for babies and toddlers that regulate your baby's body temperature while also blocking UV rays.
---
More Guides Like This
9 Best Swimming Aids for Toddlers and Kids. Looking for some fun swimming aids that will entertain your child will also keeping them water safe? Here is a list of our favorite swim aids for toddlers.
7 Best Swimming Caps for Toddlers and Children. Swim caps protect your toddler or child's hair from harsh pool chemicals, helps them stay safe in the pool, and keeps their hair out of the pool. Here are our top picks for the best swimming caps for toddlers and children.
7 Best Swim Vests for Toddlers and Children. Swim vests are a great tool for helping toddlers get comfortable in the water. Here's a rundown of the best toddler swim vests.