Looking for the best open water wetsuits for swimming? We've got you covered with the top wetsuits for every kind of swimmer and budget.
Wetsuits are essential for swimming in open water.
The most obvious thing that a proper wetsuit does when you are swimming is that it keeps you warm. Wetsuits are made with neoprene rubber, varying in thicknesses of 1.5mm to 5mm. This material, while not nearly as thin as a regular swimsuit you would wear to the pool, insulates your body so that you can swim longer without worrying about getting too cold or even induce hypothermia.
Wetsuits help improve buoyancy in the water, as well. This is primarily a safety benefit. If you get fatigued or exhausted, or worse, get a cramp or injured, your wetsuit will help you float at the surface of the water. Buoyancy helps you swim further as it improves your body position in the water, making you swim more efficiently.
The thick rubber shell also protects against miscellaneous cuts, scrapes, and even marine life who are feeling a little chippy.
Lastly, wetsuits are designed to also boost visibility in the water. Although most wetsuits are as black as a car tire, they frequently feature high vis markings on the arms and back to help you remain visible to other swimmers, your guide, and boaters on the water.
The right wetsuit helps you stay comfortable in the water, has enough range of motion (especially in the shoulders and upper back) so that you can swim properly, and it has all the safety features to keep you safe in the water.
Below is a breakdown of the best wetsuits for open water swimming.
We will look at the best ones on the market right now, including key features, price points, and more.
Read on, find the best open water wetsuit for you, and get to swimmin' with confidence.
Orca Open Water Full Sleeve Smart Wetsuit
⭐ Best all-around open water swimming wetsuit
Orca is one of the premier names when it comes to open water swimming, whether it's long-distance swimming, triathlons, or simply hopping into your local lake for some exercise.
For swimmers who want extra visibility while swimming, the Orca Open Water Core Hi-Vis makes you about as visible as a wetsuit possibly can, with the sleeves and lower legs a bright, pylon orange that will stick out above the waves and dark water.
This wetsuit is awesome for open water swimming as it has all of the other features that Orca wetsuits typically have, including a high-elasticity inner that gives you an excellent range of motion in your stroke, a sturdy YKK zipper, and Yamamoto neoprene rubber for optimal warmth and buoyancy in the water.
The coolest part about this Orca wetsuit? Open water swimmers will love the Emerid System, a contactless technology that blasts out the swimmer's location. Super cool and perfect for swimmers who are alone out on the water.
🔑 Thickness: 3mm chest/back, 3.5mm upper legs, 1.5mm arms and shoulders
🔑 Pricing: $399 at SwimOutlet, check here for current pricing.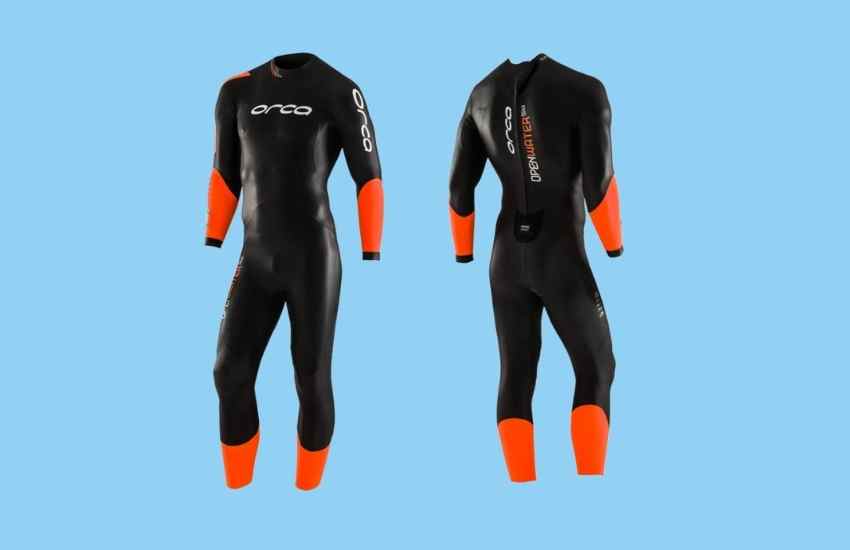 Zone3 Vanquish Full Sleeve Open Water Wetsuits
The Zone3 Vanquish is made for swimmers who want ultimate flexibility and performance from their open water swims.
Built to be as lightweight as possible—while still providing all of the usual warmth and buoyancy benefits of a heavier open water wetsuit—the Zone3 Vanquish is an advanced, feather-light, and pricey wetsuit for swimmers who are all about speed.
Even though it's a thick wetsuit, with 5mm of neoprene coverage through your lower body and midsection, it doesn't feel like one thanks to the excellent panel placement and fabric flexibility that has won a bunch of awards in the triathlon community for the best wetsuit.
Fast, flexible, and buoyant, this wetsuit does it all. Available in a wide variety of sizes, from X-Small to X-Large, each suit ships with a custom bag to protect your investment between swims.
The Zone3 wetsuits are more on the expensive side and probably not suited for beginners and even some novice open water swimmers. With a budget of around $800, this wetsuit is definitely for the more serious open-water swimmer.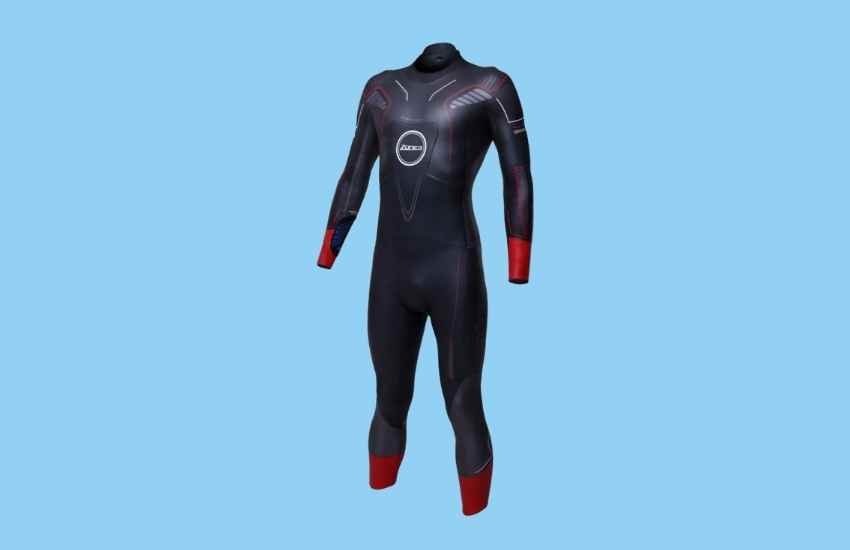 Synergy Endorphin Open Water Swimming Wetsuit
Voted the best low-cost wetsuit by Lava Magazine, the Synergy Endorphin Open Water Swimming Wetsuit is affordable, high-performance, and fast.
Synergy is one of the best names in the open water swimming market, making exceptional neoprene buoyancy swim shorts, neoprene swim socks, and yup—this beauty of a wetsuit.
Made with Yamamoto neoprene, the Synergy Open Water Swimming Wetsuit is designed for colder water swims, with a 5mm thick midsection, and 3mm neoprene thickness in the legs and back. While the suit is one of the thickest on the market, it provides an optimal range of motion in the arms and shoulders (the wetsuit is 2mm thick here).
One of the issues that beginner open water swimmers run into—or swim into, I should say (harhar)—is rubbing and chafing in the neck from the wetsuit. Synergy's wetsuit has a soft and low neck that helps to avoid some of the neck burn from chafing.
Designed to keep you buoyant and warm during your open water swims, flexible enough around the shoulders to keep your stroke intact, and priced super competitively (around $300), the Synergy Endorphin is an excellent open water wetsuit for beginners and experienced swimmers alike.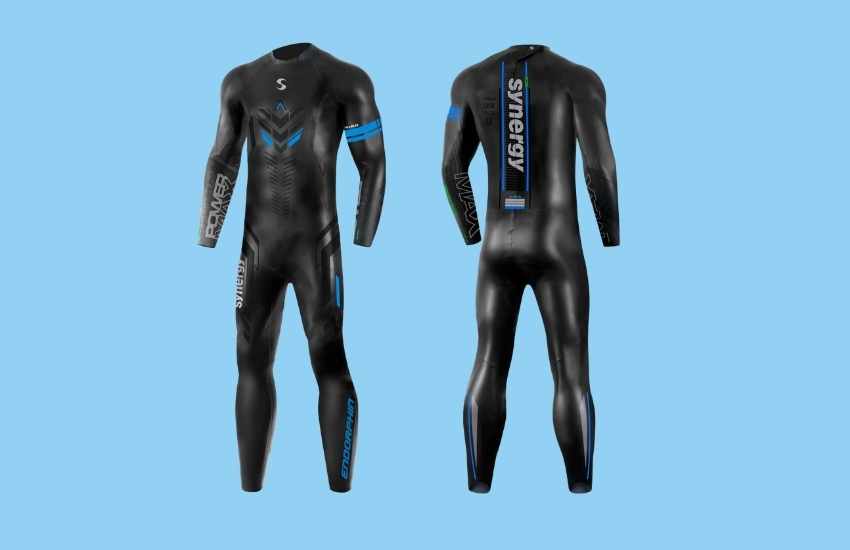 Zone3 Full Sleeve Open Water Wetsuit
Like the Zone3 Vanquish but don't like the big price tag? The Zone3 Advance is more your speed. The suit is about half the price of the Vanquish, but has a lot of the features that make Zone3's wetsuits some of the top ones on the market for open water swimmers.
The Advance has improved on last year's edition, with a 16% reduction in weight without sacrificing buoyancy or warmth. The exterior of the suit is covered with a nano coating that reduces friction and drag significantly more than comparably priced wetsuits, and the shoulder and arms of the wetsuit are specifically designed to give maximum flexibility and range of motion.
Finally, if you are environmentally conscious about the rubber that your wetsuit is made from, this suit has parts of its rubber coming from limestone which is easier on the environment compared to petroleum.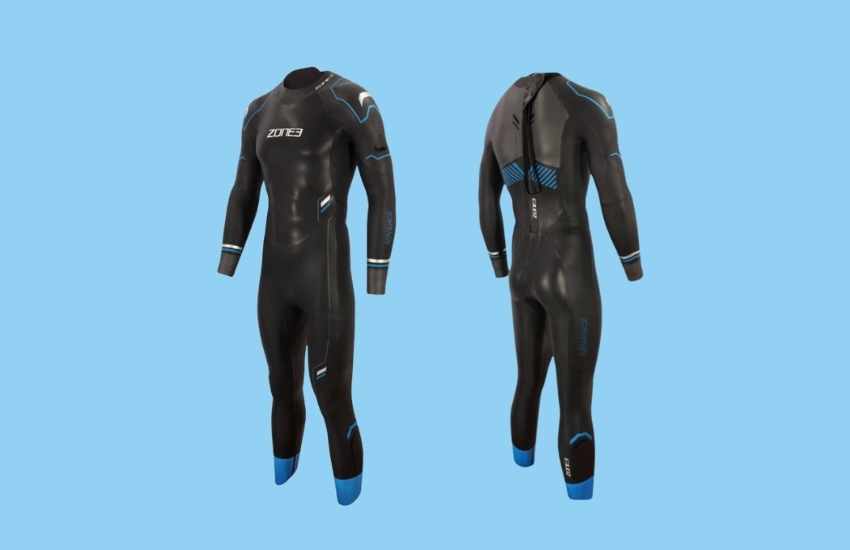 Blueseventy Sprint Open Water Swimming Wetsuit
Blueseventy is another popular and low-cost swim brand for competitive swimmers, both in the pool and in open water. They make excellent swimskins, swim training gloves, and much more.
Their Sprint Wetsuit is designed for one thing and one thing only—blazing open water swims. With a light neoprene coating through the arms (at 1.5mm it's one of the lightest and thinnest on the market), the Sprint is a good budget wetsuit for open water swimmers who want a quality-made suit with maximum flexibility in the arms.
Other key features include a proprietary SCS coating that makes for a slim drag profile in the water. A low collar for reduced chafing on your neck and traps. And a "3-4-4" distribution of neoprene thickness through the midsection and upper legs for maximum buoyancy in the water.
Perfect for beginner open water swimmers and triathletes, and priced affordably (around $260—check Amazon for current pricing and size options), the Sprint is fast, comfortable, and priced super competitively.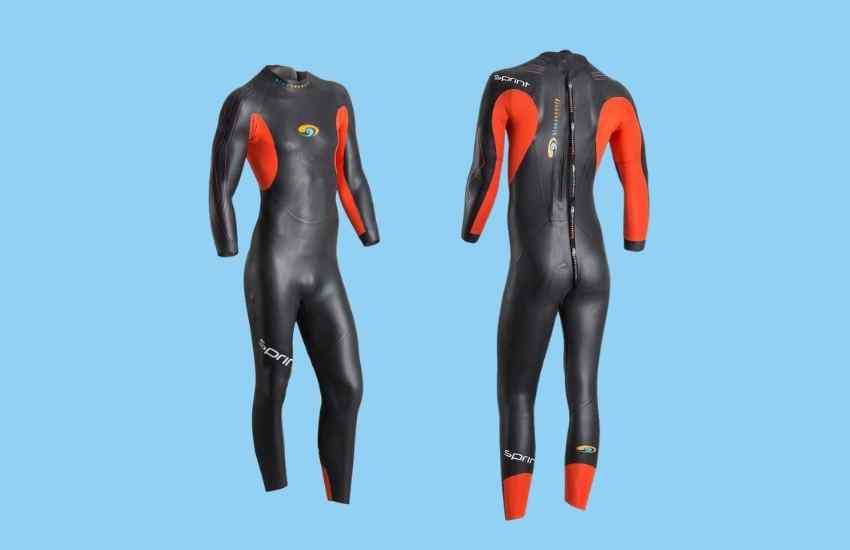 ---
Recommended Reading
9 Best Triathlon and Swimming Wetsuits. The wetsuit can make or break your race or even your training session. Here's our guide to the best triathlon and swimming wetsuits so that you can crush the swim with confidence.
Best Swim Goggles for Triathlons and Open Water Swimming. Ready to dominate your open water race? Here's a breakdown of the best swim goggles for open water swimmers and triathletes.
5 Best Wetsuits for Cold Water Swimming. Bundle up and conquer your open water swims with this guide to the best wetsuits for cold water swimming. Let's do this!
Best Neoprene Swim Caps for Open Water Swimming and Triathlons. Looking to stay warm and visible while open water swimming in chilly water? Here's a breakdown of the best neoprene and skull swim caps for cold water swimming.
Best Swimwear for Triathletes. Looking for training swimsuits to prepare for your next triathlon? This detailed guide breaks down everything you need to know before buying.