Ready to take your kiddo to the beach or pool? Here's a breakdown of the best water shoes for toddlers and kids.
Swimming is an activity that never gets old. Getting your child started young, whether it's heading down to the pool to splash around for the first time or walking along the beach, is good times for both parent and child.
Being safe around the water is obviously super important, and that's where picking out the best water shoes for kids is critical.
Below we have compiled our favorite water shoes, sandals and socks for kids, as well as which piece of footwear is suited for the kind of water-based activity you and your child will be taking on.
Let's do this!
What to Look for with Water Shoes for Kids
There are generally three types of different water shoes for toddlers.
? Water shoes are light but have a semi-rigid structure. Typically, the top of the shoe is made with polyester, mesh, and/or neoprene. When it comes to water shoes for kids, look for tabs on the heel to help your kiddo slide into the shoe. They are ideal for both beach and pool.
? Water socks look nearly identical to shoes, but don't have the same structural support that water shoes do. Water socks don't last as long with heavy use, particularly if your child will be doing lots of exploring along rocks (barnacles). Water socks are best suited for pools.
? Water sandals are basically open-air water shoes. Although they don't completely protect your child's feet from the sun, sandals are often super adjustable, with two straps, one along the top of the foot and another around the back of the heel. Water sandals have rather inflexible soles, which make them more suited to walking than swimming.
Within each there are a couple of things you should definitely be on the look-out for:
? Soles that are nice and grippy. Your child will be walking along slick surfaces, whether it's a wet pool deck or rocks that have been washed over by water. A rubberized sole that has good tread is key.
? Waterproof. Duh, right? Unlike your toddler's regular shoes, these bad boys are gonna get wet. Whether it's chlorinated pool water or saltwater from the beach, having water shoes that are—wait for it—water-proof is critical.
Those are the basics. Some obvious, some maybe not so much.
Now, let's get into the best shoes, socks, and sandals for protecting your child's feet while at the pool, in the water, or at the beach!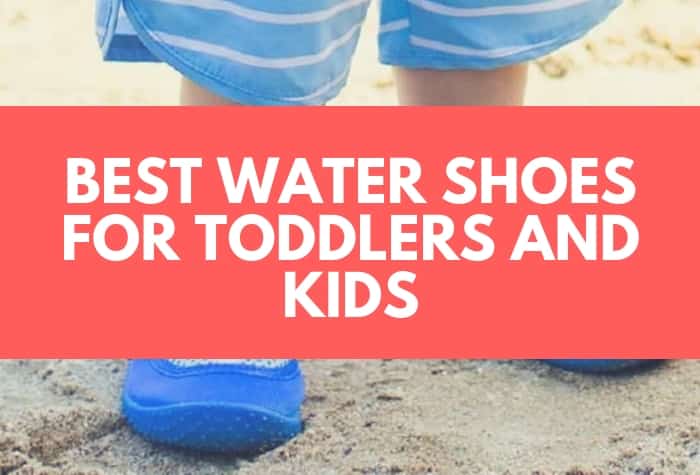 iPlay Baby Toddler Water Shoes
iPlay makes some fantastic stuff for kids. Their swim diaper for toddler ranks as one of our favorites. The iPlay water shoes are about as good as it gets in this category, as well.
The iplay water shoes are made of a quick-drying textile that is also very breathable. The shoes are flexible, and a tab on the back of the shoe makes them easy to pull on and off.
The bottoms are ribbed and pebbled with a slip-free rubber so that your toddler can walk with confidence on the wet pool deck. The outer shell of the shoes is made of polyester and EVA upper, with the soles made of synthetic rubber.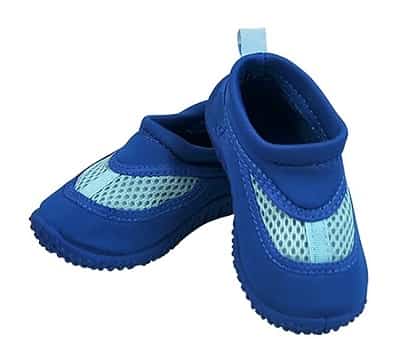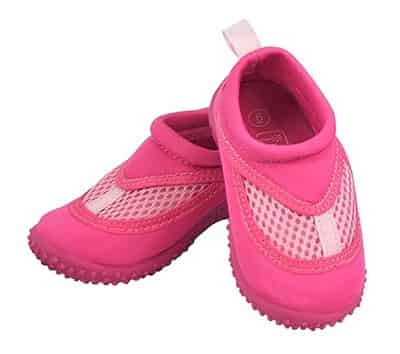 ---
Speedo Surfwalker Pro 2.0 Kids Water Shoes
Speedo is one of the world's biggest manufacturers of equipment for swimmers, whether it's swimming aids for toddlers, pool sandals, or swimsuits for babies and toddlers.
The Speedo Surfwalker Pro 2.0 is a slip-on water shoe that has a four-direction outer shell that flexes to fit the foot of the child. A mesh strip across the shoe helps the foot breathe and speed up drying.
Your child's ability to maintain traction on the pool deck or on wet surfaces is paramount, and this is why Speedo's thermoplastic rubber sole is designed to maximize grip.
Like the iplay's, the Surfwalkers have a loop/tab at the back of the shoe that makes putting on the shoes a cinch. They are available in four different color combinations and five different sizes.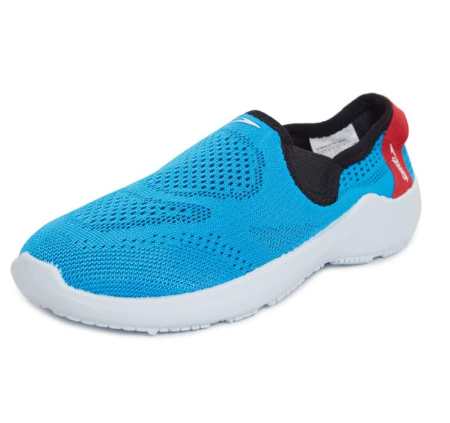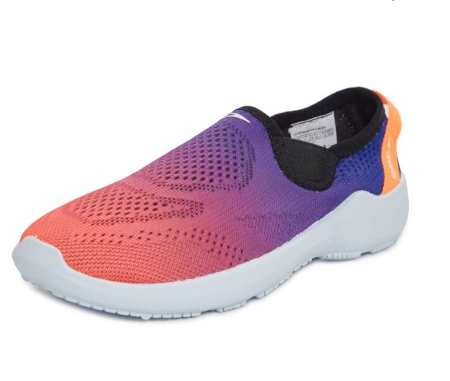 ---
Crocs Kids Swiftwater Easy-On Shoe
These aren't what most people think of when they hear Crocs. Unlike the Swiss-cheese sandals that have made them famous, Crocs instead put together a shoe that has more fabric in the outer shell.
With a synthetic rubber sole that is grooved for extra grip, the Crocs Swiftwater come in a huge array of sizes. Tabs on the front and the heel of the shoes make it super easy to slide them on and off, and an adjustable closure for the foot ensures a comfortable fit for your little one.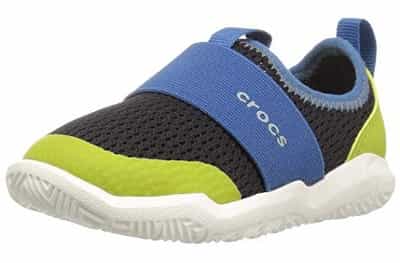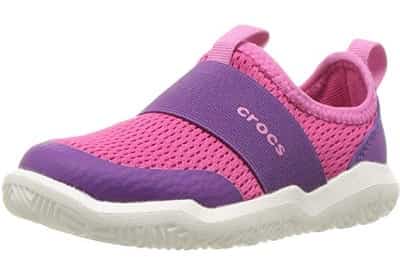 ---
Fresko Toddlers Water Shoes
The upper of the Fresko Toddler Water Shoes is made of something anyone who ever strapped on a wet-suit is familiar with—neoprene!
This fast drying, comfortable and durable material helps the foot to breathe and also to dry quickly when out of the water. The side panels are made of mesh that are embossed with fun and colorful designs (over 25 different looks, the last time I checked). The top of the shoe has an adjustable Velcro closure to make sure that the shoes are nice and snug on the child's foot.
The sole of the shoes is where the Fresko Toddler aqua shoes takes things to the next level. The sole is thick (as you can no doubt tell by the pic below—looks almost like tank tread!), comfortable, and will keep your kiddo's feet planted on the ground while also protecting them from rocks, hot sand, etc.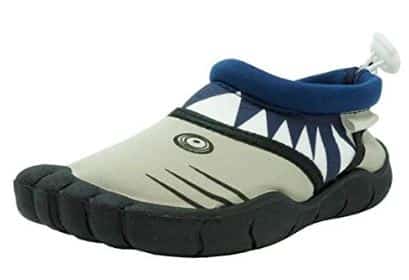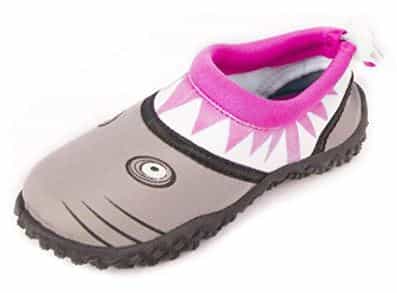 ---
Giotta Swim Water Socks
Although they are touted as water shoes, these are really water socks. Super light, thin, but still packing a rubber sole for grip on wet pool decks, the Giotto Kids Water Socks have a foam sole for comfort.
The Giotta Water Socks for Kids have a snugger fit than the other shoes and socks on this list. They come in a huge variety of colors and patterns, dry quickly, and can be worn easily at the pool and at the beach.
Although they are comfortable and versatile, they are not as durable as some of the other shoes in our little guide.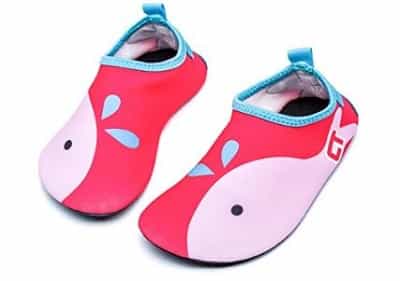 ---
Teva Kids Tidepool Water Sandals
Adults are likely aware of Teva's. They are heavy-duty sandals that are great for beach-combing and warm summer days. The distinctive sandals is also available for kids.
Although it looks similar to the adult version, the Teva Tidepool Kids Water Sandals have a closed toe to protect the little foot digits of your child.
The top of the sandal is secured with a Velcro strap. The bottom of the sandal is classic Teva, with a rubberized sole. The Tidepool comes in six different colors.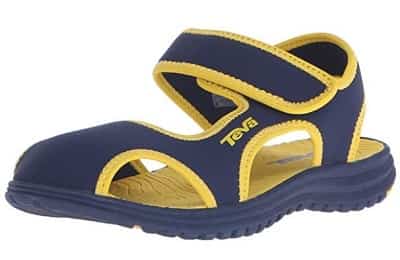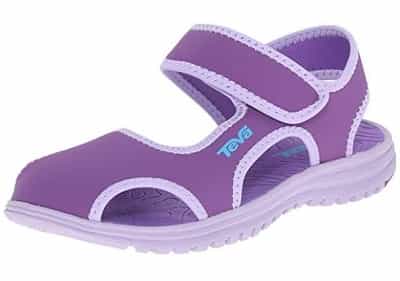 ---
Crocs Kid's Swiftwater Sport Sandals
Another offering by Crocs, their water sandals for kids has a mesh top that is breathable. The sandal is adjusted and tightened by a loop that slings around the back of the heel to a Velcro pad.
The Crocs Swiftwater Kid's Sandals are available in seven different colors and are available in a wide variety sizes, fitting babies to young children.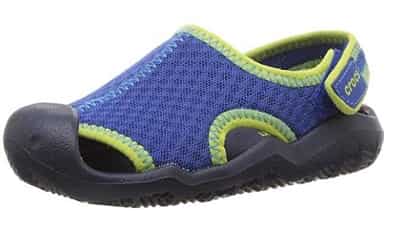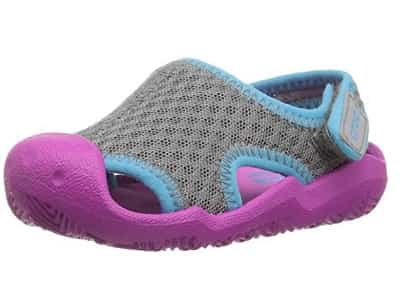 ---
More Swim Gear Guides for Toddlers
9 Best Swimmings Aids for Kids and Toddlers. Looking to hit the water? Here is our curated list of the best swimming aids to take down with you to the local aquatic center for fun and safety.
7 Swimming Caps for Toddlers and Children. Hit the water with confidence with our favorite swim caps that will keep your toddler's hair protected from harsh pool chemicals, protect them from the sun, and even help keep them safe.
7 Best Life Jackets for Youth. Safety first! Here's a breakdown of the best life jackets and PFD's for kids and toddlers.
7 Best Swim Vests for Toddlers and Children. Swim vests are a great tool for helping toddlers get comfortable in the water. Here's a rundown of the best toddler swim vests.
6 Best Waterproof Cast Covers for Swimming. Frustrated with being dry-docked with a broken arm or leg? Here's a breakdown of the best waterproof cast covers for swimming and showering.