Whatever kind of aquatic activity you are into, here are our favorite water shoes for women.
Footwear matters when it comes to slippery and wet environments. Whether you are going down to the beach, hitting the pool for a water aerobics class, or hanging around your above ground swimming pool, the protection, comfort, and grip that comes with water shoes are essential.
I will be the first to admit that water shoes are not always the prettiest to look at, but they have come a long way in terms of aesthetics while maintaining the same utility and protection.
Whatever your budget or activity, below is our hand-picked selection of the best water shoes for women. Let's get after it!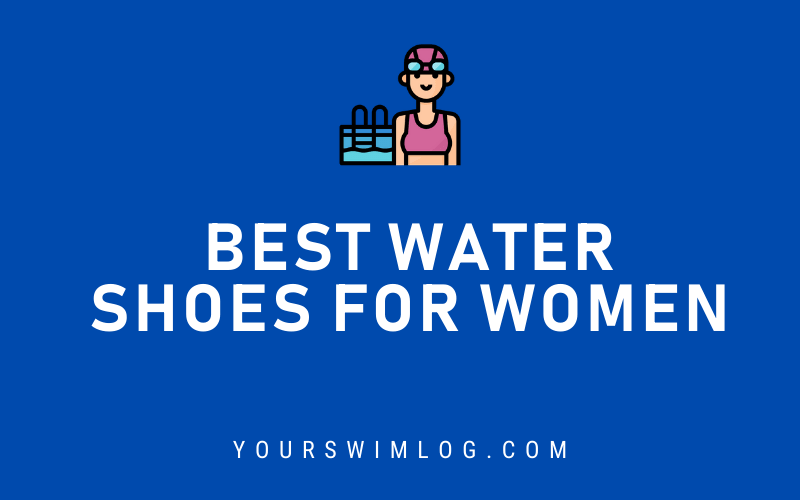 VIFUUR Water Sports Shoes for Women
VIFUUR might not roll off the tongue, but don't get it twisted, this water shoe comes feature-packed. The smooth neckline makes pulling the shoes on and off smooth and comfortable.
A gripped rubber sole keeps your feet gripped to the ground, whether a slimy rock or a wet pool deck. A loop on the heel makes getting into the shoes a breeze. And the breathable and flexible fabric on the uppers melts onto your foot.
Available in almost 40 different solid and patterned colors, the VIFUUR is exceptionally well-priced, durable and comfortable. Oh, and it also has over 4,200 five-star ratings on Amazon. Not bad at all.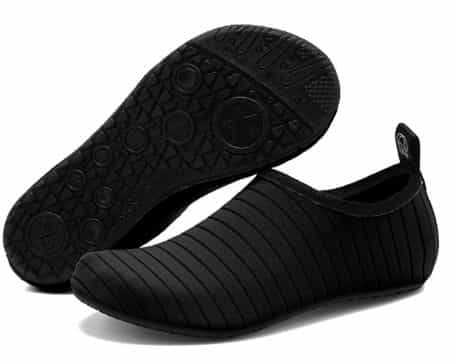 Body Glove Women's Barefoot Max Water Shoe
Body Glove is one of the most well-known sun and surf lifestyle brands. The Barefoot Max is a durable, comfortable, and quick-drying shoe that makes it an ideal choice for your aquatic adventures. The shoes have a patented three-toe design, a Velcro strap on the upper for maximum fit, and a textured rubber sole for extra grip.
Ideal for all your water-based activities, the Body Glove Women's Barefoot Max Water shoe has a minimalist feel combined with flexible and breathable fabrics that will keep your feet happy, dry, and comfortable.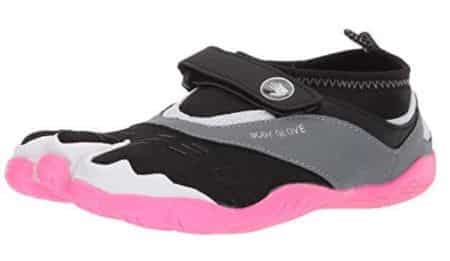 ---
Speedo Women's Surfwalker 3.0 Water Shoe
If you've ever been within five blocks of a swimming pool, you have heard of Speedo. They are one of the leading makers of pool and aquatic gear, including competition swim goggles and lap swimming suits for women.
The Speedo Surfwalker—available as a men's water shoe and as a water shoe for toddlers—is designed to provide a secure grip on your feet, no matter how wet the environment. The upper is made of soft and fast-drying neoprene (the same material that swimming and tri wet-suits are made of), the neck is stretch and fits snugly around your ankle, and the treaded rubber sole reduces slipping.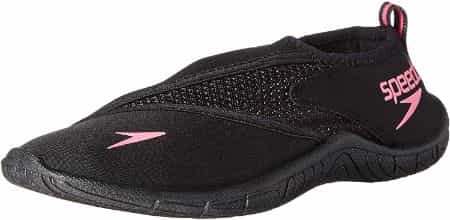 ---
Speedo Women's Tidal Cruiser Water Shoe
Another highly reviewed water shoe from Speedo is the Women's Tidal Cruiser.
The shoe is highly breathable thanks to a mesh upper. Mesh loops on the front and back of the neoprene neck makes it easy to pull the shoes on and off.
See also: Best Pool Sandals and Flip Flops 
A synthetic rubber sole gives your feet that extra "stick" when you are walking along slippery surfaces. If you are looking for something that is more functional than sandals or flip flops, than the Tidal Cruiser is an excellent choice.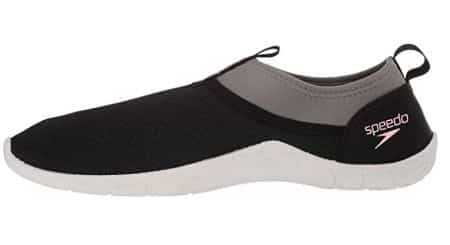 ---
Speedo Women's Surf Knit Water Shoe
Designed to keep your feet as dry as possible, the Speedo Women's Surf Knit Water Shoe is purpose-built for the water. The mesh fabric on the upper is hydrophobic and breathable, drying quickly between sessions in the water.
The Surf Knit is comfortable and engineered to feel like a natural extension of your foot.
With an S-TRAC rubber sole that helps you properly grip the ground, the Surf Knit Water Shoe for Women is a comfortable and secure way to enjoy the water.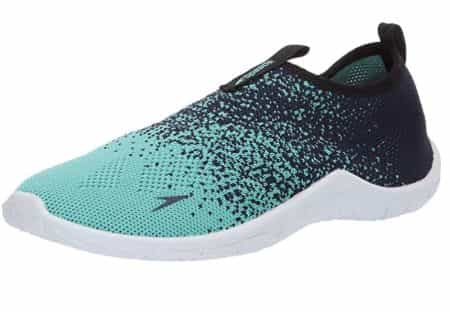 ---
SIMARI Women's Water Shoes
Light, comfortable, and very cheap, the SIMARI Women's Water Shoes could easily double as a pair of aqua socks. The smooth neckline sits comfortably on your ankle, reducing chafing. The uppers and neck are made of a breathable and lightweight fabric that is feather-light. So light, you may forget that you are wearing them.
A sturdy loop hook on the heel makes putting them on easy. Available in a massive variety of colors and color patterns, the SIMARI Water Shoes for Women combine utility, bold colors, and a water-resistant fit. While reviewers recommend not using these water shoes for hiking, they work just great for hitting the water aerobics classes or lounging around the pool.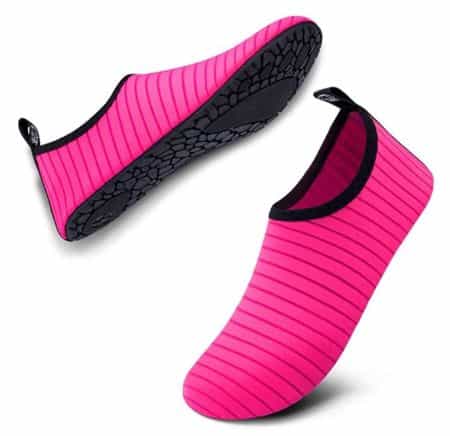 ---
Crocs Classic Clog
Yup, you might get some looks and some ribbing from your friends, but there is a reason that Crocs are so darn popular—they are exceptionally comfortable and durable, especially in aquatic environments.
Crocs are slip-on water shoes with a heel strap that keeps the shoe on your foot and reduces the foot pain that comes with pressing your toes down on the front of your flip-flop or sandal. Crocs come in just about every color and color pattern imaginable, and the vents on the upper and sides of the shoe ensure that water is draining out, keeping your feet dry(ish) and secure.
A favorite water shoe of swim coaches and lifeguards, the Crocs Classic Clog is waterproof, comfortable, and durable. Everything women need from an excellent water shoe.