Protect your feet with our hand-picked selection of the best water and pool shoes.
Water shoes. Aqua socks. Swim shoes.
You know what I'm talking about. Usually, they were the hilariously unsightly rubberized socks you wore while strolling along the beach.
Although those early versions of water shoes weren't the best things to look at, their function was undeniable. Wearing the right pair of water shoes would protect your feet from the rocks, the pool deck, or wherever else you were 4×4'ing with your feetsicles.
More importantly, the shoes were waterproof. Give them a good rinse after use and you were back in business.
But let's be honest, for a long time water shoes didn't look all that great.
Fortunately, in recent years the design and selection of water shoes have drastically improved, making them a respectable piece of gear for the beach, pool, or any other slippery surface.
Although the function of water shoes is relatively simple and straightforward, there are a ton of different kinds, ranging from heavy-duty waterproof hiking shoes to shoes that could be characterized more as aqua socks.
Whatever your aquatic activity, whether you are throwing down in the water with your favorite water exercise gear, you want to keep grip on wet pool decks, want something to hit the beach with, or a pair of shoes for your local water aerobics class (don't forget your favorite pool noodle!), below is a breakdown of the best water and pool shoes.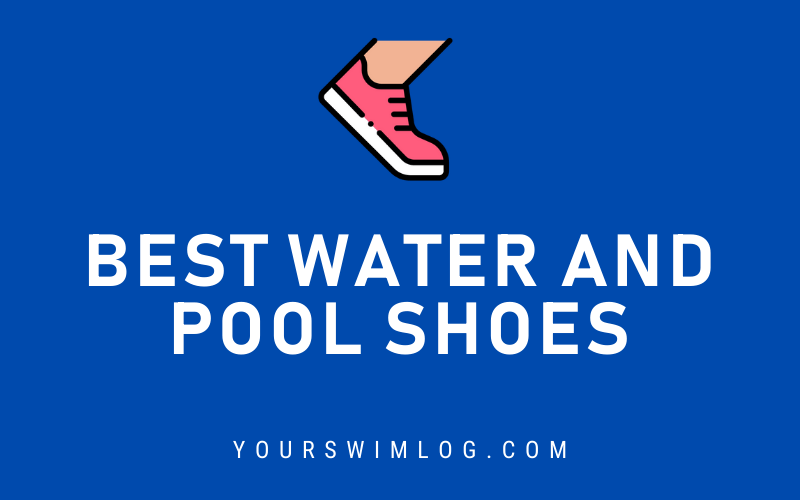 1. Speedo Surfwalker Pro 3 Water Shoe
You knew that Speedo would come packing when it came to putting together a top pair of water shoes. Their entire brand is based on the aquatic lifestyle, from Speedo's distinctive line of swimming goggles to their high performance racing suits for swimmers, Speedo has their finger on the aquatic pulse.
Their water shoes, and our top pick for best waterproof shoes, is the Surfwalker Pro 2.
It's got a super simple looking design that is clean. The bottom is made of a rugged thermoplastic that is improved on earlier editions of their shoe (they tended to wear out quickly). The grip of the bottom of the shoe is specifically designed for wet and slippery surfaces.
The toughened up 3.0 has a pull-on entry (no laces) which is perfect when you are scrambling to get in and out of them. They are surprisingly comfortable as well, with the lightness and foot comfort reminiscent of my Nike Free running shoes (which I friggin' love).
The Speedo Surfwalker 3.0 is available in a variety of slick-looking colors, is comfortable, durable, and yes, even stylish.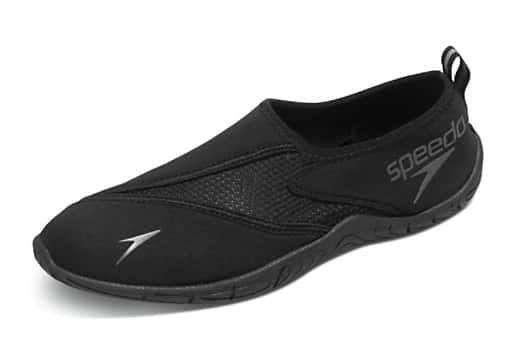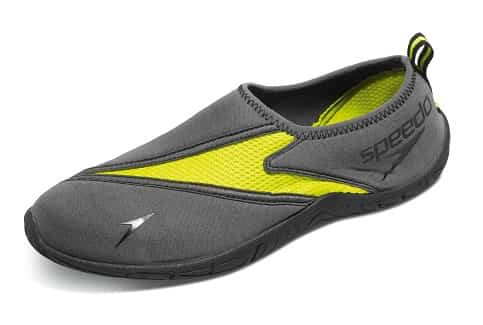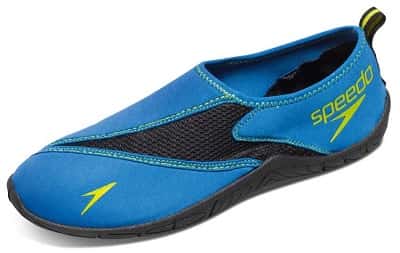 ---
2. Vibram FiveFingers
These bad boys look more like gloves for your feet, and that is kind of exactly the point. By simply wrapping your feet with a protective layer and allowing for a more natural ability to walk, you get a more comfortable fit.
One of the key features of Vibram FiverFingers is that they come in half sizes, which is kinda key given how snugly they are supposed to fit in order to achieve a comfortable snugness around your toes and foot.
As you might expect, the Vibram FiveFingers gloves, err, water shoes are on the pricier end of the spectrum.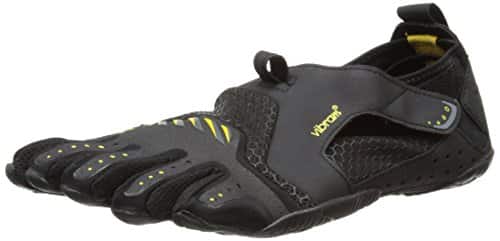 ---
3. CIOR Water Shoes
When it comes to color combos, CIOR has got it dialed in. No matter what your color palette there is a design and set of colors for you. (29 different kinds last time I checked.)
The CIOR water shoes is a cheap water shoe ($10-20 usually) that is designed for maximum protection from the water. There are 7 little holes on the bottom of each shoe sole to keep water flowing out and from pooling inside.
The sole is rubberized to give you some serious grip and the shoes–which could be pretty easily mistaken for aqua socks–were surprisingly breathable, making them ideal for soggy and warm hikes or beach-strolling.
They are also thick enough that they can double as socks for your fins. They do run a little large so order a size down.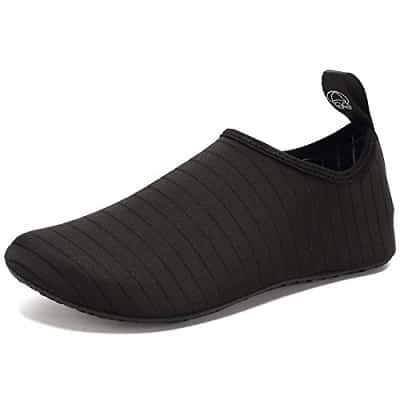 ---
4. NORTY Wave Water Shoes
The NORTY's are essentially a knockoff of the Vibram FiveFingers shoes. While the toe snugness isn't the same as the more expensive Vibrams, the comfort is similar.
The shoes have non-slip rubber grip soles, easy in-and-out design so that you can slip them off in an instant, and the mesh fabric is surprisingly breathable.
See also: 9 Best Shower Sandals, Flip-Flops, and Pool Deck Sandals
There's a drawstring at the top of the neoprene collar that you can tighten to make sure that the water shoe stays strapped to your feet no matter where you end up.
The NORTY's come in ten different color combos and the shoes are advertised as being true-to-size (so, if you are a size 13 order a size 13).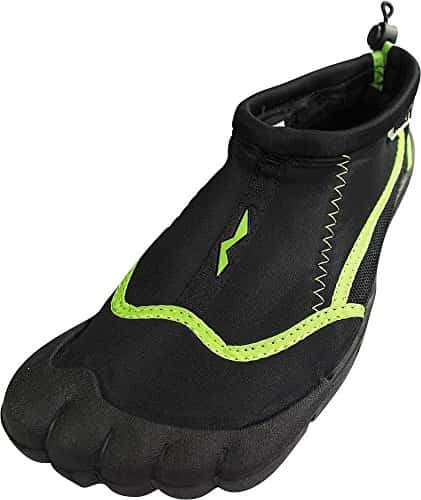 ---
5. Classic Clog Water Shoes
Sure, you might get some grief from some of your pals for rocking out in Crocs. But no matter how much they rib you, we both know how comfortable and function they are.
Crocs are essentially clogs, but rubberized, breathable, and with a grippy bottom.
Their design is distinctive and as simple as it gets.
They crush it when it comes to getting soaked (they also float, so you won't lose them in the pool or in the waves) and you'll be having the last laugh when it comes to comfort and standing for long stretches at a time in them.
The Classic Clog Crocs come in so many different colors and patterns it is dizzying.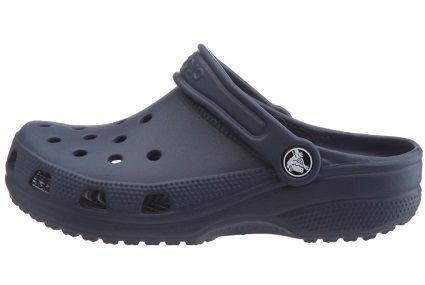 ---
6. Adidas Jawpaw Terrex Men's Water Shoe
Adidas is one of the most popular makers of athletic apparel on the planet, and while they may not be dominant when it comes to swim gear (though they do make some select tech suits and goggles), their strength is in footwear.
The Adidas Jawpaw Terrex Men's Water Shoe is a tough, durable, and comfortable piece of foot apparel that is designed for dominating the soggy outdoors.
With a rubber, gridded sole that keeps your feet planted, the Jawpaw's are a slip-on shoe that dries quickly, fits true to size, and is available in two color combinations.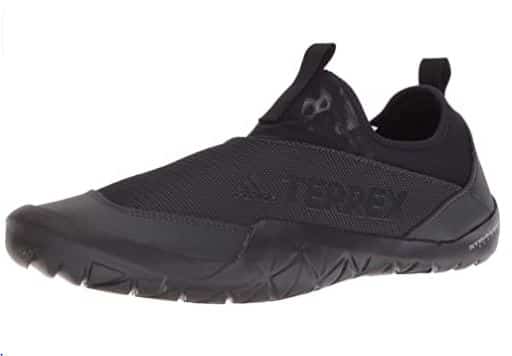 ---
7. Quiksilver Amphibian Men's Athletic Water Shoe
For something a little, well, dressier, Quiksilver swoops in with a shoe that you can wear out on the streets and also in environments where your feet are prone to get soaked.
Made of a synthetic and waterproof textile fabric, a breathable upper mesh keeps your feet airy and dry, while ports on the side keep the shoe from becoming water-logged.
Available in almost a dozen different color patterns, Quiksilver (who also makes some of our favorite rash guards for men), delivers on a shoe that rocks out both onshore and in the surf.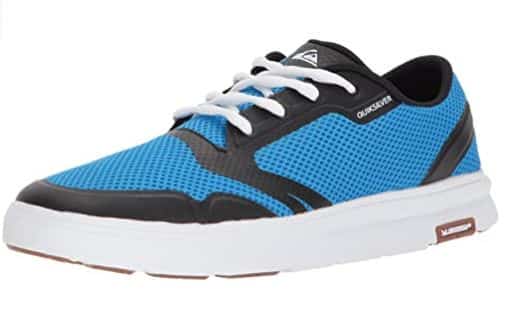 ---
8. Speedo Seaside Lace 5.0 Water Shoe
We got another pair of water shoes courtesy of the folks over at Speedo, and this set is a slightly more casual version of the Surfwalkers.
The shoes are built with a rubberized outsole that shoots water away from the bottom of the foot for a secure grip. In terms of composition, the shoe is 70% textile and 30% neoprene (the same water-resistant material that you find in surfing and open water swimming wet-suits).
With a breathable upper mesh, easy slide-in hooks on the heel, and a light, fast-drying construction, the Speedo Seaside Lace 5.0 Water Shoes is an awesome way to keep your feet secure and get the most of your water-based adventures.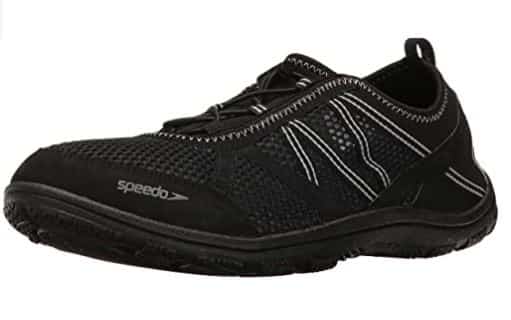 ---
What are the different types of water and swim shoes?
No matter what your aquatic journey may be, from going to the beach, going for a swim, or hopping into a kayak, choosing the right pair of swim shoes can make or break your time on the water.
The reality is that water shoes are among the most versatile type of footwear out there.
They have also come a long way in terms of aesthetics and comfort. Many of them have become quite stylish when you factor in the simple and sleek designs, comfortable fabric, and increased comfort.
They are also highly functional, with some of them boasting thermal protection for your feet (having chilly feet is no one's idea of a good time, after all), drainage outlets to keep water flowing out, and tread on the bottom to give your feet an excellent grip on the ground and avoid slipping.
But with all of the different kind of water and pool shoes out there, it can quickly get overwhelming trying to sift through all of your options.
With that in mind, here is a quick look at the different kind of swim shoes for adults so that you can make a clearer-headed decision when choosing the best pool shoes for you.
Mesh swim shoes. These are the most lightweight option, made of mesh and/or neoprene, which makes them awesome for keeping your feet warm while in the water. Mesh swim shoes are minimalist and sleek, they are easy to pull on and off, and they strike an excellent balance between functionality and style.
Athletic water shoes. Looking similar to a standard running shoe, but without the thick fabric and clunky ankle support, athletic water shoes are perfect for people who are moving through water-soaked land—crossing river streams, hiking in wet conditions, or even running in soggy areas. These shoes typically feature laces, are made with quick-drying mesh, and can be used interchangeably on land and in water.
Water socks. Water or aqua socks are a bit of a broad category of footwear, encompassing wetsuit booties, open water swimming socks, and thin neoprene socks simply designed to keep your feet in the water. There are a lot of advantages to using water socks, including being able to pair them with fins, whether that means snorkeling fins or swim training fins, with your wetsuit, and so on.
See also: 7 Best Water Socks for Every Kind of Aquatic Activity
Booties. Made fully of neoprene, booties can be paired with diving or open water swimming wetsuits (similar to water socks) and are designed to protect your feet in cool water. There are a wide range of booties on the market, some with enhanced features like ankle and shin straps, treaded bottoms, and variable levels of thickness to keep your feet nice and toasty in the water.
How do I choose the best water shoes for me?
There are lots of things to consider when it comes to swim shoes. You obviously want something that looks good, but there are three main areas of functionality that you will want to consider first and foremost.
They are:
Material of the shoe.
Water shoes are made of mesh, neoprene, textile, or other kinds of rubber. This makes them comfortable while also making them exceptionally functional.
Neoprene is my preferred material when it comes to these shoes simply because it is a very flexible material that dries quickly and doesn't chafe or rub after extended wear.
Proper fit.
We will look at this more in-depth in a bit, but with water shoes you want to avoid a looser fit.
When the material of the shoe sits comfortably on the skin, it keeps water from pooling in the shoe and decreases the likelihood of the shoe getting kicked off your feet while you are being active in the water.
The snugness—and the elevated contact on the skin and corresponding increase of rubbing—is why it's crucial to pick a pool shoe that has a fabric that your skin can tolerate close contact with.
Tread and traction.
Lastly, the bottom of your water shoes matter greatly when talking about slippery surfaces like pool decks and wet rocks. Water shoes are at their best when they give you an element of traction and tread.
Look for pool shoes that have a rubberized tread on the underside.
Your time on and in and around the water will be greatly enhanced when you have the peace of mind that you aren't going to do a yard sale the moment the ground gets wet or slippery.
Can you swim in water shoes?
Water and pool shoes are designed specifically for helping you be active in the water.
Beyond keeping your feet warm and giving the bottom of your feet more grip when you get in and out of the water, they are also designed in a specific way to help you swim with proper technique.
These types of shoes generally have a low ankle, which allows your feet to have a proper range of motion when kicking and swimming, so yes, you can swim in water shoes.
What's the difference between water shoes and water socks?
While they share some common purposes, water shoes and water socks do differ in function.
Water and pool shoes are designed primarily being active in and around the water. Whether that means walking along the beach, jumping around in the surf, and climbing around wet and rocky areas, water shoes are built to give you traction and stability around the water.
Water socks are often used primarily for keeping your feet warm, whether that means you are wearing them with your fins, pairing them with a wetsuit for open water swimming, or using them to spend the afternoon surfing in chilly water.
How tight or loose should water shoes be when wearing them?
It's no secret that some swimwear and even different swimwear companies size their products differently, creating a frustration situation where the sizing doesn't match up (tech suits for swimmers are an excellent example of this).
With water shoes, you will want a snug fit. Each time you are in the water, the shoes will take on some water, and an overly generous fit means you are taking on water and increasing the likelihood of them sliding off.
This becomes especially noticeable when you get out of the water and your feet are sliding and sloshing around in the shoe.
Can you walk in water shoes?
Water shoes are an excellent form of footwear that can check off a lot of boxes when it comes to being active.
And when it comes to walking for extended periods of time with water shoes, this depends on the construction of your shoe of choice.
A shoe with a thicker sole, support on the ankles, and laces for a proper and customized fit can support extended bouts of walking. A tinner, slip-on water shoe might not be the most comfortable option for long walks as they lack the support you'd get in a regular walking shoe.
Ultimately, it comes down to how long you plan on walking, the surfaces you will be walking on, and how much support your water shoe provides.
---
See Also:
14 Best Water Shoes for Toddlers and Kids. Ready to take your kiddo to the beach or pool? Here's a breakdown of the best water shoes for toddlers and kids.
7 Best Water and Swim Shoes for Women. Protect your feet, keep them warm, and take your water game to the next level with our favorite swim shoes for women.
9 Best Pool Sandals and Flip Flops. Whether you need some slip-free and waterproof footwear for walking on a pool deck or hitting the showers, we've got you covered.