Protect your feet with our hand-picked selection of the best water and pool shoes.
Water shoes. Aqua socks. Swim shoes.
You know what I'm talking about. Usually, they were the hilariously unsightly rubberized socks you wore while strolling along the beach.
Although those early versions of water shoes weren't the best things to look at, their function was undeniable. Wearing the right pair of water shoes would protect your feet from the rocks, the pool deck, or wherever else you were 4×4'ing with your feetsicles.
More importantly, the shoes were waterproof. Give them a good rinse after use and you were back in business.
But let's be honest, for a long time water shoes didn't look all that great.
Fortunately, in recent years the design and selection of water shoes have drastically improved, making them a respectable piece of gear for the beach, pool, or any other slippery surface.
Although the function of water shoes is relatively simple and straight-forward, there are a ton of different kinds, ranging from heavy-duty waterproof hiking shoes to shoes that could be characterized more as aqua socks.
Whatever your aquatic activity, whether you are throwing down in the water with your favorite water exercise gear, you want to keep grip on wet pool decks, want something to hit the beach with, or a pair of shoes for your local water aerobics class (don't forget your favorite pool noodle!), below is a breakdown of the best water and pool shoes.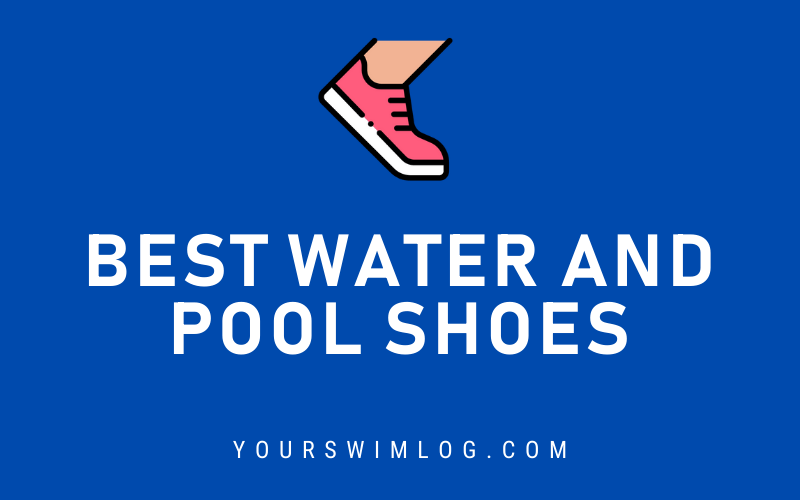 1. Speedo Surfwalker Pro 3 Water Shoe
You knew that Speedo would come packing when it came to putting together a top pair of water shoes. Their entire brand is based on the aquatic lifestyle, from Speedo's distinctive line of swimming goggles to their high performance racing suits for swimmers, Speedo has their finger on the aquatic pulse.
Their water shoes, and our top pick for best waterproof shoes, is the Surfwalker Pro 2.
It's got a super simple looking design that is clean. The bottom is made of a rugged thermoplastic that is improved on earlier editions of their shoe (they tended to wear out quickly). The grip of the bottom of the shoe is specifically designed for wet and slippery surfaces.
The toughened up 3.0 has a pull-on entry (no laces) which is perfect when you are scrambling to get in and out of them. They are surprisingly comfortable as well, with the lightness and foot comfort reminiscent of my Nike Free running shoes (which I friggin' love).
The Speedo Surfwalker 3.0 is available in a variety of slick-looking colors, is comfortable, durable, and yes, even stylish.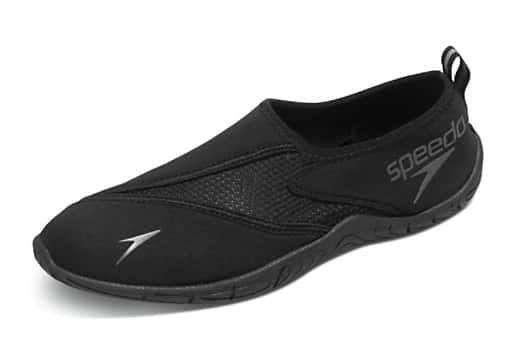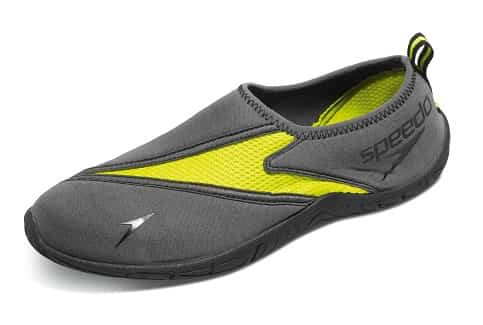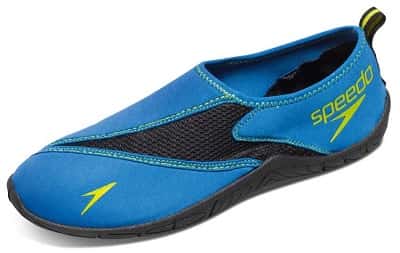 ---
2. Vibram FiveFingers
These bad boys look more like gloves for your feet, and that is kind of exactly the point. By simply wrapping your feet with a protective layer and allowing for a more natural ability to walk, you get a more comfortable fit.
One of the key features of Vibram FiverFingers is that they come in half sizes, which is kinda key given how snugly they are supposed to fit in order to achieve a comfortable snugness around your toes and foot.
As you might expect, the Vibram FiveFingers gloves, err, water shoes are on the pricier end of the spectrum.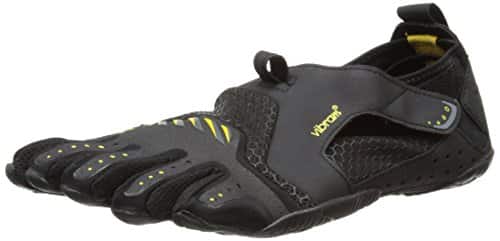 ---
3. CIOR Water Shoes
When it comes to color combos, CIOR has got it dialed in. No matter what your color palette there is a design and set of colors for you. (29 different kinds last time I checked.)
The CIOR water shoes is a cheap water shoe ($10-20 usually) that is designed for maximum protection from the water. There are 7 little holes on the bottom of each shoe sole to keep water flowing out and from pooling inside.
The sole is rubberized to give you some serious grip and the shoes–which could be pretty easily mistaken for aqua socks–were surprisingly breathable, making them ideal for soggy and warm hikes or beach-strolling.
They are also thick enough that they can double as socks for your fins. They do run a little large so order a size down.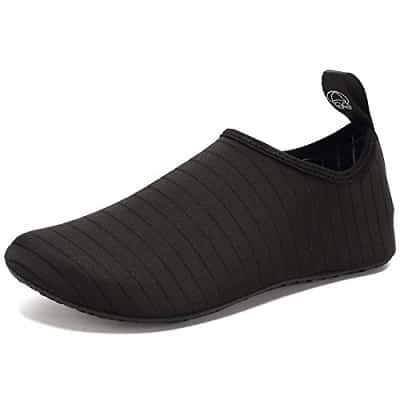 ---
4. NORTY Wave Water Shoes
The NORTY's are essentially a knockoff of the Vibram FiveFingers shoes. While the toe snugness isn't the same as the more expensive Vibrams, the comfort is similar.
The shoes have non-slip rubber grip soles, easy in-and-out design so that you can slip them off in an instant, and the mesh fabric is surprisingly breathable.
See also: 9 Best Shower Sandals, Flip-Flops, and Pool Deck Sandals
There's a drawstring at the top of the neoprene collar that you can tighten to make sure that the water shoe stays strapped to your feet no matter where you end up.
The NORTY's come in ten different color combos and the shoes are advertised as being true-to-size (so, if you are a size 13 order a size 13).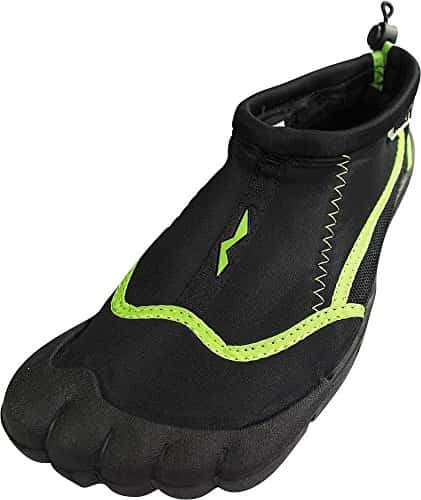 ---
5. Classic Clog Water Shoes
Sure, you might get some grief from some of your pals for rocking out in Crocs. But no matter how much they rib you, we both know how comfortable and function they are.
Crocs are essentially clogs, but rubberized, breathable, and with a grippy bottom.
Their design is distinctive and as simple as it gets.
They crush it when it comes to getting soaked (they also float, so you won't lose them in the pool or in the waves) and you'll be having the last laugh when it comes to comfort and standing for long stretches at a time in them.
The Classic Clog Crocs come in so many different colors and patterns it is dizzying.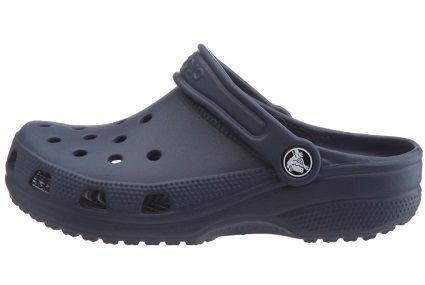 ---
6. Adidas Jawpaw Terrex Men's Water Shoe
Adidas is one of the most popular makers of athletic apparel on the planet, and while they may not be dominant when it comes to swim gear (though they do make some select tech suits and goggles), their strength is in footwear.
The Adidas Jawpaw Terrex Men's Water Shoe is a tough, durable, and comfortable piece of foot apparel that is designed for dominating the soggy outdoors.
With a rubber, gridded sole that keeps your feet planted, the Jawpaw's are a slip-on shoe that dries quickly, fits true to size, and is available in two color combinations.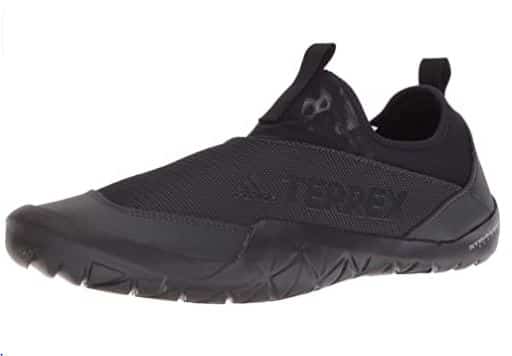 ---
7. Quiksilver Amphibian Men's Athletic Water Shoe
For something a little, well, dressier, Quiksilver swoops in with a shoe that you can wear out on the streets and also in environments where your feet are prone to get soaked.
Made of a synthetic and waterproof textile fabric, a breathable upper mesh keeps your feet airy and dry, while ports on the side keep the shoe from becoming water-logged.
Available in almost a dozen different color patterns, Quiksilver (who also makes some of our favorite rash guards for men), delivers on a shoe that rocks out both onshore and in the surf.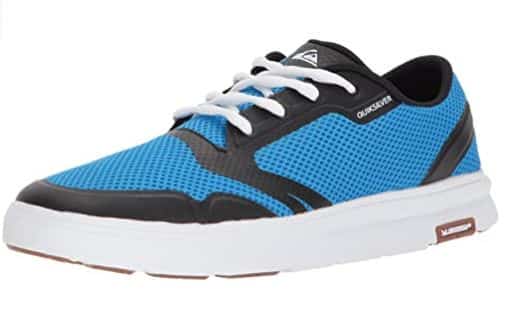 ---
8. Speedo Seaside Lace 5.0 Water Shoe
We got another pair of water shoes courtesy of the folks over at Speedo, and this set is a slightly more casual version of the Surfwalkers.
The shoes are built with a rubberized outsole that shoots water away from the bottom of the foot for a secure grip. In terms of composition, the shoe is 70% textile and 30% neoprene (the same water-resistant material that you find in surfing and open water swimming wet-suits).
With a breathable upper mesh, easy slide-in hooks on the heel, and a light, fast-drying construction, the Speedo Seaside Lace 5.0 Water Shoes is an awesome way to keep your feet secure and get the most of your water-based adventures.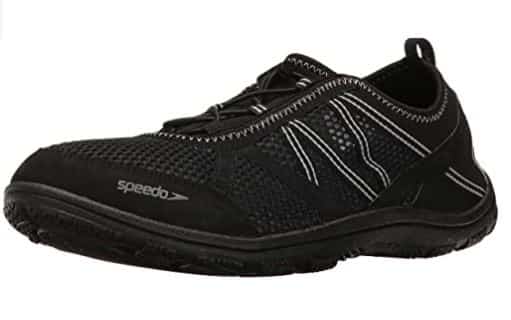 ---
See Also:
14 Best Water Shoes for Toddlers and Kids. Ready to take your kiddo to the beach or pool? Here's a breakdown of the best water shoes for toddlers and kids.
7 Best Water and Swim Shoes for Women. Protect your feet, keep them warm, and take your water game to the next level with our favorite swim shoes for women.